flil/Shutterstock
flil/Shutterstock
Face it: whether you love it or hate it, there is no escaping chardonnay. Wedding? Chardonnay. Airplane? Chardonnay. Performance evaluation with your teetotaler boss? Maybe not -- nope, just kidding. Chardonnay! Before and after.
Chard often gets a bad rap as a default, generic white wine: it blew up in the '80s and '90s, expanding production exponentially and flooding the market with more than a few substandard bottlings/boxings. And while there are still plenty of crappy wines out there, chardonnay is recovering its reputation, one quality-driven bottle at a time.
But to call chardonnay confusing is an understatement. To help you demystify your wine drinking -- or at least give you something to talk about when you're seated next to your friend's weirdo aunt at a wedding -- here are eight juicy tidbits about the the world's favorite wine.
Its popularity is relatively new
Chardonnay grapes have been made into wine for almost centuries, but the wine's mainstream popularity is relatively new. After a California chard beat a French one in the 1976 Judgment of Paris -- recounted in the movie Bottle Shock -- chardonnay became one of the most popular wines in the world (USA! USA!). The plantings of chardonnay just in California quickly increased 1,000%, with similar growth internationally. Now, well over 400,000 acres worldwide are dedicated to growing it. Not bad for a grape that was long considered the nerd of the wine world.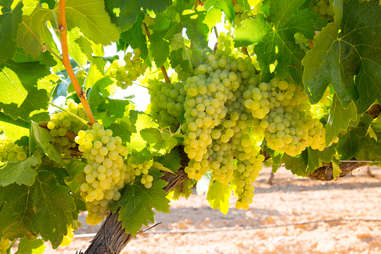 It's essential to your bubbly
If you like Champagne, you like chardonnay. Chardonnay is one of the three grapes, along with pinot noir and pinot meunier, used to make the world's most amazing sparkling wine, along with other premium sparkling wines like Italy's Franciacorta. Champagnes that are 100% chardonnay -- called blanc de blanc, literally meaning white of white -- usually command higher price points than others that combine the white chardonnay grape with the dark-skinned pinot varieties: Ruinart, Pierre Gimonnet, and Jacques Lassaigne all offer reasonably priced blanc de blanc Champagnes that are well worth the money.
Its mildness allows its flavor to adapt
The natural flavor of chardonnay is mild and uncomplicated, some might even say boring. It has a particular ability to take on flavors from its winemaking process, giving winemakers a lot of options when crafting their wine. This is why chardonnay is a prime target for fermentation or aging in oak barrels, which significantly amps up the flavor profile. Basically, if wine varieties were like X-Men, chardonnay's powers would be like Rogue's: it absorbs whatever flavors it comes in contact with. Which is why it's not often aged in gym lockers.
Oak isn't always present
About that flavor absorption: Americans decided to oak chardonnay after tasting the gently oak-aged versions from France. We went a little overboard (USA! USA!) and started churning out thick wines that tasted more like butterscotch and piña colada-scented candles than wine. These days there are plenty of unoaked bottles on the shelf for those who prefer a crisper and cleaner expression, right next to the coconut cream-scented chards, which are still there, too.
It's the wine of (unexpected) celebrities
Alanis Morissette once famously sang -- unironically -- about a black fly in her chardonnay, but she's not the only celebrity with a link to the wine… and we don't mean the ones who have made appearances on TMZ after a few glasses. Luminaries from Kurt Russell to NASCAR great Jeff Gordon have released their own chardonnays. There are even TV shows with branded chardonnays, including Downton Abbey, which is expected, and Duck Dynasty, which… wait, those guys aren't just drinking paint thinner?
It's a pinot offspring
Those who favor pinot noir over chardonnay might be surprised to learn that they're close relatives, just like Luke and Leia -- though we're still uncertain whether pinot ever awkwardly smooched chardonnay to make Han Solo jealous. The origins of chardonnay are obscure, but DNA testing confirms that the pinot vine is one of its parents, along with a Croatian vine named gouais blanc. The first recorded account of chardonnay comes to us from the Cistercian monks from the year 1330, making it officially older than Hugh Hefner by at least four years.
It can get really expensive
Aside from Chateau d'Yquem -- the sweet dessert wine from Bordeaux, a bottle of which famously sold for $177,000 -- the four most expensive bottles of white wine ever sold were all made from chardonnay. Priced between $1,000 and $6,000 per bottle, these lavish releases all hailed from the Burgundy region of France, the birthplace of chardonnay. You don't have to be in the 1% to enjoy wines from this region, though: there are plenty of world-class examples of grand cru (the fancy French term for best of the best) white Burgundy on the shelf for $50-$100.
Finding it is way more fun than Pokémon Go
Wine > Pikachu. Always.
Sign up here for our daily Thrillist email, and get your fix of the best in food/drink/fun.
Tess Rose Lampert is a Manhattan-based philosopher-turned-drink expert who spends her nights grappling with tough decisions like what to pair with Thai takeout and Netflix binges. It's often mezcal. Follow her on Twitter @TessRose211.