What the Cigar City Sale Means for Beer Drinkers
Like a single guy who's finally decided to sell all his comic-book memorabilia and move in with his girlfriend, the craft beer world is experiencing a fair amount of consolidation these days. Way back in April 2015, we told you about Goose Island, Red Hook, and Elysian getting snapped up by a macrobrewer. And it just happened again with the crown jewel of Florida's craft scene -- Cigar City was purchased by the same investment group that owns a majority stake of Colorado's Oskar Blues.
To find out what this all means, we spoke to our beer writer friends to get their assessment of the impact it'll have on Cigar City, and craft beer in general.
Consolidation is the new normal
This was not a surprise to anyone who's been paying attention. "Looking past the recent rumors of Cigar City's sale before it happened, this move should've been expected," says Bryan Roth, a homebrewer and beer writer of This Is Why I'm Drunk. "Before Dogfish Head took on private equity, they announced a $45 million expansion plan in 2011. Before Lagunitas sold a 50-percent stake to Heineken, [founder] Tony Magee said in 2014 he wanted to build five breweries across the US. Cigar City has partnered with Brew Hub since 2014 to contract brew some of its beer because the business has been booming. We've known for two years Cigar City was probably ready for its next move." So the next time you hear your favorite craft brewery is looking to expand in a big way, don't be surprised if outside money flows into the picture a little later.
Basically, the entire beer industry is a Russian nesting doll. "I think it's something we're going to continue to see," says Mike Sweeney, writer of STLHops.com. "Watching mid-sized breweries be bought by larger breweries and large breweries get bought by mega-breweries."

Some craft beer fans are being a tad hypocritical
Craft beer nerds' mostly non-reaction to Cigar City's purchase exposed a strange double standard. "It's interesting to see the reaction of craft beer lovers to these buy-outs," says Ben Brausen of Craft Beer Time. "When it's a big brewer, the response has been that buy-outs are bad and wrong. Yet, when it's been a craft brewer doing the same, the reaction has been that it's cool and will mean better things. Funny to see the double standard."
Sweeney sees this, as well, and hints that a brewery being snapped up by another brewer could potentially even be better: "I guess I'd rather sell to someone that at least brews beer than a bunch of dudes trying to make a quick buck."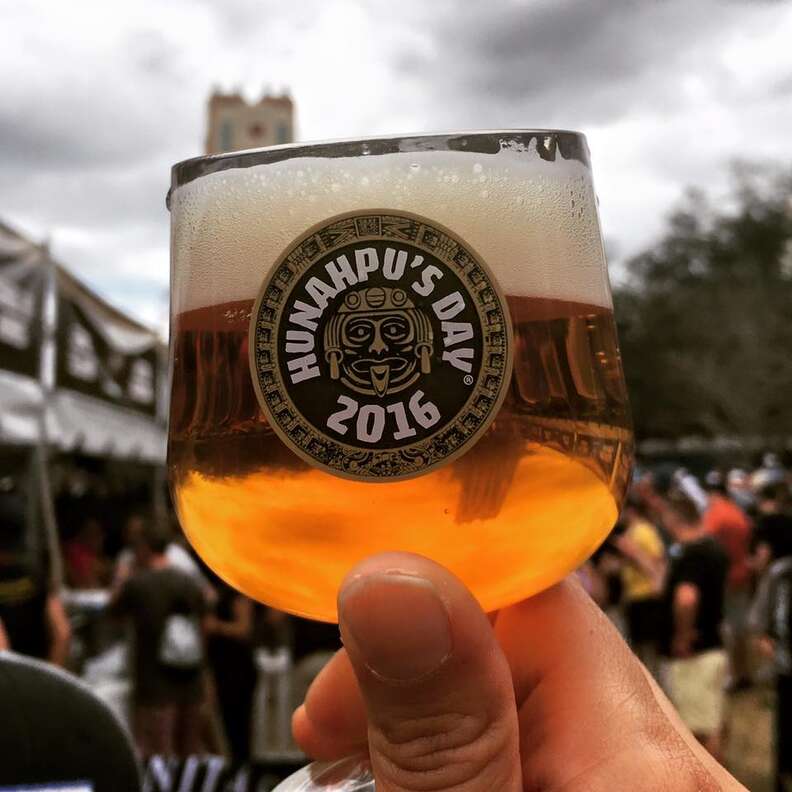 What this means for you, America's beer drinker
More beer for everyone! Potentially!
Terry Lozoff of Drink Insider says that craft brewery ownership by investment groups or international conglomerates hasn't produced "many tangible signals yet as to how all of this may negatively impact consumers." He says that it may cause "well-funded breweries [to] expand faster and compete harder," which could potentially hurt local/regional breweries... but the end result? "You may get access to Cigar City's beers sooner than you would have otherwise."
Hell, as it's tough to get certain Cigar City beers in Tampa. That's like living in a town called Egg McMuffin, South Dakota and not being able to buy a GD Egg McMuffin.
Bryan Carey of Great Beer Now paints a similar rosy picture for Cigar City's future. "Freed from financial constraints and with the backing of Oskar Blues marketing muscle, Cigar City Brewing will grow and thrive, producing even more creative beers and distributing them to more places," he says. "I look forward to the day when I can finish off a can of Yella Pils and then light up with a Florida Cracker, all from the comfort of my Texas home."
Personally, I'd like more of Cigar City's Cubano-style espresso brew. But to each his own.
Lozoff summed it all up: "The silver lining to all of this, however, is that beer drinkers have a lot of options to choose from, and no matter how many buyouts and investments we see in the coming years, that's not going to change. If you don't want to buy from a brewery because they're not independent, buy from a brewery that is. And if you still want to drink your Hunahpu, by all means."
You know, if you can find any. But maybe that'll change.
Sign up here for our daily Thrillist email, and get your fix of the best in food/drink/fun.
Lee Breslouer is a senior writer for Thrillist, and thinks more Cigar City is good for everyone. Follow him to Jai Alai IPAs: @LeeBreslouer.