Cole Saladino/Thrillist
Cole Saladino/Thrillist
What Kind of Jackass Buys an Energy Drink Called Cocaine? Me.
Welcome to Partial Recall: 2007, a week of stories dedicated to trying to remember what life was like a decade ago.
Like most things I did for shits and giggles in high school, my Cocaine story begins on a train. My friends were like me: 15- and 16-year-old high school commuters from eastern Long Island attending the same repressively backward Catholic boys' education dungeon in Nassau County. Train rides were daily occasions for napping, the mockery of each other's masculinity, and idiotic conspiracies that young teen boys are the best (and the worst) at hatching. The topic du jour: a hot new energy drink that had just hit the market.
"So, I've heard that there's this new energy drink out, and it's called Cocaine," said my curly-haired friend, leaning in and lowering his voice to a whisper. This was a packed train and adults were known to call our school to complain about the legal things we did, let alone discussions seemingly involving narcotics. But this energy drink wasn't a controlled substance. It was just a drink, marketed in a purposefully controversial way, that claimed to be as "effective" as three-and-a-half Red Bulls by volume.
Riding the crest of the energy-drink boom, Cocaine launched in September 2006 and generated almost instantaneousoutrage, intense media scrutiny (watch The Daily Show segment below), and severalpoorlyphrased sound bites given by the people running Redux Beverages, the company that made it. The few people not complaining were those in its target audience, i.e., youthful morons (like me and my friends, and these idiots) who were fascinated by the audacity it took to name a fizzy caffeinated soda after a Schedule II drug.
Back in the Jägerbomb-slamming broski era, demand for energy drinks surged, with nearly 200 new products released in 2006 alone. "Energy drinks started as a really niche beverage, and you had this dramatic growth in sales as a result of widespread distribution from larger beverage companies," says Cara Wilking, JD, a former public health attorney and expert in food and beverage law and marketing. As a point of reference for how quickly the trend swung upward, she points to how The World of Caffeine, published in 2001 and known as a definitive text, doesn't mention energy drinks at all.
Everyone, it seemed, wanted a piece of the action. Hulk Hogan had an energy drink. Red Bull started doing more and more events. Monster tripled its sales in just six years. To stand out in the increasingly crowded market, you had to make a statement. Enter Cocaine. "I chose the name because I knew it would be controversial, and controversy sells," James T. Kirby, the founder of Redux Beverages, told the Press-Enterprise of Riverside, California, in 2006. His company peddled the product with face-melting slogans ("Speed in a Can," "Liquid Cocaine," "Cocaine -- Instant Rush") and in slim, red cans with "Cocaine" spelled out in a jagged, dusty-white font clearly intended to evoke cut lines of its powdery namesake. When the drink was made available to the public, the cans cheekily touted the beverage as "The Legal Alternative."
"This is probably one of the most brilliant marketing campaigns of the mid-2000s" says my high-school energy-drinking buddy Zach, now a prosecutor who litigates violent felonies. The messaging around Cocaine never directly addressed the taste of the liquid inside -- a pink substance called Spicy Hot -- which only makes the hype surrounding its launch more impressive. "It tasted like shit!" Zach says.
Like me, he'd been curious about the drink when we first heard about it in 2007, and we all quickly learned that it tasted like a cross between cough medicine and low-calorie Gatorade Fruit Punch -- plus it burned your throat on the way down. The sugary aftertaste lingered for more than a half hour afterward, even after taking just a few sips. Zach tells me that he'd encountered Cocaine at a drive-through convenience store in Scranton, Pennsylvania, as recently as 2009 or 2010. "Sure enough, they had it advertised," he says, "and I suddenly [had a flashback] to high school, and said, 'Do you guys have any of that stuff?'" The clerk even served a can to him with a straw. "I don't know if that was part of the ad campaign or not, but how perfect was that?"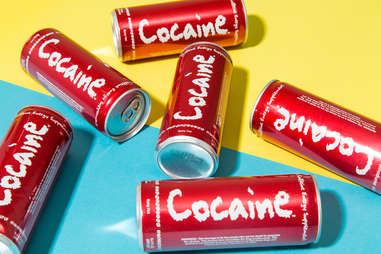 State attorneys general, Wilking says, take a particular interest in energy drinks and how they are marketed: While caffeine overdoses are rare, they always capture the public eye. Naming your energy drink after an illicit substance just takes it a step further. "It's a stick in the eye to a state regulator," Wilking says. "They get calls, parents get upset about it, schools, etc. This Cocaine product, the graphic, it's so over the top."
So of course, for high schoolers like us, "it became the general consensus that we were gonna have to go out and find some Cocaine," Zach remembers. He adds: "Before it's illegal."
Getting your hands on it was actually pretty hard. This was before the days when company websites conveniently told you exactly which retail locations stocked a certain controversially branded product near your home complete with maps. As far as Zach and I recall, one of our friend group managed to secure and print out a list of locations that stocked the drink on Long Island -- one of which was the Western Beef supermarket in Mineola, NY -- a brisk walk across the town's two major avenues from our school's train station. For teenagers who couldn't drive, walking there after school on a mission to buy Cocaine felt like a sequence left on the cutting room floor of Stand By Me, made only more endearingly silly by the fact that we were so sheepish we brought the cans back to the train station and sipped them out of paper bags as if we were actually drinking something not-OK to drink in public.
"We're gonna have to go out and find some Cocaine—before it's illegal," said my friend.
It wasn't long after that Cocaine was killed nationwide thanks to a warning letter from the FDA by May 2007. The company pivoted by changing the drink's name to the far-less-obvious moniker "No Name" and making some changes to its label. By February 2008, it had returned to shelves under its original name but, in July, the FDA objected to the powdery white font used on its cans. The company again complied with the FDA's request and also added a snarky disclaimer to the cans for good measure: "This message is for the people who are too stupid to recognize the obvious. This product does not contain the drug cocaine (duh). This product is not intended to be an alternative to an illicit street drug, and anyone who thinks otherwise is an idiot."
"It was a little crazy to have to do that, but sometimes you just have to spell it out for people," Kirby told Connecticut's Litchfield County Timesin 2012. He stated then that at no point did the FDA issue an outright ban of the drink beyond the warning, and by May 2012 he received a letter from the FDA calling the case closed. (Editor's note: Thrillist attempted to reach Kirby for comment but he was unavailable by press time.)
For all the heat the drink caught in its heyday, Cocaine had its defenders. One of them was New York Daily News columnist Lenore Skenazy, who wrote a column originally published October 8, 2006 (here's the Web Archive version, too) with the triumphant headline, "Why I'll let my kids try Cocaine." In Skenazy's view: "The truth is that people, even Americans, even young ones, understand the difference between brand names and illegal substances... Stupid publicity stunts are just stupid publicity stunts."
That's sound logic. But I think back on drinking it in high school, huddled with my friends on a cold, rainy day after trekking across town for a crappy novelty caffeine fix we sipped out of paper bags, unprepared for the inevitable sugar and caffeine crash ahead of us. I still feel the aftertaste from sipping it again, coating my mouth like tar on a fossilizing jawbone. Trying Cocaine just wasn't worth it.
Sign up here for our daily Thrillist email and subscribe here for our YouTube channel to get your fix of the best in food/drink/fun.