Here Is What Your Cocktails Will Be Like in 2016
Drew Swantak/Thrillist
Drew Swantak/Thrillist
Cocktail trends come and go. Some recall classics, while others are as tasteless as an ice-luge shot of 10x-distilled vodka chased with a snifter of artisan oxygen.
To find out what cocktail-industry trends to expect in 2016, we asked some of the most respected names in the business for their predictions. Here they are -- we hope you like brandy.
Frozen and draft cocktails will be on menus
"We'll see a return to frozen drinks. We love a great frozen daiquiri in New Orleans, but I am seeing more bars make craft daiquiris in the frozen format. We even have bars in NOLA serving frozen gin and tonics. Also, room-temperature cocktails. I first noticed this at Slowly Shirley earlier this fall in NYC and am now seeing it in more places." -- Ann Tuennerman, Tales of the Cocktail (New Orleans, LA)
"Draft cocktails have begun showing up more and more with varying degrees of success. Spirit-only drinks seem to have accomplished this better than citrus drinks, but the availability of cold-pressed fresh juices opens up a whole new world of possibilities for fresh cocktails on draft.
"We will also see more lost and forgotten cocktails showing up on cocktail menus. If Murray Stenson hadn't discovered The Last Word and featured it at the Zig Zag in Seattle, we may never have had the opportunity to enjoy the wonders of this fantastic tipple. -- Tony Abou-Ganim, The Modern Mixologist
"In 2016, I think we're going to see a lot of variations on classic cocktails. Variations on the classic Moscow mule are huge right now. There are Mexican mules made with tequila, Irish mules made with Jameson, and Yankee mules made with bourbon. I've also seen mules on tap and daiquiri-style machines that create frozen mules." -- John "JOD" O'Donnell, CRUSH, La Cave Wine & Food Hideaway, and La Comida (Las Vegas, NV)
"In 2016, I see savory cocktails on the rise. I see chef-driven drinks on menus utilizing strange, umami-like ingredients used by the kitchen. Bar mangers are getting bored and wandering into walk-ins to discover new flavor combinations. Our chef at Oro forages wild fennel pollen we are able incorporate into one of our cocktails. Next year, the industry will continue to push the savory envelope with shiitake mushrooms, fat-washed spirits, seaweed, and more. This creates a whole new dynamic for cocktail pairings." -- Randy Mariani, Oro (San Francisco, CA)
"Artisan brewers are the new darlings of the beverage industry, so expect to see beer showing up in cocktails. InBev just hired a top mixologist, the former international cocktail ambassador for Diageo, to explore beer as an ingredient. On that note, I'm working on a group of drinks called Hoppy Sours. -- Dale "King Cocktail" DeGroff (West Hempstead, NY)
"Just like we have seen in the culinary world, cocktails will start emphasizing locally sourced ingredients, whether they are local plants, edible flowers, or even grass. Foraging for local plants and flowers will become an important part of the process. People want to know where ingredients come from, and find comfort knowing they are local and fresh." -- Adam Hodak, Green Russell (Denver, CO)
"I think that room-temperature cocktails are going to gain more steam. These scaffa-style drinks lack ice to chill, and instead use their flavors to promote a temperature. They are fascinating and have been around for years with very little attention, probably because they can be a little abrasive, but if they're made with care they can be wonderful." -- Nicholas Bennett, Porchlight (New York, NY)
"I've seen a lot of cobblers. It's basically where you mix a spirit and fresh fruit, shake them together, and serve them over crushed ice. It's like the fruit equivalent of mint julep: it's the same principle, a little bit of sugar, shake it up. I've been seeing those pop up on menus.
"I'm also seeing the Spanish gin and tonic, which is great because it's a simple cocktail that people can grasp and it doesn't take much for bartenders to put their own touch on it."-- Jason Kosmas, The 86 Co. and Employees Only (New York, NY)
The experience will be paramount
"For several years now we've read that the next big trend is going to be hospitality, but that isn't and cannot be a trend. It's the name of the very business that we're in, and without it we are fundamentally out of business. I've seen us all grow up over the last few years, but we need to keep pushing to be better for the right reasons." - JD Elliott, The Townsend (Austin, TX)
"I believe the trend for 2016 is going to be about hospitality and simplifying the modern cocktail. Bartending is so much more than Yarai mixing glasses and suspenders. It is about listening and being there for our guests. We need less bar chefs and more Sam Malones." -- Billy Ray, 13-Stitches (Los Angeles, CA)
"I feel that our guests value their experience more than being wowed with the most inventive drinks. Customer service gets you further behind a busy bar. Also, approachability is huge in both the ingredients you experiment with and the descriptions of cocktails on your menu. You don't need to stump your guest." -- Tina Ross, Harvard & Stone (Los Angeles, CA)
The idea of the bartender will continue to evolve
"Bartender education is at the forefront of the relationship between on-premise bartenders and their brand partners. Pernod Ricard's BarSmarts program just topped out at almost 15,000 bartenders at last count, and Diageo is organizing a training program in tandem with their amazing World Class Cocktail Competition." -- Dale "King Cocktail" DeGroff
"Ten years ago, if you were a bartender you had about two options: bartend 'til you're dead or open your own bar. The reality of working for tips is that the harder you work, the more money you make.
"And then you get burnt out, you get tired, you want to work less, and you make less. But now there are many more options; contract bar work, creating syrups, bottled cocktails, importing, brand work, even bartender travel shows. Expect to see your bartenders start taking advantage of these options. -- Abigail Gullo, Compere Lapin (New Orleans, LA)
"Good drinks at homes are a thing. People are trying to learn what the professionals are doing. There's a lot of books coming out with more complicated techniques and the science behind them, and people are investing in the right spirits and tools." -- Jason Kosmas
Gimmicks will be big, but marketing will become more honest
"Whether people are willing to acknowledge it or not, the biggest trend in 2016 will be wonderful gimmicks. Yes, that's right – cheesy promotional hooks that momentarily excite people who visit bars. People will embrace this tongue-and-cheek approach that earn their customers hundreds of Instagram 'likes.'
"Is this good or bad long-term for the future of the bar industry? Who the hell knows, but we might as well embrace them and have some damn fun. Look out for neon LED ice cubes, excessive garnishes including anything from children's toys to radioactive fruit salads, and unconventional drinking vessels of all shapes, sizes, materials, and colors. Even the drinking straw is no longer standardized!" -- Bobby Heugel, Anvil Bar and Refuge and The Pastry War (Houston, TX)
"I'm convinced that this is finally going to be the year that everyone stops using the phrase 'simple syrup' when they actually mean the opposite of 'simple.' I'm going to have a stroke the next time I see 'saffron-blueberry simple syrup' or 'jalapeño Earl Grey simple syrup.' Words have meanings, you guys. And the word you're looking for is 'compound,' although at the risk of apostasy, I think maybe we can even stop using the word 'syrup' altogether." -- JD Elliott
"The key word in 2016 is going to be transparency. Brands that hide behind meaningless marketing rhetoric ('small batch,' 'artisanal,' 'handcrafted') are going to have a much harder time getting placements in better bars if they can't answer specific questions about sourcing and production. As our guests grow increasingly informed, it's time for brands to stop hiding behind marketing doublespeak like 'secret family recipe' to allow us to meaningfully describe the differences between the products we carry." -- Joaquín Simó, Pouring Ribbons (New York, NY)
"I have no idea what will come next in the world of cocktails -- I mean, we're already up to artisanal Woo-Woos, and after that can only follow Pestilence, Famine, War, and Death. I do know for certain that the world of spirits will bring us more and more Scotch whiskies released without their age statements, replaced by randomly chosen one-word Gaelic words that sound like names of Japanese cars or international corporations. This will guarantee that nobody will be able to tell a damn thing about what's in the bottle by reading the label, and that anybody going to buy a fine bottle of Scotch could walk home with a bourbon instead." -- David Wondrich, author of Imbibe! and Punch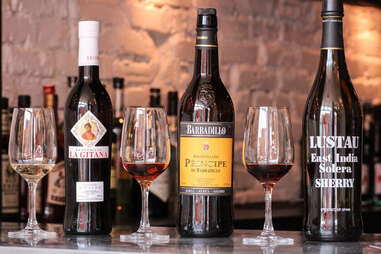 Vermouth, brandy, whiskey, and sherry (maybe)
"Vermouth is on everyone's mind, look for new bottlings coming from Martini & Rossi." -- Dale DeGroff
"Look for a celebration of all things French: brandy, vermouth, Chartreuse, and that's the chartruth! Look to their Iberian neighbors for inspiration too, with sherry and brandy from Spain. Low-alcohol cocktails using vermouth and sherry are packed with flavor without the consequences. -- Abigail Gullo
"Whiskey will continue to be hot, especially Irish and Japanese, and the Boulevardier will give the Negroni a run for its money. I love them both, but I'll always remain a Negroni guy." -- Tony Abou-Ganim
"Sherry in cocktails, that's one thing that people are grabbing at. It almost works like vermouth, it's neither sweet nor sour. It's right underneath everyone's nose, but there's a lot to explore." -- Jason Kosmas
"I've been saying for years that eau de vie (un-aged fruit brandies) are poised to make an impact in the scene for their unique ability to pack a ton of brilliant fruit flavor into a cocktail without imparting sweetness. I think we'll see more of the oddball small-producer Cognacs creeping into the conversation and expanding people's concept of the category. But I think this year we're finally going to admit to ourselves that the general public is never gonna get into sherry. Sherry is never going to happen, you guys. Sorry. I know you really wanted this one. Jura wines, however, just might have a shot." -- JD Elliott
A return to the classics
"Generally speaking, I think we will also see a lot of classic cocktails making a comeback. The most frequently requested cocktail that I see is a martini, with a classic Old Fashioned in high demand as well." -- John "JOD" O'Donnell
"I think that this year our long-predicted "return to simplicity" is finally going to bear fruit. And I don't mean in gimmicky simplicity like draft Aperol Spritzes or frozen Monkey Glands (though both of those sound fantastic). I mean bartenders eschewing overwrought compound syrups and instead developing new cocktails that function in the same direct, craveable way that all of our favorite classics do." -- JD Elliott
"Look for cocktails to become simplified. I feel like we have really pushed the limits with regard to creativity through the use of obscure, esoteric, and house-made ingredients, which has been great, but I feel a return to simpler recipes that are easier to re-create consistently and celebrate the base spirit will become more of the norm. Cocktails where our guests won't need a glossary to explain the different ingredients used in their drink, and can easily be reproduced from bar to bar. There is a reason most drinks that have survived the test of time are made up of three to four ingredients that are readily available at most well-stocked bars." -- Tony Abou-Ganim
Sign up here for our daily Thrillist email, and get your fix of the best in food/drink/fun.
Dan Gentile is a staff writer at Thrillist. He's looking forward to a 2016 full of simple, frozen, room-temperature cocktails served in toy trucks from very, very friendly bartenders. Follow him to extra-bitter tweets at @Dannosphere.