3 Cocktails You Should Be Drinking After Midnight (There's Squid Ink Involved)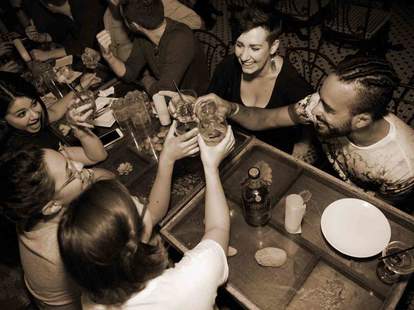 Anthony Humphreys/Thrillist
We enlisted Nick Bennett, a prominent barman in NYC, and had him create original cocktails with Pendleton® Midnight, a new 90-proof whisky, made with pure glacier-fed water and aged to perfection in oak. But we wanted some truly unique creations, so Bennett kept the flavors of Midnight in mind, whether that meant from the bottle or the atmosphere of any favorite drinking den when the clock rolls over and the night truly gets started. So what does that mean? Prepare yourself for squid ink ice cubes.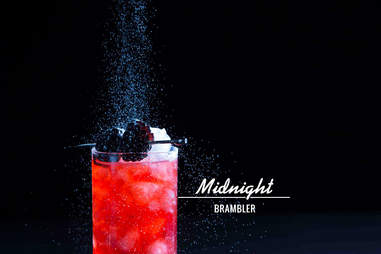 M.A./Thrillist
The Brambler
INGREDIENTS:
1.5oz Pendleton Midnight
.5oz Cointreau
.5oz Cassis (or Creme de Mure, a dark berry liquor)
.5oz lemon juice
powdered sugar
pebble (crushed) ice
7 blackberries
DIRECTIONS:
Pulverize 3-4 blackberries & add to mixing glass.
Pour Pendleton Midnight.
Add Cointreau.
Add lemon juice.
Fill mixing glass with ice cubes. 
Firmly secure top to shaker; mix over your head for 20 seconds. When the container is cold to the touch, it's mixed.
Strain contents of shaker, including ice, into serving glass with crushed ice.
Dribble Cassis (or Creme de Mure) into drink. Add more crushed ice.
Garnish by sprinkling sugar & with 3-4 blackberries.
M.A./Thrillist
Eight Bells
INGREDIENTS:
2oz Pendleton Midnight
.25oz Cointreau
1 barspoon Lucid Absinthe
2 dashes orange bitters
One large squid ink ice cube
lemon twist
DIRECTIONS:
To make squid ink ice cube, dilute ink in 4 oz. of water & freeze it.
Pour 2 oz. of Pendleton Midnight over squid ink ice cube in tumbler glass.
Add 1 barspoon of Lucid Absinthe. 
Add 2 dashes of orange bitters. 
Stir. 
Garnish with lemon twist.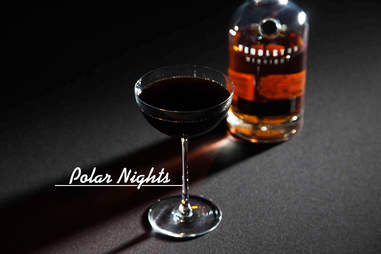 M.A./Thrillist
Polar Nights
INGREDIENTS:
2oz Pendleton Midnight
.75oz Fernet Vallet
.25oz Demerara syrup
Bittermens Xocolatl Mole bitters
DIRECTIONS:
Pour Pendleton Midnight into mixing glass with ice.
Add Fernet Vallet, then Demerara syrup.
Add 3 dashes of bitters. 
Stir ingredients; strain into martini glass.