We Ranked All of Coffee Bean & Tea Leaf's New Friends-Themed Drinks
If I had my way, this story would be headlined: "The One Where a Guy Drinks All the Friends-Themed Drinks To Determine Which One Tastes Best." You know, because it's how all the episodes were titled! You might be asking, why are there Friends-themed coffee drinks at The Coffee Bean & Tea Leaf right now, you know, 15 years after the final episode aired? Two reasons: The TV show is more popular than ever, and when two brands see an opportunity for synergy, they pounce… which is to say, maybe we'll be getting a series of Everybody Loves Raymond-themed pastas at Romano's Macaroni Grill sooner than we thought. 
Warner Bros. is celebrating the show's 25th anniversary by partnering with the national java chain Coffee Bean and releasing six drinks, each named after one of the main castmembers. (There are also two new Central Perk coffees and one tea.) There is no official drink for Gunther or Mike Hannigan. We're disappointed, too. Here's how we rank all the new Friends drinks.
The Coffee Bean & Tea Leaf
6. The Rachel 
Her drink: Matcha Latte
Coffee Bean's promotional materials say that "The Rachel" is a matcha latte not because her last name is the color of this tea, even though that would've been totally good enough for me! Instead, it says, "the lightly sweetened blend of ceremonial grade matcha with our silky vanilla powder and milk is perfect for trendsetters and matcha enthusiasts." I say that it tastes a little too much like the powdery residue leftover at the bottom of a protein shake. 
Furthermore, I'm not sure this drink is a good fit for Rachel. One of her most defining characteristics was her hair, which I can only imagine smells like Pantene Pro-V. This drink does not smell at all like a hair-styling product, which would have been a slight improvement.
The Coffee Bean & Tea Leaf
5. The Joey 
His drink: Mango Cold Brew Tea 
I'm loving how coffee chains are experimenting with iced teas, and this is a great example of the trend. This is a mix of sweet mango puree with cold brewed Scottish Breakfast tea. Coffee Bean says "the sweet, juicy flavor of mango pairs with a fruity cold brew tea" and then they made a "How you doin'?" reference that you are better for having not read. I saved you, you're welcome.
Anyways, HOW YOU DOIN'? I make all the Joey references around here, Coffee Bean! To me, Joey can be a little much (though not nearly as much as Chandler), and this drink has a little too much mango in it. Like Joey, the idea of a cold-brewed mango tea sounds delicious, but then you get up close and you think better of it. There's a reason the Joey spinoff didn't last long.
The Coffee Bean & Tea Leaf
4. The Chandler 
His drink: Caramel Coconut Latte 
If you think the people at Coffee Bean selected random drinks off the menu and paired them with characters, you are wrong. They thought this through. "Chandler is the kind of character who would mock a caramel coconut latte, order one ironically, and then discover that it's his favorite drink in the world," said Nurit Raich, CB&TL's senior director of product innovation. 
Will you allow me to review this drink in the way Chandler would? Cool? Here goes: "Could this drink be any more coconuty?" OK, I'm done. I wish they wouldn't have selected a hot drink (though it can be ordered iced!) in the middle of a heat wave across much of the country. If you don't like lattes that taste like coffee, it's a great option. The coconut and caramel flavors are more subtle than you'd expect, and they kind of work in concert!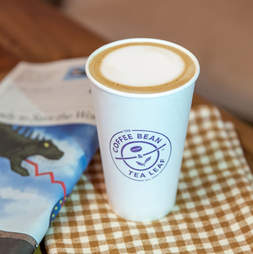 The Coffee Bean & Tea Leaf
3. The Ross 
His drink: Classic Flat White
If Coffee Bean had paid me a million dollars to pair these drinks with Friends characters, I would never come up with anything funnier than a flat white for Ross. But they didn't select that drink in order to point out that he's a pretty boring white dude in a series that makes New York look whiter than Pleasantville. Instead, Coffee Bean's promo materials say that there's "no awkwardness here, this beverage is sophisticated and sleek, just how Ross Geller wants to be."
I will say that this drink surprised the hell out of me, like when I saw Ross lie to Rachel that he got their marriage annulled, but actually he didn't. Ah shit, spoiler alert? Anyways, the good news is that it doesn't taste like a cup of sweet, hot milk. It has way more coffee flavor than you're expecting from a drink that has more milk in it than espresso, and it has a beautiful layer of foam on top. This is a fantastic choice named for a person with a history of making terrible choices. 
The Coffee Bean & Tea Leaf
2. The Monica 
Her drink: Midnight Mocha Cold Brew 
I like this choice for Monica, who, as you might remember, is an anal-retentive neat freak. This drink is simple, and has two ingredients: cold brew and dark chocolate syrup. Coffee Bean says the "rich, dark chocolate syrup combined with our bold, 20-hour steeped cold brew creates precisely balanced flavors of coffee and chocolate for perfectionists like Monica Geller." 
Coffee Bean does chocolate drinks exceedingly well, and this is no exception. It tastes like a liquid chocolate bar, or a glass of ice cold chocolate milk with a shot of espresso. You might think that as the head chef of Allesandro's, she has such a refined palate that she'd never go near the muted flavors of a cold brew. But guess what? Monica is in full control of her life and doesn't care what you think about her ribbon drawer or label maker. She does her own thing. She drinks Midnight Mocha Cold Brew.
The Coffee Bean & Tea Leaf
1. The Phoebe 
Her drink: Cookies and Cream Ice Blended 
In the wrong hands, this drink could be a saccharine sweet mess of a coffee beverage, only worthy of being lapped up by smelly cats. But Coffee Bean nails this play on its classic Ice Blended drink with what the coffeeshop says is a "sweet creamy vanilla, splash of espresso, and chocolate cookie pieces." 
Because this is basically a cookies and cream milkshake with a splash of coffee, it's worth noting that 24-ounce packs in 530 calories. You might want to consider splitting it with your twin. But whatever you do, order it. Because if you don't order a Friends-themed drink, could you even be any less of a Friends fan? Yikes, Chandler's the worst. This drink is the best. 
Sign up here for our daily Thrillist email, get Eatmail for more food coverage, and subscribe here for our YouTube channel to get your fix of the best in food/drink/fun.