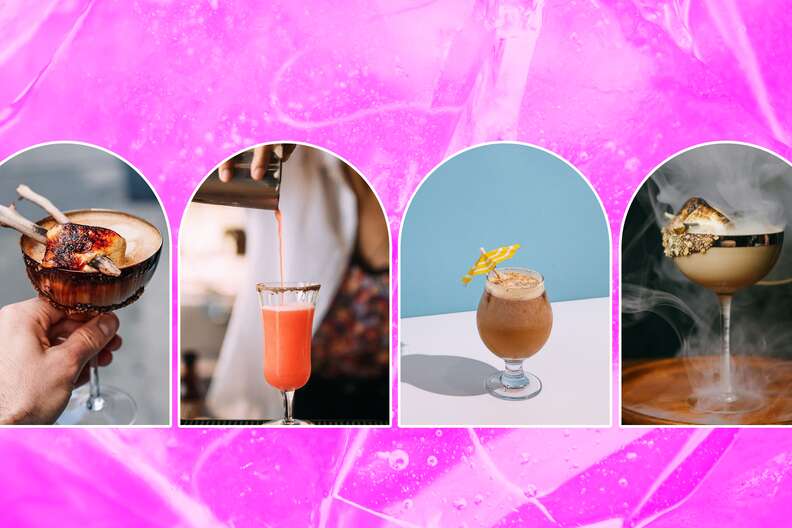 Design by Chineme Elobuike for Thrillist
Design by Chineme Elobuike for Thrillist
The hickory smoked s'mores latte at Felix Roasting Co. isn't for the faint of heart. It's made the same way at each of their coffee shops in Manhattan and a recently opened outpost in Colorado: Graham cracker-infused milk is placed in a Nick and Nora coupe with a dark chocolate rim. It then gets two shots of espresso and is topped with a house-made caramel marshmallow before it's all smoked in a bell jar with hickory chips. The whole experience—from preparation to presentation—isn't unlike one you might have at a dark, swanky cocktail bar.
That's just one example of how baristas are getting creative with coffee drinks beyond lattes and frappes. These thoughtful and stunning drinks are satisfying an ever-growing clientele looking for sophisticated alternatives and also a way to enjoy cocktails without the booze.
Making coffee drinks that resemble cocktails is a natural next step in the coffee movement, says Felix's co-founder Matt Moinian. At one point, consumers largely drank Maxwell House and Folgers while today people pay attention to where and how their coffee is sourced. "When people start caring about the origin of the terroir and the flavor of coffee, then that in itself is something that you want to pair with something else and build upon," he says. "So I think it's a really fun time to be in coffee in that respect."
In Grand Rapids, Michigan, Madcap Coffee offers a seasonal drink menu of three cocktail-like coffee beverages. It was born out of an in-house series known as "Feature Fridays" which allowed their baristas to flex their creative chops. The recent summer menu, for example, featured a drink called the Royal Navy Remedy, which Brodie Lewis, Madcap's retail manager, explained is a blend of cascara (the dried skin of coffee cherries), pineapple, orange, and coconut. "It's a twist on the Painkiller cocktail from the Tiki side of bar culture," Lewis says. "The cascara has a really great depth to it and fruitiness similar to rum."
Served in a specialty cocktail glass with an umbrella garnish with fresh-grated nutmeg on top is a combination of form and function, says Lewis. Not only does it look nice and add to the overall experience, but the type of glass used can enhance the taste. "As you sip through the drink, that bowl caught a lot of the aromatics and the nutmeg scent from the drink as well, so that you could still enjoy that throughout the drink instead of just at the beginning," he explains.
At Gilly Brew Bar in Stone Mountain, Georgia, co-founder Daniel Brown doesn't limit himself to only coffee drinks. One elixir called Keeping Kosher, for example, brought together pickle brine and oolong tea. "The flavors are unexpected, but works so brilliantly," says Brown of the drink that also used lime juice and lavender syrup. Making these drinks challenges him and his team to think outside the box.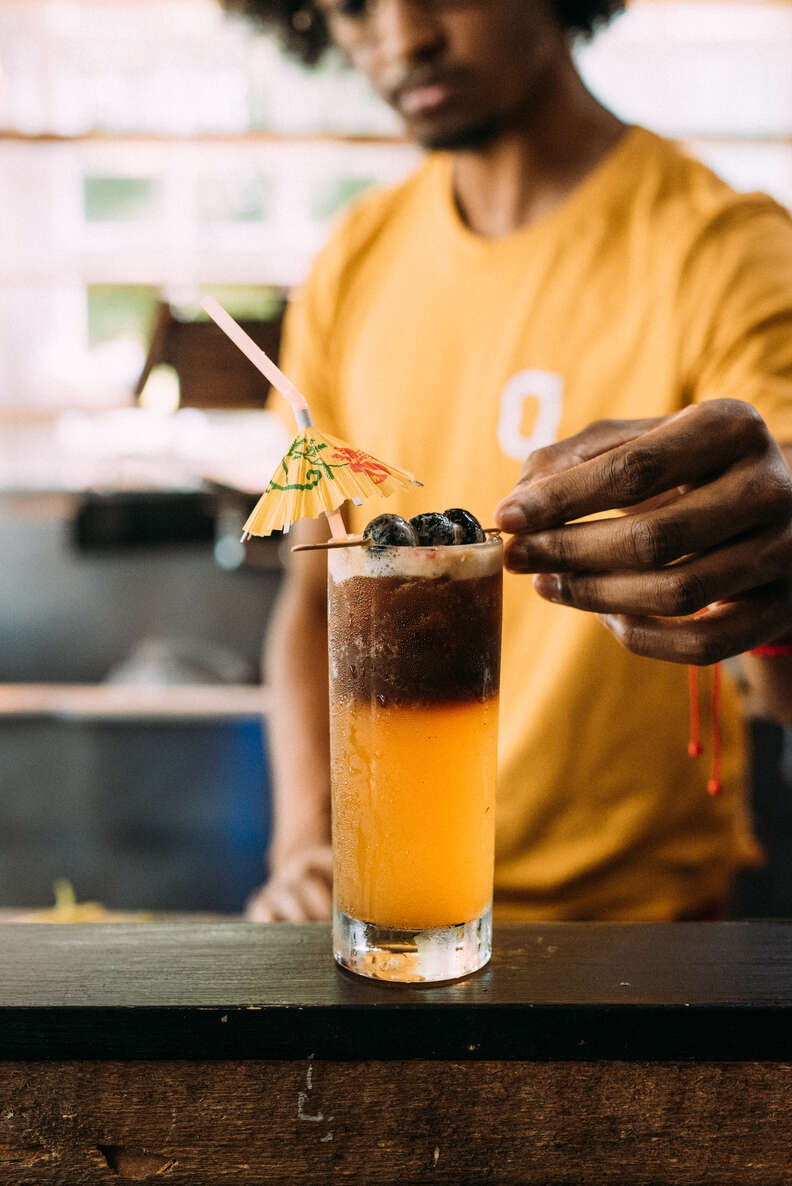 There's also a growing interest in nonalcoholic drinks, Lewis points out. "I've seen this parallel in the cocktail world as well, that a lot more bars are carrying nonalcoholic versions of drinks just because people are being mindful of consumption," says Lewis. "It's a great opportunity for someone to have something that's interesting and complex and flavorful, without it being an alcoholic drink."
According to data from e-commerce company Pattern, demand for nonalcoholic beverages is at a three-year high through the first seven months of 2021. So it stands to reason that people's interest in drinks that are essentially coffee "mocktails" would grow, too. "Sometimes people want a grown-up kind of drink early in the day, and they don't want to be the only tipsy person around," Brown says. "This just gives them the illusion. It takes them into another world where they feel like they're having a cocktail, but really it's just something that will still keep them sober, but still feeling good inside." Brown's not opposed to spiking his concoctions, but appreciates that he can please people across the board.
When it comes to crafting coffee "cocktails," inspiration can strike anywhere. For Connan Moody, the founder of Academy Coffee in Atlanta, that can even include a pizza from the famous Roberta's. The Bee Sting pizza, which is topped with soppressata and spicy honey, prompted Moody to make an iced tea drink with chamomile and habanero-infused honey and tart cherry and saffron bitters. It's refreshing, slightly sweet with a bite.
Another drink he makes, the Hercules, Hercules, is a flat white with bay leaf and olive oil. That one was birthed after a trip to an international grocery store where Moody first encountered fresh bay leaves. "Honestly, it's picking up everything and thinking about it as it enters your mouth, and then recalling how it goes well with other stuff, or how you experienced it that first time," Moody says. "And just putting it in a Rolodex of sorts, and flipping through that any time you're going to go and get creating, you already have an arsenal of flavors and everything like that to work from."
For the baristas making these complex drinks, it's a chance to show guests that coffee isn't just a drink meant to be sipped from a paper cup between errands. "It brings awareness to the beautiful complexity of coffee," Brown says. "A lot of people just saw coffee as a commodity, when it's really a specialty beverage. Even if it's not used as a mocktail or an elixir, this allows us to educate our consumers where they could understand the coffee that we're using as the base of some of these drinks are some of the highest quality sourced coffees in the world."
Lia Picard is an Atlanta-based journalist writing about food, travel, and a variety of other topics. Her work appears in
The New York Times, The Washington Post, Wine Enthusiast
, and
CNN Travel.