Dan Gentile
Dan Gentile
If you're planning to open a coffee shop, odds are you probably love coffee, have a strong belief in community spaces, and are a real dummy. You should probably wise-up and open an e-cig shop.
Of course, we're teasing. But still, if you must make like a caffeinated moth towards a coffee flame, there are some things you should know. To find out how one navigates the boiling waters of the cafe industry, we talked to a wide range of shop owners from across the country about everything from lease terms (never sign a lease in October!) to espresso machines (spend those extra five Gs) and which levels of electrical current are just too dangerous for DIY tinkering.
"I'm kind of morally opposed to these articles, because if people take them to heart, nobody would take the risk."
- Shawna McKeown, Oui Presse (Portland, OR)
Know what you want to be, but be realistic
"Some people opening cafes just like hanging out in coffee shops and want to serve their friends and think it'd be awesome."
- Trevor Corlett, Madcap Coffee (Grand Rapids, MI)
The Greeks said, "know thyself." Ice Cube said, "check yo self before you wreck yo self." Both are universal truths. It's cute to think that you could have been an astronaut and adorable to think you can sell beans that've been crapped out by a forest cat. But be realistic.
Most decisions will stem from the basic premise of your shop. Do you want to be that pure coffee-geek den? A study lab for college students? Flip into a cocktail bar at night? Turn and burn through morning commuters? Press the greatest chipotle-chicken panini that the neighborhood has ever known? Host terrible open mic nights? The answer can't be all of the above.
Use this idea as a guiding principle throughout the rest of the process, but know that, at some point, you might have to make like Hakeem the Dream and pivot toward the goal, which is, ultimately, to not fail miserably and disappoint all those people who gave you $10 on Kickstarter. What you're creating is for your clientele, not you and your three friends who will keep you company at the bar and fawn over the micro-lot beans that they're drinking for free.
It's also important to understand your strengths and weaknesses and, then, to develop partnerships based on those deficiencies. If you're a champion barista who can fit everything they know about business into a piece of latte art, it's best to find someone who knows how to balance a checkbook... or did back when people still used them.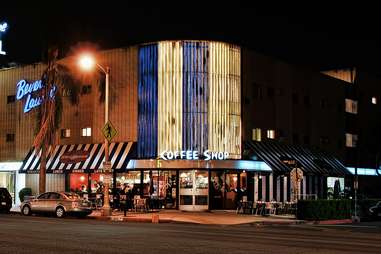 Location is as important as they say, and pretty much everyone says it three times
"Look everywhere. All the time. And when someone approaches you with an opportunity that's even remotely interesting, always take the meeting."
- Sam Penix, Everyman Espresso (New York, NY)
Hunting for a place to raise your baby isn't as easy as an armchair real estate mogul would lead you to believe. No location is perfect, there are trade-offs to be made anywhere you go. The decision is about which trade-offs you're comfortable with.
The simplest route is to inherit a space that's already been a cafe. It will be properly permitted, not require much remodeling, and already have the scent of espresso and discarded alt-weeklies. If you go with a space that's less conventional, you can run into miles of red tape. That abandoned gas station might make for an adorable cafe, but you'll need a costly soil test to ensure there's nothing sinister lurking underneath.
One of the biggest hurdles is that landlords know a restaurant will make way more money per square foot than a coffee shop. A quick-service taco joint might have an average ticket of $10 with customers out in 20 minutes, compared to $4 for four hours worth of coffee. So scout for a space that's too small or too unconventional to sell delicious tacos.
Although most factors about location are give and take, foot traffic is the one thing that's almost non-negotiable. You don't need to be on the busiest street in town -- a more up-and-coming area can be a boon because your business can help define what the area will become. But you do need people to already be walking in front of your place, so that they'll actually walk into it.
And while everyone says "location, location, location", according to Ryan McElroy of Austin's Thunderbird Coffee, they should also be saying "parking, parking, parking". "The typical restaurant doesn't have someone stay in that spot for five hours, so more is always better. You can't have too much." Also, it may be wise to get the number of a reliable towing service.
Lawyers understand leases better than you
"My best advice is 'lawyer.' I never thought I would say that, but it is. Verbal agreements don't mean anything."
- Rebekah Yli-Luoma, Heart Roasters (Portland, OR)
Your lease is like a marriage contract: the "til death do you part" part. So just like you wouldn't just go get hitched without knowing your partner pretty well, you don't want to go sticking your pen in any contract that swipes right on Leasr.
Unless you have a law degree or are into obscenely complicated night schools, you won't be able to parse through a lease like a professional. Most cities offer free legal advice to small business owners, but spend the extra cash to find a lawyer who you trust and will have your best interests in mind.
Some leasing no-nos from our panel of pros:
- Don't spend more than 10% of your budget on occupancy costs. Most well-run restaurants operate at a maximum of 6-8%.
- Don't accept a lease without a few months of free rent. You will need them.
- Don't sign anything without renewal or sublet options.
- Don't start a lease in October, because everyone goes on vacation/gets lazy.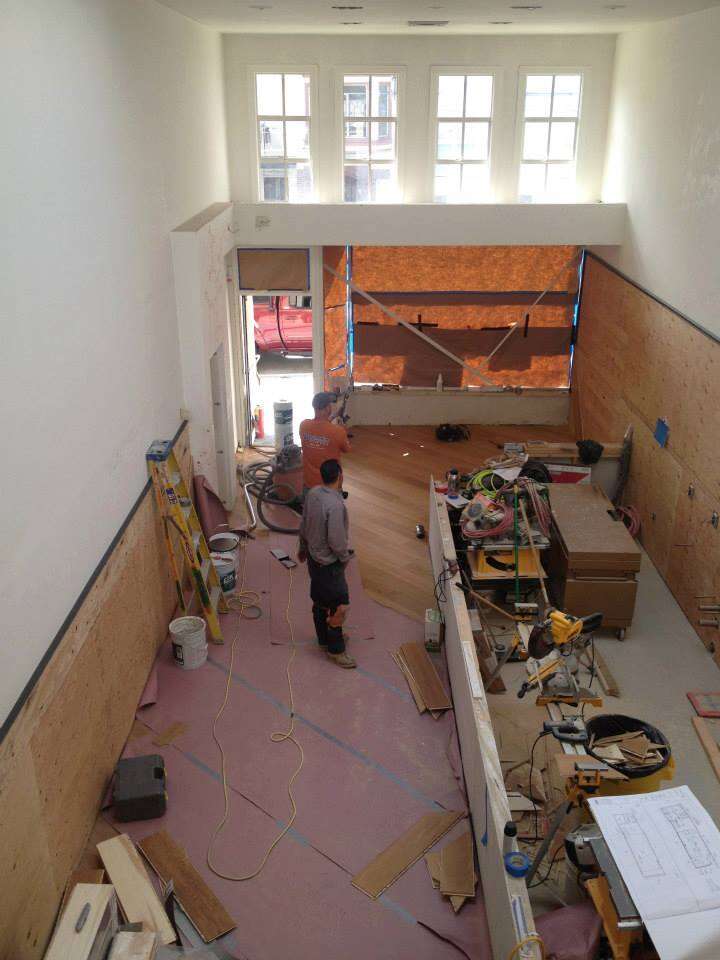 A DIY build-out saves money, but hire professionals for the complicated steps
"If you want to do it yourself, you'll be here at 4am, taking shots and running electricity."
- Ryan Hall, Figure 8 Coffee Purveyors (Austin, TX)
A DIY build-out can save thousands of dollars. It can also mean taking an electrical shock that sends you flying 10 feet across the room and makes you forget your mother's maiden name, so leave the 240-volt work to the pros.
Hiring a general contractor might seem like a defeat, but it could end up costing much more for them to clean up your mess after you fail at playing plumber. They also know how to deal with the city and avoid bureaucratic trip-wires that can quickly multiply the number of permits required. If you are going to brave the permit office yourself, give them as little information as possible so as not to set off red flags.
Either way, it's still going to be more expensive than you thought. Twice as expensive according to our experts. That electrician might've quoted $1,300, but then they had to come a second day and it turned into $2,000. Design elements like glass tabletops and light fixtures can easily cost thousands of dollars. Just remember which expenses will positively affect your business financially. Light fixtures that cost $18,000 aren't going to generate revenue.
The jury was out on whether to hire architects or designers. It's easy for a professional to force your hand in a direction that doesn't reflect your personality, and, often, architects don't understand the spatial differences between a restaurant and a coffee shop. On paper the design might look great, but then there's nowhere for people to stand while they're waiting for their drink. Then again, a designer can mean the difference between making a customer feel like they're in a comfortable living room or a creepy basement.
Throughout permitting and zoning and building, you will undoubtedly be delayed a few months. Although you can't sell coffee from your shop, that doesn't mean your business is totally out of commission. Doing events and farmer's markets is a great way to build your brand before you've built your... building.
Good equipment means good coffee
"You should never try to save money on coffee brewing and espresso equipment. This is your bread-and-butter."
- Caroline Bell, Cafe Grumpy (New York, NY)
The type of equipment you choose should be based largely on how many drinks you'll be serving. In a business with such low profitability, efficiency is crucial. And you know what's not efficient? That science lab brewer from Breaking Bad.
Some customers love coffee gadgetry like siphons or time-consuming pour overs, but many more customers will rue the fact that they need to wait eight minutes for their coffee. Heart in Portland began using these methods, but eventually got rid of them because they were slow and inconsistent. So if you're going to opt for manual brewing methods, try something quicker like the Aeropress. Or come up with a strategy to replace the lost revenue (Beer! Wine! Panini!).
In terms of your espresso machine, this is your work horse, and you don't want its back to break on you. "I was an espresso-machine salesman, so I always tell people that investing an extra $5,000 in your espresso machine translates to more revenue because of the quality of manufacturing and reliability," says Mike McKim of Cuvee Coffee in Austin. Same goes for the grinder, which can easily cost as much as a used Corolla. But before dropping your life savings on a Kees van der Westen machine, it's important to know that, while that extra five grand might make a difference, splurging that extra $10,000 probably won't.
Lastly, proper water filtration is perhaps the unsung hero of good coffee, so skimping on this will lower the overall taste of just about everything in your shop.
Big-name beans aren't essential
"Coffee nerds might think that everybody knows brands like Counter Culture or Intelligentsia, but your customers are more likely to recognize the names of their local roasters."
- Mike McKim, Cuvee Coffee (Austin, TX)
The resounding advice on choosing your beans is to go local. A prospective owner might dream of being a multi-roaster shop with a buffet of coffees from around the world, but all of that quickly goes out the window when you've got to pay the electrician, furniture is costing three times what you expected, and rent was due yesterday.
Obviously, you need tasty beans, but if you choose a reputable roaster, the quality will be there. What really makes the difference to a small shop is customer service. A big-name national roaster might earn you some cred, but expect logistical nightmares, delayed deliveries, and minimal customer support. Buying your coffee from a guy across town solves these problems.
By going local, you're also helping to elevate your coffee community.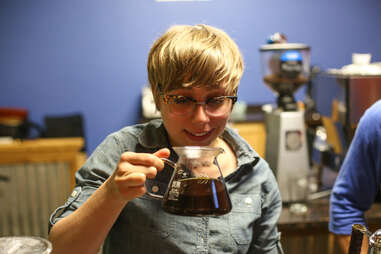 You can train barista skills, but not personality
"It's almost harder to find someone who has worked in coffee, because you have to retrain them to match your philosophy."
- Trevor Corlett, Madcap Coffee (Grand Rapids, MI)
Just because you're a champion barista doesn't mean you're a champion human being. Perhaps the most resounding refrain we heard from coffee shop owners was to hire based on personality rather than ability to draw hearts with milk.
Once you've got your crew of fledgling baristas, it can be tempting to put the most experienced on coffee duty and leave the green guy at the register. Bad idea, says everyone. The cashier is the person who has the most interaction with the customer, so you want to put your studliest small talker there, rather than an awkward guy who comes across like a POS because he doesn't understand the POS.
Another unanimous response was that you should always work at your own shop -- at least in the beginning. By working the bar during the opening months, you'll learn first-hand which systems need improving and how best to manage workflow, plus you'll be the first line of defense against any complaints or criticisms. It also will save you some money on staffing, which you will undoubtedly need.
And while you're working the bar, try your damnedest to remember customers' names, because everyone loves feeling like they're buddies with the owner.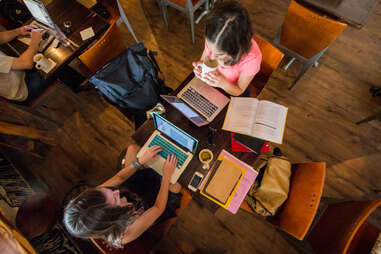 You will live and die by your regulars
"Your success as a cafe is largely built on developing neighborhood regulars. People may come for a great cup of coffee, but they'll come back for a connection and community."
- Kevin Bohlin, Saint Frank (San Francisco, CA)
Your objective is to convince people to include you in their daily rituals, which aren't easy to change. It's important to figure out who you want coming to your shop, and then cater your style of service to them. Small design choices can make a big difference in defining your crowd. Put surge protectors out, and they'll function like Ghostbusters traps for students. Disable Wi-Fi, and you'll draw the ire of freelancers, but pull in a more social crowd.
But no matter what type of clientele you're looking to draw, the bottom line is that a cafe owner should treat everyone equally. You want each customer to feel like a very important person, and, if you end up treating them well, they'll tell their friends. Who are hopefully very good looking.
You will need to sell lots and lots and lots of coffee
"Warning: You're not going to make any money. Just kidding! But it's pretty hard."
- Rebekah Yli-Luoma, Heart Roasters (Portland, OR)
If a Ferrari dealership sells one car a day, they're in great shape. But, unless you're selling gold cups laced with actual gold, you will need to sell lots and lots of coffee.
Coffee is a low-margin, high-volume business where most of the sales happen before 11am. According to Sam Penix from Everyman, it might take two to three years to become profitable. Since volume is key to success and success is a long way off, efficiency is incredibly important. Any bottlenecks in your customer flow will lower your potential volume, not to mention frustrate customers.
One of the keys to maximizing volume is to consider the barista's processes and the way that the customer interacts with them. If you go with slower pour-over brewing tools, they need to be positioned so that the customer can see the process and the barista can chat them through why their coffee is taking so damn long.
Another important thing is to analyze the flow of customers. Coffee doesn't have to follow the same approach as fast food, where you pay, move to the side, then receive your drink. It can be a Chipotle-like assembly line where the coffee is ready by the time you pay. Or a model that closer emulates a regular bar, a diner, or even a table service restaurant. This is a decision that affects customer experience and has a very real consequence on the bottom line.
That bottom line will be heavily buoyed by selling things other than coffee. Beer, wine, liquor, sandwiches, magazines, coffee gadgets, bicycles, records... almost anything. It is very hard to succeed without an alternative revenue stream, so consider what else you can offer your customers other than that $4 cappuccino.
Pricing that capp is a balancing act. "There's a fine line between being a treat and part of someone's daily ritual," says Mike McKim. Everyone has a personal value equation, and, if you don't nail it, they're not coming back. If your shop is a destination, you might be able to up the price. If it's in a high-volume commuter location, you might have to lower it. If you're next to a Starbucks, good luck.
Opening is a different ballgame, altogether
"... Then you open and switch gears overnight. Running the shop is a completely different mentality and set of skills."
- Shawna McKeown, Oui Presse (Portland, OR)
Once you have the doors open, it's a whole new ballgame. All that money and back-breaking labor and complicated decision-making and money coalesce into a line of strangers asking you for things, which after months of lonely construction, can feel incredibly surreal.
But soon enough, it won't. That line of strangers will become a line of friendly faces who go out of their way to contribute a few dollars at a time to the cost of your obscenely expensive espresso machine.
The key to success is, ultimately, to make those people happy by constructing a space that's welcoming and comfortable, hiring people who aren't dicks, teaching them to make a decent drink, and having a lot of luck. Should you bravely undertake this Herculean task, may the coffee gods smile upon you.
Dan Gentile is a staff writer on Thrillist's Food/Drink team. He hopes this article will make for one less coffee shop with a super awkward system of waiting for your drink. Follow him to standing in everyone's way at @Dannosphere.