An Insider's Guide to... Colorado's Beer Scene
Colorado's most famous beer might be Coors, but it's impossible to ignore the more than 200other breweries in the state that don't own and operate ice-cold Love Trains.That's why we're presenting a comprehensive guide to the beer scene in 'Rado, including which beers you need to drink even if you don't live anywhere near Denver, the local breweries that're primed to become the next big thing, and the taprooms you absolutely have to visit if you're anywhere close by.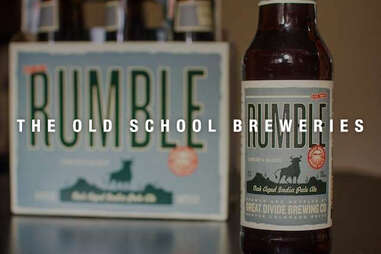 Coors Brewing
What started in Golden in 1873 by Adolph Coors has grown into an international beer conglomerate that's the seventh largest brewing company in the world. Now it's run by Pete Coors, who is into beer pong.

Great Divide Brewing Company
In 1993, GD put down roots in a not-so-nice Denver neighborhood blocks away from where the Rockies debuted/began sucking. Their Yeti releases are always incredible and have been photographed in the wild (we love the Chocolate Oak Aged version), and their Hercules Double IPA is 85 IBUs of hop-heavy awesome.

New Belgium Brewing
The pride of Fort Collins, New Belgium began in 1991 with two beers, one of which has turned into a craft beer classic: Fat Tire. Today, they continue to expand their nationwide reach by building a state-of-the-art brewing facility in Asheville, NC, and by putting out buzzworthy brews with offerings like the Le Terroir sour from the Lips of Faith series.
Breckenridge Brewery
In February 1990, CO got its third craft brewery in the form of a still-popular pub on Main St in Breckenridge. It only took a few more years to expand their operation to Denver and begin bottling the likes of their Vanilla Porter, Agave Wheat, and Lucky U IPA. Back in 2011, they merged with another Colorado brewery powerhouse: Wynkoop. Keep reading.

Wynkoop Brewing Company
The very first brewpub in Colorado in 1988, let alone Denver, there's no denying the downtown Denver pub's charm -- or their brews. From an old standby like Rail Yard Ale to the Great American Beer Fest-winning B3K schwarzbier, Wynkoop's a must-visit for any serious craft beer drinker worth their salt. They continue to innovate with the ballsy Rocky Mountain Oyster Stout, and show no signs of slowing down, even after their merger with Breck.

Oskar Blues Brewery
Oh, no big deal, they were just the first craft brewer in the country to can their beers. Actually, it was a very big deal. Since 2002, Dale's Pale Ale has been canned and enjoyed by people all over this great land. It's tough to forget that Oskar Blues started as a side project of a tiny restaurant in Lyons, CO, and has since expanded by leaps and bounds, to the point where to keep up with demand, they're opening a brewery in North Carolina. If you haven't yet had their Gubna, strap on your Imperial IPA boots, and have their Gubna.

OTHER VERY NOTABLES
Mountain Sun Pubs & Breweries, Left Hand Brewing, Boulder Beer, Avery Brewing
New Belgium's 2013 La Folie
Why to Drink It: The Lips of Faith series is a signature of the Fort Collins brewery, and this year's 6% ABV wood-conditioned brew does not disappoint. Look for "sour apple notes, a dry effervescence, and earthy undertone".
Availability: It's in 24 states. See if you live in one of them.

Great Divide's Oatmeal Yeti
Why to Drink It: All Yeti releases are a cause for celebration, and this year's 9.5% ABV version of the imperial stout is no exception. The beer's characteristic "roasty backbone" is in place, along with a "unique dark fruit character".
Availability:Use GD's beer finder and see if the Yeti's been spotted near you.

Odell's Lugene Chocolate Milk Stout
Why to Drink It: Named after the dairy farmer whose cows gobble up the spent grain left over from Odell's brewing process, Lugene is an 8.5% ABV beautiful mouthful of milk chocolate. It's rich, creamy, and makes for a great after-school after-work snack.
Availability: Odell's is in 10 states. Pray that yours is one of them.

Crooked Stave's Wild Wild Brett "Violet"
Why to Drink It: Only available in Colorado, they bottled just 1526 of these puppies, so either go bribe Chad the brewer for some from his personal stash, or hope it's available in their taproom when you go. If you're able to find this 7.5% beaut, you'll be rewarded with an ale that has lavender and pomegranate notes, and will be unlike anything you've ever had the pleasure of tasting.
Availability:Your best bet is to go to Crooked Stave's new taproom in The Source building.

Odell's Deconstruction
Why to Drink It: A barrel-aged wild ale that's not so sour novice that beer drinkers will shy away from it, this isn't quite a Belgian or a sour, which makes it one of the more unique beers on the market. And at a 10.5% ABV, it packs a punch.
Availability: Odell's is in 10 states. Pray your state is one of them.

Avery Brewing's Maharaja
Why to Drink It: For one, it's part of Avery's Dictator Series, which lets you drink like a despot without actually having to enslave nations. For two, it's an impressively drinkable heavy-hitter at 10.4%, and has a cool Maharaja dude on the label.
Availability:Find it using their handy website.
Denver Beer Company's Graham Cracker Porter
Why to Drink It: One thing DBC does well is seasonal beers. But this is so delicious, it's good any time of the year. If they ever have the oak-aged version on tap, snag it. Doesn't matter if it's in August -- you just can't beat that smooth, chocolatey graham cracker taste.
Availability: This is one you've gotta be in Denver now to enjoy, but don't fret -- they'll have this sucker out in cans soon enough.

Oskar Blues' Ten FIDY
Why to Drink It: With a name that also refers to what'll happen when we start cloning members of G-Unit, Ten FIDY is a dark, hoppy beast of a beer. It's what should be in the dictionary when you look up "imperial stout".
Availability:26 states carry this bit of canned heaven, so snap it up.

BRU's Citrum IPA
Why to Drink It: Best enjoyed in their cozy Boulder taproom, this is as well-balanced and tasty an IPA as you'll find, thanks to the fresh lemon zest and juniper berries in the mix.
Availability:You can snag a pint all over Colorado, but nowhere else for the moment.

SKA Brewing's Modus Hoperandi
Why to Drink It: Unlike some of the balanced IPAs we mentioned earlier in this list, this beer isn't afraid to punch you in the face with hops, but somehow manages to also be an easy-drinking beer.
Availability:Seven states and a handful of foreign countries have access to this fantastic IPA.
Epic Brewing Company -- Denver, CO
A new and welcome addition to the Denver beer scene by way of Salt Lake City, where the brewery got started, Epic's taproom/bar is sizable (and has a nice fireplace!), providing plenty of room to stretch out and enjoy their Big Bad Baptist Imperial Stout on nitro, which is infused with coffee from a Fort Collins roaster.

Prost Brewing -- Denver, CO
Munich might be at least a hundred miles away, but you only have to go to Denver's Highland 'hood for beer brewed on old German brewing equipment, and what are some of the more authentic Deutschland beers you'll drink anywhere, including a dunkel, a pils, and an altbier. Unlike Philly, it's actually always sunny in Denver, so be sure to enjoy it on their patio.

New Belgium Brewing -- Fort Collins, CO
It's always a mob scene, but you've gotta go just to have gone. Soak in the atmosphere of one of the epicenters of Colorado's craft beer scene, located in picturesque Fort Collins. And the free tasters aren't bad either.

Telluride Brewing Company -- Telluride, CO
Telluride is one of Colorado's great treasures, and the views from the brewery there prove that every single day. The beer ain't bad either -- we like the Face Down Brown (and so do beer nerds, as it's won Gold at the World Beer Cup).

Trinity Brewing -- Colorado Springs, CO
Colorado Springs' Trinity is not only home to one of the coolest looking bartops we've ever seen (it glows!) -- they've also got healthy eats and bizarre dranks like the GABF gold-winning Elektrick Cukumbahh, a Summer saison made with English cucumbers.
Under the Sun -- Boulder, CO
Technically, the Boulder-based brewpub doesn't brew in-house, but they do brew upstairs in their sister brewpub Southern Sun, and that's close enough for us. But you'll want to head downstairs for the far-superior food, as everything on the menu pairs perfectly with their beers and others from around the country. We recommend the fig & pig wood-fired pizza and their beer-infused sausages.

Gravity 1020 -- Fort Collins, CO
Presumably one of Sandra Bullock's favorite places to eat in Fort Collins, this brewpub is a glass-walled affair that looks onto the brewing facilities of Fort Collins Brewery. Chomp down on fried chicken with an Amber BBQ sauce, or other dishes that also use elements of their tasty beer. And bring a growler -- they've got a baller, hi-tech filler that'll do it right.

Breckenridge Brewery & Pub -- Breckenridge, CO
One of the state's original brewpubs is still one of the best places to eat and drink for apres ski, with hearty-as-hell burgers, wings, and classic beers like their Agave Wheat and Avalanche Ale on tap.

CooperSmith's Pub & Brewing -- Fort Collins, CO
CooperSmith's been a Fort Collins favorite since 1989; expect to find the usual pub fare like bangers & mash and mac & cheese alongside inventive beers like Sigda's Green Chile, made with Serrano and Anaheim chiles, and the Albert Damm Bitter.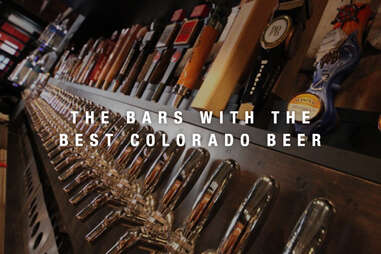 Colorado Plus Brewpub -- Wheat Ridge, CO
56 beers are on tap, and they're all brewed in-state, which makes taking a trip to visit this pub into the Denver 'burbs worth it. Snap up their mussels in a tomato/hefeweizen broth and pair that shizz with a Cannonball Creek Mind Bender IPA and you're all set. For extra fun, when you're done that beer, ask for 55 tasters of the other ones.

Falling Rock Taphouse -- Denver, CO
A must-visit in Denver for any respectable beer poindexter, Falling Rock packs 'em in by offering 75+ beers on tap and 100+ bottles, tons of which are home-grown, from Oskar Blues Deviant Dale's, to SKA Brewing's Vernal Minthe Stout, to Epic Brewing's only-available-in-state Escape to Colorado.

The Mayor of Old Town -- Fort Collins, CO
Rated one of the top beer bars in the country by filthy pornographic magazines like Playboy (ladies) and Draft Magazine (beer), the Fort Collins pub has 100 beers on tap, pouring local treats such as Funkwerks Saison, the German beer-obsessed Grimm Brothers Little Red Cap, and the delightfully-named Big Freshie Meow Meow from Great Divide that you usually have to go to their taproom to find.

Freshcraft -- Denver, CO
Located in the heart of Mile High's LoDo, the 20+ taps at Freshcraft are always craft and always reflect the extremely good taste of the staff. For instance, check what was on tap recently: New Belgium's Lips of Faith Paardebloem (bittered with dandelion greens!), Upslope Brewing's Rum Barrel Oatmeal Brown, and the grammar nerd kryptonite/double IPA called Myrcenary from Odell.
If you like Sierra Nevada Pale Ale, then you'll love Boulder Beer's Hazed and Infused, an inoffensive, easy-drinking brew with a nice hop bite at the end.

If you like Dogfish Head's 120-Minute IPA, then you'll love Avery's Hog Heaven, as it clocks in at a similarly high 104 IBUs, and about a 9% ABV -- and, unlike the 120, you can actually find this in stores.

If you like Sam Adams Boston Lager, then you'll love Steamworks Steam Engine Lager, a beer you can crush over brunch (as long as you're in Colorado), and one you can drink a bunch of without getting too tired of it.

If you like Magic Hat #9, then you'll love Dry Dock's Apricot Blonde, as this has those same apricot notes (only much stronger), and a big ol' gold medal at GABF to its name. Bonus: it comes in cans, like every good beer should.

If you like Guinness, then you'll love Left Hand's Milk Stout Nitro in a bottle, as it awesomely replicates the experience of drinking stout from a nitro tap without having to wait for the group of five girls at the bar to finish ordering their vodka sodas.