Unexpectedly Great Cocktails You Can Make With Condiments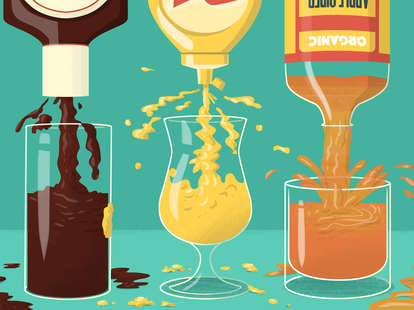 Whether it's born out of necessity or just the fact that you noticed a bottle of Korean BBQ sauce sitting next to a handle of tequila, adding condiments -- even unlikely ones -- to cocktails can take them to unexpectedly delicious levels.This arts & crafts approach to making drinks at home is kind of like urban foraging, using what you find in the natural environment of your apartment to create unique cocktails. With an open mind, a bottle of booze, and a cocktail shaker, you can raid your pantry and fridge to make insanely complex-tasting cocktails with only a few simple ingredients. Here's how.
Jam
Smashes involve shaking fruits into oblivion… and jam and jelly provide that in one-easy spoonful (and reduce the effort of vigorous shaking). If you keep a few different varieties in the fridge, you can let your guests have a "choose your own adventure" cocktail-making session. The basic ratio is 1 part jam/jelly, 2 parts spirit, and 1 part citrus.
INGREDIENTS:
2 ounces bourbon
1 ounces blueberry jam
1 ounces lemon juice
DIRECTIONS:
Combine ingredients over ice in a mason jar, fit with the lid, and shake what your mama gave ya (while shaking the drink). Insert straw and enjoy.
Hot sauce
People who are passionate about hot sauce won't need a lot of convincing to add it to cocktails, because we put that shit on EVERYTHING! The michelada -- a combination of beer, hot sauce, lime, spicy salt, and other optional MSG-infused sauces -- is a refreshing cocktail that is basically an excuse to drink hot sauce.
INGREDIENTS:
1-2 ounces hot sauce
1 ounce lime juice
1 bottle of light beer
Chili salt
DIRECTIONS:
Rim a glass with chili salt and add hot sauce and lime, top with beer and serve the rest of the beer on the side.
Mustard
Sure, mustard doesn't seem like the most obvious condiment for a cocktail… but neither did tomato juice or cocktail onions. Mustard is actually vinegar based, balancing the natural spice with some tang, and a little experimentation can yield surprisingly delicious results -- just take it from Matt Tanner of Houston's Anvil Bar & Refuge. For those of us who keep a bare bones bar at home, a simple dijon daiquiri might become your new favorite pairing with hot dogs and brats (I'm looking at you football season). Mustard is a natural emulsifier and makes things thick, so a little goes a long way.
INGREDIENTS:
2 ounces white rum or vodka
.75 ounce lemon juice
.25 ounce dijon mustard
1 ounce honey or maple
DIRECTIONS:
Combine all ingredients in a cocktail shaker filled with ice, shake until well chilled, pour into a glass, and enjoy with something on a bun.
Capers
Capers (the small ones) and caperberries (the big ones) are the weird cousins of olives, with an extra salty flavor, which explains why people usually love them or hate them. Substituting caperberries for olives and juice in a classic martini makes it "filthy," which is so much more fun to order… even if the bartender has no idea what you're talking about.
INGREDIENTS:
3 ounces vodka or gin
1 ounce caper brine
.5 ounces dry white vermouth
Caperberry for garnish
DIRECTIONS:
Pour liquid ingredients into a shaker over ice and stir until well chilled, strain into a chilled martini glass, and garnish with a caperberry, and a James Bond reference.
Vinegar
It's hard to imagine that homesteaders of the past didn't occasionally add a splash of bourbon or rum to their jars of switchel, a potent mixture of cider vinegar, ginger, and maple syrup. Tart and tangy, vinegar often takes the place of ubiquitous citrus, and can be substituted in equal parts in most recipes. The type and quality of vinegar is important, just like the spirit; a good all-purpose vinegar to start with would be unpasteurized apple cider vinegar or sherry vinegar.
INGREDIENTS:
1 ounce apple cider vinegar
2 ounces bourbon or rum
1 ounce maple syrup
2 ounce seltzer
DIRECTIONS:
Combine vinegar, liquor, and maple in a cocktail shaker over ice, shake until chilled. Pour into a glass and top with seltzer.
Gochujang
The Korean marinade paste and condiment is made from fermented chilies, rice, salt, soybeans, and sugar and comes out thick, rich with umami and tongue-tingling heat. Adding this to agave-based drinks is an East meets West combination that's the best thing since Korean BBQ tacos. Recipe developer Emily Han puts it to use in a bright pink watermelon margarita, a great move on a cooler night.
INGREDIENTS:
2 ounces tequila
1 ounce lime juice
.5 ounce agave nectar
.5 ounce Gochujang sauce
DIRECTIONS:
Combine ingredients in a cocktail shaker over ice, shake until well chilled, and strain into a glass that's been Kim Jong-chilled.
BBQ sauce
BBQ sauce has a lot going for it:, it's spicy, smoky, sweet, tangy, and comes in endless variations. Particularly smoky sauces are begging to be paired with Scotch and mezcal, and spicy versions are destined to find their way to Bloody Mary mixes. Both tomato-based and vinegar based sauces work. Unlike with ribs, you won't be picking them out of your teeth.
INGREDIENTS:
4 ounces bloody mary mix (homemade or not… no judgment here)
2 ounces mezcal
1 ounces BBQ sauce
BBQ seasoning
Jicama spear for garnish (celery is fine too)
DIRECTIONS:
Rim a tall glass with BBQ seasoning and fill with ice. Add all liquid ingredients and stir to combine, and garnish with veggie spears. Or a rib.
Sign up here for our daily Thrillist email, and get your fix of the best in food/drink/fun.
Tess Rose Lampert is a Manhattan-based philosopher-turned-drink expert who spends her nights grappling with tough decisions like what to pair with Thai takeout and Netflix binges. It's often mezcal. Follow her on Twitter @TessRose211.