It's easier than ever to get a great craft beer at a bar meant for just that, no matter which state you're in. But once you're in said bar, there are a few things you should definitely avoid doing lest you end up embarrassing yourself and annoying the bartender.
We called up a handful of the best craft beer bars in the country (all of which are mentioned here) and asked their bartenders: what shouldn't people do in your bar? According to them, among other things, you need to stop asking which beers are on tap. Come on! The tap list is right there, and you're standing in front of it. You can read, right? You're reading this, so we know you can. You're not fooling anyone.
Asking the bartender to add fruit to a beer
"I think a lot of people by watching Blue Moon commercials think that you're supposed to add an orange to your witbier, but in reality I don't think brewers want you doctoring up their beers. They brewed the beer with the flavor profile they intended. And anything added to that is just messing with it, in our view. People will ask us to add a lemon to their Allagash White, and we say, 'It's citrusy on its own, this is the way the brewer wanted it. We're not going to screw with it.'" -- Xian C., Monk's Kettle (San Francisco, CA)
 
Using a beer menu as a coaster
"Don't use a taplist as a coaster. We get that a lot, because we have printed menus, and people will order a beer and put their beer down on the menu and use it as a coaster. It basically takes away a menu from any other customer that wants to look at it. If someone asks to see a menu, I'll have to go over to a customer, lift their drink up, take the menu, and hand it to somebody else. They're claiming the beer menu for themselves, when it's meant for everyone to be able to see what's on [tap]." -- Mike N., Eli Cannon's (Middletown, CT)
 
Not understanding that bars can't carry all your favorite beers
"One thing that gets us every time -- people will come in and ask us for an obscure beer from their home state. You can't get in everything. They just assume we get in everything regardless of distributor laws and the brewery's ability to provide to a different state. I think once a day we get asked if we have Yuengling -- they don't distribute west of the Mississippi. [They'll say,] 'Have you ever heard of Russian River? You should get that here!' Yes, we've heard of them! We do everything in our ability to get the best stuff here, and if it's available, we'll have it." -- Teresa C., El Bait Shop (Des Moines, IA)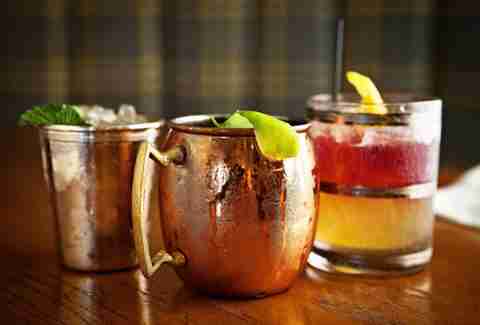 Ordering cocktails
"[People order] fancy cocktails and stuff we don't have. They order Moscow Mules! We don't have Moscow Mules, we're a beer bar. People always ask for crazy cocktails." -- Dane I., 7 Monks Taproom (Traverse City, MI)
 
Drinking inside your comfort zone
"Think outside your comfort zone. If you come from PA, and you just drove two hours to come to Max's -- don't order a Yuengling, you can get that back home. Think outside the box. Tell the bartender: I like Yuengling, what's similar? Just don't go for what you can get at your corner bar. Be more adventurous and consult the bartender." -- Bob S., Max's Taphouse (Baltimore, MD)
 
Selecting a beer by trial-and-error
"If you go to a good beer bar like ours, the point of us having staff instead of machines is that you can ask someone [about the beer], and have a conversation about beer. [At Local Option], the person working at the bar has probably worked here for 10 years or so, probably longer than anyone who comes to our bar has been drinking craft beer. And they'd probably be able to suggest something based on [your] criteria. [We want to] have a discussion with the customer instead of pouring a sample, putting it on a table, and that being it. The [idea] is to find the right beer instead of playing a trial by error game." -- Alexi F., Local Option (Chicago, IL)
Telling the bartender you like "all beer"... especially if you don't
"The number one for me is the person who comes in looking for a beer, and when I ask them the question, 'Which styles do you typically prefer? Or what brands of beer do you normally drink?' so I can guide them the right way, their answer is, 'I like all beers.' And it turns out they don't like all beers.
"If someone is coming in under the assumption that, 'Well, I like Coors Light, Bud Light, and Miller Lite, so I like all different beers.' But really, that's one specific style of beer, and trying to get them to that point sometimes is a struggle when they're not willing to give you more information about their tastes. I've had people come in saying they like IPAs, and then it turns out they hate beers that are bitter. Same thing with people who say they enjoy sweeter beers, but when I give them something with a malty backbone and a sweetness to it, they say, 'I don't know how people drink this!' Some people say they like all beers, but it turns out they only like stouts [as an example].  
"If someone has a general taste in beer, that's okay, but when you're trying to find a beer for someone, it's helpful to find out what their preferred taste is. When you come into a bar, and you're looking for something good to try, let the bartender know what you like, and be very specific about it. The lack of specificity when it comes to people's personal taste is what drives me crazy."
-- Leah H., The J. Clyde (Birmingham, AL)
"A lot of times people will come into a beer bar not knowing anything about beer, and their one nugget of knowledge is that ales might be richer than lagers. This doesn't bother us at all! They have some conception about ale. They'll ask for our favorite ale, but 90% of our list is ales, which doesn't give us much to work with. Even if you don't know which beer you like, try to be more specific in what you're going for. If you know you like things citrusy, or you like things roasty, those are things that we can work with." -- Xian C., Monk's Kettle (San Francisco, CA)
Assuming the bartender has tried every beer in the bar
"People always stare at the taps. [Some] ask about every single beer on tap. And we have close to 600 beers in bottles; I drink a lot of beer, but I haven't drank every single beer we have. [I have to tell them] 'I haven't had that one, I'm sorry.'" -- Jesse S., Riverside Market (Fort Lauderdale, FL)
 
Oversampling, and then ordering something basic
"The most annoying thing is when someone samples every single beer, and then ends up getting a [light beer]." -- Ryan G., Pickled Pig Pub (Rehoboth Beach, DE)
Sign up here for our daily Thrillist email, and get your fix of the best in food/drink/fun.
Lee Breslouer is a senior writer for Thrillist, and has definitely used a beer menu as a coaster before. Follow him to righting wrongs: @LeeBreslouer.