You never forget your first love. That's because you're friends with them on Facebook, and you're probably sick of seeing pictures of their kids at this point. Similarly, you'll never forget the first beer you loved, or tire of its adorable children.
All this swooning got us wondering what beer set the hearts of those who make some of our favorite beers aflutter. So we polled 23 brewmasters from all across America for tales of their first true loves, which led them to the mash tun in the first place. Ain't love grand?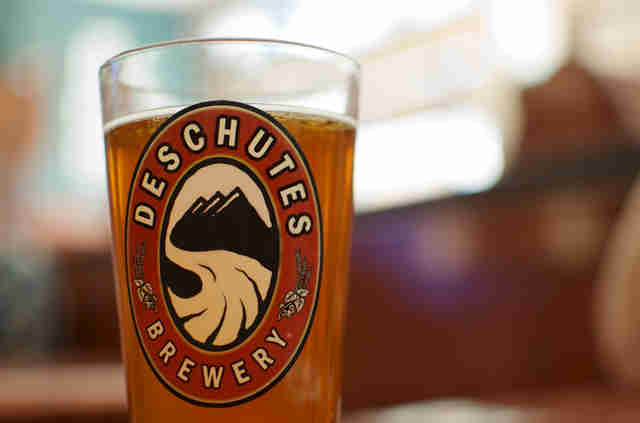 Pale ale, 5%
Bend, OR
"This beer single-handedly changed who I was as a beer drinker. I went from a domestic, large-scale beer drinker to focusing on the local, well-crafted beer made in my home state. My first sip was bliss. Well-balanced and not over the top, I was hooked from day one. To this day, Mirror Pond is one of my favorite beers. Without Deschutes, I'm not sure if I would be in the trade I am in today. So for all of you who are inspired to try something new, just realize that it may set you on a path full of new possibilities." -- Carmen Matthews, 7 Devils Brewing Co., Coos Bay, OR
 
Sour red-brown, 5.2%
Roeselare, Belgium
"I remember tasting it, because it was something I'd never tasted before. I had no idea beer could taste like that. Sweet and sour with lots of fruit, and just very, very unique. To this day I still love Rodenbach. It's a pretty simple beer, but it has so much going on. Still very drinkable." -- Jeppe Jarnit-Bjergsø, Evil Twin Brewing, Brooklyn, NY
 
Sour brown ale, 7%
Fort Collins, CO
"When I moved to Fort Collins in 1999, I became instantly aware of 'microbrew' beer, as it was known then, and more specifically, Fat Tire. My first Fat Tire was not a pleasant experience. I found it sweet and heavy, and it was not something I wanted more than one of. I was turned off to craft beer, but was still intrigued by the possibility of a more flavorful beer. I just needed to find a flavor I enjoyed.  
"I kept trying different beers -- Odell, Sierra Nevada, Sam Adams. The beer that finally won me over was another New Belgium I tried on a fateful visit to the brewery: La Folie. Back then it was only in 750ml bottles. It was an eye-opening experience. While all my friends neglected to try a second sample, I bought multiple bottles. I was amazed at how different this beer was from everything else I had ever tried. It was malty and rich, but oh so beautifully sour.
"I set out to learn how La Folie was made and how it differed from everything else on the market at the time. What happened was the beginning of an obsession with the process of making beer -- not just sour beer, but all beer styles. I found a love for the subtleties that separate style, and for the experiments that defy style. Today, this is the idea that's at the foundation of all my recipes." -- Ryan Kilpatrick, Fiction Beer Company, Denver, CO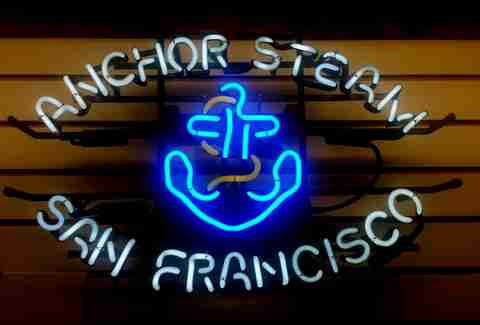 California common, 4.9%
San Francisco, CA
"I remember the first Anchor Steam I ever had. That's when I realized that beer could and should taste good." -- Tom Kehoe, Yards Brewing Co., Philadelphia, PA
"When I moved from LA to Sonoma County in 1977, I experienced Anchor Steam for the first time. Why was I taken by it? It had flavor! I was into brewing history, and knew that all the large breweries in San Francisco had closed by the late 1970s. What was left was Anchor Brewing Co. brewing this unusual (for me and many others) beer. I moved to SF in 1978 and was fortunate to land a job at Anchor cleaning the mash tun and brew kettle. This solidified my belief that this truly was an unusual beer brewed by people operating a small, very manual brewery. If it weren't for the opportunity to work at Anchor, I truly believe I wouldn't be where I am today. There isn't much unusual about Anchor Steam today except perhaps for its history. It remains in a special place in my beer experience to this day." -- Doug Odell, Odell Brewing Co., Fort Collins, CO
 
Pale ale, 5.6%
Chico, CA
"That's a tough one. Sierra Nevada's Pale Ale is a classic. I had never experienced a hoppy beer before, and it was awesome. I loved it because it was crisp, clean, hoppy, and had me searching for more." -- Ethan Osborne, Great Divide Brewing Co., Denver, CO
"I will never forget is the first time I had Sierra Nevada Pale Ale. I was in college and it was 1994. I remember taking that first sip. Pow! Totally new sensation. My love affair with craft beer and hops truly began that evening. I started home brewing shortly thereafter, and began my professional career in 1997." -- Dave Fougeron, Southern Star Brewing Co., Conroe, TX
 
Amber ale, 4.8%
Boulder, CO
"Back in '88 I had the Amber from Boulder Beer. The aroma of Cascade hops hit me in the face because I had home brewed the day before with the same variety. That was my first time making the connection between hops in the kettle with hops in the glass, and I've been hooked on brewing ever since." -- Dean Coffey, Ale Asylum, Madison, WI
Amber ale, 5.2%
Fort Collins, CO
"Growing up in Nashville, craft beer simply didn't exist in the '90s. We were forced to cross the Mississippi to get our hands on anything even resembling craft beer. The focus of the beer-driven road trips: Fat Tire from that crazy little brewery out of Colorado, New Belgium. It was muddy, spicy, floral, and just about the polar opposite of my previous concept of beer. I loved every ounce of it." -- Benjamin T. Sabel, Circle Brewing Co., Austin, TX
 
Lager
Cincinnati, OH
"It was Cincinnati in '81. My dad would split a beer with me after we had played tennis (we were a doubles team). I always enjoyed the first sip, but it went downhill after that. Then my dad brought home a six pack of Christian Moerlein, a new beer from Hudepohl Brewing. I remember them advertising it as the first beer brewed in the US according to the Reinheitsgebot. That was the first time I had heard of the German beer-purity law. There was a depth of flavor in Christian Moerlein that I hadn't had before. My interest in beer was piqued. Never again was I interested in drinking light adjunct American lagers." -- Brock Wagner, Saint Arnold Brewing Co., Houston, TX
 
Stout, 7%
Seattle, WA
"I'd never had a beer that was so roasty, chewy, malty, and flavorful before I had that beer. It was incredibly intense for my palate at the time, but I couldn't get over how much flavor was packed into that liquid. That's what started me on my journey of becoming a home brewer, making mostly stouts and IPAs at first. I'm now a certified cicerone and have been brewing professionally for about three years." -- Paul Ford, Branchline Brewing Co., San Antonio, TX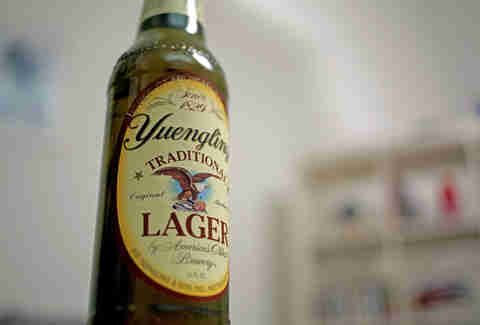 Lager, 4.4%
Pottsville, PA
"I went from Strohs to Pabst until I discovered the amazing beverage that is Yuengling. I own a brewery in the great state/commonwealth of Pennsylvania and have been drinking Yuengling legally for 12 years (I'm 33). Yuengling is independent, family-owned, and super legit. It's also the oldest brewery in America, so there's that..." -- Jason D. Lavery, Lavery Brewing Co., Erie, PA
 
Stout, 6.1%
Galesburg, MI
"My first craft beer is also the one that I first fell in love with. I went to college at Western Michigan University in Kalamazoo in the early '90s and was fortunate to be invited one day to Bell's taproom by a college buddy. I actually hated beer then, and Bell's was maybe six or seven years old. When I tasted my very first craft beer, it was a eureka moment for me. The clouds opened up, the sun beamed through, and doves flew everywhere! I absolutely loved it, and have been a craft fan ever since!" -- Craig Nunn, Blue Blaze Brewing, Charlotte, NC
 
Imperial IPA, 8.2%
Escondido, CA
"It wasn't the first craft beer I ever liked, but the first I loved. It was everything an IPA was supposed to be. I really appreciated the fact that I could pour it into a large glass, drink it slowly, and it would get better as it warmed." -- Don Oliver, Dust Bowl Brewing Co. Turlock, CA
Hefeweizen, 4.9%
Portland, OR
"I've been doing this long enough that it wasn't so much craft beers, but imports that were my source of inspiration. Beck's Dark was a go-to in college, and then I got really hooked on fresh, German beer when I got to go to Munich my junior year of college. When I finished my senior year in Portland, Widmer Hef had just come out. That was the first craft brew that made me take notice of what craft beer was. Others at the time were Thomas Kemper, Redhook, McMenamin's, and good ol' Anchor Steam. At that point I was so inspired that I decided to go to brewing school at Weihenstephan, and the rest is history!" -- Eric Warner, Karbach Brewing Co., Houston, TX
 
English brown ale, 5.5%
San Antonio, TX
"My first introduction to craft beer happened just after I turned 21 in 1992. A college friend and I took a cross-country Amtrak trip during spring break. While on a layover in Denver we happened across the street from Union Station to Wynkoop Brewing, where we ordered a sample tray. While I don't recall the beers per se, I remember being struck by the diversity of flavor. A few years later while attending seminary for one year in 1993-94 I drank two beers that stand out to me: Pete's Wicked Ale and Sierra Nevada Pale Ale.
"I remember drinking Pete's at a bar in Minneapolis where they served as many Minnesota-made things as they could. At the time Pete's was being contract brewed at the Minnesota Brewing Co. in St. Paul. I gravitated to the richness of flavor that Pete's provided beyond any of the college-era beer I had consumed. And since seminarians tended to go to the bar quite often, I remember going to a locals' place in St. Paul near the seminary and trying Sierra Nevada. While I can't recall what I specifically thought about the flavor at the time, I do recall my taste buds awakening to what beer could be. I landed my first brewing gig in 1997 and here I am today, 18 years later, still brewing and loving the flavors craft beer provides." -- Larry Chase, Standing Stone Brewing Co., Ashland, OR
"The beer that got me hooked was Anchor Porter in the mid-seventies, before I even knew that it was a craft beer. But the beer that really opened my eyes was Pete's Wicked. I drank it with a friend on a beach in Arcata, CA when we were up there looking for a home for him to move to from the Bay Area. It was rich, brown, and hoppy. That was 1989. It got me started searching for other craft beers. Brewed my first home brew that same year; that got me thinking that I could brew as well."-- Jim Jeffryes, Kannah Creek Brewing Co., Grand Junction, CO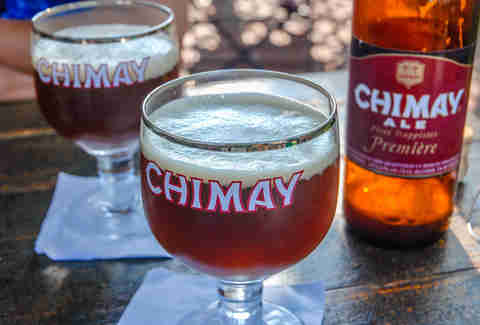 Dubbel, 7%
Chimay, Belgium
"Sorry, but it's a tie. I tried both Sierra Nevada Celebration and Chimay Red on the same week in the summer of 1992. I remember them being so delicious and complex, but so different from each other. Mind blown, I began seeking out new flavor-forward beers on a weekly basis. Within a few months, I began brewing my own. What hooked me the most was that epiphany moment which occurred in the experience of those back-to-back beers. I went from thinking beer was a generic thing that I drank without thinking about it to beer being the one most important things that I think about every day. There are many people I love more than beer, but there is no 'thing' I love more than beer." -- Sam Calagione, Dogfish Head Craft Brewery, Milton, DE
 
Strong ale, 10%
Milton, DE
"This was a collaboration with Sierra Nevada they released a couple times. Basically a strong ale/imperial brown that used maple syrup from Sam's family farm and Sierra Nevada's estate barley, plus a blend of each other's yeast strains. For years I admired the Dogfish way of experimenting with beer and keeping things fresh and unique. This beer embodied all that plus the amazing collaborative spirit of craft beer. It was a definite inspiration for me on numerous levels. Life & Limb aged extremely well, and I was very disappointed when I drank my final bottle. If you talk to Sam tell him they need to bring it back!" -- Chris Davison, Wolf's Ridge Brewing, Columbus, OH
 
Oktoberfest, 5.3%
Boston, MA
"I have to go back a while, like to 1995. I had been working for Lone Star Brewing in San Antonio, TX, and craft beer was just really beginning to make some inroads here. I remember trying Samuel Adams OctoberFest for the first time and really loving it. Malt, caramel; smooth, bigger body. Excellent beer. Little did I know that I would be working for them very soon... " -- Grant E. Wood, Revolver Brewing, Granbury, TX
Dubbel, 7%
Portland, ME
"I was working for the man in Manhattan, putting in absurd hours and going out for happy hours every chance I could get. A co-worker started taking me to craft beer bars, and while it took me a while to catch on, I vividly remember Allagash Dubbel opened my mind to the beauty of craft beer. Six months later I moved back to Texas and started home brewing and spending all my time at breweries. My second epiphany came in the Avery taproom. I took a tour, asked a bunch of questions, and got about a case of free beer because those folks are awesome. I realized that I was happiest when I was immersed in the beer community, and that everyone in the industry seemed to be extremely happy with their jobs. I quit mine, went to work sweeping floors for Real Ale, and have never looked back!" -- Trevor Nearburg, Uncle Billy's Brewery, Austin, TX
 
Amber
New York, NY
"I had Paulaner in the summer of 1984 in Munich. It's why I bothered to even dream of brewing good beer in America. When I came home, I found New Amsterdam Amber Lager and was hooked. I knew it could be done! I started brewing Pecan Street Lager in April 1987." -- Davis Tucker, North by Northwest Restaurant & Brewery, Austin, TX
 
Extra special bitter, 5.8%
Seattle, WA
"Growing up in Southern California in the early 1990s, craft beer was certainly not as prevalent as it is today. The options weren't many, but I remember enjoying the likes of Pete's Wicked Ale, Anchor Brewery's Steam Beer, and Redhook ESB. Those beers were a stark difference from the mass-produced yellow industrial lagers that were ubiquitous at that time. I enjoyed everything about those beers. It all spoke to me from the packaging to their full malt and hop flavors. There was also a cool factor about being a 20-something back then and finding those beers and a sense of discovery.
"Father's Office in Santa Monica was a great spot to enjoy craft beer, being one of the first multi-tap bars with its sawdust floor, a pinball machine, and a bar cat wandering around. It's certainly a different place today, but back then with its rustic feel and quirky regulars, it reinforced my love of craft beer and set the foundation for me to start home brewing and eventually finding my path to the Bay Area to become a professional brewer." -- Shaun O'Sullivan, 21st Amendment Brewery, San Francisco, CA
Sign up here for our daily Thrillist email, and get your fix of the best in food/drink/fun.
Lee Breslouer is a senior writer for Thrillist, and could go for a Yuengling right about now. Follow him to lagers at: @LeeBreslouer.