Think about your favorite craft brewery in the state you live in. Because we can read your mind (... don't worry, we'll leave your brain better than we found it), we've probably mentioned that brewery in our story about the best brewery in every state.
The thing is, when you're talking about a single-best brewery (or anything, really), that means that so many others aren't being talked about that are more than worthy of discussion -- underrated, one might even call them. Since more breweries ought to be praised for the important work of making sure America has enough amazing beer to drink, we discounted our most recent pick for the best brewery in each state and sought to identify the brewery most deserving of a little extra love. That could mean anything from established players who've been doin' it (and doin' it well) so long that people have started to take them for granted a bit in the face of newer, shinier breweries, to, well, newer, shinier breweries that haven't quite emerged as household names yet but whose beer absolutely merits that kind of ubiquity.
Point is, this celebration of the unsung hero of each state is subjective, just as any list might be. But they're all places we love, places that, for whatever reason, don't get to sit at the top of the totem nearly often enough. They're the most underrated breweries in each state. Are there places we underrated even further by neglecting to mention them? Well, extol their virtues in the comments so we know what we're missing.
Recommended Video
Nashville: The Ultimate Local's Guide
Alabama
Avondale Brewing Co. (address and info)
Birmingham
Top-rated brewery: Back Forty Beer Co.
Being housed in a historic building that's been everything from a saloon to a brothel kind of steeps Avondale in history, which might explain why, despite being relatively new to the scene, it's pumping out beers with the precision of folks who have been in the business for decades. Whether it's the Miss Fancy's tripel -- named for a beer-swilling elephant of Birmingham's yesteryear -- or the Pachyderm pale (these guys really like that long-nosed bastard), Avondale has emerged from Back Forty's considerable shadow, making huge strides in elevating the city's scene. Even better? The place is haunted. And, naturally, old Meredith has her own Oktoberfest to keep her appeased.
Alaska
Kassik's Brewery (address and info)
Nikiski
Top-rated brewery: Midnight Sun Brewing Co.
Alaska's far from short on big-name breweries (Midnight Sun, Anchorage, Alaskan), but in far-flung Nikiski, a former homebrewer runs a 10-tap brewhouse, while also distributing his work to bars and restaurants around the state and bottling some of his suds so that traders around the country might be able to snag some. That's awfully kind of him, because the smoked Russian imperial stout is an example of how to do smoked beers right, and the Caribou Kilt is both a fine rendition of a Scotch ale and literally the best possible name for a Scotch ale brewed in Alaska.
Arizona
Mother Road Brewing Co. (address and info)
Flagstaff
Top-rated brewery: Four Peaks Brewing Co.
It's no secret that there's plenty of good beer in AZ, but not many distribute their wares (we're looking at you, Papago and Fate). Mother Road, opened in 2011 in a former laundromat, is our pick for its killer Tower Station IPA, the 100-IBU black IPA Lost Highway, and the eminently drinkable Gold Road kolsch, which is tailor-made for those blazing-hot Arizona days. Hell, or mornings if it's a weekend. Or Monday. How else are you supposed to get through the week?
Arkansas
Core Brewing Co. (address and info)
Springdale
Top-rated brewery: Ozark Beer Company
Many brewpubs are content to can or bottle one or two of their most popular beers and call it a day. Not Core, which operates five pubs in AR, and a separate brewery taproom where all the good stuff gets bottled and canned. It seemingly packages its entire lineup. Everything from the spring seasonal toasted coconut ale to the year-round ESB finds a home in one of those vessels. And because the brewery's a mere 20-minute drive from the Razorback campus, the Arkansas Red amber's availability is clutch in a tailgate. Drinking it practically comes with a legal requirement to shout "woo pig sooie!" at an earsplitting volume.
California
Sierra Nevada Brewing Company (address and info)
Chico
Top-rated brewery: Russian River Brewing Company
Picking just one underrated brewery from the state with more breweries than any other -- book-ended by hubs like San Diego, San Francisco, and Sonoma, no less -- could just as well be like throwing a dart. But California's also a state that's known to freak out about the next big thing, and generally ignore the older stuff. We're talking, of course, about actors. But also beer. Sierra Nevada's been around so long, and permeated the market so efficiently, that it's easy to forget how goddamned amazing and consistent even the hoppy (pioneering!) pale ale is. Beer nerds know the magic of Bigfoot barleywine and Narwhal, sure, but it's unlikely Joe Six-Pack has any clue how incredible nearly every offering from SN is, even if that six-pack is full of pale. That's because SN seems content to keep producing one of the most quietly pervasive and successful independent brews on the market without shouting it from the mountaintops. It could shout it, though. They're kind of in its backyard.
Colorado
New Belgium Brewing Co. (address and info)
Fort Collins
Top-rated brewery: Avery Brewing Co.
How the hell can one of the largest craft breweries in the country possibly be underrated? When it's in the same state where Great Divide, Avery, Odell, Oskar Blues, and Crooked Stave brew their incredible beers. New Belgium helped popularize craft beer starting way back before the craft boom in 1991, and its flagship beer, Fat Tire, is the beer equivalent of oxygen: available everywhere on Earth and not too notable. But when we reduce the brewery to its most popular beer, that's a way of discounting it, especially considering it releases solid brews year after year, many of which are new releases. Like the tangerine IPA Citradelic which just hit shelves in 2016, and every single release in the Lips of Faith series, in which the standout sour La Folie is included.
Connecticut
Relic Brewing Co. (address and info)
Plainville
Top-rated brewery: New England Brewing Co.
All you need to understand why Relic is a special brewery is to keep an eye on their Facebook page for the steady stream of special releases that won't last more than a few days. That's the beauty of Relic: beers show up for a weekend and are never seen again. Luckily for those who don't want to hang out in the most boringly named city in America every weekend or don't like surprises, it bottles its beers, including The Huntress DIPA, the dark saison Demiana, and the significantly less-dark saison Field Hand.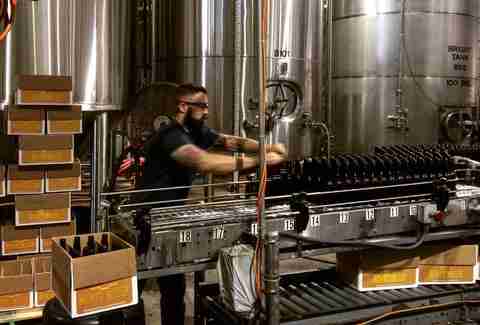 Delaware
Fordham & Dominion Brewing (address and info)
Dover
Top-rated brewery: Dogfish Head Craft Brewery
It might come as a shock, but Delaware does have more to offer than a venue for stock cars to drive around in a very large circle, and water for Dogfish Head to brew its beers with. For one of America's tiniest states, it's nothing short of a miracle that a place so thoroughly affiliated with one particular influential craft brewery has the capacity to support a brewery with bottled beers under the Fordham and Dominion labels (the two breweries joined their operations in 2007). But such is the Delawarean thirst for beers, including the much-lauded Dominion Oak Barrel Stout, a Chesapeake Bay-sourced oyster stout, and a Rams Head IPA under the Fordham banner.
Florida
Cycle Brewing (address and info)
St. Petersburg
Top-rated brewery: Cigar City Brewing
In Florida, Cigar City continues to cast a long shadow from its Tampa headquarters, but over in St. Petersburg, Cycle is on a (sigh) roll. For real though, the "best brewery in Florida question" is getting more competitive every year, and much of it has to do with the staggering quality Cycle has been putting out in recent years, from the hazy, hoppy glory of their Crank IPA to their increasingly coveted Trademark Dispute stout series. Watch your back Cigar City, Cycle's gaining on you.
Georgia
Burnt Hickory Brewing (address and info)
Kennesaw
Top-rated brewery: Creature Comforts Brewing
Terrapin is absolutely bringing it on the stout front (Wake-n-Bake is one of our top coffee beers), but Kennesaw's Burnt Hickory is no slouch either with its Big Shanty graham cracker stout. But while Terrapin is Georgia craft beer royalty at this point, Burnt Hickory is an up-and-comer on the state's brewing scene, having started as a nanobrewery in 2012 and expanded enough since then to be considered micro. The rapidly expanding size certainly hasn't hurt it in the creativity department, as the Didjits blood orange IPA and the red velvet cake porter Courageous Conductor prove. And don't forget the bourbon barrel-aged barleywine Killdozer. Not that you could with a name like that.
Hawaii
Big Island Brewhaus (address and info)
Waimea
Top-rated brewery: Maui Brewing Co.
You probably guessed that this brewery is on Hawaii's Big Island based on the fact that it's called a brewhaus. OK, that likely wasn't why. But the super-strange thing about this brewery is that it was built in the same space as a Mexican restaurant in 2011, and six months after it started brewing, it won a gold medal for its Overboard IPA. Since then, it began packaging its brews, with Overboard, the Belgian strong Golden Sabbath, and the award-winning White Mountain porter all finding homes in bottles. Maui Brewing might have a brand-new brewery in Kihei, but Big Island is keeping beer lovers on Hawaii quite happy.
Idaho
Woodland Empire (address and info)
Boise
Top-rated brewery: Crooked Fence Brewing
Washington and Oregon best watch out, because there's another ascending beer state in the Northwest. Fine, Idaho has a ways to go to catch up to Oregon when it comes to having a thriving brewery on seemingly every corner, but the field there does seem to grow more crowded by the year, with the aforementioned Crooked Fence, Belgian standout Selkirk Abbey, and old reliables Grand Teton and Sockeye all putting out continually solid (well, liquid) work. Amidst all that, Woodland Empire's a relatively new player, but the husband-and-wife-run brewery has drawn an impressive following of fans with a relentlessly experimental spirit that includes a steady stream of sours like their Set 'em Wild, Set 'em Free Berliner Weiss series and the impeccably named Upschitt Kriek.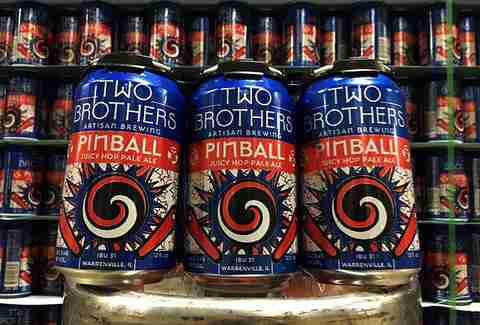 Illinois
Two Brothers Brewing Co. (address and info)
Warrenville 
Top-rated brewery: Pipeworks Brewing
Two Brothers is one of the OGs of Illinois craft brewing, having opened in Warrenville (a Chicago suburb) in 1996. These days it's fairly ubiquitous -- like, a well-meaning dad will totally nab a variety pack of it at Costco because he hears the kids "are into the craft beers now." But you know what? Nice work, dad! Flagship offerings like Domaine DuPage and Cain and Ebel remain as reliable as ever, Sidekick cans make a hell of an addition to a summer BBQ, and the Hop Centric double IPA proves these guys aren't afraid to go big, either. In different but related brewing news, they also roast some mean coffee these days.
Indiana
18th Street Brewery (address and info)
Gary & Hammond
Top-rated brewery: 3 Floyds Brewing Co.
While the purveyors of the Dark Lord continue to be a powerful presence in the Hoosier State (particularly its Northwest corner), 18th Street has won a smaller but increasingly vocal band of followers since opening in 2013, and that band has grown even bigger thanks to a shiny new facility in nearby Hammond, meaning more brewing capacity and more covetable brews like the excellent Hunter series of milk stouts. It also means, as more people get their hands on it, that it'll be tough for 18th Street to fly under the radar much longer.
Iowa
Great River Brewery (address and info)
Davenport
Top-rated brewery: Toppling Goliath Brewing Co.
You simply can't touch Toppling Goliath in Iowa when it comes to rabid beer-geek fandom, but Great River's been steadfastly doing its thing since 2010, and luckily, that "thing" happens to be making some really enjoyable beer. The Redband stout (made with cold-pressed espresso beans) is one of the more pleasant canned-stout experiences you'll encounter. The 483 pale ale's like a lawnmower beer for hop enthusiasts. And Big Cock IPA is a potent blow against political correctness in favor of more wiener puns. Keep it up, Great River.
Kansas
Defiance Brewing Co. (address and info)
Hays
Top-rated brewery: Tallgrass Brewing Co.
When it comes to Kansas brewing, Tallgrass and Free State tend to occupy most of the discussion, but in a few short years Defiance has started to (defiantly?) demand a place in the conversation. Fuzzy Knuckles is an imperial stout that is as much fun to drink as it is to order, and their standout double IPA is simply called "Awesomeness," which is a bold name for a beer, especially if it were to turn out to be not so great. Luckily, that was not the case here.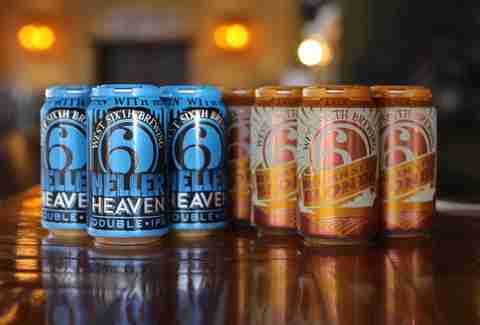 Kentucky
West Sixth Brewing (address and info)
Lexington
Top-rated brewery: Against the Grain Brewhouse
The state that normally gets its buzz from bourbon only had its first craft brewery in 1993: Bluegrass Brewing. Bluegrass has since expanded to two brewpubs in Louisville, a city that needs a drink after the Cardinals were banned from participating in March Madness. And while it's important to give props to the originator, it's West Sixth that deserves the underrated banner, as its Lexington-based operation has become more than a brewery: it's a fixture of the community, with the running club and charitable work it performs via a Pay It Forward charity. Oh, and the beer's pretty good, too: the uber-popular Snake Eyes imperial stout was recently put into cans, and the hop-forward 7% IPA is its most popular brew.
Louisiana
Bayou Teche Brewing (address and info)
Arnaudville 
Top-rated brewery: Great Raft Brewing
Louisiana -- thanks to some obscure small town called New Something-or-other -- is a great place to drink. But the craft scene has never exactly been the most noted part of the boozing ecosystem there. That's a-changing, thanks in large part to the work of NOLA and Great Raft along with OG Abita. But while they're hogging the spotlight, Bayou's been getting French/Cajun on brewing in a railcar converted into a farmhouse brewery,  where it pumps out everything from Coteau Rodaire -- a sauvignon blanc barrel-aged French ale -- to seasonal fruit beers, a tradition in the South that Bayou Teche does better than damned near anyone. Naturally, it all pairs really well with crawfish.
Maine
Foundation Brewing Company (address and info)
Portland
Top-rated brewery: Maine Beer Co.
One of our top new breweries in the US last year, Foundation isn't likely to stay underrated for very long. In fact, if word of mouth and increasing availability continue at the rate they're going, it could well head up with the big dogs sooner than we think, making this entry obsolete. Frankly, we hope it happens, because that would mean Foundation's farmhouse IPA, Brett saison, and Bedrock porter broke through from local infamy and into our fridges, ranking up at the top of the heap with big guns like MBC and Allagash.
Maryland
Evolution Craft Brewing Co. (address and info)
Salisbury
Top-rated brewery: Stillwater Artisanal Ales
In a state that's home to big dogs on the craft scene like, umm, Flying Dog, Heavy Seas, DuClaw, and Stillwater, it's Evolution that takes the underrated crown. Somehow a brewpub in Salisbury happens to brew beer as good or better than the big guys who operate on a much larger scale. From its "aggressively hopped" Lot No. 3 IPA to the 8.5% ABV Lot No. 6 DIPA to the Rise Up imperial stout made with a single-origin organic Sumatra coffee, Evolution beer is distributed in bottles, and is available on tap for its co-owners' eight other restaurants around MD.
Massachusetts
Castle Island Brewing Co. (address and info)
Norwood
Top-rated brewery: Tree House Brewing Co.
It's tough to capture new hearts, minds, and palates in a state where the dual threat of Tree House and Trillium continue their respective runs as objects of adoration from all corners of beer geekdom. And yet, it's only taken a couple of years for Castle Island to make serious headway in the Bay State beer ecosystem, thanks to the session-friendly strength of their Candlepin APA, which possesses both a crisp balance and an ability to remind locals of their love for weirdly tiny bowling balls. While we're on a bowling-themed beer kick, their Big Ern imperial APA is a must for fans of either beer or the movie Kingpin.
Michigan
Dark Horse Brewing Co. (address and info)
Marshall
Top-rated brewery: Founders Brewing Co.
Arguing that a brewery named "Dark Horse" is a bit overlooked might feel a bit on the nose, and arguing that a brewery with as lengthy and as decorated a record as Dark Horse qualifies as underrated might feel a bit crazy, but hold your (sigh) horses. When your brewing neck of the woods includes two breweries that combine the size/quality combo of Founders and Bell's, it can be hard not to seem a bit overlooked, even if your roster of brews includes such attention-demanding offerings as nearly flawless imperial stout Plead the 5th. Also, if you like blueberries, beer, and happiness, get your hands on some Tres.
Minnesota
Steel Toe Brewing (address and info)
St. Louis Park
Top-rated brewery: Surly Brewing Co.
The can-tastic work of Surly remains the most dominant force in Minnesota brewing (which is totally cool -- don't want to piss those folks off), but Steel Toe has methodically built out an impressive roster of brews in its own right in the handful of years it's been operating. Size 7 (get it?) is a damn fine IPA with a 7% ABV, but you can grab a Size 11 (NOW do you get it?) if you're in the market for something bigger. And if shoe-size wordplay doesn't interest you, perhaps a fantastic English barleywine like Lunker will?
Mississippi
Crooked Letter Brewing Co. (address and info)
Ocean Springs
Top-rated brewery: Southern Prohibition Brewing
The good folks at Brewhoppin note that in MS, beer was only allowed to be between 5-8% in 2012, and homebrewing was legalized as recently as 2013. That does not equal a recipe conducive to people opening breweries. Therefore, we could viably make the case that every single brewery in MS is underrated because there aren't that many of them to begin with. But instead we'll just say Crooked Letter is the pick, and that its beer offer Mississippians a solid reason to stop drinking moonshine, what with a coffee-/chocolate-infused Mystery Romp ale, the Italian-style lager Stabello, and the Crooked Heffy hefeweizen.
 
Missouri
4 Hands Brewing Co. (address and info)
St. Louis
Top-rated brewery: Side Project Brewing
Schlafly and Boulevard represent the old guard (well, not the OLDEST guard when it comes to Missouri breweries, but, you know), and Perennial is perennially (!) fantastic, as is its ascendant offshoot, Side Project. Amid all that, 4 Hands has put itself squarely on the map in a fairly short amount of time, doing a dizzying variety of beers exceedingly well, none of them better than the standout milk stout Madagascar (it's better than the movie!) With the sheer number of special releases, barrel-aged offerings, and collabs these guys do, you'd almost think they have extra appendages or something.
Montana
Tamarack Brewing Co. (address and info)
Lakeside
Top-rated brewery: Flathead Lake Brewing Co.
Montana being, you know, Montana, things are pretty spread out, meaning that despite the state putting out some amazing beers, you don't always know where they are (or have the patience to drive 40 hours to get 'em), meaning most breweries could be considered underrated (the ubiquity of Big Sky notwithstanding). But among those underrated breweries, our hearts belong to Lakeside's Tamarack, which has to its name a gold medal English-style IPA to go along with its mysterious black session ale, smoked Scotch ale, and other takes on old-school classics right down to barleywine. There's plenty of room under the big sky, and Tamarack is one of the beacons worth following.
Nebraska
Zipline Brewing Co. (address and info)
Lincoln
Top-rated brewery: Nebraska Brewing Co.
Zip line: Overrated as a leisure activity, underrated as a brewery! While Nebraska Brewing makes up for what it lacks in creative nomenclature with a near-dominance on putting out the best beers in the state, Zipline has started to turn some heads in the couple of years it's been running. The flagship New Zealand IPA isn't a hop bomb, but has won over fans with a pleasing accessibility and subtle complexity, and the oatmeal porter and nut brown also represent strong entries among the flagships, while the rich, malty black IPA suggests there are some interesting places for this brewery to go.
Nevada
Big Dog's Brewing Co. (address and info)
Las Vegas
Top-rated brewery: Joseph James Brewing
Big Dog's Brewing Co. sadly has no relation to the hilarious T-shirt brand of the '90s, though that shouldn't stop you from drinking its beers while wearing a T-shirt with an enormous pooch on it to become the ultimate Big Dog. We'll give a tip of the cap to Joseph James' bourbon barrel-aged offerings out of Henderson, but Big Dog nabs the underrated crown for its overall superior selection of beers. Big Dog began brewing beers in NV in '93 under the Holy Cow! moniker, but switched gears over a decade ago, with the owners changing its name, expanding capacity, and beginning distribution. The West Coast IPA Dirty Dog and War Dog imperial IPA are both canned, bottled, and popular, but it's probably also worth tracking down a bomber of the English-style brown Red Hydrant, as it just won gold at the 2015 GABF. And next time you're in Vegas, it might be worth stopping by the brewery, as we recently named it a top beer destination.
New Hampshire
White Birch Brewing (address and info)
Hooksett
Top-rated brewery: Stoneface Brewing Co.
One story widely told about White Birch is that the co-owner spent 15 years homebrewing before finally opening a brewery, which became one of the first nanobreweries in the state. But with the brewery's growth in the past few years, it might not be too long until it catches up to the size of Smuttynose, which lies about 35 miles east on a $24 million campus. White Birch doesn't have a campus yet, but it is rapidly expanding distribution of its beers like blueberry Berliner weisse, the black IPA Nyx, and a watermelon wheat.
New Jersey
Magnify Brewing (address and info)
Ocean Township
Top-rated brewery: Kane Brewing Company
Sure, the Garden State was late to the party, but that hasn't stopped a handful of breweries like Kane and Carton from changing the landscape. And, more recently, Magnify in Fairfield has gotten into the game, already turning heads just a couple of years after being founded by a recent college grad who was working up his business plan in tandem with his thesis. The plan appears to have paid off, especially for beer drinkers who can enjoy offerings like the Mosaic-hopped Dr. 'Saic, a New England-style IPA, or the Maine Event... another New England-style IPA. Oh yeah, the owner graduated from Bates College up in Maine. He apparently learned a thing or two up there.
New Mexico
Santa Fe Brewing Co. (address and info)
Santa Fe
Top-rated brewery: La Cumbre Brewing Co.
New Mexico's brewing scene has come a long way since Santa Fe Brewing began crafting beers in 1988. It won its first Great American Beer Fest medal in 1991, and more afterwards -- a fact you'll be reminded of when you see its numerous awards the second you step into the Fire Place brewery (that's the name of the street it's on, for real). Santa Fe might not have the shine of La Cumbre or Marble (or even Bosque, which is brewing great beer right now), but it's still brewing beers worthy of attention. To go along with its long-running flagships like the Imperial Java Stout (one of the best coffee beers in America), there's a newcomer like Adobe Igloo, a delicious seasonal that's a New Mexican take on the winter warmer, with red chile flakes and cacao instead of a "Wintery spice blend."
New York
Sloop Brewing Co. (address and info)
Elizaville
Top-rated brewery: Other Half Brewing Co.
With respect to the amazing craftsmen in Brooklyn and the tight-pantsed people who worship at their hand-carved altars, artisanal products are not exclusive to Brooklyn, and New York is not exclusive to the five boroughs. Two hours north in Elizaville, for example, you'll find Sloop, which takes its craft so seriously that it actually farms the ingredients for its incredible oatmeal stouts, fruity sours, fresh-hopped harvest ales, and red IPA on site. You don't see a lot of orchards in the city. And you don't find many breweries that craft their beers this lovingly -- and void of braggadocio -- anywhere.
North Carolina
Ponysaurus Brewing (address and info)  
Durham
Top-rated brewery: Wicked Weed Brewing
Asheville understandably hogs a lot of the spotlight when it comes to NC beer, what with being one of the country's best beer cities and all. But that's just allowed the folks over in Durham to quietly start building their own stable of fantastic breweries, of which Ponysaurus might be the most fascinating, and not just because of the amazing horse/dino hybrid that made its way from our dreams and onto the label. This joint loves to jump all over the style spectrum, from rye pale ale to fig saison to one of the best chocolate stouts on the market. Regardless of what's being brewed, it's bound to be different from everything else. Which is to say, when you see that logo, you know you're in good hooves.
North Dakota
Drekker Brewing Company (address and info)  
Fargo
Top-rated brewery: Fargo Brewing Co.
Whenever somebody talks about NoDak, Fargo inevitably comes up. That goes double for beer, since Fargo Brewing Co. has long been the biggest name in a pretty sparse field. Still, there are other breweries scattered throughout, and Drekker -- which ditches cinematic references for Viking ones -- is cultivating a cult based around its strong, confident offerings which range from the high-octane Nightman Cometh imperial stout to the Broken Rudder IRA and quality pale ales for days. North Dakota might not have a lot of breweries, but with spots like Drekker doing their things, it's at least got quality on lock.
Ohio
MadTree Brewing (address and info)  
Cincinnati
Top-rated brewery: Jackie O's
Tapping one of the best breweries from one of America's most overlooked beer cities just felt right, especially given the mind-altering quaffability of Galaxy High (there's no, like, weird substances in it or anything, it's just a really tasty beer) and the reliability of seasonals like Thundersnow, a winter warmer as well as a weather phenomenon Midwesterners are becoming disturbingly familiar with. Axis Mundi, the brewery's entry into the barrel-aged stout game, has also been well received. Also -- style bonus points for the fetching but minimalist cans.
Oklahoma
Marshall Brewing Co. (address and info)  
Tulsa
Top-rated brewery: Prairie Artisan Ales
It's not an exaggeration to say there are more breweries in a few square blocks of Portland, OR than in the entire state of Oklahoma. But by golly are there some good breweries packed into the state -- Prairie obviously being one of them. A mere 10-minute drive from Tulsa's Prairie brewery is Marshall, which began brewing a few years earlier. Marshall isn't currently the main event in its own damn town, despite setting the table for breweries like Prairie and Dead Armadillo, which is a perfect recipe for being underrated. In addition to its popular 6.5% ABV Atlas IPA, Marshall brews the dry-hopped, 80-IBU El Cucuy black IPA (an underrated style if there ever was one), and the märzen Oktoberfest.
Oregon
Upright Brewing (address and info)  
Portland
Top-rated brewery: The Commons Brewery
Another crowded field packed with breweries -- not a bad problem to have, mind you -- Oregon's pick for most underrated brewery could have been any number of breweries from any town across the state, which has its fair share of legends big and small. But our gut went with Upright, and not just because our gut was thirsty for its amazing table saisons, fantastic oyster stout (best served at the Upright-affiliated Grain & Gristle), and a session stout that redefines what the traditionally robust beer can be. The open-fermentation system produces fantastic-tasting room-exclusive sours, and lest you find yourself in need of something lighter, well, it also does pilsner proper. It does everything proper. Portland's beer nerds know all this. It's time for everyone else to catch up.
Pennsylvania
Pizza Boy Brewing Co. (address and info)  
Enola
Top-rated brewery: Victory Brewing Co.
Bottles are extremely rare. Sorry. But Pizza Boy does deliver kegs to PA and NYC, so finding it isn't some sort of search for a greasy grail, which is fantastic, because, well, the beer is fantastic, especially the sours. To wit: the newest batch of Permasmile is about to be released, a white-wine barrel sour aged with peaches and apricots. The pizza shop it shares a space with (Al's of Hampden) has been there for 15+ years, but the brewery only got started in 2011, which is notable only because of how quickly it's ramped up, expanding three times in a few years. In addition to the sours, the Sunny Side Up imperial coffee stout, and the Hampden IPA are standouts. For visual proof of their greatness, a friend of Thrillist even made a beer doc that includes Pizza Boy's story.
Rhode Island
Foolproof Brewing Co. (address and info)  
Pawtucket
Top-rated brewery: Proclamation Ale Company
Proclamation is the hot brewery of the moment and Grey Sail also has its rightful adherents, but it'd be a mistake to overlook Foolproof, which has made a name for itself after having to... change its name in the early going in 2012 (the original name, High Jinx, found itself in dispute with a certain magical brewery in Vermont). Now it's all about the beer, as it should be when you're brewing beer excellence like their Raincloud porter, of which they, in true New England fashion, offered a limited variant brewed with peanut butter & marshmallow fluff.
South Carolina
Freehouse Brewery (address and info)  
Charleston
Top-rated brewery: Westbrook Brewing Co.
South Carolina beer has a lot keeping it off the radar in general, what with the wealth of breweries that don't bottle, and its glory-hog of a neighbor to the north. But that just means there's more room for discovery, and we definitely recommend discovering Freehouse, which, like the more famous Westbrook, specializes in Old World brews with a twist. That results in some bizarrely wonderful offerings such as the Mullet -- an India pale... coffee brown?! -- a 9% imperial farmhouse, and a wild-yeasted kiwi/peach sour that comes out of left field. If you're looking for something predictable, well, you're not going to find it. That's a very good thing for most of us.
South Dakota
Hay Camp Brewing Co. (address and info)  
Rapid City
Top-rated brewery: Crow Peak Brewing Co.
We often tease South Dakota, but we also really love it, and a huge part of that love stems from the undiscovered breweries therein. And while Crow Peak has long been the favorite, that doesn't take away from the efforts of brewers across the state. But it's in the Crow Peak-adjacent Rapid City that Hay Camp is shelling out solid beers like the deceptively smooth Best Bitter, the booming Hopdlebar Maltstache double pale ale, and more. (You want beer-snobby? A Cascadian black ale's the closest you're gonna get, neckbeard.) This is no-nonsense beer brewed under the watchful eye of a gigantic stone carving of Teddy Roosevelt, for God's sake. You don't want to disappoint the Bull Moose.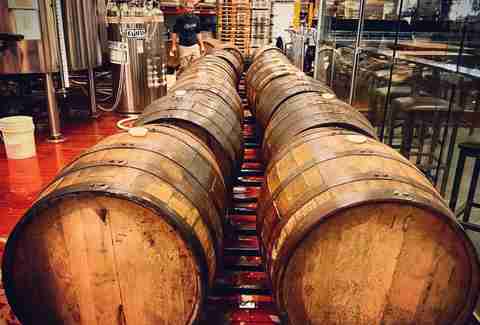 Tennessee
Blackstone Brewing Co. (address and info)  
Nashville
Top-rated brewery: Blackberry Farm
Like the hard-drinkin' protagonist of a particularly uplifting country song, Tennessee's beer scene has fought long and hard to get the recognition it deserves. Now, young bucks like Yazoo, Wiseacre and Blackberry Farm are center stage, but Blackstone's the legend, one of the pioneers who still pumps out remarkable beers like  Stephanie's Dubbel -- named for the brewery's late co-founder -- and St. Charles porter. Basically, if they made a movie about brewing in Tennessee, Blackstone would be the beloved but often overlooked legend played by Jeff Bridges, and we'd be barred from visiting for making terrible country-music references.
Texas
Live Oak Brewing Co. (address and info)  
Del Valle
Top-rated brewery: Jester King Brewery
Jester King hogs the Austin craft beer attention these days, and with good reason. But Live Oak has been brewing delicious European-style beers since 1997, and it's hitting its stride right in time for us to gush about its beers. The brewery just began canning its beloved HefeWeizen (the Pilz and Big Bark will be canned later this year), and a new taproom/beer garden opened in the Austin 'burbs to host Texas beer lovers who might have forgotten about this gem in their midst.
Utah
Wasatch Brew Pub (address and info)  
Park City
Top-rated brewery: Uinta Brewing Co.
Utah's oldest craft brewery -- started in 1986 by a dude from Milwaukee who took one look at the beer scene in the state and ripped the Zion curtain right down -- helped lay the foundation for what's fast becoming a movement in the state, though it's lately ceded the headlines to the likes of Uinta and Epic. The oldest, though, is still among the best, and any doubt of that should evaporate with one sip of Polygamy Porter, which is now available in the nitro bottle and ready to pull the spotlight on Utah beer to where it all began again.
Vermont
Switchback Brewing Co. (address and info)  
Burlington
Top-rated brewery: Hill Farmstead Brewery
Vermont has emerged as one of the nation's great beer destination thanks in part to heavy hitters like Magic Hat and Alchemist, which has turned Heady Topper into a legend unto itself... one that sometimes dwarfs those in its orbit. But that hasn't stopped Switchback from moving forward with its own reliably great line of naturally conditioned beers like the Connector IPA and namesake pale. But for those seeking something more intense, there's a limited line that lets the brewers run rampant on everything from French saison to a Thai lime gose, striking a balance between reliable predictability and "holy shit" innovation without compromising on flavor.
Virginia
Lickinghole Creek Craft Brewery (address and info)  
Goochland
Top-rated brewery: Hardywood Park Craft Brewery
Any brewery that grows a ton of the ingredients used in its beer from its own 200-acre farm (and isn't a craft beer behemoth like Rogue) deserves your attention. And despite being operational for less than three years, Lickinghole Creek has the attention of the beer nerds in VA, who makes sure its bourbon-barrel Russian imperial Enlightened Despot sells out immediately whenever it's released. Beer lovers outside of VA are paying attention as well: the Mexican-spiced imperial stout Heir Apparent won silver at last year's GABF. While those beers are tough-ish to track down, it's quite a bit easier to get your hands on canned beers like the 'Til Sunset session IPA and the Belgian pale Magic Beaver. Because where there's a Magic Beaver, there's a Lickinghole.
Washington
Propolis Brewing (address and info)  
Port Townsend
Top-rated brewery: Reuben's Brews
Named for a resinous goo that bees use to seal honeycombs, Propolis takes its natural selection seriously, relying on local ingredients to craft farmhouse ale and gruits, an Old World-style "herbal ale" that has nothing to do with a Vin Diesel-voiced tree thing. These beers often eschew hops, meaning Propolis will rely on botanicals and herbs for flavoring, in addition to everything from dandelion bitters and spruce, to roasted chestnut, hyssop, and elderflower honey (plus the occasional Noble hop variety). In a state like Washington, that commitment to natural brewing is huge, and now that it has a GABF gold for American-style Brett hanging in its new-and-improved facility, word of this innovator's work should spread (ugh) organically.
Washington, DC
DC Brau Brewing Co. (address and info)  
Washington, DC
Top-rated brewery: 3 Stars Brewing Co.
With a tip of the hat to Bluejacket for being one of those DC breweries we considered, we ultimately went with a brewery that's a little easier to find, or at least to transport without bringing your own containers. That'd be DC Brau: a District favorite that offers more six-packs than the Chippendales show your girlfriend went to that one weekend in Vegas. Seriously, it cans a ton of beer, including the beloved On the Wings of Armageddon imperial IPA, The Public pale ale, a Belgian pale called The Citizen, and The Stone of Arbroath, which is either a Scotch ale or the name of a high school metal band.
West Virginia
Mountain State Brewing Co. (address and info)  
Thomas
Top-rated brewery: Bridge Brew Works
There just aren't a whole lot of breweries in West Virginia (probably because it seems like a huge pain in the ass to brew beer there), but Mountain State Brewing has managed to open two brewpubs and a brewing facility in a town of about 600 people. That's doing yeoman's work to promote locally made craft beer in a state that doesn't seem to want the business. It's also possible that every man and woman over 21 in Thomas, WV works at the brewery. Even more impressively, the brewery isn't content to simply put its beers on draft -- it cans plenty of beers, including the Seneca IPA, the blonde ale Cold Trail, and the Miner's Daughter oatmeal stout.
Wisconsin
Central Waters Brewing Co. (address and info)  
Amherst
Top-rated brewery: New Glarus Brewing
It's tough to touch New Glarus when it comes to ubiquity in Wisconsin, but Central Waters has also been making standout beer since the Clinton administration, and thankfully has had the capacity to create even more of it since relocating to its current Amherst digs in 2007. The barrel-aged releases are just as worthy of fanfare as certain other Midwest breweries who tend to garner a bit more of it. While the brewery does plenty of styles quite well (the Illumination IPA is as delightful as it is potent), you're likely to be particularly enamored with its work if you enjoy the dark stuff.
Wyoming
Ten Sleep Brewing Co. (address and info)  
Ten Sleep
Top-rated brewery: Melvin Brewing
Have you ever been to Ten Sleep? We're guessing no, considering most people passing through Wyoming are there for outdoor sports or to try to sell movies to Robert Redford. But damned if the tiny -- 260 or so folks -- town in the Big Horn foothills isn't a picture of Western beauty, complete with its own brewery that's the polar opposite of Jackson's acclaimed Melvin. You won't find anything crazy here. Just solid beer made right, from the Outlaw amber to the Pale Rider and Speed Goat golden. It's a simple, beautiful town, and this is the simple, beautiful beer it deserves.
Sign up here for our daily Thrillist email and subscribe here for our YouTube channel to get your fix of the best in food/drink/fun.