Think about your favorite craft brewery in the state you live in. Because we can read your mind (... don't worry, we'll leave your brain better than we found it), we've probably mentioned that brewery in our story about the best brewery in every state.
The thing is, when you're talking about a single-best brewery (or anything, really), that means that so many others aren't being talked about that are more than worthy of discussion -- underrated, one might even call them. Since more breweries ought to be praised for the important work of making sure America has enough amazing beer to drink, we discounted our most recent pick for the best brewery in each state and sought to identify the brewery most deserving of a little extra love. That could mean anything from established players who've been doin' it (and doin' it well) so long that people have started to take them for granted a bit in the face of newer, shinier breweries, to, well, newer, shinier breweries that haven't quite emerged as household names yet but whose beer absolutely merits that kind of ubiquity.
Point is, this celebration of the unsung hero of each state is subjective, just as any list might be. But they're all places we love, places that, for whatever reason, don't get to sit at the top of the totem nearly often enough. They're the most underrated breweries in each state. Are there places we underrated even further by neglecting to mention them? Well, extol their virtues in the comments so we know what we're missing.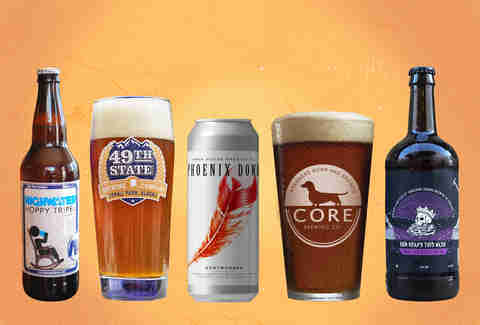 Alabama
Blue Pants Brewery
Madison
Top-rated brewery: TrimTab
They may be Blue, but they're also "big-boy" Pants, and this brewery has been wearing them particularly well within the last year. Their legion of loyalists continues to grow throughout the Southeast thanks to what Pants terms "unreasonably good beer." Their consistently solid roster includes the juicy Hop Bursted IPA and American Amber as some of the year-rounds, plus potent joints such as the Bourbon Barrel Aged Wee Heavy Ale and Double Stuff Pinstripe Stout. If you're ever in Madison, the Blue Pants taproom is open seven days a week, pour various versions of beer, including by cask, through a randall, and as fun "SMaSH" styles. Blue Pants also shows a fondness for local musicians who are jamming regularly, too.  Try them on. -- Ale Sharpton
Alaska
49th State Brewing Company
Anchorage and Denali
Top-rated brewery: Anchorage Brewing Company
In a state full of obscure breweries in small isolated towns, it's the big city breweries that have always dominated Alaska until recently. While no one can touch Alaskan Brewing and Midnight Sun, 49th State Brewing did the seemingly impossible by claiming the Gold Medal for Smoke Beer at the 2018 World Beer Cup. The aforementioned Alaskan Brewing is famous for their Smoked Porter -- it's credited with revitalizing smoked beers and is one of the most award-winning beers in US history at the WBC -- but that didn't stop 49th State Brewing from snatching away the category at the world's premiere international beer competition. Pretty impressive for a brewery that started on a homebrew-sized ½ barrel brewhouse in 2010. Since then, 49th State Brewing has opened pubs in Anchorage and Denali and has a production brewery on the way, so we might be hearing a lot more about 49th State Brewing out of the great white north in the near future. -- Ezra Johnson-Greenough
Arizona
Wren House Brewing Company
Phoenix
Top-rated brewery: Arizona Wilderness
Located in a small 1920's bungalow-style house that sat abandoned and collecting dust for decades, Wren House Brewing turned the guest house and garage out back into a brewery and the bungalow into a taproom. In 2016 the Phoenix New Times named Wren House the best new brewery and proclaimed them the bearers of a "new, tasteful, and modern vision for Phoenix." Two years later Wren House claimed the title of Best Phoenix Brewery period. Known for their diversity, their mastery of sours, and chef collaborations, it's Wren House's hazy IPA named Spellbinder that's caught them the most attention and currently sits at #10 on Beer Advocate's highest rated beers from Arizona. Still, you have to head to the Green Gables area of Phoenix into a restored old house to find this hidden gem. -- EJG
Arkansas
Core Brewing Co.
Springdale
Top-rated brewery: Ozark Brewing Company
Many brewpubs are content to can or bottle one or two of their most popular beers and call it a day. Not Core, which operates an army pubs in AR -- a brewing state that's making huge strides, mind you -- and a separate brewery taproom where all the good stuff gets bottled and canned. It seemingly packages its entire lineup. Everything from the spring seasonal toasted coconut ale to the year-round ESB finds a home in one of those vessels. And because the brewery's a mere 20-minute drive from the Razorback campus, the Arkansas Red amber's availability is clutch in a tailgate. Drinking it practically comes with a legal requirement to shout "woo pig sooie!" at an earsplitting volume. -- Matt Lynch
California
Yorkshire Square Brewing
Torrance
Top-rated brewery: Sierra Nevada
Gary Croft had a problem: The British expat could get a proper pint to save his life in LA. So he did what anybody would: He just opened his own brewery, one that specializes in "real ale," poured from a cask as God intended. After a couple of years, his Yorkshire square represents a trifecta of underrated bliss in Los Angeles: it pours a highly underrated style of beer in an underrated area of an underrated beer city. But thanks to Yorkshire -- along with Zymurgy, Smog City, and Monkish -- Torrance is now teeming with great beer, including pints of Yorkshire's simple-yet-superlative Alpha Papa English pale ale, an excellent low-ABV pub bitter, a pucker-inducing ESB called Strongest Possible Language, and a series of rotating stouts that might just be better than the stuff from the country that wrought them in the first place. Yorkshire's gaining cred in beer circles, too -- a place on Beer Advocate's top 50 breweries list will do that -- but the proof in the (Yorkshire) pudding is the fact that the place is always packed with Brits, some of whom cab it directly from nearby LAX to get a taste of home on the other side of the world. -- Andy Kryza
Colorado
Trve Brewing Company
Denver
Top-rated brewery: Ska Brewing
Not so secret to brewers and fans of mixed culture ales, TRVE Brewing is the tiny black-metal Satanist brewery that could. Founded in 2012 in Denver's Baker neighborhood, the place operates on a tiny pub system in a dark hole-in-the-wall taproom that you could easily walk right by and miss. Creepy, surreal photography graces their black walls, goat heads and candles illuminate the back bar, and black metal music rings cacophonous through the one room tiny beer hall. You wouldn't expect beers so varied, or so masterful, running the gamut from experimental hop IPAs to the rustic saisons, often using foraged or unusual ingredients and wild yeasts. We love that they are among the first breweries to can a beer made with spontaneous microbes and make shirts featuring Cthulhu like a sports teams mascot. TRVE Brewing remains a popular tiny destination in Denver and their cans and bottles found at local bottle shops, but you must fit into the 20+ seat taproom to truly experience it in all its dark glory. -- EJG
Connecticut
Fat Orange Cat Brew Co.
East Hampton
Top-rated brewery: Kent Falls Brewing
Anyone who's visited their fair share of tasting rooms knows that brewery cats are about as ubiquitous and adored as hazy IPAs. In the case of Connecticut's most underrated brewery, an entire brand has been launched in honor the late, great "brewmaster Billy," who was (as you might have guessed) a fat orange tabby whose "passion for hanging out for hours and brewing will always live on through the name." Even though they've only been open two years and change, they've quickly made a name for themselves as a farm brewery that supports local agriculture whenever possible. It's hard to pick an unmemorable beer from their diverse lineup, but see if you can get your hands on the hazy Consensus IPA or All Cats Are Grey In the Dark, a white stout that is as comforting as it is unique. Just make sure you're not already clamoring towards your car for a road trip: While the brewery is still making and distributing fresh cans, their tap room is closed January through March. -- Zach Mack
Delaware
Fordham & Dominion Brewing
Dover
Top-rated brewery: Dogfish Head 
It might come as a shock, but Delaware does have more to offer than a venue for stock cars to drive around in a very large circle, and water for Dogfish Head to brew it's beers with. For one of America's tiniest states, it's nothing short of a miracle that a place so thoroughly affiliated with one particular influential craft brewery has the capacity to support a brewery with bottled beers under the Fordham & Dominion labels (the two breweries joined their operations in 2007). But such is the Delawarean thirst for beers, including the much-lauded Dominion Oak Barrel Stout, a Chesapeake Bay-sourced oyster stout, and a Rams Head IPA under the Fordham banner. -- ZM
Florida
Aardwolf Brewing Company
Jacksonville
Top-rated brewery: Angry Chair
Undoubtedly, Florida's shine in the craft beer industry has been blinding as of late with a boom in festivals, breweries, and retailers steadily feeding the increasing demand. Specifically, Jacksonville is now a legitimate city for aficionados, and a tipped hat needs to go to Aardwolf for its top-notch sipping experience. Walk into their industrial-meets-chic headquarters (especially on Pilot Batch Wednesdays), hit the bar, and order from an extensive menu of house-crafted ales scripted on suspended wood planks.  The Nonchalant America IPA; White Russian Imperial Stout with lactose, vanilla, and coffee; Twin Blasphemies barrel aged sour amber saison; and Whiskey Barrel Aged 5 Year Anniversary Ale (Congrats!) give you an idea of how they get down. Evidently, using foeders and barrels are their specialty, which helps narrow down why Aardwolf is so revered, so make sure you grab some of their bottled liquid mastery on the way out and flaunt your booty at the next bottle share. -- AS
Georgia
Arches Brewing
Atlanta
Top-rated brewery: Creature Comforts
Largely due to Georgia's recent law changes, Atlanta continues to steadily climb the rankings as one of America's top cities to enjoy craft beer. But with the boom comes more competition, and Arches has brilliantly carved out a niche by focusing on particularly lagers embracing European traditions of yesteryear. Whether it's cravings for their crisp Southern Bel' Belgian Ale, hazy Queen's Weiss Hefeweizen, or a Triboulet IPL to cater to hop heads thanks to adding talented brewer Justin Ramirez to the team, Arches is about to get the love they deserve. Just minutes from the busiest airport in the world, ATL natives and visitors need to hit them up for their limited productions and beautifully packaged barrel-aged ales as well. -- AS
Hawaii
Kohola Brewery
Lahaina
Top-rated brewery: Maui Brewing Company
Kona and Maui absolutely dominate the conversation about Hawaiian beer, largely because they seem to be the only ones to leave the island. But as with most things in Hawaii, there's treasure hidden all over the islands, and Kohola's one of them. The ultra-laid-back brewery has its requisite IPA and pilsner, but Kohola really excels when it throws Hawaiian spins on classics. The Pineapple Blonde is a fruity spin on the classic blonde ale, while pineapples also make their way to a stellar limited-release English cider. Meanwhile, they're also trying their hand, successfully, with Belgian offerings like a spicy saison, with the promise of a tripel on the horizon. And, of course, there's a coconut porter, as seems to be the law in Hawaii. It's delicious. -- AK
Idaho
Boise Brewing
Boise
Top-rated brewery: Crooked Fence Brewing
Idaho isn't all just potato farmers: they also brew some beer  with another starchy ingredient. The nearly 5-year-old Boise Brewing is integrally intertwined with Idaho's farming heritage as one of the country's only community owned breweries. Inspired by Community Supported Agriculture, founder Collin Rudeen hired one of the best brewers in town and went about gathering 280 individuals and businesses to fund the brewery opening as part owners. That entitles their community investors to a one-of-a-kind beer brewed for them each month that is crafted based on their votes and conversations with the brewer. Boise Brewing even proclaims to want to brew a beer for your special events, weddings, etc. That mindset has paid off because Boise Brewing is on a four-year winning streak at the Great American Beer Festival, a streak matched by very few in the entire country let alone in the great Potato state. Boise Brewing proves it also takes a village to raise a brewery. -- EJG
Illinois
Destihl
Normal
Top-rated brewery: Half Acre
The Chicago area tends to attract the bulk of the attention when it comes to Illinois, and that certainly applies when it comes to beer, especially given the hubbub over the news that Chicago now boasts more breweries than any other city in America. Anything downstate tends to be a bit underrated just by default, even a brewery as reliably delightful as Destihl, which made its name primarily brewing the sour stuff (brightly colored cans from their "Wild Sour" series are probably their most recognizable product). But if you're not a fan of the tartness, fear not, they excel at a variety of styles, as shown with their entry into the New England IPA game, Touch of Haze. -- ML
Indiana
18th Street Brewery
Gary & Hammond
Top-rated brewery: 3 Floyds Brewing Co.
The Dark Lords over at 3 Floyds cast a long shadow when it comes to brewing in the Hoosier State, but since opening in 2013 in Gary (cue the Jackson 5), 18th St. has just continued to expand its increasingly devoted following one tasty release at a time -- so much so that they were able to expand their capacity with a new facility in nearby Hammond. From their Deal With the Devil IPA to their outstanding Hunter milk stout series, they just keep delivering the sudsy goods. Bonus: if you're in Hammond, stop by The Sour Note, a side project brewery from the same folks where they play around with -- you guessed it -- pilsners. Just kidding. It's sours. -- ML
Iowa
Confluence Brewing Company
Des Moines
Top-rated brewery: Toppling Goliath Brewing Co.
It's unlikely anybody's going to be toppling Goliath any time soon, but Confluence is one of those breweries that forges its own path anyway, and it does it in the most Iowan way possible: By embracing the grain. Specifically, the brewery's Multi-Grain Ale is accurately described as "amber waves of grain in a glass," while a seasonal Blue Corn Lager manages to become an even better pairing for nachos with the addition of chiles. Things get really interesting with the experimental beers, which have included a stellar saison with cranberries and spruce tips, a Scottish ale kicked up with hazelnut and coffee, and a black lager aged in Scotch barrels. Your move, King Sue. -- AK
Kansas
Defiance Brewing Company
Hays
Top-rated brewery: Free State Brewing
Now that Tallgrass is tragically out of the picture, Free State tends to occupy most of the Kansas beer discussion, but in a few short years Defiance has started to (definitely?) demand a place in the conversation. Fuzzy Knuckles is an imperial stout that is as much fun to drink as it is to order, and their standout double IPA is simply called "Awesomeness," which is a bold name for a beer, especially if it were to turn out to be not so great. Luckily, that was not the case here. -- ML
Kentucky
Monnik Beer Co.
Louisville
Top-rated brewery: Against The Grain
Against the Grain is doing a tremendous job representing the Bluegrass State's brew scene, but  Louisville's Monnik -- which is Dutch for "monk" -- is quickly becoming a must-visit whenever a craft head is within state lines. Rocking the hip town of Schnitzelburg, fan favorites of this extraordinary brewpub European-influenced ales and lagers crafted by head brewer Scott Hand include the Molé Materials imperial stout, Vortlimpa saison, and Mild George English mild ale, among others. Be sure to indulge in their equally inventive fare menu which reflects the same amount of meticulous attention as its stellar brews. Yep, owners Brian Holton, Ian Luijk, and the rest of the Monnik squad are about to blow. -- AS
Louisiana
Gnarly Barley Brewing Co.
Hammond
Top-rated brewery: Bayou Teche Brewing
When homebrewer Zac Caramonta busted out of the garage 5 years ago to launch Gnarly Barley, it's unlikely that he knew that in half a decade he'd be presiding over a 14,000sqft facility and pouring beer that would elevate the overall status of a state that's associated with booze, but somehow lags on craft beer. Maybe that made him an overachiever: Ever since GBB launched its horrorshow Korova Milk Stout, the brewery has been on a roll, and not just because it was soon discovered that milk stout tastes even better with peanut butter. Here, IPAs come in rye, juicy, and double; the Porter Rican amps up a coconut porter with the addition of rum-soaked wood chips; and even the simple Catahoula Common ale manages to be more crushable than most of the stuff you'd find in the actual Bear Republic. -- AK
Maine
Mast Landing Brewing Company
Westbrook
Top-rated brewery: Allagash Brewing Company
 Oh, Maine. How does someone walk into one of the most respected beer scenes in the country and decide which one is "underrated?" There's arguments to be made all around, whether it's tried-and-true breweries who continue to impress or the small, barely-distributed upstarts who are hard to find outside of Bangor, but the only thing that's true of everything is that you can't make a pick without feeling like someone has been left out. But if we're looking at breweries who have shown incredible momentum in a short amount of time, Mast Landing is sure to be brought up in any conversation about the future of Vacationland beer. Launched in summer of 2015 and currently installed in the tiny Portland suburb of Westbrook, their growing list of offerings continues to impress. We especially love beers like Gunner's Daughter, a comforting yet subtle milk stout that has notes of peanut butter and "Cocoa Puffs milk" (and that we've written up ourselves), Saccarappa IPA -- which is bursting with tropical fruit flavors like mango and lime zest -- and Little Choppy, a pitch-perfect summer session beer if we've ever had one. And luckily, they've got a relatively large distribution despite their size: You can pick them up in Maine, New Hampshire, Massachusetts, and New York. -- ZM
Maryland
Evolution Craft Brewing Co.
Salisbury
Top-rated brewery: Burley Oak
 It's surprising how quickly people forget how craft beer heavy a state Maryland is. After all, we're talking about the home of Flying Dog, Heavy Seas, DuClaw, and (at least formerly part of the time) Stillwater. This does set up a nice field of breweries that deserve more attention, though, and Evolution feels like as though it perfectly fits the bill. This little brewpub in Salisbury happens to brew beer as good or better than the big guys who operate on a much larger scale, all while feeling as though they operate lighter on their feet from a recipe standpoint. From its "aggressively hopped" Lot No. 3 IPA to the 8.5% Lot No. 6 DIPA to the Rise Up imperial stout made with a single-origin organic Sumatra coffee, Evolution beer is distributed in bottles, and is available on tap for its co-owners' eight other restaurants around MD. -- ZM
Massachusetts
Exhibit A Brewing
Framingham
Top-rated brewery: Tree House Brewing Co.
Tree House and Trillium dominate the conversation in a state which contributes more to the national beer conversation than most realize. To us, the next wave of great Bay State Breweries looks an awful lot like Exhibit A, where a commitment to environmental responsibility and community support is matched with drop-dead impressive beers. It's only in a state like Massachusetts where you can be named "Best New Brewery to open in 2016" by RateBeer and still be considered underrated. It's thanks to beers like their Sunday Paper imperial coffee stout, the year-round Cat's Meow IPA, and the flagship Goody Two Shoes German Style Kölsch that set a solid base for impressive one-offs like We're Going To Need You To Come In On Saturday, a malty, toffee-soaked, oh-so-subtly smoky Scotch ale for the ages. -- ZM
Michigan
Kuhnhenn
Warren and Clinton Township
Top-rated brewery: Founders
Few breweries anywhere have managed to strike the massive growth + incredible quality balance quite as well as Founders and Bell's have over the years, so it becomes easy for other Michigan breweries to feel a touch overshadowed even if the Mitten can go toe-to-toe with any state's brewery roster. Kuhnhenn is no spring chicken (a couple of avid homebrewing brothers started running it out of the family hardware supply shop in 1998), and a couple of years back a larger facility in Clinton Township eased some of the demand for their sought-after brews. Breweries like Kuhnhenn -- no longer the hot new thing, but not a behemoth either -- can get lost in the shuffle sometimes, but take one sip of Fourth Dementia (aka 4D, their stellar strong ale) and you'll know they're a brewery worth keeping in your permanent rotation. -- ML
Minnesota
Fair State Brewing Cooperative
Minneapolis
Top-rated brewery: Surly Brewing Co.
Fair State Is the kind of place that keeps things small so they can think big. "A great many wacky things -- apple brandy barrel-aged barleywine made with heirloom grains and re-fermented on blackberry puree, for example -- just don't make sense for broad distribution, but are possible on a small scale," brewer Niko Tonks wrote on the brewery's site, and it's no understatement. No, it's not all crazy stuff that goes in the cooperative brewery's cans (side note, membership DEF has privileges), which include a pair of great haze bombs, a hibiscus sour, and a massive pastry stout. But they definitely get wacky with the their bottles, experimenting with mixed fermentation and other whims. And when it comes to the Journeys + Sidequest series, everything goes: It's a bottle club this year themed around difficult-to-source, hyper-local ingredients. That probably doesn't mean a Jucy Lucy tripel, but hey, we can dream. -- AK
Mississippi
Crooked Letter Brewing Company
Ocean Springs
Top-rated brewery: Southern Prohibition Brewing
After having a year-long hiatus to reorganize things internally and adjust to favorable alterations of some infamously archaic Mississippi laws, Crooked Letter founder and CEO Paul Blacksmith is ready to pour his award-winning selections once again. They initially made a great impression during their 2012 launch in Ocean Springs, but now their portfolio shows even more complexity and invention, including the Stabello European style lager, Gipsy IPA, and Winterset German roggenbier, a dunkelweizen brewed with rye. Honestly, Mississippi as a whole has a ways to go before achieving the accolades numerous other states are reaping, but here's to the scrappy breweries like Crooked Letter who have the passion to change that. -- AS
Missouri
4 Hands Brewing Co.
St. Louis
Top-rated brewery: Side Project Brewing
Schlafly and Boulevard represent the old guard (well, not the OLDEST guard when it comes to Missouri breweries, but, you know), and Perennial is perennially (!) fantastic, as is its ascendant offshoot, Side Project. Amid all that, 4 Hands has put itself squarely on the map in a fairly short amount of time, doing a dizzying variety of beers exceedingly well, none of them better than the standout milk stout Madagascar (it's better than the movie!) With the sheer number of special releases, barrel-aged offerings, and collabs these guys do, you'd almost think they have extra appendages or something. -- ML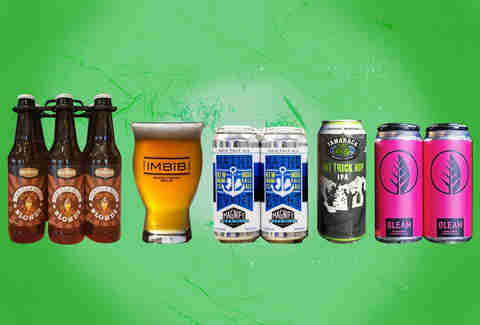 Montana
Tamarack Brewing Co.
Lakeside
Top-rated brewery: Lewis & Clark Brewing
Montana being, you know, Montana, things are pretty spread out, meaning that despite the state putting out some amazing beers, you don't always know where they are (or have the patience to drive 40 hours to get 'em), meaning most breweries could be considered underrated (the ubiquity of Big Sky notwithstanding). But among those underrated breweries, our hearts belong to Lakeside's Tamarack, which has to its name a gold medal English-style IPA to go along with its mysterious black session ale, smoked Scotch ale, and other takes on old-school classics right down to barleywine. There's plenty of room under the big sky, and Tamarack is one of the beacons worth following. -- AK
Nebraska
Infusion Brewing Co.
Omaha
Top-rated brewery: Kros Strain Brewing
Nebraska tends to be overlooked for a lot of things, unless the thing people are looking for are easy jokes about corn. But the state's been making strides in beer, with Omaha emerging as a formidable little beer city unto itself. Ground zero for the scene is the historic Benson district, also known as the beer district, and it's there that Infusion Brewing Company has cemented its status as one of Omaha's most celebrated new craft outposts. Infusion's seven-barrel brewhouse and taproom are set in a carefully restored 1917 meat market, giving the joint a real dose of Nebraska-born authenticity to pair with a rotating beer list that peaks with the Camaraderie, an 8.5% ABV imperial IPA dripping with complex blood orange flavor and brewed in collaboration with famed Odell Brewing of Fort Collins, Colorado. -- Meredith Heil
Nevada
ImBīb Custom Brews
Reno
Top-rated brewery: Revision Brewing
The great state of Nevada does a disproportionate amount of drinking to the size of its population. For all the boozing tourists come to do in their destination towns, very little of it is actually produced in-house. Enter ImBīb Custom Brews, a 3-year-old brewery that's sending people home with a sour taste in their mouth that's not because of last nights ill-advised trip to the blackjack tables. The awkwardly written ImBīb (but easily pronounced imbibe) brewery has staked a claim on sour beers, a style exotic to the mostly macro-drinking population that resides in Nevada. ImBīb has not only helped bring something new to town, but is damn good at it, as evidenced by their two medals at the Great American Beer Festival and 10 at the Best of Craft Beer Awards in only 3 years of existence. -- EJG
New Hampshire
Deciduous Brewing Company
Newmarket
Top-rated brewery: Stoneface Brewing
Ask any New Englander about their favorite breweries in the region and they might be a little slow to think of one from New Hampshire. It's certainly not that there's anything lacking in the beer department in the Granite State, but then again it's not every state in the country that's bordered on all sides by brewing scenes of epic proportions. With longstanding dominant craft breweries like Smuttynose restructuring in the wake of a debt-fueled auction sale, the field has been primed the recent flood of newcomers like Deciduous Brewing to enter the limelight. What's even more impressive is that these guys don't seem to need to rely to hazy bombs to get the early praise they've needed to become one of the buzziest breweries in the state, with a stable of farmhouse ales and sours that truly stand out alongside dark ales and rotating hop series IPAs. But maybe that's what you should expect when your co-founder and head brewer spent time honing their skills at Hill Farmstead and the (late but locally adored) Blue Lobster Brewing. Personally, we're particularly fond of the In Focus German-style pilsner, the refreshingly tart Auroral Berliner Weisse, and hearty-but-balanced Renascence Imperial Porter. -- ZM
New Jersey
Magnify Brewing
Fairfield
Top-rated brewery: Kane Brewing
For some people, being forced to work on a graduate thesis means fully Marie Kondo-ing their apartment in procrastination. In the case of Eric Ruta, he swapped the joy of tidying up with coming up with the business plan for what is now Magnify Brewing. His entry onto the Garden State's beer scene in 2015 drew almost instantaneous praise from locals, thanks in no small part to the expertise of his head brewer, Erich Carrle. They may not have the instant name recognition as Kane and Carton, but thanks to beers like Peach Short Stack DIPA, Maine Event IPA, and their trusty flagship Vine Shine IPA, their rabid fan base should continue to go grow. -- ZM
New Mexico
Santa Fe Brewing Company
Santa Fe
Top-rated brewery: La Cumbre Brewing
New Mexico's brewing scene has come a long way since Santa Fe Brewing began crafting beers in 1988. It won its first Great American Beer Fest medal in 1991, and more afterwards -- a fact you'll be reminded of when you see its numerous awards the second you step into the Fire Place brewery (that's the name of the street it's on, for real). Santa Fe might not have the shine of La Cumbre or Marble (or even Bosque, which is brewing great beer right now), but it's still brewing beers worthy of attention. To go along with its long-running flagships like the Imperial Java Stout (one of the best coffee beers in America), there's the seasonal Twisted Root, which asks answers a question few would have thought to ask: What would happen if you combined a Moscow Mule and a ginger ale, then turned them into beer? The answer is "pure magic." -- AK
New York
Gun Hill Brewing
Bronx, New York City
Top-rated brewery: Other Half
It probably makes sense that the most underrated brewery in New York is located in what is arguably the most underrated borough in New York City. Gun Hill, which calls a historically strategic location from the Revolutionary War in the Bronx their home, has been around for half a decade. Founders Kieran Farrell and Dave Lopez met while playing semi-pro baseball in the city (where they still play), and after finding a knowledgeable brewer, set out to create a diverse portfolio. Today, that has resulted in refreshing sours such as the Hessian Weisse, the easy drinking Soft Serve IPA series, and the crowd pleasing Spirit 76 Pilsner. And while these are enough to convert anyone into a fan, no one should miss the award-winning Void of Light stout (and all the variations thereof). -- ZM
North Carolina
Fonta Flora Brewery
Morganton
Top-rated brewery: Burial Beer Co.
Extraordinary brewmaster Todd Boera and company took Morganton out of the shadow of its big brother -- celebrated craft beer paradise Asheville -- and showed North Carolina Fonta Flora "ain't nothing to f*ck with." The infamous hip-hop quote is fitting since Boera is a proud fanatic of its historic '90s; check out the names of some of his phenomenally unique concoctions favoring European brewing customs, including the beet saison called Beets, Rhymes and Life (Tribe Called Quest), to the Swoon Units fruit beer (Digable Planets), and ongoing Appalachian wild ale berry series called Razzmatazz (Guru). Of course, there's a whole lot more popping off, including extraordinary grisettes, lagers, farmhouses, IPAs, and even a rye bread-based kvass to name a few innovations all contained in artistic packaging. As if there needs to be more reason to show love, Fonta's Whippoorwill Farm expansion based in nearby Lake James State Park is simply stunning. -- AS
North Dakota
Drekker Brewing Company
Fargo
Top-rated brewery: Fargo Brewing Company 
Whenever somebody talks about NoDak, Fargo inevitably comes up. That goes double for beer, since Fargo Brewing Co. has long been the biggest name in a pretty sparse field. Still, there are other breweries scattered throughout, and Drekker -- which ditches cinematic references for Viking ones -- is cultivating a cult based around its strong, confident offerings which range from the high-octane Nightman Cometh imperial stout to the Broken Rudder IRA and a lineup of stellar sours. (For those who really NEED cinematic references, their requisite hazy is called Wheez the Juice, and it's better than anything Pauly Shore ever did.) North Dakota might not have a lot of breweries, but with spots like Drekker doing their things, it's at least got quality on lock. -- AK
Ohio
Market Garden Brewery
Cleveland
Top-rated brewery: Jackie O's Pub & Brewery
The Ohio City neighborhood of Cleveland has a rich history in beer dating back a century, but it seems that craft beer is also very much the area's future, to the point that this particular neighborhood gives most full cities a run for their beer money. The boom started with Great Lakes, but local entrepreneur Sam McNulty has carved out his own boozy second-wave niche on the main strip, with experimental Nano Brew, beer-y restaurant Bar Cento, bottle shop Bier Markt, and his massive Market Garden all populating a single block. The sprawling Market Garden brewery is the castle of this kingdom, and beer garden -- spitting distance from Great Lakes and the iconic West Side Market --is often packed, with folks frothing for a taste of the diverse lineup, which includes a hoppy Citramax IPA, a massive Belgian Quad clocking in at 15%, an experimental sour IPA, and pretty much everything else you could imagine, or maybe didn't think to in the first place, like a barrel-aged pumpernickel rye. It's the core of the neighborhood's continued evolution, ushering in what will sooner than later be considered among America's best beer cities. -- AK
Oklahoma
Marshall Brewing Company
Tulsa
Top-rated brewery: Prairie Artisan Ales
It's not an exaggeration to say there are more breweries in a few square blocks of Portland, Oregon than in the entire state of Oklahoma. But by golly are there some good breweries packed into the state -- Prairie obviously being one of them. A mere 10-minute drive from Tulsa's Prairie brewery is Marshall, which began brewing a few years earlier. Marshall isn't currently the main event in its own damn town, despite setting the table for breweries like Prairie and Dead Armadillo, which is a perfect recipe for being underrated. In addition to its popular 6.5% ABV Atlas IPA and a lineup of German-style beers, Marshall brews the dry-hopped, 80-IBU El Cucuy black IPA (an underrated style if there ever was one), and the märzen Oktoberfest. -- AK
Oregon
Upright Brewing
Portland
Top-rated brewery: pFriem Family Brewers
Hidden in the basement of a nondescript, mixed-use office building is one of the finest rustic farmhouse and sour/wild ale breweries in the country. Often described as having a speakeasy vibe, patrons are welcomed right into a corner of the brewery for an elegant, bare-bones tasting experience. Upright is among the few U.S. breweries to practice open fermentation, a method that promotes flavor. Their beers range from spiced, Austrian cocktail-inspired French hybrid ale-lagers to long-term sour ales fermented strictly in oak with locally sourced fruit. Known for their deft touch, Upright was among the first to help bring Farmhouse ales to popularity in America as well as lagers. Upright's Engelberg Pils, a crisp and very dry beer with a German hop explosion, was one of the first craft lagers in Oregon. These days Upright sits in a comfortable position off the radar of the mainstream crowd, but it's  a must visit for brewers and hardcore aficionados. -- EJG
Pennsylvania
Pizza Boy Brewing Co.
Enola
Top-rated brewery: Brew Gentlemen
Bottles are extremely rare. Sorry. But Pizza Boy does deliver kegs to PA and NYC, so finding it isn't some sort of search for a greasy grail, which is fantastic, because, well, the beer is fantastic, especially sours like the mango-blasted Alphonso and their extremely experimental barrel-aged wares, which have multiplied as the brewery has expanded. The pizza shop it shares a space with (Al's of Hampden) has been there for 15+ years, but the brewery only got started in 2011, which is notable only because of how quickly it's ramped up, expanding three times in a few years. In addition to the sours, the Sunny Side Up imperial coffee stout, and the Hampden IPA are standouts. For visual proof of their greatness, a friend of Thrillist even made a beer doc that includes Pizza Boy's story. -- ML 
Rhode Island
Long Live Beerworks
Providence
Top-rated brewery: Proclamation Ale Company
There's nothing about the past five years in the Rhode Island beer scene that makes picking an "underrated" brewery easy. Maybe this has something to do with the fact that it's arguably the most improved beer state in New England, or the fact that most of their great breweries have moved from "underrated" to "widely adored." It's Long Live Beerworks, though, that has managed to create buzz for themselves in white hot little Rhody, thanks in no small part to their cask conditioned ales that set them apart from most other young upstarts. Unlike other breweries, these guys forgo flagship pours to maintain an ever rotating offering of stouts, IPAs, and kettle sours to round out their program and keep things fresh, meaning that even devoted fans are getting a new experience every time they come to pick up a howler fill. Maybe this will all change when they move into their bigger digs on the West Side of Providence, but until then, you can still swing by and say you knew them when. -- ZM
South Carolina
Birds Fly South Ale Project
Greenville
Top-rated brewery: Westbrook Brewing
Greenville has steadily developed its craft beer scene over the last decade, and Birds Fly South has literally brought funk with their lauded portfolio of mostly wood-aged wild ales. The city's legendary Thomas Creek helped get Birds' feet wet as a contract brewer, but once the fall of 2016 hit, co-founders Shawn Johnson and his wife Lindsay established their own brick-and-mortar, mastered their craft, and never looked back. Within the next two years, thy hosted the answer to Wicked Weed's infamous demise of the Funkatorium Invitation -- a gangster bottle share called the inaugural Funk Collective Festival -- expanded their brewery to 15,000 square feet, and broadened its fanbase by distributing to neighboring cities across state lines.  Ultimately, get your shades on because Fly South's future is only beginning to shine. -- AS
South Dakota
Hay Camp Brewing Company
Rapid City
Top-rated brewery: Crow Peak Brewing
We often tease South Dakota, but we also really love it, and a huge part of that love stems from the undiscovered breweries therein. And while Crow Peak has long been the favorite, that doesn't take away from the efforts of brewers across the state. But it's in the Crow Peak-adjacent Rapid City that Hay Camp is shelling out solid beers like the deceptively smooth Best Bitter, the booming Transcendance imperial stout, and more. (You want beer-snobby? The citric Dino-sour's the closest you're gonna get, neckbeard.) This is no-nonsense beer brewed under the watchful eye of a gigantic stone carving of Teddy Roosevelt, for God's sake. You don't want to disappoint the Bull Moose. -- AK
Tennessee
Blackstone Brewing Co.
Nashville
Top-rated brewery: Blackberry Farm
Like the hard-drinkin' protagonist of a particularly uplifting country song, Tennessee's beer scene has fought long and hard to get the recognition it deserves. Now, young bucks like Yazoo, Wiseacre, and Blackberry Farm are center stage, but Blackstone's the legend, one of the pioneers who still pumps out remarkable beers like St. Charles porter, which has a whopping eight GABF awards.. Basically, if they made a movie about brewing in Tennessee, Blackstone would be the beloved but often overlooked legend played by Jeff Bridges, and we'd be barred from visiting for making terrible country-music references. -- AK
Texas
Turning Point
Bedford
Top-rated brewery: Jester King Brewery
Aspiring breweries often go through a tremendous amount of trial and error, and after 5 years consisting of a name change, solidifying their identity, and mastering their craft, Turning Point justified its name upon opening on March 17th, 2018. And within that short stint, they have become a force to be reckoned with in Texas. Mastering the hop game, they don't have a shortage of various IPA interpretations, including the Mantra Turning Point Beer double New England, Single Hoptions single-hopped IPA brewed with Idaho 7, and Nerd Alert triple IPA. With a few stouts like the Banana Stand Money Ice Cream Sundae sipper, a helles, and even some sours diversifying their program, things are steadily progressing in Bedford. You want an underrated Texas brewery on the come up to root for? This is it.  -- AS
Utah
Kiitos Brewing
Salt Lake City
Top-rated brewery: Epic Brewing
Though it may sound like a hot new dieting trend, Kiitos is actually one of the country's more sustainable breweries. Like a good diet, Kiitos only puts what's good into their tanks and produces very little waste. Owner of a rare HEPS brewing system that uses 40% less water and 15-20% less grain, it also emits waste water that doesn't need any extra treatment by the city. And if you'd think operating in the heart of Utah would put a damper on things, Kiitos just won a gold medal at GABF for their Coffee Cream Ale. Surprisingly, Kiitos brews most of their beers to comply with Utah's 4% ABV limit (stronger beers may be sold through liquor stores), which makes it much harder to make tasty beer. But it's a challenge they seem up to as one of only two Utah breweries to win medals last year at GABF. The strict drinking culture of the state has embraced them -- perhaps it's because of a "do good and give thanks" ethos that sees them giving back to the community with charity beers and other tasty initiatives. -- EJG
Vermont
Von Trapp Brewing
Stowe
Top-rated brewery: Hill Farmstead
Make no mistake about it: Being underrated in a beer state as solid as Vermont means you have to be doing something a little different. Maybe that's why in the birthplace of the hazy IPA, Von Trapp Brewing is bold enough to make waves on a superb lineup of lagers that run the gamut from traditional to less-than-conventional. Nestled inside a world-famous family-run resort in Stowe (and yes, it's the same family that escaped the Nazis in The Sound of Music), their German-focused lineup serves as a comfortable break from juice bombs and heavy stouts. We've written before about how much we enjoy their Oktoberfest Märzen, but there's so much more to love: Their Bohemian pilsner is a world-class take on the style, while the Bock Bier represents a rare American achievement in dark lager. It's the newer takes on old world styles, like their juicy Double India Pale Lager, that shows they know their way around modern beers as well. -- ZM
Virginia
Lickinghole Creek Craft
Goochland
Top-rated brewery: The Veil Brewing Co.
If 2018 brought us anything at all, you could say that it was an increased awareness and appreciation for farm breweries around the country. And while this method of brewing may not make scaling up production any easier, it *has* shown us that they can produce some of the most head turning beers when executed by the right brewing team. Lickinghole Creek happens to be one of those brewers, sourcing a good portion of their ingredients from their own 200-acre farm. Beers like their bourbon-barrel aged Russian imperial Enlightened Despot have helped put them on the map for beer geeks in Virginia and beyond, while Mexican-spiced imperial stout Heir Apparent has taken home silver at GABF. It's not just dark beers, though: You should be just as happy to get your hands on some cans of their 'Til Sunset session IPA or Magic Beaver Belgian pale ale. -- ZM
Washington
Wander Brewing
Bellingham
Top-rated brewery: Fremont Brewing
Not all who wander are lost. Husband and wife team Chad and Colleen Kuehl traveled the world before settling in Bellingham to open Wander Brewing in 2013. Their varied lineup of beers showcases that vast experience of tastes and cultures, but settles in to a mix of modern American craft beer and Belgian tradition, a surprisingly comfortable one-two punch of excellence. While you can find some of Wander Brewing's bottles and cans around Washington, a visit to their taproom in a nearly unmarked warehouse is called for to truly appreciate this great Pacific Northwest brewery. Settle in for a sip of their lagered Baltic-style Porter that's won over half a dozen medals and hides its alcohol under layers of cocoa and caramel. Try whatever experimental single-hop or hazy IPA they have on tap for a showcase of hop flavor. Don't miss their Belgian-style and foeder series, often brewed with wild yeast or even a spontaneous fermentation. Wander has a shallow custom-made coolship (open fermenter) designed to be towed so fermentations can take place in different terroir and later fermented in the brewery's 100+ barrels, which include puncheons and giant foeders. -- EJG
West Virginia
Mountain State Brewing Co.
Thomas
Top-rated brewery: Bridge Brew Works
There just aren't a whole lot of breweries in West Virginia (probably because it seems like a huge pain in the ass to brew beer there), but Mountain State Brewing has managed to open two brewpubs and a brewing facility in a town of about 600 people. That's doing yeoman's work to promote locally made craft beer in a state that doesn't seem to want the business. It's also possible that every man and woman over 21 in Thomas, WV works at the brewery. Even more impressively, the brewery isn't content to simply put its beers on draft -- it cans plenty of beers, including the Seneca IPA, the blonde ale Cold Trail, and the Miner's Daughter oatmeal stout. -- AK
Wisconsin
The Brewing Projekt
Eau Claire
Top-rated brewery: New Glarus Brewing
Hailing from the land of Bon Iver, The Brewing Projekt specializes in what it calls "stubbornly crafted beer," which they describe as beer that's designed to be loved by many rather than liked by all. And they're doing just that, despite -- or perhaps because of -- a hardscrabble 5-year life that's seen them get knocked around locations like a foamy pinball. But people keep following them, largely because their beers are good enough to stand with the big dogs. This place pops out a ton of beers, but there are a few constants. They'll definitely have their now-legendary Gunpowder IPA, a fine example of the form unexpectedly brewed with green tea.The hazy and milkshake variants from the Dare, Resist, and Dare Mighty Things series will bring tears to the eyes of even the most ardent, road-tripping can collector (think Pina Colada milkshake beer). And basically nothing will taste like you expect it to. Follow these folks wherever they go. -- AK
Wyoming
Black Tooth Brewing Company
Sheridan
Top-rated brewery: Melvin Brewing
Sours? Haze bombs? Some dude named Bret from Belgium? Look, Jackson's about six hours to the west, bub. Black Tooth, right at the base of the Big Horn Mountains, is exactly the kind of craft brewery you'd expect to find in Wyoming: a spacious, sparse, no-frills drinkery where the bright tanks are front and center. Pouring forth are beers meticulously crafted and void of preciousness or trend-seeking. The year-round Bomber Mountain takes a cue from the Irish reds, while things get a little sweeter with the ginger and lime-kissed Copper Mule, which tastes a bit like a Moscow Mule and is void of bitterness. Even the limited releases are pretty straightforward, highlighted by the 1314 dark ale aged in Wyoming whiskey barrels and the Dear Abbey, a Belgian-inspired dubbel that's about as deep-cut nerdy as this place gets. It doesn't need the trends. These are damn good beers, made with grit and love. They taste like Wyoming. -- AK