Experts Predict the Next Big Trends in Beer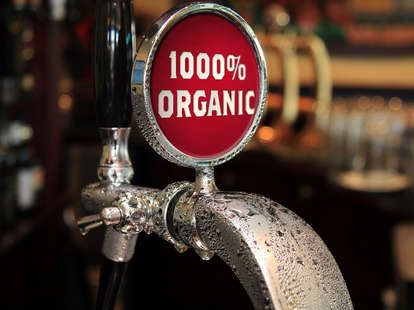 Shutterstock/Jennifer Bui/Thrillist
Here at Thrillist, we always have our minds on the future of the things we love. And one thing we love is beer. But we also recently discovered that Miss Cleo has blocked our numbers. That's why we turned to our favorite beer-industry insiders to figure out the next big things in craft beer. You already know the craft beer trends that need to stop -- now find out what's next in craft brewing.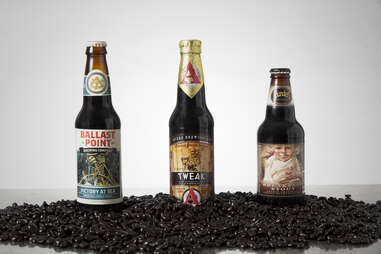 Coffee beers will have everyone buzzing
"Whether it's because of a crossover with another artisanal-driven industry or simply a rapid rise in interest, coffee seems to be having a moment. It's especially indicative when bigger brewers are including coffee beers, from Oskar Blues' Hotbox to Victory's Java Cask or Sierra Nevada's Coffee Stout. It's not just a seasonal trend, either, as coffee popped up in beers throughout 2015. Maybe 2016 will be a way to catch a buzz twice over." -- Bryan Roth, writer, This Is Why I'm Drunk

Kettle sours will be everywhere
"Over the last 10 years, the amount of breweries making barrel-aged sour beers has gone through the roof. Beer drinkers have learned that there's a huge world of new flavors to explore in that realm. But there's also a tradition of producing that lactic acid by manipulating the beer in the brewhouse instead of in barrels. When done well, it means that you can create some of the flavors found in barrel-aged sours, but it happens in a matter of weeks instead of months. As long as they are priced accordingly, kettle sours are a great addition to the wide world of craft beer." -- Andy Parker, Avery Brewing Co., Boulder, CO
"As brewers continue to grow and experiment on ways to make unique and interesting flavors in beer, we will start to see more traditional hoppy (not necessarily bitter) beers created using sour and wild-beer techniques. Brewers like to get new flavors and aromas from their hops, which is why new hop varieties are so sought after.
"In a time when new hops are hard to come by due to demand, brewers will turn to other techniques to develop those unique characteristics brewers desire in their beer. The creation of flavor and aromas using a kettle-sour process -- lacto in the fermenter and wild yeasts -- will become more prevalent. The possibilities for flavor combinations are nearly limitless. The use of these techniques combines existing hop characteristics, acids, and proteins to create desirable compounds that are difficult to obtain without the use of sour or wild techniques.
"The end result will not be a sour beer but may have tartness similar to some citrus fruits. The base style as this trend increases will mostly be pale ale and IPA, but brewers will eventually expand from there to other styles that would benefit from unique flavor and aroma combinations that can't be obtained with hops and malt alone." -- Ryan Kilpatrick, Fiction Beer Co., Denver, CO
The produce section will be all up in your beer
"There has been an interesting explosion of fruit beers in the market over the past few weeks -- and I can only anticipate that we'll see an even bigger surge come spring and summer. Fruit-infused wheat beers, sours, pilsners, IPAs, and even stouts are going to be all the rage in 2016. Berries, melons, tropical fruits, stone fruits, citrus, and squash -- you name a fruit and someone will (or maybe already has) brewed with it. Heck, I've even heard of people brewing with tomatoes. Trust me on this one, fruit beers are totally the new black." -- Ashley Routson, writer, Drink With The Wench
"I believe as craft beer continues to rise in the market, we will see more involvement with local breweries in their communities. I expect breweries to continue to produce beers that reflect and connect with their consumers. Early this year, a huge list of newly approved adjuncts from the TTB was released. I also think this will be the year of fruited beers. I believe you will see more breweries using more real fruit rather than extract, whether it be juice concentrate, puree, or even locally harvested produce." -- Chris Meyers, Crane Brewing Co., Raytown, MO
"People realizing that fruit + beer can be a good thing. I remember being that snot-nosed craft beer pup who eschewed any fruit beer because it wasn't 'real beer' -- whatever that means. And while brewers artfully combining fruit and beer isn't a new thing, watching us craft beer enthusiasts get off our high horses and realize that these are two friends that can work together. It certainly helps that breweries are putting together beers that use a more gentle (read: less sweet) approach to fruit beers." -- Mike Sweeney, writer, STL Hops

The price of craft beer could be going down
"I'm not sure if the next big thing in craft beer will come in 2016, but it is coming. The 2016 Y-Prize winner out of the University of Pennsylvania has created a way to ferment beer up to nine times faster than today. This means craft brewers could increase production many times without changing equipment. This could also lower the price of craft beer, and help them compete even more for the macro-beer dollar. Of course the big guys are going to be utilizing this too." -- John Thompson, writer, The Hop Local
Technology and beer will converge (even more)
"Untappd, SteadyServ, PicoBrew, and Drizly are just a few examples of how technology and beer have come together over the past few years. But I think we're just at the tip of the iceberg. As more breweries become hungry for consumer data to fuel their marketing and sales efforts, and as more drinkers look for conveniences of the digital age, the more we'll see technology playing a role in our beer-buying, -drinking, and -selling behavior." -- Terry Lozoff, writer, Drink Insider

Local ingredients will reign supreme
"I think the next 'big' craft beer trend is going to be beers brewed with hyper-local ingredients. In the last few years, a number of craft maltsters have opened and started producing locally grown brewing ingredients. Initially these were very expensive and hard to come by, lending themselves mostly to pricey brewpub-only beers. But as the farming and malting infrastructure grows and adapts, we are nearing a tipping point where high-quality local ingredients are affordable for use in all kinds of beers!" -- Colin Presby, Oakbrook Brewing Co., Reading, PA

Pilsners and IPLs will have their day
"Beer trends come and go, but one that is long overdue is a trend toward lagers. Ales rule the day in craft beer for many reasons, but the cycle of change should inevitably bring us back to lagers. The move toward lagers will help broaden the reach of craft breweries by offering beers a little smoother and easier drinking than the palate-popping, hair-raising hop-bombs so common to tasting rooms across America. A trend like this will be resisted by some and the change will be slow at first, but I expect it to gather steam quickly as craft breweries create some great pilsners, India pale lagers, and similar styles." -- Bryan Carey, writer, Great Beer Now
Beer and physical activity will team up
"Well, I'd love to say brewery pageants, but alas, I don't think it's in the cards -- this year at least. I think that the trend of merging beer with seemingly unrelated activities is going to continue to expand. I started a beer & yoga group in 2013 (back when I worked at Wynkoop) because I legitimately felt like I had this huge disconnect in two worlds that were really important to me.
"I remember going to the Wanderlust yoga festival and I was surprised to see New Belgium among a list of all of the otherwise expected sponsors (granola? Check. Natural sunscreen? Check. Every spandex product imaginable? Check. Brewery... say what?!) All of these yogis who had come together to spend their days in workshops and classes challenging their mind and bodies also liked to party? It was a revelation. I realized I wasn't alone, and I was determined to find others who could enjoy BOTH craft beer and yoga right alongside me.
"Classes started small, but slowly we grew and got more and more attention. Fast-forward a few years, and now yoga in breweries is a trend taking off across the country. We recently started Hoppy Yogis up again at Great Divide, and we had 250 participants last week! For me, it started as a way to merge two communities that I am incredibly passionate about, but I think it's resonating with breweries across the country because it's giving people an opportunity to have an intimate experience with their brand, and it's also helping to expose each brand to new audiences.
"I think that it won't be long before we start seeing more brewery CrossFit classes, or brewery hip-hop dance, or brewery cross-stitch. I personally would love to get down on some brewery cross-stitch. The possibilities are endless, especially as more breweries continue to expand and find themselves with extra space to utilize before they grow into it.
"There's a lot of talk in the beer industry about how you 'differentiate' as the market gets more and more saturated. I see these sorts of behind-the-scenes classes as being less about differentiation, and more about finding a unique opportunity to make legitimate connections and build the community around your brand. But then again, maybe that's exactly how we differentiate. Well, shit. Now I'm just giving away all my secrets." -- Shannon Berner, Great Divide Brewing Co., Denver, CO
Beer will be more organic
"With the safety of GMOs and genetically engineered food coming into question, I think the next big trend will be the use of certified organic ingredients." -- John Cheek, Orlando Brewing, Orlando, FL

Craft brewers will become more savvy marketers
"I think the next trend we'll see grow in craft beer won't be a particular style but a focus on marketing. For a long time, craft brewers didn't invest much in marketing. They simply let the product speak for itself. But with the awesome growth in the number of breweries and beers filling store shelves and bar tap lines, brewers can't simply hope people stumble across their beer anymore. With so many options out there, they must do more to gain the interest of drinkers and entice them to choose their brand over the 4,000+ others breweries available in the US today." -- Ben Brausen, writer, Craft Beer Time

Breweries will be selling on premise quite a bit more
"I think one of the growing trends in craft beer will be smaller, regional breweries opening up additional brewpubs and taprooms beyond just their primary facility and increasing their focus on on-premise sales." -- Chall Gray, Thirsty Monk Pub & Brewery, Asheville, NC
"I think you're going to start seeing more and more breweries that don't distribute their beers (or do very little distribution), and rely pretty much on on-premise sales. So many breweries want to be the next Hill Farmstead or Tree House Brewing Co. with long lines of people waiting every day they're open. The problem with this is very few breweries will make good enough beer to support that model; some will try it and either be forced to begin distribution or fail." -- Norman Miller, writer, Real Beer Nut
There will be more Avengers-style team-ups
"The craft beer industry has always been 'friendly.' Competitive, but on a good level. So much more than other industries. I have many brewer friends that would gladly help each other out in a time of need. This collaborative spirit has led to some amazing beers! Two (or three) breweries coming together, mixing recipes, and sharing local ingredients; it creates something completely unique that on an individual scale would not be attainable. Plus, it allows each brewery's community to have access to another's craft beer that they might not otherwise drink.
"A good example is one of my Michigan breweries: Short's Brewing. They did a collaborative beer with Funky Buddha in Florida called Tip ta Tip. It gave Michigan beer drinkers exposure to Florida beer and vice versa.
"Another good collaborative effort is when two brewers of different sizes work together. Dogfish Head and Burley Oak Brewing created a beer called Pants are Cumbersome. A batch was brewed at each location. This situation gave a smaller brewer the opportunity to work in a much bigger brewhouse. I think we'll see more of this happening as the craft beer industry realizes the benefits and uniqueness of such collaborations." -- Steph Harding, editor, MittenBrew
"While collaboration beers are nothing new, I think we'll see this concept surge in the coming year, especially on the local level, as smaller craft breweries grow and look for ways to join and expand their mark in their own communities." -- Sara Bozich, writer, SaraBozich.com
Sign up here for our daily Thrillist email, and get your fix of the best in food/drink/fun.
Lee Breslouer is a senior writer for Thrillist, and agrees with the fruit beer call. Follow him to trends: @LeeBreslouer.