Jason Hoffman/Thrillist
Jason Hoffman/Thrillist
The Great Craft Beer Sellout
Dick Cantwell calls them "hate tourists," the beer geeks who started turning up at Elysian Brewing Company's original brewpub in Seattle as soon as the sale was announced. "Our service staff took it on the chin," says the 58-year-old brewer, who co-founded the brewery in 1995, two decades before selling it to the world's largest beer company, Anheuser-Busch InBev. "People were buying beers, and literally dumping them on the floor," he says. Then they'd stalk out the door and into the city's Capitol Hill neighborhood in search of a real craft beer from a real craft brewery. You know: a locally owned one that hadn't "sold out" yet.
It's a common sentiment throughout the industry, as well as with the hopped-up cognoscenti that function as de facto mouthpieces of the "better beer" movement. After all, the craft movement might have started out as a straightforward quest for really damn good beer, but over the years corporate mistrust and disdain for mainstream tastes have become so tightly woven into its identity that they often seem like defining characteristics.
But like it or not, the great craft beer sellout is on. The craft beer landscape is radically different than it was when Cantwell began brewing. It's changed almost as substantially between this year and last, when we first warned you that a massive shift was underway. Since then, the number of American craft breweries has swollen to 4,600, even as craft beer's growth is flattening out. Year-over-year volume was up just 8% in July 2016, and will likely remain under double digits for the year -- only the third time in the past decade that that's happened. That's still better than overall beer consumption in the US, which has been slowly giving up market share to wine and spirits since the '80s.
For those reasons, and a few more, craft brewers across the country have been lining their war chests with institutional capital, or aligning themselves under the banner of Big Beer, looking for quick cash to expand, amp up distribution, or just retire on. In the past 24 months, "strategic partners" (i.e., bigger beer companies) bought Ballast Point, Elysian, 10 Barrel, Hop Valley, Terrapin, Revolver, Devils Backbone, and Saint Archer outright. Lagunitas sold 50% to Heineken; Founders sold 30% to Mahou San Miguel; Firestone Walker joined Ommegang and Boulevard under Duvel Moortgat's tent. Hell, as this article went to print, Brooklyn Brewery announced it had sold 24.5% of its company to Kirin, the Japanese corporation.
And, oh, the private equity deals! Oskar Blues, Full Sail, and others have all sold themselves, in part or in whole, to investment groups eager to get in on beer's only growing category.
In other words, shit be happening, compadres. So, we spent the last month interviewing craft brewers, macro buyers, die-hard drinkers, and industry analysts to see how, and if, this shift will affect how we craft beer lovers -- you, me, us -- will drink. Should acquired breweries like Elysian still count as "craft," now that it's cast lots with the moneymen? As lovers of craft beer, must we now spurn those breweries? If the quality level stays high and more people gain access to better beer, should we care? Does it even matter?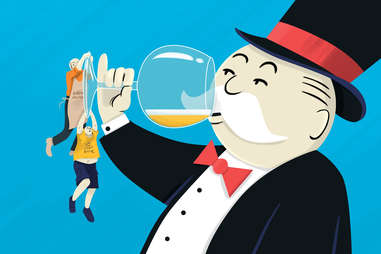 It does to beer geeks. At least the "loud, sloppy, crying" ones.
In the digital age, hate tourism hardly requires a physical visit to a newly acquired brewery. In August 2016, on the day Terrapin Beer Company announced it had agreed to be acquired by Tenth and Blake (MillerCoors' premium portfolio, through which it manages its craft acquisitions), its Facebook page popped off.
A sample of the negative comments [all sic]:
"Enjoy your money, you won't get any more of mine."
"I guarantee the new owners are all about profit and nothing more."
"Bye terrapin, there's other great local breweries out there that deserve my money. Just another brick in the wall to big beer. Smh shame shame"
This sort of dissent is easy to vent, which might be why you always see and hear so much of it upon news of a sale. "It gets amplified on social media because people who have strong opinions are a lot louder on the internet than those who are indifferent," wrote Leah Kuck, Terrapin's marketing & communications representative, in an email exchange with Thrillist. She manages the brewery's Facebook page, and wasn't surprised by the reaction.
Brewers -- those who've sold, and those who haven't -- tend to agree. "A whole bunch of people yelling in the wind," is how John Laffler described a typical online reaction to an acquisition. The current brewmaster of Chicago's independent Off Color Brewing, Laffler built his reputation at Goose Island, but left within a year of that company's sale to ABI. ("It was just time," he told the Chicago Tribune in a 2012 interview.)
But beyond the small, loud cohort of beer geeks who "go on loud, sloppy crying jags each time a brewery is acquired," as MarketWatch's Jason Notte put it in a recent email exchange, there's a whole mainstream population of less dogmatic drinkers, who really just want some good beer. "The most vocal people are not buying as much as everybody else," remarks Laffler. Investors are betting that courting everybody else, rather than the pissy minority of beer geeks, is the best way to sell more beer from their acquired brands.
So far, it's working. Partially or fully acquired breweries like Lagunitas, Founders, and Ballast Point "are getting some of the best growth in craft beer right now," says Benj Steinman, publisher of Beer Marketer's Insights. Ditto ABI's brands. According to a 2015 Nielsen study commissioned by the Brewers Association, craft brewing's leading advocacy group, 61% of craft consumers consider a brewer's independence as "somewhat" or "very" important when choosing their beer. But, Steinman says, "the evidence in front of my nose says [ownership status] doesn't matter" to a mainstream customer.
But will it change the beer?
The ink was hardly dry on Revolver Brewing's August 2016 deal with MillerCoors, the country's second-largest beer company. The deal, transferring control of the Granbury, Texas brewery to the country's second-largest beer company, hadn't even officially closed yet. But: "It's just a pen stroke," Rhett Keisler, a Revolver co-founder, assured Thrillist on a phone call in early September. "The beer is still the beer."
This is a common refrain amongst brewers who have sold off their control. "We remain fully in control… no planned changes," wrote Eric Ottaway, Brooklyn Brewery CEO, in an email to Thrillist. "[S]ame brewers, same recipes," pledged Lagunitas in the press release heralding its $500 million partnership with Heineken NV, the world's second-largest beer company. "It will be the same people making the same beer, with the same culture and approach," promised Ballast Point founder Jack White in the San Diego Union-Tribune following the brewery's $1 billion sale to Constellation, a New York holding company with a $34 billion market cap whose lucrative portfolio also includes Corona brands in the US.
(Like many acquired breweries, it wasn't the same people at Ballast Point -- White exited in the aftermath of the sale, as did the CEO, COO/brewmaster, and CCO. The brewery declined to comment for this story.)
Brewers who have sold consistently deny they've cut any corners. Keisler says the "responsibility is on us" to ensure that MillerCoors never foists cost-saving programs on Revolver at the expense of the quality of its beer. And buyers tend to claim they'd never ask for such a compromise. "We're not touching anything when it comes to the beers," says Scott Whitley, president of Tenth and Blake, the MillerCoors subsidiary that will control Revolver.
Still, cautionary tales abound. As the industry's biggest and most aggressive acquirer, ABI is central to most of them, and as one of its most high-profile purchases in the US, Goose Island has been the conglomerate's litmus test. The results are mixed.
ABI has expanded production of the brand's flagship IPA to its facilities in Colorado, and flat-out moved production of 312 Urban Pale Ale from Chicago (area code: 312) to its facilities in upstate NY. It's tweaked recipes to brew Goose Island's hop-forward beers at volume. On message boards and blogs, drinkers have claimed all this change hurt the beers' flavor and freshness. This consternation peaked in 2015, when batches of the coveted Bourbon County Brand Stout were found to be infected with a flavor-wrecking, albeit non-toxic, bacteria, and had to be recalled. Diehards again cried foul and threw blame on ABI's doorstep as "proof" of bad-faith brewing.
Would it have happened if ABI never bought the brand? Who knows. But it did, and it freaked some people out.
But there's an upside!
Of course, some change is good. There are some genuine benefits to selling that, at least in the short term, you'll enjoy as a drinker.
Consistency is a big upside. Big Beer is famous for delivering lager that tastes exactly the same, no matter where you're drinking it. Private equity is famous for having prodigious heaps of cash. Both grant small brewers easier access to better equipment and quality-control expertise, which in turn makes it easier to put out batch after batch of identically tasting complex beers at scale.
And ingredients! "The biggest gift from 'Uncle InBev,'" to its acquired breweries, writes Aaron Goldfarb in a Serious Eats story published last month, "is surely the 1,700-acre hop farm in northern Idaho" to which its newly bought breweries have access.
When we called Felipe Szpigel, the president of The High End (ABI's subtly named premium portfolio), he was quick to bring up that same farm, called Elk Mountain. Take Elysian as an example, he said. "They had this amazing beer called Space Dust, but they couldn't get the hops that they needed. Because of Elk Mountain and the resources we have here, they can start brewing Space Dust [more often], and it will become their flagship beer."
From hop procurement to waste-water treatment (another unsexy but necessary consideration that Whitley brings up), there are facets of the business that independent brewers just sorta suck at, and acquisitions can provide the people and resources to help. "A lot of people who start out brewing really don't understand business," says Anat Baron, a former general manager of Mike's Hard Lemonade and beer-industry insider who directed 2009's documentary Beer Wars. A buyer, either with pre-built infrastructure or the know-how to build it, can help new acquisitions get their houses in order so they can "focus on the beer" (another common refrain).
10 Barrel's co-founder Jeremy Cox has seen it firsthand. "We were spending a lot of time on [procurement of] supplies, and stuff that wasn't all that fun" prior to selling the brewery to ABI in fall 2014. Now it's got more brewers, happier brewers, and time to innovate on specialty projects, he says, like the Crush kettle sour program. Cox and his co-founders claim that the freedoms afforded by the acquisition actually make 10 Barrel "more craft than before."
That's a matter of endless debate; your mileage may vary. But strike the semantics for a moment, and consider the underlying argument. Freedom to focus on brewing, coupled with turnkey access to a pre-existing distribution network (or, at least, shitloads of money to build one), puts more full-flavored beer in more places it never was, like stadiums, airports, and chain restaurants. Which all sounds pretty great, right?
"Do we use more-expensive hops and make less money, or do we use less-expensive hops and make more money?"
The thing about distribution
Here's the thing most people don't talk about. It's hardly sexy, and often counterintuitive, but distribution -- known in the industry as the "middle tier" because it's the legislatively mandated linchpin between brewers and retailers -- is "100% of the game," says Baron. "It's everything."
The three-tier system is enforced at the state, not the federal, level, so there are dozens of regional idiosyncrasies. Nationally, here's the gist: large brewers do so much business with regional distributors, who in turn do so much business with regional retail accounts, that they have de facto control over the three tiers simply due to scale. (In states where it's legal, macros actually buy distributorships, formalizing this arrangement. In states where it's not, the Department of Justice has investigated macros for offering kickbacks and pay-for-play arrangements.)
Why does this matter for craft beer? Let's say a supermarket notices that its IPA stock is "turning" (selling) twice as fast as its other categories. No surprise there. The store tells the distributor. Let's say the distributor is "blue," which means that the majority of its business comes from distributing MillerCoors products. Before MillerCoors lined its premium portfolio with hop-forward "craft" acquisitions like Saint Archer and Hop Valley, the distributor would've been forced to either carry independent brewers' IPAs to fulfill the supermarket's request, or risk missing out on that business.
In 2016, there's no need, because now the distributor (via MillerCoors) has that category covered with options like Hop Valley's Alphadelic or Saint Archer's India pale. The retailer is happy, because it has something to sell the customer, and the margin is bigger than it might have been on an independently produced IPA (scale!). The distributor is happy because it no longer has to maintain time-consuming relationships with a dozen independent breweries, now that it can lean on the portfolio of just one. MillerCoors is happy because even though sales of adjunct light lagers are flagging, it's selling beer in a growth category.
But what about the drinkers? Are we happy?
"A lot of people who start out brewing really don't understand business."
The drinkers are happy! (For the time being.)
The thing is, this is probably as good as it's going to get for the category of full-flavored beer. As the market gets tighter, breweries will fail. There will be fewer independent brewers large enough to compete for the mainstream supermarket shelf space. At the same time, they'll struggle to compete with smaller, more nimble craft brewers in on-premise taprooms, and specialty beer bars/shops. "They're kinda getting squeezed from both sides," says Steinman.
When those big-ish regional craft brewers start dropping, acquired breweries will represent access to -- and define the perception of -- premium "craft" beer for most of the country's drinkers, who are hardly as discriminating as some Dark Lord-hoarder in a basement thumbing through RateBeer. At which point, an acquirer could, theoretically, just sorta make it… less premium.
This concern usually comes up when the buyout money is from private equity, thanks to that industry's reputation for slashing costs and bailing when growth slows, but can apply to strategic partners, too. Independence has allowed craft brewers to stand as a bulwark against a quality slide, says Jim Koch, co-founder of Sam Adams and chairman of Boston Beer Company. (Though the company is publicly traded, Koch holds all its voting shares and remains in control.) "In a very practical sense," he tells Thrillist, it comes down to a simple question: "Do we use more-expensive hops and make less money, or do we use less-expensive hops and make more money?"
In a growth market, brewers on all sides are able to keep quality high and eke out profits, but as competition tightens, cost-cutting tactics like substituting cheaper ingredients, discontinuing time- and labor-intensive beers, and centralizing production can keep returns high for investors or corporate owners, even as retail prices drop. As Greg Koch, the outspoken and fiercely independent co-founder of Stone Brewing, remarks: "The commodity world [...] naturally, over time, reduces choice and quality, and those forces are strong, man."
Each acquisition, in other words, is drawing rambunctious craft beer further into the more narrowly defined world it set out to expand. No one -- not brewers, analysts, distributors, or drinkers -- knows quite where to draw the line. At what point does ownership status cease to be just a question of semantics? At what point does it become a threat to quality beer? And, if expansion is the key to survival, is there a way for craft beer to grow while retaining its independence?
Cantwell doesn't view the "hate tourists" as sociopaths, he says. "People in that community were just wounded; they felt betrayed and sad."
Maybe there is!
Up until this point, the conversation has been binary: cash vs. craft. Corporate vs. independent. Selling out vs. fighting the good fight. But there may be a viable third way. Greg Koch certainly hopes so. In June 2016, he announced the launch of True Craft, a private-equity-backed entity that will take minority positions in independent craft breweries with a $100 million fund. "True Craft is behaving in ways that are different that traditional private equity," he tells me, explaining that while traditional private-equity firms are beholden to a timeline to flip their investments, his will "go on into perpetuity."
True Craft is just the latest (well-funded, star brewer-backed) attempt to forge a craft beer acquisition Holy Grail: a patient group of private investors, true believers who understand the craft ethos, offering a middle road to brewers seeking capital to expand, or "something more solid than cred" to retire on, as Notte says.
Artisanal Brewing Ventures, which holds both Victory and Southern Tier, is another manifestation of this middle way. Ulysses Management, the private-equity firm that backs it, is a "family shop" (i.e., the money it manages just comes from one or a few wealthy-ass clans), which enables a more farsighted position than traditional firms. "I can hold investments for a long, long time if I think they make sense," says Paul Barnett, Ulysses' managing director.
With a CEO from Southern Tier and board seats for both Southern Tier and Victory's co-founders, ABV (get it?!) hopes to make procurement and distribution more cost-effective for both breweries by pooling their clout. "We're better positioned as a combined entity," says Bill Covaleski, Victory's co-founder, noting that together, Victory and Southern Tier represented the 15th-largest craft brewer by volume, as opposed to the 28th and 31st respectively. (Still, ABV has eight board seats, and Victory's founders only control two of them -- a far better paradigm than a 100% buyout, but not one that leaves Covaleski and his partner with total control, either.)
The most ambitious model of craft beer compromise, however, is Equity for Punks USA, a mini-IPO/crowdfunding round launched by BrewDog, Scotland's cultishly popular independent brewery and international pub network. The fund, explained co-founder James Watt, allows US drinkers to buy Regulation A shares of the company's US operation, in effect distributing slivers of ownership amongst them. The cheeky bastards will open a brewery in Columbus later this year with an undisclosed portion of its $50 million target raised. To guard against the temptation to sell -- which Watt assured Thrillist, and pretty much everyone he's ever given an interview to, that he'll never do -- BrewDog recently amended the company's bylaws to effectively prohibit it. ("Nailing our colours to the motherfucking mast!" is how it phrases it.)
Can other craft brewers deploy the BrewDog/Equity for Punks model? There's certainly incentive. BrewDog has grown at a freakish rate since being founded in 2007, including 130% growth in UK sales in 2015, 44 brewpubs internationally, and a cool £5.5 million in operating profit (around $7.5 million) last year. If the rule is that craft's brash, change-the-world independence just won't work at scale, BrewDog is a hell of an exception to it.
That's all well and good -- but what about my feelings?
Dick Cantwell quit Elysian just a few days after his fellow board members decided to sell the brewery. He was the sole dissenting vote. ("Dick has been in the belly of the beast," said Jim Koch approvingly, upon learning that the other brewer would be interviewed for this story.) Still, Cantwell doesn't think he's some kind of craft brewer hero, nor does he view the "hate tourists" as sociopaths. "People in that community were just wounded," he tells Thrillist ruefully. "They felt betrayed and sad."
Craft beer has always encouraged an explicitly personal connection between brewers and customers. It's asked them to get to know brewers, invest themselves in independent breweries, and give a shit about those brewers' handiwork. It's told them that craft brewers and their customers are, as beer historian Maureen Ogle puts it, "noble warriors doing battle against the people who want to steal the throne." It convinced many that they are what they drink. So what happens when what they drink changes?
Craft beer won its battle, but it won so handily at first that it's having trouble convincing anyone that the war still needs to be fought. And if they can remember, will many mainstream drinkers still care who actually makes the beer? "A lot of consumers don't," says Cantwell towards the end of our interview. "That's more than they want to think about when they're buying a six-pack."
Sign up here for our daily Thrillist email, and get your fix of the best in food/drink/fun.