Because variety is the spice of nightlife, Cuervo® has unleashed a new way to take down tequila, called Cinge™. The essence of it: silver tequila infused with natural cinnamon, the spice the Greek historian Herodotus claimed had to be obtained from the nests of giant birds high atop insurmountable mountains -- but which daring drinkers can now order from their neighborhood bartender.
To introduce Cinge, Cuervo put out this sweet anime spot, starring...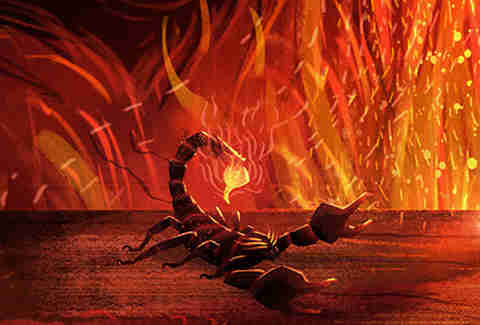 ... this scorpion. The desert dweller was chosen as a mascot because it "has vice-like claws, an uber-venomous tail, and glows in the freaking dark". So basically it's 400 times cooler than a giant duck.
Coming in at 70-proof, the stuff makes for a hell of a shot, either straight up or as a slammer with citrus soda. Put that slammer on ice and you've got the Twisted Cin, which "tastes like burning!". Lucky for you, "burning" tastes just like delicious cinnamon-infused tequila.
As a cocktail component, if you're not versatile, then you're only "tile", and people will step all over you on their way to more adaptable spirits. Cinge is ready, willing, and able to take on all sorts of mixers, from cola to hard cider, aka the Cingeful Apple. Apples represent temptation, and the ultimate temptation is a tequila cocktail served in a pint glass, so really it all adds up.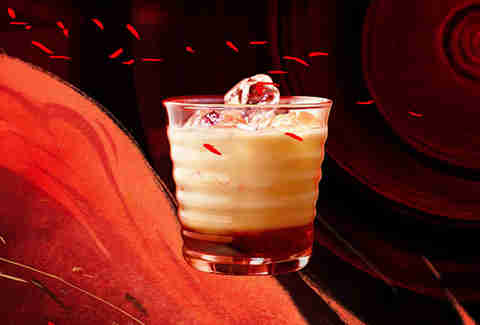 "OH MY GOD THOUGH WHAT ABOUT BRUNCH COCKTAILS!?". You've got a point there. Among the many possibilities: the Hotchata, made with Cinge and horchata liqueur. If you're feeling uninspired because some madman made reservations at 11am instead of the more sensible brunch hour of 2pm, this drink will have you soaring with the giant birds.

Jose Cuervo® Cinge™:  Jose Cuervo Especial® Tequila Infused with Cinnamon and Natural Flavors. 35% Alc/Vol. (70 proof). Trademarks owned by Tequila Cuervo La Rojeña, S.A. de C.V. ©2013 Proximo, Jersey City, NJ. - Cinge Responsibly