Drinking great craft beer at home requires you to have the best tools out there, but all you need at the Great American Beer Festival is a tolerance for long lines, a liver that just won't quit, and a tiny plastic cup for volunteers to pour some of the best beer in the country. 600+ breweries are there right now, but some just naturally get cult-ier than others. These are those breweries, and what they were pouring at GABF: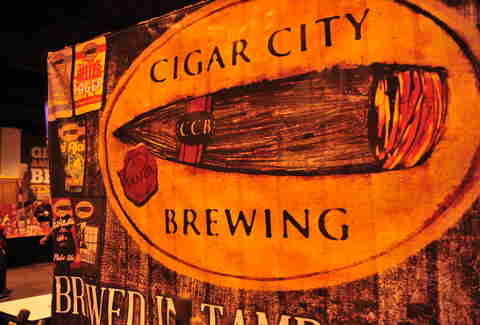 Brewery: Cigar City Brewing
Why they have cult appeal: This Florida brewery (which we named the best in the state) only distributes their beers within state lines, but with the line to drink this beer at the fest itself stretching pretty far back, it's clear the word is out about their stellar brews.
Most culty beer poured at their booth: Hunahpu's Imperial Stout is released only once a year in the brewery, and in very limited quantities.
Brewery: Jolly Pumpkin Brewery
Why they have cult appeal: It looks like the Michigan brewery hasn't updated their website since 1998... BC, but that's probably because they're too busy distributing their beers to 30+ states. And yet despite that wide distribution, they remain a charming cult fave with oak-aged and Belgian beers that will send any respectable beer nerd into a tizzy. A TIZZY!
Most culty beer poured at their booth: A tie between Luciernaga, a Grand Cru-style seasonal, and their unimpeachable iO Saison.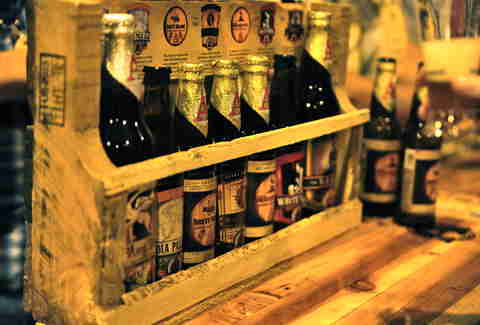 Brewery: Avery Brewing
Why they have cult appeal: The Colorado-based brewery is another one with fairly wide distribution (30+ states), and yet has releases that are strictly for hardcore craft beer lovers, like their 18% Beast, which unfortunately didn't make the trip to GABF.
Most culty beer poured at their booth: With 10 beers poured at the booth, one stands out: Tweak, a coffee stout formerly named Meph Addict . It clocks in at a 15.5% ABV, and it's impossible to find outside of special releases in their taproom.
Brewery: Surly Brewing Company
Why they have cult appeal: The insanely popular Minnesota brewery is only available in their home state, which is a damn shame for every other state in the US who can't get their hop fix with Surly Furious.
Most culty beer poured at their booth: Smoke, a seasonal, oak-aged Baltic Porter, is only released at the end of the year in limited quantities in 750ml bottles.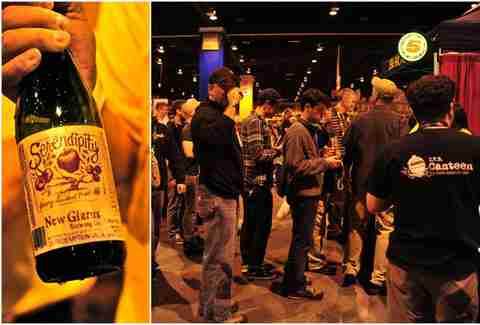 Brewery: New Glarus Brewing
Why they have cult appeal: Like Surly and Cigar City, New Glarus is only for the people of Wisconsin (and the people who waited in long lines to sample in Denver this weekend). But their unparalleled excellence in sours and fruit beers makes them a worthy stop for anyone at GABF.
Most culty beer poured at their booth: A beer that's around for 2-3 days sounds pretty culty to us, and that beer is the American Blackberry Sour Ale, which is available in bottles for a few days each summer before it sells out.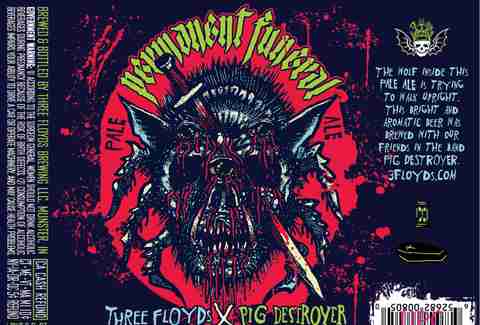 Brewery: Three Floyds Brewing
Why they have cult appeal: There's nothing more cultish than your beer inspiring mobs of people to fight to buy the Indiana brewery's Dark Lord stout each April. Couple that with the fact that only five states carry their beer period, and you've got the makings of a cult brewery.
Most culty beer poured at their booth: Since Dark Lord was sadly not being sampled at their booth (likely because there would've been a line of 20000 people to try it), the rarest pour was a collab with the band Pig Destroyer called Permanent Funeral. It has the most metal beer label we've seen in a long while.
Brewery: Russian River
Why they have cult appeal: One of the longest lines we encountered at GABF was for people to get a taste of Pliny the Elder and other awesome beers from the California craft beer stalwart, and if that's not a seal of approval from the nerdiest of the beer nerds, we don't know what is. It also helps that only 4 states (CA, CO, OR, and PA) can get their hands on it.
Most culty beer poured at their booth: Framboise for a Cure, their seasonal raspberry brew for charity, was a mad popular pick, but nothing beats Propitiation. That Baltic porter aged in wine barrels was made as a one-off for SF beer bar Toronado's 25th anniversary, and has never been bottled. It's impossible to find anywhere else.