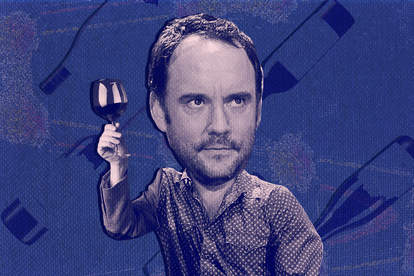 Frannie Jiranek/Thrillist
Dave Matthews Wines, Tasted and Rated by a Sommelier
Love it or hate it, the Dave Matthews Band is part of our pop culture fabric. From humble beginnings invading 1990s MTV with its unlikely blend of roots-adult-contemporary-mumble rock to selling out stadiums, the band has become a cultural force unto itself. Now, "Dave" has invaded the liquor cabinet.
A while back, the noodle-legged troubadour teamed with winemaker Sean McKenzie to launch Dreaming Tree, a line of sustainability minded vino that officially places Matthews alongside other celebrity wine-hawkers like Guy Fieri, Francis Ford Coppola, and the dude from Tool.
With the wine all but assuredly becoming a mainstay of pre-show parking lot parties and the fridges of people whose friends buy them last-minute wine gifts at Target, we decided it was time to get our hands on Dave's signature wines. But since we know about as much about wine as we do the words to a deep-cut Lilywhite Sessions track, we enlisted sommelier Mandy Woodward of Los Angeles' Otium to taste and asses them. 
Woodward -- an award-winning somm who, for the record, has no real opinions about DMB -- led us through a tasting of Dreaming Tree's five wines, offering up flavor notes along the way. Here's how they stack up, from worst to best.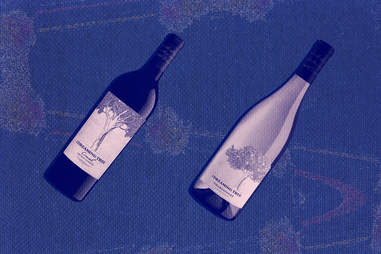 Frannie Jiranek/Thrillist
Crush Red Blend
Flavor notes: Sugar, moderate acidity, sugar, fruit, sugar
The verdict: Woodward was quick to insist that she's really not super snobby about inexpensive wine: "I used to slap the bag," she said after correctly guessing the retail price of Dreaming Tree as between $13-$15. But then she took a sip of the red blend.
"I hate this. This is an abomination. This should not exist," Woodward winced.
The problem is mostly with the fact that it's loaded with residual sugars, which completely throw off the aromatics and also generally lead to people's complete misunderstanding of wine. For Woodward, the animosity toward this wine seemed personal.
"Most wines are dry, in that they lack sweetness. There's no residual sugar or a barely perceptible amount of residual sugar," Woodward said. "And yet because ripeness of fruit can be perceived as sweetness for people, they get really confused and constantly say, 'Oh, what is the driest of these wines?' But this one does have some residual sugar, and that's a problem for me stylistically because people get used to drinking things like this, then they're like, 'We want a red that's not too sweet.' It's not supposed to be sweet."
DMB song pairing: "Don't Drink the Water"
Chardonnay
Flavor notes: Buttered popcorn, oak (possibly oak chips), toast, ripe apple
The verdict: The weakest of Dave's white wines, the chardonnay is still a massive step up from the red blend. Woodward spent a lot of time on this one in particular, trying to parse through the different flavors that kept appearing, then disappearing, before landing on a pretty apt pop culture comparison.
"This is like Kim Kardashian wine. It's a wine that's wearing a lot of makeup and you're not sure what it looks like without it because it's all obfuscated by the technique," she said. "A lot of people ask for smooth wine, and this is what they mean.  A 'real housewife' wouldn't drink this, but someone who watches Real Housewives would drink this."
DMB song pairing: "Mother's Night"
Frannie Jiranek/Thrillist
Sauvignon Blanc
Flavor notes: Pineapple, mango, guava, kiwi, and green grapes; creme fraiche ("which is weird").
The verdict: With its atypically low acidity, Woodward said this bottle might be ideal to pair up with tailgate food, which is great for anybody who plans to park a pickup outside a stadium and blast "Ants Marching" on repeat during a three-hour pre-show cornhole session. It would also be ideal for sangria.
"It's like baby wine," said Woodward, not realizing that "Baby Wine" definitely sounds like a DMB song. "If you're like 21 and you want cold white wine, this is what you mean. It's meant to be an unoffensive, crushable white wine, but it doesn't necessarily taste like sauvignon blanc."
DMB song pairing: "American Baby"
Pinot Noir
Flavor notes: bing cherry, red cherry, and dried sour cherries; baking spice and cloves; oak and sandalwood; Fruit Roll-Ups
The verdict: This is a wine that Woodward says she respects more than she likes, but nonetheless ended up praising for its more complex flavor profile. In fact, she likened it to another higher-profile pinot noir.
"The personality of the wine and the style of the wine reminds me of Kosta Browne, which is a very expensive California pinot noir, " says Woodward. It still isn't for me, but that's fine."
She also suggested pairing it with frozen pizza with mushrooms, which is either a backhanded compliment or a really great idea, depending on your feelings on frozen pizza and whether or not psilocybin increases your enjoyment of extended jam sessions.  
DMB song pairing: "Pay for What You Get"
Cabernet Sauvignon
Flavor notes: residual sugar, eucalyptus, cigar box, cedar, forest floor, blackcurrant, stewed red fruit
The verdict: As the tasting progressed, it became pretty apparent that Woodward's brevity was a good sign for these wines. She had very, very little to say about what she eventually named the best of the bunch, instead just letting the fact that it didn't completely perplex her stand as the highest praise.
"This smells the most like what it's supposed to be," she said of the cabernet sauvignon. "This is probably the best of the reds. If you're the kind of person who only drinks wine like this and you only drink wine from the grocery store, then [this] would be worthwhile."
DMB song pairing: "Best of What's Around"
Sign up here for our daily Thrillist email, get Eatmail for more food coverage, and subscribe here for our YouTube channel to get your fix of the best in food/drink/fun.
What would you say... if Thrillist senior editor Andy Kryza would rather drink Thunderbird for the rest of his life than listen to DMB? Tell him @apkryza.