8 Incredible Destination Breweries for Beer Pilgrims
When people talk about great places for craft beer, the conversation often steers toward the big cities. Your Portlands. Your Burlingtons. Your Bransons. Those cities are all great for their wealth of breweries and wholesome all-star reviews, but the fact is, many of the best breweries in the states aren't surrounded by other breweries. Or even buildings. And some, just some, are worth a pilgrimage in their own right. None of these eight breweries are in big cities. But all of them are worth the trip. Welcome to brewing off the beaten path.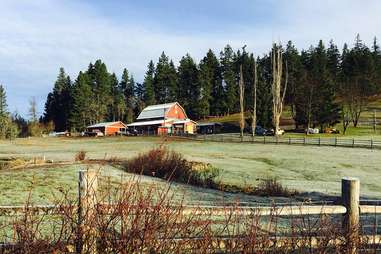 Hood River, OR
Why you should go: The farmhouse designation is literal. Logsdon brews its coveted brews -- including the award-winning Seizoen Bretta and Peche 'n Brett -- on a farm tucked away on a winding road between the Columbia River Gorge and Mt. Hood. Said farm is loaded with Scottish cattle and a friendly dog that runs up and greets you before you cruise into the super-rustic tasting room.
While you're there: The Gorge is one of the most beautiful scenic areas in the country (you may remember fording it in The Oregon Trail), where boating and kitesurfing are king. Mt. Hood is a sprawling natural area known for skiing and camping. And down the road is Hood River, which has one of the highest concentrations of breweries -- including Double Mountain and Pfriem Family Brewers -- in the world, all within walking distance of the historic Downtown.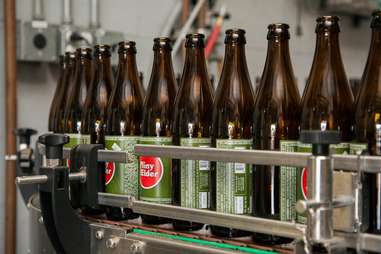 Santa Rosa, CA
Why you should go: Every spring, beer pilgrims come from far and wide for a taste of Pliny the Younger, the landmark triple IPA that's only available for two weeks, isn't bottled, and results in a secret network of communication to find unmarked kegs around the area. So popular is this beer that lines form around the block a week before the first keg is tapped. The hype's deserved and all, but RR is also a pioneer in sours and other great beers you can only get in the area, making a visit a must. Oh, and there's great pizza, too.
While you're there: Santa Rosa's got quite a few solid breweries hanging in the shadows of Russian River, among them Third Street and Fogbelt, and is a short drive away from the great Bear Republic and Lagunitas breweries. It's at the mouth of wine country -- in case that's your thing -- and some sort of big, gigantic trees that Woody Guthrie was into. It's the home of Charles Schultz, so if you've ever wanted to get your picture taken with a statue of Snoopy, this is your big day.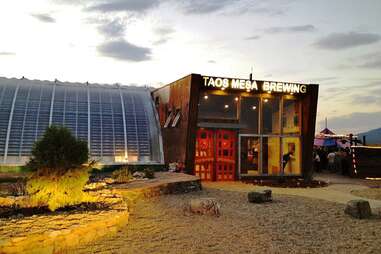 El Prado, NM
Why you should go: Calling El Prado a one-horse town isn't exactly accurate, but with 2,000 folks residing there, it's not exactly Churchill Downs, either. But in the middle of the NM high desert, Taos Mesa's eco-friendly brewery is quite the oasis, pouring great concoctions like Great Scot Scottish, Kolsh 45, and Lunch Pale Ale to the soundtrack of live bands and big crowds. That'll happen when you've also got perhaps the state's coolest outdoor concert venue right in your back yard, making it a huge-ass party in the middle of the desert. Kind of like Burning Man. Minus all the assholes and weirdos. And with great music and beer. So, well, not like Burning Man at all.
While you're there: Being in the middle of nowhere has its benefits. Taos Mesa is surrounded by some of New Mexico's finest wildlife experiences in the high desert mountains. Bring a tent. Maybe some skis. And a growler so you can take some deliciousness with you.
Decorah, IA
Why you should go: Chances are, you've heard of Toppling Goliath. It's consistently ranked as one of the finest breweries in the Midwest. And yet, unless you live in a very limited swath of Wisconsin, Iowa, or Minnesota and know where to find it, chances are you've never had it. So if you find yourself in the area -- likely either shooting down I-80 or I-90 -- you are well advised to go off route to see what's going on. What you'll find is that 1) there's actually a part of Iowa that's not flat, and 2) the hype is real. Pray for bottles of the PseudoSue pale, but we'll be damned if whatever's available isn't going to be one of the best beers you've had that you've never heard of. It might be enough to convince you to jettison a suitcase and load up on whatever you can.
While you're there: You're finally in Iowa bluffs country. You made it, son! Located on the Iowa River, Decorah is the polar opposite of what you think about when you think "Iowa." Rolling hills. Great bike paths. Bluffs. Oh, and a fish hatchery, which is actually way cooler than it sounds. Resist the urge to beeline back to the highway and explore.
Kernville, CA
Why you should go: Located in the heart of the Sierras outside of Bakersfield, Kern River is brewing up magic in the picturesque mountainside right outside the Sequoia National Forest. The lineup includes the strong Class V Stout, which gets a regular, super-limited-release kick in a bourbon barrel and a heavy double IPA. It's all brewed up in an old-school Old West-looking brewery with a hell of a tri-tip, live music, and a backdrop that happens to be some of the most beautiful scenery in Central California.
While you're there: Camping, kayaking, fishing, hiking, skiing, horseback riding -- this is an outdoor lover's paradise, and KRBC serves as the central filling station for beer people who like their IPAs paired with fresh air and wide open spaces.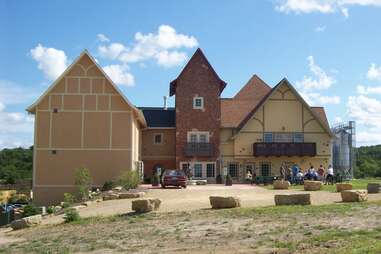 New Glarus, WI
Why you should go: Okay, so technically, to a certain sect of Europhiles and army knife aficionados, the tiny town of New Glarus is a destination unto itself, what with its Swiss chalet aesthetic that makes it feel like a twister skipped Kansas and instead hit Beromünster before setting down in dairy country. But even if you have an inexplicable rage toward armed neutrality, the brewery is worth a visit. It's one of Wisconsin's biggest and best breweries, though unless you're in the state, it's hard to find. Even locals have a hard time finding the brewer's Thumbprint Series, which has unleashed the great Scream IIPA, a Berliner Weisse, and a fresh Apple Ale. Its year-round beers take advantage of the region's agriculture to include a great cherry-tinged Belgian red and the Serendipity, which is oak-aged using wild fermentation. Skaal! Pass the cheese.
While you're there: Staying at the enormous, Swiss-style Chalet Landhaus is a must. But there's also more fondue than you know what to do with, Old World pubs, and other attractions that will make you feel like you're far from the Midwest. Except for all the cheese.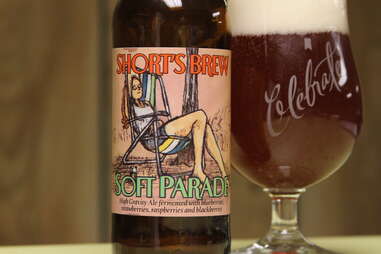 Bellaire, MI
Why you should go: Short's makes a reliably wonderful assortment of great beer that often gets overshadowed by the likes of Founders and Bell's in the conversation about Michigan beer. Most importantly for visits, though, is its pub-only Private Stache series that just kicked off and includes the Alicornucopia saison and the Pinball Whispers sour, which naturally taste better when you're chilling in the rustic brewery, sipping to the soundtrack of local bands and even more interesting locals.
While you're there: Bellaire's a gorgeous little town square in the forests of upper Michigan and located on a chain of lakes, making the prospect of grabbing a growler and taking it on a boat an easy reality. If it's a bigger lake you crave, Lake Michigan is a short drive away, as is Traverse City, just in case you wanted to continue your beer journey to one of the most underrated beer cities in the US.
Milton, DE
Why you should go: Contrary to popular belief, Dogfish Head is named for a town in Maine and not Admiral Ackbar's faithful companion. And it's one of the most beloved breweries in the country. Despite Wayne Campbell's assertion, it offers a great reason to check out Delaware. Milton itself -- a Rockwellian little peninsula town -- offers up the perfect backdrop to check out its barrel-aging program and figure out what the hell a 90 Minute IPA really is. Oh, and it also makes hooch. Tours include games of cornhole and bocce, food, and, of course, booze. Plus, check out that a steampunk-looking treehouse.
While you're there: Down the road and on the coast, the brewery has opened up the Dogfish Inn, which is the perfect home base for checking out the brewery, eating fresh seafood, and touring the nearby Cape Henlopen State Park and Prime Hook Wildlife Refuge.
Andy Kryza is a senior editor at Thrillist, and should never be trusted climbing a spiral staircase, especially when beer and metal trees are involved. Follow him on a literal downward spiral @apkryza.