UPDATE: PepsiCo has confirmed that Dewitos is a legit flavor they're testing on college campuses.
We thought Lester's Fixins had long ago conquered the weird soft-drink market with their bacon soda. But Lester better wipe that smug grin off his face, because Mountain Dew might have something even crazier in the works. According to a classy redditor by the name of joes_nipples, Mountain Dew held a tasting at Kent State University the other day for "Dewitos", the nation's first Doritos-flavored Dew.
Mr. (or Ms.?) joes_nipples claims that the event was an official product testing of several strange Dew flavors, including lemon ginger ("tasted like ginger ale"), mango habanero ("also weird"), and rainbow sherbet ("tasted like medicine"). The real star, though, was Dewitos, which our intrepid source says was similar to orange Mountain Dew with a distinct Doritos aftertaste, but, as you continued sipping, "just straight Doritos". Company reps were apparently taking electronic surveys throughout the entire tasting, meaning this could be a real Mountain Dew product later down the line.
Now obviously one redditor's claim is a little suspect, but Kotaku uncovered a photo of another Dewitos tasting from Ohio University posted just a week earlier. So if you're currently at any Ohio institute of higher learning, be on alert for the Dewitos party bus to roll through. The rest of us will be in a corner, processing our emotions about this.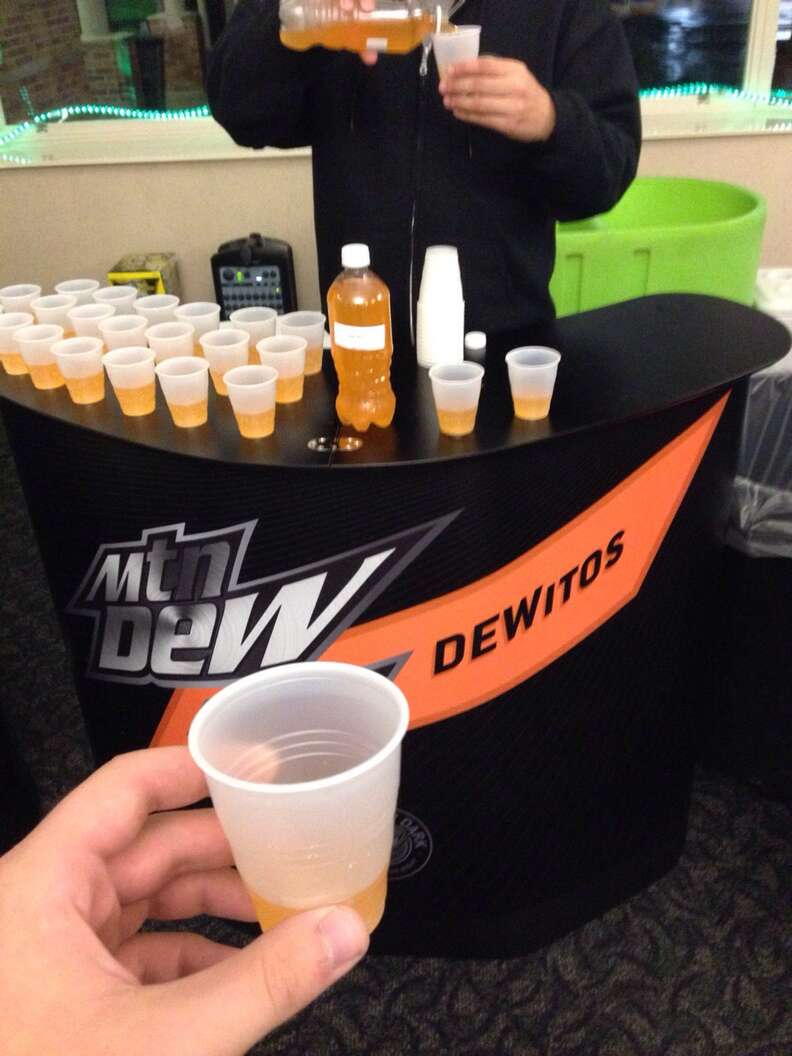 Kristin Hunt is a Food/Drink staff writer for Thrillist, and thinks Mountain Dew is becoming too powerful for its own good. Follow her at @kristin_hunt.