"That which we call a rose, by any other name would smell as sweet" is complete Shakespearean garbage, because a brewery's name is essential in the branding of the beer you love. Dogfish wouldn't be nearly as memorable if it were called Beer Made From Delaware Water Brewing Co. And it wouldn't have a story. Since we like beers, and we like stories, we decided to figure out the stories behind your favorite breweries' names. They pair well with campfires, too.
Milton, DE
Lovingly described by the brewery as a "jut of land off the Maine coast on Southport Island," it's a place wher founder Sam Calagione spent many a summer growing up. Now, it reportedly got the strange name because "when the lobstermen put out their traps near this particular point, they usually ended up with more dogfish (a small shark) than lobsters." Sucks to be them. When Sam's Delawarean wife convinced him to move to DE and set up shop, he "wanted to bring a piece of New England with him," so he fished all the dogfish out of the ocean and hungrily ate them up. We made that last part up. He moved to Delaware and made some of the best beer in the country under that bizarre name, duh.
 
Austin, TX
Like the John Olivers of the Shakespearean era, jester kings were "wise fools able to poke fun at authority," according to BooksAndBeverages.org. Nowadays, JK does all the poking to the "big brewers of the world" every time it names one of its stellar beers something unpronounceable like Atrial Rubicite.
 
St. Louis, MO
The favorite beer of commercial frogs everywhere, Budweiser was not named after its founder, similar to much of its beer competition at the time. Beeriety.com notes that Budweiser founder Adolphus Busch (lots of dudes named Adolph back then) began hawking his beer in 1876, and "decided to name it after the town he got the recipe from, Budweis." The commercials with the frogs happened many years later.
Portland, ME
Rob Tod, founder of one of Portland, ME's finest breweries, didn't seem to put a whole lot of thought into naming the Belgian-style beermaker. "Allagash is a region in Northwest Maine," Tod said. "I'm terrible at thinking up names. So I passed the task onto my buddies. One buddy told me to call it Allagash Brewing because 'you spent a bunch of time up there'," he told our pal The Beer Wench. So next time you have a huge decision to make, force one of your friends to make it for you! Worked for Tod.
 
Goochland, VA
The brewery a very smart and handsome website named the most underrated in VA, Lickinghole Creek's "name pays homage to the small creek running through the property," according to Brews Travelers 365. Further, the beer-focused site says that way back in pre-Colonial times, wildlife would stop by for a drink. It was like the Cheers bar of Virginia, except for it had more deer and it was named with absolutely no awareness of how it would sound to others in the age of "that's what she said."
 
Ipswich, MA
The way the brewery got the name is "a very long story." Sorry, that's all we got! Kidding, kidding. Founder Gregg Berman wrote, "a group of us submitted the name to [a] Beer Advocate contest... our submission didn't crack the top 5." Berman didn't take the rejection lying down, and figured he'd make his own, not thinking it would become a nationally beloved brand. Especially not one with fantastic art.
Placentia, CA
Knowing the backstory of the Orange County brewery's name makes it seem way more clever than you previously thought. It's obvious if you know the founder's name, but we're guessing you don't. It's Patrick Rue. Not bad, eh?
 
Munster, IN
Considering the brewery's obsession with metal, we would've put money on 3 Floyds being a bonus track from ...And Justice for All. But the brewery is named for a completely boring reason, according to USA Today: the three owners (two brothers and a father) are all members of the Floyd family. And this concludes the only thing disappointing about anything related to 3 Floyds.
 
Chicago, IL
Gabriel Magliaro, the founder of Half Acre, told BreweryTourist.net that there's a town near where he grew up called Devil's Half-Acre, PA. On that little sliver of land is a bar built in the 1800s. Way back when, it was "illegally run," and was given the devil's name "because some men would stay too long, drink too much, and fights would break out. Inevitably some men would be killed and buried on that same Half Acre of land." Creepy. Magliaro says that while the "half acre" part was used to name his Chicago brewery, he "supposes [the devil]'s here too." Double creepy.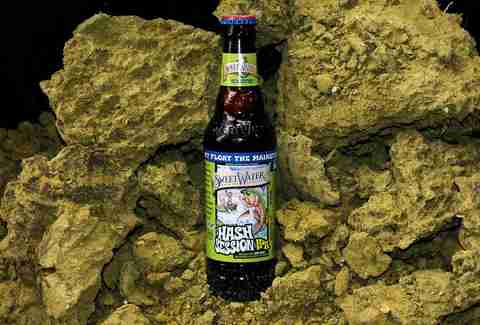 Atlanta, GA
Two college roommates from the University of Colorado at Boulder decided to open a brewery in Atlanta, and took breaks from the brewery's buildout by kayaking down Sweetwater Creek. If you know anything about people who have spent any amount of time in Boulder, CO, that kayaking business will not surprise you. Nor will the brand's obsession with 420 (as in, its 420 Fest and 420 Extra Pale Ale).
 
Decorah, IA
While it might seem like the name refers to the "David-vs.-Goliath struggle of small brewers to knock off the big guys," as an interviewer at Madison.com found, it's not. It's simply the founder Clark Lewey's view of a "little guy dealing with big bureaucracy." Lewey used the TG name on another business that mostly failed, and it saved him money on "corporate paperwork" by calling his upstart brewery the same thing.
 
Denver, CO
Denver's reigning sour kings found a name that references the barrel from which its delicious beer is poured. The Denver Post notes that founder Chad Yakobson "was drawn to the difficult art and science of barrel-aging," and named his brewery after staves, aka the wooden slats of barrels, "which get crooked and leak as they dry out."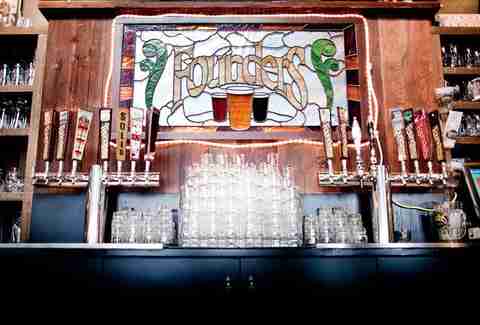 Grand Rapids, MI
The Grand Rapids beermaker founded (!!) by two college friends straight up ripped it off from "an old black & white photo they used for label art," according to our 10 things you didn't know about Founders. Before that, the brewery was known as Canal St., which was formerly a district of Grand Rapids where breweries were stationed in the 1800s. Speaking of Founders, anyone got a bottle of KBS they want to give us? Anyone?
 
Asheville, NC
The good people at CraftBeer.com write that the sour-loving NC brewery is "named after a quote from the king that declared hops a 'wicked and pernicious weed' destined to ruin beer." Some would argue that it already did.
 
Dexter, MI
Strangely enough, Jolly Pumpkin didn't even brew a pumpkin beer for years. Brewer Ron Jeffries said that he and his wife brainstormed a bunch of names on a springlike March day, and then weeks later it was the one that stuck the most. And sure enough, the man loves many things the words Jolly Pumpkin might conjure up for you, like Halloween, pirate costumes, and the tropics. Sure enough, his nicknames are also perfect for a guy who would name a brewery Jolly Pumpkin: Brewmaster Spooky and Captain Ron. By that logic, Kurt Russell should also open a brewery named Jolly Pumpkin.
Portland, OR
The guys and gals behind craft breweries tend to be a fairly nerdy bunch, but according to our friends at The New School, Portland's fantastic Breakside was named after "an Ultimate Frisbee term that means 'going against the flow or force'" -- a name takes that nerdery to a whole new level. Wonder why no one has opened a brewery called "Pawn to Rook 4" yet.
 
Tampa, FL
If you live in Florida, the story behind the Hunahpu-producing brewery's name is likely no surprise, as it's a nickname for the city they're based in: Tampa. Now that that's out of the way, can anyone get us some Hunahpu? I know earlier we asked for KBS, but we truly need both beers in order to feel whole again.
 
Cooperstown, NY
The Belgian beer experts in Cooperstown not surprisingly take their name from something suitably Belgian-y, saying in an interview with PlayCo.org that Ommegang literally means "to walk about" in Flemish, and that they're named after a medieval festival that reenacts a performance from the 1500s. This might actually be a nerdier reference than Breakside's Ultimate Frisbee thing.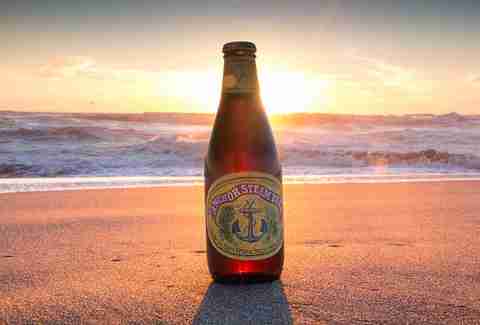 San Francisco, CA
No one knows! Well, two people know, but they're extremely dead at this point, since the original German brewer and his son-in-law were the ones who bought an SF brewery in 1896 and renamed it Anchor. The brewery says, "no one knows why [the founders] chose the name Anchor, except, perhaps, for its indirect but powerful allusion to the booming Port of San Francisco." If we were lawyers, we'd object with something like, "Pure speculation!" to those claims and just leave it at "boats."
 
Frederick, MD
The explanation for the Maryland-based brewery's name is about as loopy as you'd expect from a beermaker associated with Hunter S. Thompson's deranged cohort, Ralph Steadman. As the brewery tells it, one of Flying Dog's founders, George Stranahan, just finished a dangerous hike in Pakistan when they were having a celebratory drink back at the hotel. It was there that they say was a "full-on oil painting of a dog. A beautiful oil painting, big, nice. And the dog was like... well, he had left the ground." Stranahan says the two words fit together for him. Good enough for us, George.
 
Longmont, CO
Fun fact: Colorado's nitro-obsessed brewery's co-founders met in the '80s as cadets in the US Air Force Academy. According to BYO.com, a decade later, they lived in Niwot, a tiny CO town named after Chief Niwot. Niwot translates to "left hand," and there you have it. Confusingly, Left Hand Brewing is based in Longmont, a town name we like to think translates to "Home of Left Hand Brewing."
 
Hampton, NH
Oh boy, another of those, "its origins have been lost to time" explanations. No one's sure why Smuttynose Island, which the brewery was named after, has such a weirdly sexy name. We do know that it's "the third largest of the nine islands that form the Isle of Shoals" an archipelago off the NH coast. And, oh yeah, a notorious double axe murder happened there in the 1870s. Half Acre and Smuttynose are now tied for creepiest brewery name in America.
Sign up here for our daily Thrillist email, and get your fix of the best in food/drink/fun.
Lee Breslouer is a senior writer for Thrillist, and his name does not have a creepy origin story. Follow him to the name game: @LeeBreslouer.