The self-serve beer machine is the future of stadium pours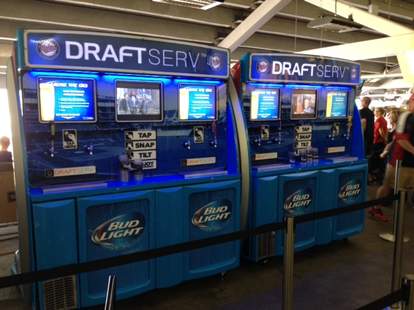 Fact: watching baseball while drinking a cold brew is America's greatest pasttime. Another fact: getting beer at a stadium blows. Those jacked prices aren't going to change anytime soon, but the horrible lines just might thanks to Target Field's new DraftServ beer stations, which let thirsty fans grab their own beers.
The DraftServ is a partnership between Anheuser-Busch and Delaware North, the company that handles concessions for the Minnesota Twins and several other MLB teams. It operates on $10 or $20 prepaid cards, charging by the ounce. Here's how it works: once you've flashed your ID to the DraftServ attendants, you can select Bud ($.38/oz), Bud Light ($.38/oz), Shock Top Lemon Shandy ($.40/oz), or Goose Island 312 Urban Pale Ale ($.40/oz). The system does cut you off, allowing 48oz per fan every 15 minutes, but that's still pretty lax, especially since the machine's not going to get pissed when you keep opening and closing your tab every inning.
Kristin Hunt is a food/drink staff writer for Thrillist, and hopes Minneapolis's wisdom spreads soon. Follow her at @kristin_hunt.