Why We're All Under Jinkx Monsoon's Spell
The Portland native shares her journey from 'Drag Race' to Broadway.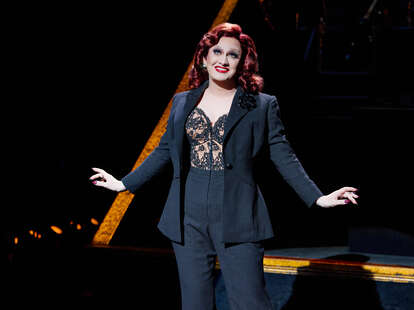 Jinkx Monsoon in Chicago

| Photo by Jeremy Daniel
Jinkx Monsoon in Chicago

| Photo by Jeremy Daniel
Welcome to
We're Out Here
, your year-round hub for LGBTQ+ travel and experiences! Here, you'll find everything you need to plan your next great gaycation, including queer-centric travel stories, nightlife guides, profiles, pride event roundups, and ways to give back to local queer communities.
A group of us waited for Jinkx Monsoon to arrive in an empty cocktail lounge in a midtown Manhattan hotel. When she walked into the room, everyone stood up like she was a visiting head of state. Given her colossal success—two RuPaul's Drag Race wins, a yearly holiday special with collaborator BenDeLaCreme, multiple studio albums, and an extensive film and TV resume—Jinkx might actually qualify for the Prime Minister of drag.
We chatted about her role in the current Broadway production of Chicago, as well as her and DeLa's holiday special, and why she's so drawn to the Pacific Northwest.
Thrillist: I'm dying to hear: Why Broadway? Why Chicago?
Jinkx Monsoon: It's the ultimate place to do what I've always done in my work. It's an American institution. If you are someone who sings and acts and performs and dresses up, you probably have some aspirations for Broadway. So that's why Broadway—why Chicago? Because they took a chance on me and it's one of my favorite non-Sondheim shows. The show has meant so much to me for so long. It's been such a big part of my drag life that for it to be my Broadway debut feels like some kind of magical spell I cast a long time ago that's finally coming to fruition.
I love that. What do you feel you're bringing to the character of Matron "Mama" Morton?
JM: I have a lot that makes me different from past Mamas. I have a lot to live up to in this role. I have to give you Mama, but I also have to be authentic and genuine to me—and that's why the rehearsal process has been so fantastic. They are giving me so much room to play around with this character and also guide me, so I stay on track. You give a drag queen an inch, she'll take a mile! [Laughs]
My biggest anxiety coming into this experience was the impostor syndrome. Here I am, a drag queen who started in dive bars getting paid 40 bucks a week and now I'm about to do it on stage for hundreds of people nightly. The Chicago team is willing to take chances to reimagine things and keep the show relevant today. I just feel like I'm in the exact place I'm supposed to be right now.
I've seen you and DeLa's holiday show for three years in a row and it's amazing to watch your friendship. How did that come about?
JM: The long and short of it is that we were both working in Seattle and DeLa was already established and I was fresh out of college. It had all the making of an All About Eve situation, and we both recognized that. But instead of letting our own anxieties and insecurities in this business prevent us from being friends, we actively worked against it from day one and continue to work against it. People are always asking, "Who's the better this or who's better at that?" We don't think of it that way. We have different strengths and that's why we make such a great team.
I just came from watching your Pit Stop episode with DeLa and Bianca Del Rio. I just want a supercut of you and Bianca saying "EsTitties" back and forth.
JM: Am I not right!? You say it to yourself constantly! I say it to myself to calm myself down. "Now calm down, calm down. EsTitties." [Laughs]
Obviously, you were a huge deal before winning RuPaul's Drag Race All Stars All Winners, but what has this last year been like going through that season? I wasn't expecting it, but I was so happy you won.
JM: For the twist of it all? Well, I don't know if this statement is accurate or true but it feels right to me. It almost feels like season five [of RuPaul's Drag Race] I won it for the fans and the people who supported me. All Stars was me winning it for me. If you experience overnight success, there is no way to prepare you for that. Going through it at 24 was really my training ground for going through it again at 35 and taking it to where I'm taking it now. I needed that 10 years of incubation for me to be ready and really take it and run.
With the rise of performers like Bosco and Irene DuBuois, it seems like Seattle is having a bit of a resurgence. Are you still connected to that scene there?
JM: Oh absolutely. I say Seattle, but I also say Pacific Northwest at large. I was born and raised in Portland and I discovered my voice as an artist in Seattle, but Portland is what built the human. I have so much love for Portland and that's why I bought my house there and it's my center of operations. Everyone says you got to move to LA. You know what? Portland is also an option.
What do you think makes the Pacific Northwest so special for drag?
JM: It's a place that's known for being very diverse in the queer community. Portland is a loving, welcoming place and I see it going further into the direction of it being a place for everyone with each year that passes. I'm back there now after being away for 14 years and I couldn't be happier.
It seems like it's a treacherous time to be a drag performer.
JM: I wouldn't say treacherous. We've always faced this. It's just that certain assholes have loud mouths and big platforms. For me, it seems so blatantly obvious: Any time we start talking about gun reform, conservatives find a new scapegoat. And that's queer and trans people right now. It makes me sick to my stomach. My job right now the way I see it is to combat this willful ignorance with love and joy. That's what DeLa and I did with our holiday show. That's what I'm hoping to bring into Chicago—and what I'm trying to do with all my work.
John deBary is a drinks expert and writer. His first cocktail book,
Drink What You Want
, is available now, and his next book,
Saved by the Bellini
, is expected in early 2023. He is also the co-founder and president of the
Restaurant Workers' Community Foundation
, which is dedicated to improving the lives of hospitality industry professionals through advocacy, grant making, and impact investing.