How Drag Performer Junior Mintt Keeps It Fresh
From a new makeup line to Black trans advocacy.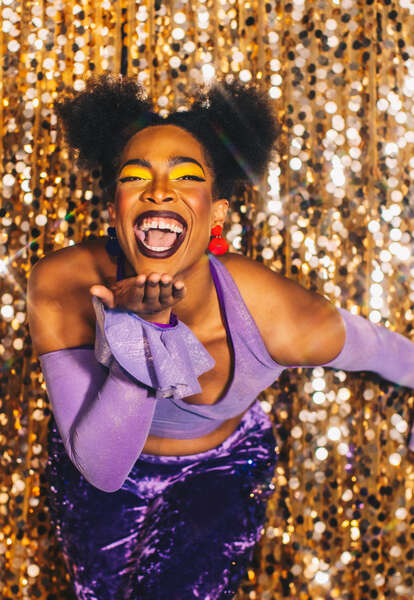 Junior Mintt

| Photo by Cole Saladino for Thrillist
Junior Mintt

| Photo by Cole Saladino for Thrillist
This entrepreneurial NYC performer has been hard at work recently. Launching an inclusive makeup line, producing a monthly drag show, even recording a new single in the past year. Over the holidays I FaceTimed this fellow Star Trek nerd to talk about her origin story, as well as what the Black trans community needs right now.
JdB: Can you talk about how you got started doing drag?
Junior Mintt: It all started in college and my sophomore year I became an R.A., so I had this whole floor of people and I was obsessed with Drag Race. Like, I'd just discovered it and I was like, what is this? There's this show about drag queens? I didn't have a concept of drag. All I knew was RuPaul and all of that. The first season I ever watched was season eight with Bob [The Drag Queen], Kim Chi, and Naomi and through Bob specifically I really saw myself. I saw myself in the humor, the seriousness, all of it. It was just something that really connected to me, and I always was like, maybe one day I'd do drag.
So I would host viewing parties every week. All the people on the floor, we'd sit, we'd discuss politics, what's going on in our lives. I went to college at Emerson College in Boston and that's where I met Neon Calypso. She is a huge performer with the Amazing House of Valor. She was performing in Boston and she was the one Black queen in this amazing show—and she was always the show stopper, always amazing. Talking to her after the show, telling her I wish I could do drag, and she was like, "do it."
I moved to New York after I graduated in 2017 and entered a drag competition at House of Yes and it was one of the most serendipitous moments of my life. My friend was going wild in the audience and the host saw her and it's just like, "Do you know our next performer? You seem really excited." And she's like, "Yes, this person is amazing. She's so phenomenal. You're gonna love her." She's just all just gushing. And it was that moment that gave me all of the support that I needed to step out onto the stage. And while I did not win the competition, so many beautiful things happened. Two producers were in the audience and booked me immediately after, and I've been working ever since.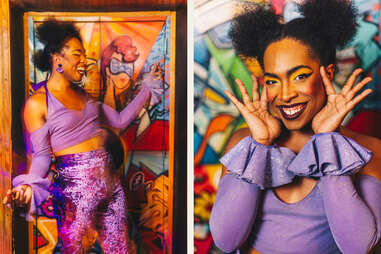 JdB: What's the story behind your name?
JM: My name out of drag is Junior. And growing up my mom called me her little Junior Mint. So it just kind of stuck with me. When I was starting to think about drag names. I knew 100% I didn't want to come up with a new name. My name is also funny to me because, do you know the movie with Danny DeVito and Arnold Schwarzenegger called Junior?
JdB: Oh, yeah, the one where he gets pregnant?
JM: Exactly. And they named the baby Junior because it's a unisex name. The universe gave me a name that was unisex from the getup and I'm like, "Go off, universe!" And it all came together when I told my mom and she's the one who gave me my tagline: "Chocolate in your mouth, minty going down." And I was like, look at the material! I love my mom.
JdB: Tell me about your makeup line.
JM: Mintty Makeup launched this year. It feels like the culmination of a lot of self-discovery because, without drag, I wouldn't understand my transness the way I do right now. And for me, that was part of the reason I realized I was trans was how emotional I would get taking off the makeup because I realized that the makeup was the thing that allowed me to give myself permission to be the woman I am. For me, makeup doesn't give you a piece of yourself. It uncovers the piece of yourself for you because who you decide to turn yourself into is just as important as who you are when there's no face on.
JdB: I think a lot of people, their immediate association with drag is cisgender men looking a certain way, but that's really just scratching the surface. Can you talk about the experience of being a trans woman in drag?
JM: I've found that, in the New York scene specifically, it's less about having to prove that trans women can do drag and more about fighting back against micro- and macro-aggressions. I always tell people I moved to New York to find the community that I saw in Paris Is Burning, but what I really found was Hell's Kitchen. The reason I started producing my own show, In Living Color, was because people would tell me I couldn't say "Black Lives Matter" on a microphone, because "Who would want to party after that?" And it's one more like, who wouldn't? Literally the thing that makes me feel comfortable enough to have an experience in this space is knowing that my life is seen and valued. I learned very early on that I refuse to give up a piece of myself in order to make someone else happy. That's why I fought for my own spaces.
JdB: We first met at Bushwig last year and that was one of the first times it broke into the mainstream in terms of being in The New York Times and the hypervisibility and criticism that comes with it.
JM: My relationship to Bushwig is that I'm basically just a performer. This past experience there were two Black trans people on the stage for the day that I was there. And what did we get paid? $60 and two drink tickets. Because that's what Black trans people need for safety? I didn't hear anybody say "Black trans lives matter" on the microphone after I did. And that's still what I fight against because at the end of the day. It's consistently about who is being served by this. There's no Black trans representation.
JdB: What are some of the ways that people can support Black trans performers in the new year?
JM: I would be nowhere without my community. I wouldn't know who I am. I want every single person in my community to be able to find the same value in themselves. I always love all of my community, always. Because that's what real love is—unconditional love, loving through the nuance, through the pain, through the ups, through the downs, through the ignorance, through all of it.
The best way to support Black trans people is socially, economically, and politically. We've got Venmo and Cash Apps on our Instagrams for a reason. We live in a capitalist society. I don't like that, but honey, we need coin. You can make sure that a Black trans person has a ride home, you can make sure they have housing. You can ask questions. Oftentimes, Black trans people are too busy trying to survive to even promote that we need help. Also, knowing what's actually happening with legislation that involves Black trans people. And also buying my makeup. That's supporting a Black trans woman. [Laughs]
JdB: I do need some new lipstick…
JM: Oh my god. We've got five shades!
John deBary
is a cocktail and bar expert with over a decade of experience working in award-winning New York City bars and restaurants. He is also the co-founder and president of the
Restaurant Workers' Community Foundation
, which is dedicated to improving the lives of hospitality industry professionals through advocacy, grantmaking, and impact investing. John is also the creator of
Proteau
, a line of non-alcoholic drinks.