11 Jobs in the Beer Industry Guaranteed to Make You Jealous
Courtesy of Joshua M. Bernstein
Wanna work in beer? Join the club. These days, everybody is intent on dropping their boring desk job to hop on the craft beer bandwagon. Why? Because, as any card-carrying member will attest, being in the brewing business is f-ing awesome, full of friendly faces, all-night keggers, and so, so much free beer. Who wouldn't want to work for an industry where drinking on the job isn't just sanctioned, it's outright encouraged? But for those of you who are a mess with a homebrew kit, miserable with a tap handle, or simply can't afford to invest in a $200,000 brewhouse, don't worry -- there's hope for you yet.
From waxing poetic on the latest craft trends to stitching marijuana decals onto beer-can koozies, these 11 industry all-stars are here both to prove there are even more exciting ways to swap suits for suds beyond just brewing the stuff... and to make you insanely jealous.
1. Setting the taste standard for America's sour beer
Who does it: Lauren Woods Salazar, wood cellar director & blender at New Belgium Brewing Co., Fort Collins, CO
The job: New Belgium's wood cellar manager Lauren Woods Salazar is tasked with perfecting one of beer's trickiest styles: sours. These fickle barrel-aged brews are generally fermented with slow-moving, often unpredictable bacteria instead of brewer's yeast, making them notoriously difficult to control. But that's no biggie for Salazar, who spends her days planning, monitoring, testing, balancing, blending, and, most importantly, tasting New Belgium's award-winning fleet. "Right now, I'm working on the 2016 Le Terroir blend. I'll start by sampling all 25 foeders [giant oak barrels full of fermenting sours]," she explains. "In the middle of my tasting, we'll have our wood cellar meeting. Then I'll do a few passes at some new flavor combinations to see how they meld together -- are they complementary? Contrasting? Am I on to something, or is this just weird? After, I'll meet with one of our brewers to write a few recipes. That's just a little insight into a 'normal' day."
Her story: Salazar joined New Belgium back in 1997, but her first job had little to do with wild fermentables. "I was an assistant to the co-founders, Kim Jordan and Jeff Lebesch, as well as just about everyone else -- depositing the bank bag, filing paperwork, registering new distribution states, whatever," she recalls. "I started the sensory program in 1999 while I was taking online courses at UC Davis in sensory science and consumer testing and, to make a long story short, that led me to tasting barrels, blending sours, and creating new brands."
Any advice? "The craft movement is made up of thousands of people who love creating something that enriches people's lives -- they love a challenge. I don't think there's an 'easy' path. But when people talk about work-life balance, I always laugh -- my work is my life and life is good."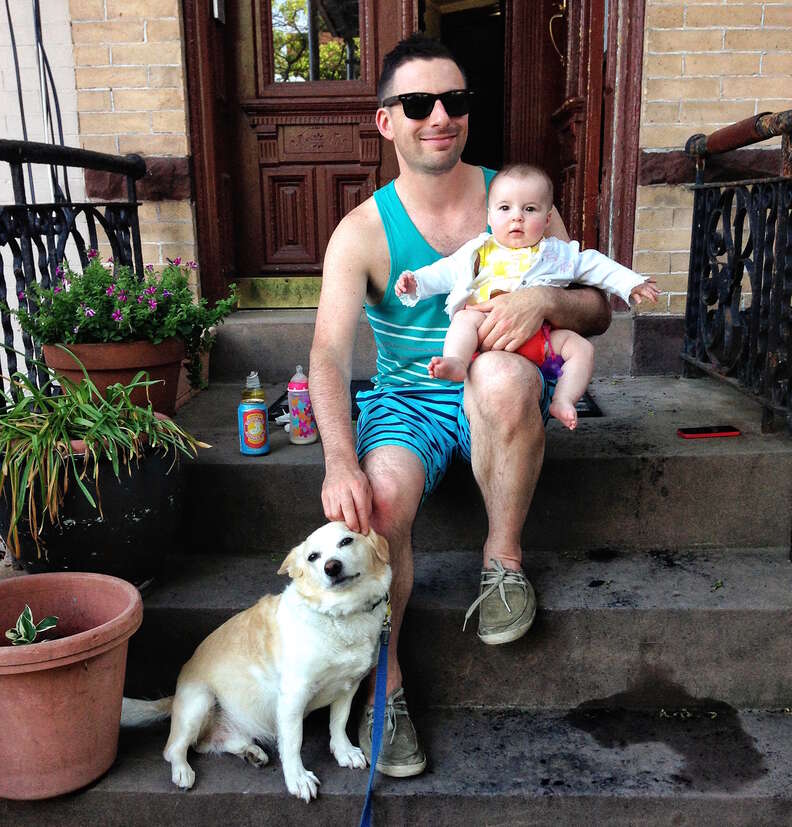 2. Drinking and writing about the world's best beer
Who does it: Joshua M. Bernstein, beer journalist & author of The Complete Beer Course and the forthcoming Complete IPA, Brooklyn, NY
The job: Joshua M. Bernstein is a master plate-spinner. Aside from being one of NYC's most prolific freelance beer journalists, he's also an industry consultant, event producer, author of three books, contributing editor, phenomenal Instagrammer, occasional tour guide, and full-time dad to both toddler Violet and corgi-mix Sammy Bernstein. "My alarm cuckoos at 6:15am -- sometimes I'll hit snooze a time or two, but usually it's out of bed, into the shower, a cold-brew infusion, and then a valiant attempt to bushwhack through my email or file a story before my daughter gets up at 7:15," he says. "I usually reserve mornings and early afternoons for writing. Then I turn the afternoons over to editing and interviews before I grab Violet from daycare. Perhaps we'll head home to make dinner, or we'll go to our local bottle shop and bar -- a pint for me, a wedge of cheese for her. Then I'll often go back to work for a few more hours, crushing a beer along the way before I turn my brain off." Whew.
His story: Bernstein's been writing since he was a kid growing up in Dayton, Ohio. "I made zines as a teen and edited my high school newspaper, then went to college for magazine journalism," he explains. "I ended up in New York City randomly and I started writing what I knew -- bars and booze. From there, my focus slowly switched to beer. Now I've been a freelancer for nearly 15 years. I'm in complete control of my career and schedule, but it doesn't mean I dither around drunkenly, watching daytime talk shows. Some weeks I'm running events, other times I'm writing books or cranking out a 2,000-word profile. It's endlessly fascinating."
Any advice? "Travel. Ask questions. Keep your eyes open. Don't take no for an answer. And don't take rejection personally. Being a good writer is but one part of the equation -- you need good ideas and the right time, right place. Also: never, ever miss your deadlines."
3. Upping America's koozie game with one-size-fits-all beerwear
Who does it: Lauren Krakauskas, co-founder & director of some things at Freaker USA, Wilmington, NC
The job: What does it mean to be the "director of some things" at a koozie-manufacturing company that deems itself "the global leader of preventing moist handshakes and sweaty beverages with high-quality American-made products?" "My job description is varied, but can be boiled down to playing fetch with the internet -- every day is a new field, every problem a new ball," says Krakauskas, who manages marketing as well as a slew of other concerns for the North Carolina-based startup. "I'm sending presents, making contests, creating face-palm puns and watching them grow into actual designs, copywriting, ghostwriting, taking customer service to a peculiar level, taking bands on tour, spewing absurdities (professionally!), and doing stuff -- eternally." Lauren's kaleidoscopic efforts ensure Freaker USA continues to crank out effective, hilarious, and high-quality stretchable koozies on the market, able to keep everything from a stubby to a 40 cool and dry.
Her story: "Does anybody REALLY know what they want to do? I cared less about the 'what' than the 'why' and the 'where,'" says Krakauskas, explaining how she wound up with her current gig. "The why? I didn't want to be or work for the shitty. Where? A weirdo-chic, wonky-donk, churn-it-out environment. When your job is to spread happiness (i.e., beer) to others, your perspective inherently becomes more positive, constructive, therapeutic, and, most importantly, lightheartedly filled with joy. The rest fell into place."
Any advice? "Seriously, don't take yourself too seriously. Work hard, work weird, and never forget to laugh at yourself. We're all just little blib-blurps on a beautiful planet, and it's our civic duty to have, and spread, the giggles."
4. Homebrewing at the office
Who does it: John LaPolla, co-owner of Bitter & Esters homebrew shop, Brooklyn NY
The job: Just about any homebrewer would jump at the chance to have John LaPolla's job. LaPolla is one half of Bitter & Esters, a community-oriented homebrew shop constantly filled with devoted, enthusiastic hobbyists picking up new gear, taking classes, catching a talk or demo from an industry bigwig, sharing and sampling their latest creations, and even brewing beer right there on site. "When I'm at the store, I do customer service, and at home I plan all of our events and take care of marketing," says LaPolla. "I feel like I am always working, but I love it and I love the homebrew community. People are naturally communal, and when they get focused on a similar project, they are at their best. Plus, homebrewing gives you beer. I love beer."
His story: Like so many others on this list, LaPolla's entrepreneurial path wasn't a conventional one. "I've been a homebrewer since 1992, but I never owned my own business," LaPolla explains. "Then I met my business partner through an indie film group. We were both trying to change careers -- I was running printing presses -- and we decided to open the shop. We had to learn a lot on the fly, but five years later, we're still doing it. And I still love beer!"
Any advice? "Whether you want to open a brewery or a homebrew shop, remember that it's a business first. Take some business courses and learn the nuts and bolts."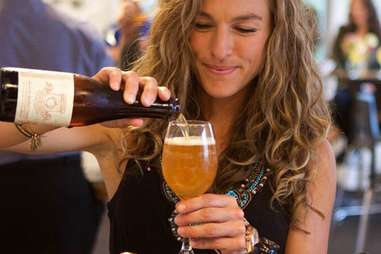 5. Spreading the craft beer gospel one party at a time
Who does it: Kristen Demergian, territory manager for Allagash Brewing Company, Alexandria, VA
The job: "I don't think 'typical' and 'day' appropriately go together in my line of work, but it's what I love most about what I do," laughs Demergian. "The only consistent thing about what I do is that it is always changing, often challenging, but never dull, boring, or passionless." In addition to running around educating consumers, managing regional sales, checking on quality control, and troubleshooting technical issues, a good portion of Demergian's job involves throwing some of DC and Northern Virginia's best beer bashes, tap takeovers, and festivals, all the while repping the Belgian-style brew. "I'm not a banker -- if I make a mistake, no one loses their entire fortune, they may just be thirsty for a minute," she says. "Not that there isn't stress in my line of work, but at the end of the day, I'm a nice person talking about a liquid that sells itself. What isn't to love about that?"
Her story: As you might have suspected, Demergian didn't exactly take the most direct route. "I started working in a craft beer bar while pursuing my doctorate in San Diego," she explains. "Long, really long, story short, when my academic objectives changed, I went back into beer because it was the one thing I knew wouldn't feel like work. I spent a few years working for a beer distribution company in NYC, hoping for something at Allagash to open up, and eventually I was blessed enough to have a position created for me. There aren't enough words to describe how happy I was then -- and am now."
Any advice? "Start in distribution. It's not glamorous, but it teaches you how the industry works and connects you to the people you'll need to know. After that, drink, sip, and give a lot of high-fives -- seriously, the high-fives are key."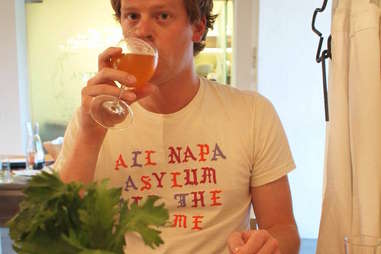 6. Drinking with friends... on the air
Who does it: Justin Kennedy, freelance podcast producer and writer, Steal This Beer & Beer Sessions Radio, Brooklyn, NY
The job: About three years ago, just as the podcast revolution began to pick up, Kennedy stepped up as lead producer for Heritage Radio Network's Beer Sessions Radio with bar owner and New York City beer scene fixture, Jimmy Carbone. Kennedy's success there eventually led him to co-create and produce his newest podcast, Steal This Beer, with Carton Brewing's Augie Carton and All About Beer editor John Holl.
His story: Like many freelancers, Kennedy owes his professional success to hard work, persistence, industry connections, and a whole lot of cold calls. "I realized about five years ago that I wanted to write about food and drink," he says. "So I literally just began asking/begging editors to work for them. And then I got into radio because I knew Jimmy and Augie and they both seemed like fun ventures -- and they still are. I wouldn't be here if I didn't love beer -- the people, but also the liquid. I love knowing that I can go into any good bar, pretty much anywhere in the world, and find a group of like-minded folks to engage with on an interesting level."
Before starting at Beer Sessions, he had zero audio-engineering experience, but his relatively flexible schedule as a freelance, work-from-home food and drink writer coupled with his love for craft beer and affinity for the brewing community outweighed any technological misgivings he might have had. "This is definitely not what I 'always wanted to do,'" he says. "It's a passion that I continue to pursue because the beer is good, the people are fun, and I have a blast doing it."
Any advice? "Keep at it. Work odd jobs or behind the bar and bust your ass writing and producing interesting material. And if it doesn't work, there are plenty of other cool things out there to do."
7. Deciding what Chicago's beer lovers should drink next
Who does it: Adam Vavrick, beer director for One Off Hospitality Group's The Publican and Publican Quality Meats, Chicago, IL
The job: Curating the beer selection for a majorly influential gastropub in the heart of Chicago's ultra-hip West Loop restaurant district seems like a dream job -- because it is. But it's also work. "Some days I visit breweries, some days I'm buried in spreadsheets in between meetings, some days I pour drinks and run food to help out the team, and just last week I brewed a beer we'll be featuring at The Publican," says Vavrick, an industry veteran who's also worked as a beer judge for the World Beer Awards as well as Octopi Brewing's sales and marketing director. "Many people think beer still just 'tastes like beer' and haven't been shown the myriad styles and flavor combinations out there. Blowing a wine drinker's mind is always extraordinarily satisfying," he continues, detailing just one of the many reasons he loves his job. "I've also been doing this long enough that a new wave of brewers have told me my beer recommendations helped fuel their own passions. That kind of feedback is incredibly humbling."
His story: Vavrick didn't always have his sights set on beer -- in fact, his foray into the industry grew out of a bout of (self-inflicted) unemployment. "I used to work in the music industry but got fed up and quit," he explains. "So I was jobless and was drinking a lot of beer and learning to talk about it and homebrewing and such. Eventually, I decided I wanted to make a career from this, and the rest is history."
Any advice? "Be humble, don't be a snob. Respect the craft and respect each other."
8. Touring NYC's best beer spots
Who does it: David Naczycz, founder and owner of Urban Oyster Tours, New York, NY
The job: Entrepreneur and big -ime beer lover Naczycz heads up Urban Oyster, a company that gives public food- and drink-themed tours all around New York City. "It's basically guiding a group from bar to brewery to bar and educating them on the wonderful world of craft beer," says Naczycz. "I love being able to convert our customers into craft beer drinkers, helping them find beers they love, and talking to them about drinking local and supporting small brewers." Yes, that means while you're pushing papers under fluorescent lights all day this dude's literally getting paid to bar hop. "When I first started the company, I remember sitting inside a Williamsburg bar at 2pm on a Tuesday, sampling beers to serve on our 'Brewed in Brooklyn' tour when I realized, at that moment, I was working," he continues, tauntingly. "That's when I knew I had made the right career move." Jealous yet?
His story: A lifelong business guy, Naczycz pretty much stumbled into his line of work. "I've always loved history and beer but hadn't really thought of either as a career path," he explains. "Before this, I was working at a management consulting firm and had some schedule flexibility, so I started giving tours of NYC for fun. Then I decided to merge in my other passion, beer, to create a beer history tour. I eventually decided to leave the consulting job and concentrate full time on Urban Oyster and now we run seven regular tours per week, as well as private customized brewery tours."
Any advice? "Tours, like craft beer, are a labor of love. The real reward is doing something you love, meeting new people, working outside, and being a part of the food and beverage industry. If you have a passion for food, beverage, history, or just showing people around, then you would probably make a great guide."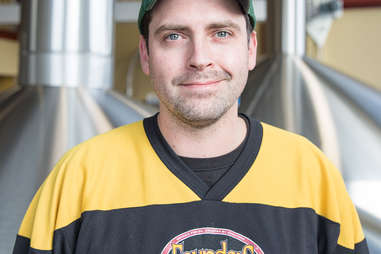 9. Overseeing some of the country's most sought-after barrel-aged beers
Who does it: Jason Heystek, vice president of planning, packaging, inventory & logistics/lead guitar at Founders Brewing Co., Grand Rapids, MI
The job: "You can never create more time -- the clock always wins," says the guy most responsible for getting barrel-aged white whales like Kentucky Breakfast Stout and Canadian Breakfast Stout from the brewhouse to the bottle shop. "I'll come in, fire up the ol' computer, and take a gander at what's gone on. Did we brew what we planned to? How was the loss on batch Z? Where are we at on the packaging lines?" he explains. "Then I'll take orders from customers as well as internal forecasting for future beers -- aka the barrel-aged stuff -- and work up a series of turns to accomplish this. I'll talk to our packaging cats, check in with the warehouse, chat up distribution support, then it's time for some meetings with any number of folks -- production/admin/sales/marketing -- to check in or talk about everyone's favorite topic: THE FUTURE. Then it's time to try some beers and talk -- 'How are the barrels tasting? Do they need more time? Only one way to find out…'"
His story: Heystek got his start at Founders 11 years ago on the bottling line before a single barrel-aged beer entered his mind. "I didn't know this was a job. If I did, I would have studied microbiology or something instead of TV production -- though I'm sure that someday my ability to edit Betamax will come in handy," he says. "I just needed a job at the time and wasn't any kind of 'craft aficionado' or anything. I always wanted to do something that was creative without being pretentious, and I think making beer for a living certainly fits. We get to make something our consumers are excited to have -- I like carburetor parts as much as the next guy, but no one has ever waited in line for carburetor parts. I'm blessed every day to be able to do this and don't take that responsibility lightly."
Any advice? "Start anywhere, doing anything -- scrubbing floors and tanks is the key to making great beer. You will never be a millionaire and THAT'S OK. And learn as much as you can, but don't let that make you think you know it all -- no one likes a smarty-pants who can't back it up."
10. Officially officiating food & beer's culinary wedding
Who does it: Adam Dulye, executive chef for the Brewers Association, San Francisco, CA
The job: In 2015, the Brewers Association, craft beer's leading non-profit trade group, brought San Francisco's classically trained Dulye on as executive chef -- a strange move for a group that neither owns nor operates an actual restaurant. The point was to lead by example, elevating food and beer pairings with innovative, carefully designed, and perfectly executed dishes at events throughout the country. And Dulye, whose resume is littered with ridiculously impressive feats like putting on a five-course beer dinner at the James Beard House as well as stints at top Bay Area gastropubs Monk's Kettle and Abbot's Cellar, was 100% game -- even if it meant rejiggering his schedule a bit. "Every day is different depending on where I am and what event or dinner we're getting ready for, be it a 40-person dinner in Paris or smoking 450lbs of king salmon for 1,500 guests," he says. "In between all that, I'm communicating with our 3,500+ brewery members, working out logistics, and reaching out to chefs all over the country to talk about what's happening in food and small, independent beer."
His story: "I have always wanted to cook -- I never thought of any other career," Dulye explains. "I got a job at 14 prepping and washing dishes and when a line cook didn't show up one day, I moved to the line and never looked back." After culinary school, the acclaimed chef moved to Portland, Oregon and began experimenting with craft beer. "The beer and culinary industries are so similar and so connected," he points out. "Ask any brewer how they do what they do and you get an honest answer. And when a chef finds a great ingredient, farmer, or rancher, they share it with everyone they know. There's a certain level of camaraderie, a sharing of battles both lost and won, and an absolute desire to see anyone who gives it their all succeed."
Any advice? "Both the culinary and beer industries have this stigma of 'Oh yeah, I like to eat, I like beer, let me just open a restaurant or a brewery.' But what it really takes is heart. You start at the bottom and you make a shit-ton less than all your buddies who have 'normal' jobs and schedules. No one who has gained massive success, fame, and now money in these industries set out with that as a goal -- they set out with an intense focus to make beer or to cook food and everything else came in time. To be one of the best, you learn it all, you do it all, and you wait."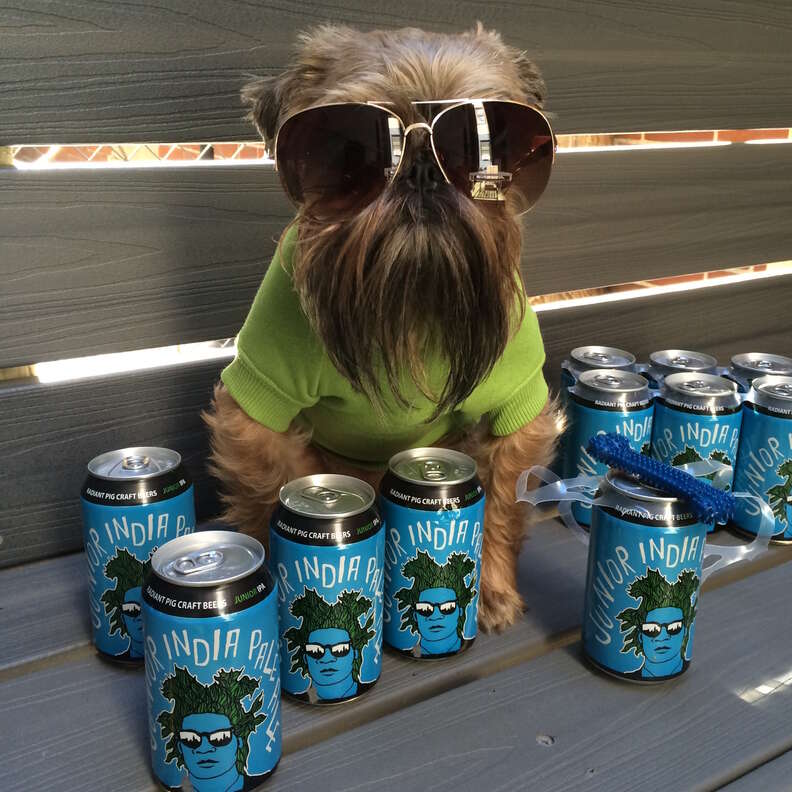 11. Holding court as NYC's most adorable brewery rep
Who does it: Ralphie, head brew dog at Radiant Pig Craft Beers, New York, NY
The job: A New Yorker through and through, Ralphie is Radiant Pig Craft Beers' No. 1 poster boy, social media star, fashion icon, and loyal brew-day companion. "I usually sleep until I'm forced out of bed," he says through his human interpreter, Radiant Pig's Laurisa Milici. "Then I check emails, go outside, grab a latte, and take some fresh pictures. Most days, all I have to do is wear sunglasses and sit by the beer, and in return people on the internet will praise my existence." A hardworking craft connoisseur, Ralphie knows how to put his talents to good use. "I sniff everything, which is such an integral part of the beer business," he continues. "Nothing goes out without my sniff of approval."
His story: How did Ralphie end up with one of the brewing industry's finest, most illustrious careers? "My dad was a homebrewer and my mom basically made me pose for pictures next to everything he did," Ralphie explains. "Ever since my beard started to sprout, I knew I was destined for a life in beer."
Any advice? "In order to go far you need to be friendly and cool and a good listener. If they ask you to sit, you should sit. If they say 'give paw,' give your paw! Being able to follow directions and letting people pet you is key. And having such a nice a beard helps, too."

Sign up here for our daily Thrillist email, and get your fix of the best in food/drink/fun.
Meredith Heil is a staff writer for Thrillist. Her criteria compared to your career just isn't fair. She tweets for hire at @mereditto.