Meet the Rebels Who Are Changing the Way We Drink
In this world, you've got to stand for something, even when you're standing behind the bar. We rounded up the people and places that are defiantly changing America's drinking culture, through brazen business plans, aggressive attitude shifts, and wild experimentation involving largish crustaceans and Michael Jackson songs from 1987. Read up, because this is some activism you're absolutely gonna want to get involved in.
Patrick Rue
Keeping beer weird

The thing craft beer lovers fear most is that big will lead to boring, so it's a good thing that determinedly small operations like Patrick Rue's The Bruery will be there to push America's growing craft concerns to continue taking chances. Think of him as a 3rd party candidate whose ideas are crazy delicious. "Larger brewers have to think how a single brand could tarnish their reputation," says the Orange County-based Rue. "We don't. But people are choosing small brewers over larger brands, and that encourages innovation across the board."

Rue got into home brewing to cope with the monotony of law school. As the awards for his increasingly bizarre beers began to pile up in inverse relation to his grades, he came to a realization: "I was going to be a pretty bad lawyer, but a pretty good brewer." Ferociously nimble even by micro standards, his greatest hits include L'deracola, which played a dozen spices off a malt base in order to achieve a cola-like taste; the rice-brewed horchata tribute, Or Xata; and Geriatric Hipster Club, a take on a classic Old Fashioned, brewed exclusively for the Bruery's "Hoarders Society."

A few years ago, Rue put his 93-gallon pilot system under the care of Andrew Bell, aka "The Experimental Brewer," a fellow home brew veteran who started making his own stuff even before he turned 21. That Peter Pan approach to growing the business ensures open-mindedness towards new ideas, and even towards mistakes, e.g.: "Smooth Criminal is the splendid result of moving a bit too quickly in the brewhouse. An accidental addition of Saison De Lente to a fermenter full of our Anniversary ale led us to ask, 'Annie, are you okay?'" When you're not afraid a beer will turn out Bad, you're a lot more likely to produce something very, very good. Continue Reading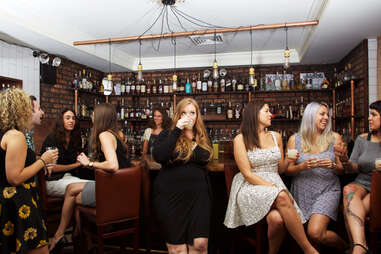 Lindsey Johnson
Raising the bartender

If it sometimes feels like every bartender in America knows each other, it's because they do, and that's thanks in no small part to Lindsey Johnson. Listing her permanent residence as "a Delta Airlines seat," the co-founder of Lush Life Productions is a walking, talking Facebook -- and Meetup, and Learning Annex -- for bartenders nationwide.

This isn't just some niche networking scheme. For years, Johnson's dedicated herself to elevating bartending as a profession, and strengthening bartenders as a community. She's accomplished this using every tool in the tool shed, notably free or no-cost events whose participants are handpicked based on merit not only from major markets, but also overlooked smaller towns. Portland Cocktail Week is like bartender graduate school, exposing those who work behind the stick to every conceivable aspect of the drinks business, from bar ownership to brand ambassadorship. "We spend more time talking about costing menus and at what temperature to set your immersion circulator to get the best oleo saccharum than we do 'whiskeys around the world,'" says Johnson, a quote that's already led to at least one google search for "oleo saccharum."

Then there's Camp Runamok, held in a real children's summer camp just outside Louisville where 150 bartenders per session stay in excellently named cabins (e.g. "The Rusty Males"), getting schooled by the Bourbon Trail's distillers by day and engaging in shenanigans at night while still managing to raise money for -- and, miraculously under the circumstances, make physical improvements on -- the campgrounds.

For bar patrons, the effect is more waterfall than trickle-down. The education makes our bartenders better, as does the sharing of ideas with colleagues from all over America. Just as crucially, the revelation of professional possibilities convinces bartenders they have a future in the industry beyond endless nights behind the bar -- while the bonds formed at Johnson's events make each of those nights feel less endless, and more like a part of something bigger, more vibrant and essential. If "happy and fulfilled" edges out the well-worn "surly" as the fallback descriptor of bartender attitude, we'll know a major reason why Lindsey is serving herself from mini bottles 35,000 feet above us.
The Holiday Cocktail Lounge
Diving up the cocktail bar

This recently resurrected East Village cavern -- shuttered for years after original owner Stefan Lutak died in 2009 -- just might be the final, gleefully pounded nail in the coffin of cocktail bar formality. It's not that the bartenders don't wear uniforms; it's that they frequently don't wear sleeves. At 3:45am, you won't hear The War on Drugs played at modest volume; instead you'll witness the entire staff screaming "Oh! You Pretty Things" along with anyone loose enough to stop witnessing and join in. All across the country there are great cocktail bars that have unstrapped the suspenders and made drinking fun again, but here it's not merely about creating a more casual atmosphere -- it's about truly not giving a damn about anything except the joys of working in a dark hole long after the sun's gone down.
Make no mistake, this staff can hold its own with anyone, mixing drinks capable of simultaneously converting you to both mezcal and the color pink. However, exceptional cocktail skills are seen as a given, no more important to the job than the ability to quickly hand you a cheap Modelo. In short, despite the staff's expertise, this isn't a cocktail bar, it's a dive bar. A place where everybody knows your shot. Where -- if you're a person who actually knows how to drink -- the bartender and door guy will afford you the opportunity to bounce your own friends when they fail to grasp the subtle distinction between "anything goes" and "I can do anything I want."

Because it's such a goddamn dirty good time, the Holiday's quickly become a must-stop for any out-of-town bartender visiting New York. If we see a proliferation of legit dives serving serious drinks, it could be a sign that the joint's influence has extended beyond its shady St. Marks front door.

Front Row: Joan Choi, Vinny Cardona, Danny Neff, Barbara Sibley, Michael Neff "2D", Robert Ehrlich, Rebekka Beaudreault, Erik Trickett. Back Row: Kaye Rabuy, Franky, Patrick Dudek, Joe Donohue,, Harley Schlesinger, Dustin Olson, Bob Wagner, Ashley Reilmann, Erika Ordonez, Naomi Minkoff.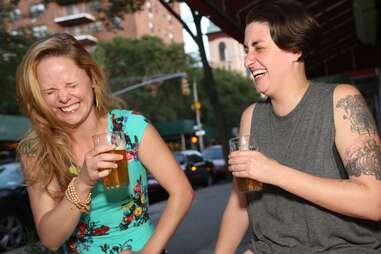 Beerded Ladies
Supporting women in craft (and we don't mean on Etsy)

It'd be grossly unfair to hold out the below scrawl we spotted on a venerable beer bar's bathroom wall as representative of the craft beer community. Not every microbrew lover is a lonely dude who spent his youth bragging about killing Jackalweres, and even those that did aren't necessarily monsters.
It's not a stretch, though, to say that craft beer is a man's world. But if Meredith Heil and Hayley Karl have anything to do with it, it won't stay that way. Writers, photographers, and filmmakers by day (Heil's doc Whistlin' Dixie explores Southern music and LGBTQ politics; Karl's producing a doc on church/state separation), the two met as bartenders in Brooklyn, where male patrons routinely attempted to educate them on the IPAs they were serving.

In 2012 they founded Beerded Ladies to encourage women to become knowledgeable consumers and kickass producers, and challenge the casual misogyny manifest in everything from condescending bartenders to cheeky labels (sorry, Panty Peeler). "There's a perception that craft beer is not ladylike," says Karl. "It involves physical labor, plus it's perceived as having a lot of calories, so therefore unattractive to women -- and not marketed to them."

The good fight starts with events like Beer Geek Trivia at Glorietta Baldy (yes that name is real, and it's spectacular); theme parties and tap takeovers at fellow Brooklyn bar Covenhoven; and the roving Sisters in Craft, which brings together enthusiasts, journalists, industry reps, and home & pro brewers over "lady-brewed tap specials."

Men aren't excluded, but they'd better do their homework -- and the blog, fueled by offbeat Karl contributions and Heil's hardcore-but-accessible beer writing, is a solid place to start. "Meredith is simply one of the most gifted beer writers I know," says Zach Mack, Thrillist beer correspondent and co-owner of NYC's Alphabet City Beer Co. "She's the Ira Glass of beer journalism, but with way cooler tattoos."

The Ladies hope that changing perceptions about who makes and drinks craft will influence marketing and demographics. "It's not about what's in your pants," insists Heil. "Beer should be democratic, and surrounded in celebration and community." And the sooner everyone gets involved, the sooner craft beer can escape its Dungeon…s and Dragons.
St. George Spirits
Refusing to stay "neutral"

St. George has been distilling unpredictability since Norm and Cliff first started drinking the exact same thing every night on Cheers (1982 -- saved you an IMDB click). A higher-proof kindred spirit to The Bruery, Jorg Ruff and Lance Winters' Alameda, CA operation kicked things things off with eau de vie before delving into single malt whiskey, bourbon, rhum agricole, absinthe, gin, vodka, brandy, and various liqueurs.

Which is an impressive range! But not nearly as impressive as the spectrum of flavors it's nailed within each category. Housed inside a former U.S. Navy hangar, St. George's copper pot still grants it the freedom to make tiny, strange batches involving everything from candy cap mushroom and noble fir to goose liver and Dungeness crabs.

No, they aren't equipped to produce one-glass-only experiments (that oft-repeated myth is the St. George version of "I heard that guy slayed a dragon"), but they still operate as fearlessly as any distiller possibly can. "We make things in a 'thirsty' way," says tasting room manager Andie Ferman, aka Vodka Vixen. "We don't hire a panel of 30 people and ask their opinions, we get excited and try things."

A more personality-filled base makes for more inspired bartenders, and gets the general public more amped on the adventure that starts in their tasting room. "The alcohol industry has based marketing on lifestyle and image for decades, with the way a product smells and tastes taking a backseat," says Winters. "Being able to evaluate what's inside the bottle before making a purchase is an immensely positive impact for the consumer." Basically, if whatever you're drinking doesn't give you a… Harrelson, you should reach for something else.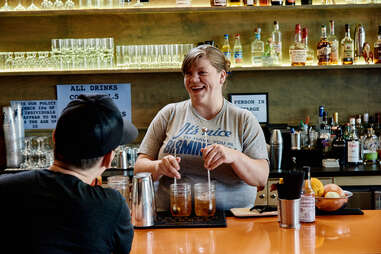 Steva Casey
Going BirmingHAM on cocktails As any AC/DC fan can tell you, sometimes the most rebellious act is staying exactly the same. So when Steva Casey became enthralled with craft cocktails back in the mid 2000s, she didn't try to bring then-fashionable speakeasy decorum to her hometown of Birmingham, Alabama. Instead, she enfolded the craze into the city's embrace, never adopting the affectations it took the rest of the country years to shed. "I travel a lot," says Casey, who currently runs the drinks program at the music venue Saturn, "and I go to bars of all kinds. I find it interesting when a city has an identity, food-wise, but not cocktail-wise. Birmingham is about comfort, approachability, happiness, and cocktails should be emblematic of their place." "I want to make drinks that people enjoy while enjoying whatever else they're enjoying at the time, whether it's their company, their book, chasing the bad day they've had, celebrating the good day they've had. There's never a bad time to drink." Casey's pretty happy and approachable herself, an attitude that's highly contagious when she meets bartenders from other places. Relates Lindsey Johnson: "We're at Cane Camp, in Puerto Rico. [Really Famous Cocktail Guy] walks over to the pool party. Everyone sorta waves, says hi, goes back to their Pina Coladas. Steva Casey walks in 30 minutes later, and the pool is empty. People are crying tears of joy. Dancing breaks out. Joy in the land." As many colleagues as she meets on the road, Casey's in a great position to convince other small-market cocktail aspirants that they don't need to change a damn thing either. That's good for the whole national scene -- a New York cocktail bar's great when you're in New York, but when you're in Biloxi, or Bloomington, or Coeur D'Alene, you kinda want a cocktail bar that represents those places. For now, if you want that experience, you just have to fly to Saturn.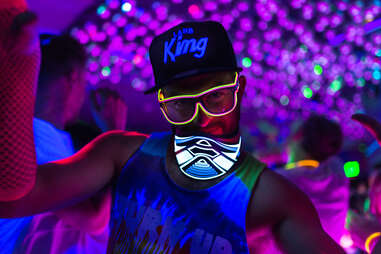 Maxwell Leer and Adam Vourvoulis
Bringing vino to the light show

Imagine yourself wading into a room throbbing with music and pulsing with black lights and glow sticks, pushing through the throng to find a man waiting to discreetly pass you a… shot of wine?

Welcome to Winerave, Maxwell Leer (above) and Adam Vourvoulis' complete deconstruction -- or maybe just destruction -- of wine tasting culture. Holding their roving Los Angeles event in art galleries, warehouses, and downtown bars, the two industry vets (Leer was head sommelier at Bestia, Vourvoulis the wine director at Trois Mec) felt this was a perfect and necessary step towards restarting an ancient conversation -- it's hard to hold on to preconceptions when you can't hear pretentious people prattle on, or, thanks to the lighting, even tell whether the glowing glass you're gripping is filled with red, white, or pink.

The extreme idea was a product of "literally hundreds of thousands of conversations" about just how precarious wine's position in the culture had become. "There is a lack of demand for differentiation right now," says Leer, "and the impact on producers is profound. Quality wine is a hard sell." It's a serious problem, but one to which the solution is apparently the banishing of even the faintest trace of seriousness as you give in to Leer's entreaty to "Stop swirling. De-robe. Become bioluminescent. Feel a stranger. Listen. Laugh and have fun."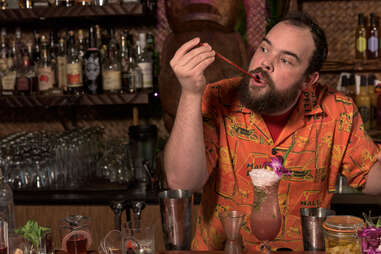 Blair Reynolds
Making syrups simple

Back in 2012, Blair Reynolds, owner of Portland tiki bar Hale Pele, listened to a friend lament that she loved his cocktails, but the ingredients -- notably his syrups -- were a nightmare to make at home. "It was like being hit over the head with a niche," says Reynolds, who quickly set about building a company, BG Reynolds, to sell bottled syrups to bartenders and home enthusiasts alike.

It was a noble goal -- quality syrups do more than just cut drinks with sugar; they have the potential to change a cocktail's range entirely -- but it was far from easy, which probably explains why almost nobody else was trying. At the base level, recipes and processes can be very tricky (there's a reason bartenders don't tend to trust anyone else in this department), and that's before factoring in the dream-crushing realities of scaling up while maintaining consistency. "Meeting regulations from the FDA and other local agencies tosses on another level of difficulty," adds Reynolds. "Add onto that the logistics of running a business, and one that distributes nationwide, and the complexity can be intimidating."

Reynolds prevailed though, and his product is finding its way into bars (dramatically cutting down on bartenders' prep time) and homes, allowing novices to attempt wildly exotic drinks they'd never have considered before. "The higher the quality of ingredients out there, the more inspired bartenders will become. Cocktails can become better, but simpler, at the same time."

Beyond mixological prowess, there are quality of life benefits as well: "Tropical cocktails are all about sitting down and enjoying life. The extent of the competition is, Who has the brightest lei?"

Thanks to the work of all these adult-beverage iconoclasts, all of our leis will shine brighter, and none of us will care if that doesn't really make any sense.