Much to the chagrin of basic boys and girls across the nation, fall is coming to a close. Pumpkin beers are already being swapped for winter warmers, and pretty soon, all hayrides (haunted or otherwise) will come screeching to a halt. One thing that's not going away, though, is apple booze.
Previously only a seasonal addition for bartenders with a bottle of apple schnapps, apple-flavored alcohol has been growing at an alarming rate in the last decade. On the whiskey side, there's Serpent's Bite, Jim Beam Apple, and Crown Royal apple-flavored whiskey. On the rum side, there's Bacardi Big Apple. On the gin side, there's Seagram's Apple Twisted gin and Half Moon Orchard gin. You've probably seen approximately 88 commercials for Redd's Apple ale by this point, and have enjoyed a cocktail with applejack prepared by a mustachioed mixologist.
So what's happening? Have we all just had it with cinnamon-flavored liquor? Is it a secret marketing push by the apple farmers of America? Not quite. The apple hooch trend has a lot of interesting threads, but let's start with the trendiest one: cider.
Recommended Video
Hops n' Hot Sauce Festival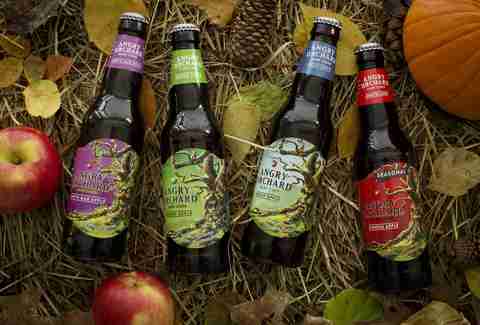 Hard cider goes all the way back to colonial times. The founding fathers loved it and rich boy poser William Henry Harrison even created an everyman campaign around it. But America lost interest in the drink sometime in the 1800s, long before Prohibition set all booze categories back a few decades.
One nation that didn't tire of cider? The UK. As anyone who studied abroad in London in the last 20 years can attest, you'll find several ciders on tap (or at least bottled) in almost any pub in town. Some imports started trickling into the US in the '90s, and Angry Orchard head cider maker Ryan Burk thinks you should credit craft beer with that. "A mature palate has developed in the states over the last couple years, and we can thank the craft beer pioneers for that," Burk says. "People are now always looking to try something new and different and we benefited."
That initial interest exploded in the aughts. Between 2005 and 2012, American cider companies increased production 264%. It was during this boom that Angry Orchard launched nationally with its three flagship ciders, Woodchuck moved its first million cases, and the entire category starting driving the supply into the ground. Nowadays, you're much more likely to find one of these guys (or an import like Strongbow) in your local liquor store, and the rise of cider has only boosted its apple-based brethren.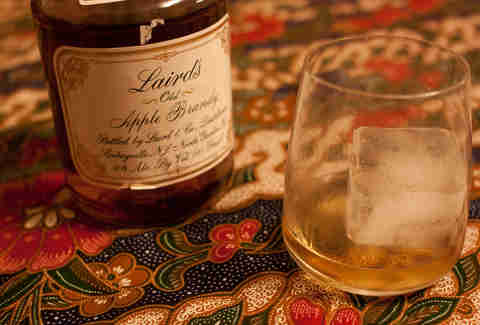 Apple brandy is another booze that our forefathers imbibed regularly that only recently got hip again. Although, the term could use some clarification. When people hear "apple brandy" today, they tend to think of applejack, a blend of apple brandy and other liquors. It's understandable why they'd think that -- that's exactly what Laird's applejack is, and Laird's is probably the biggest name in American apple brandies. Yet the applejack from way back when was actually freeze-distilled cider. That's nearly extinct in the present, but the mutated version (and its straight-up apple brandy siblings) are enjoying a new renaissance.
Laird's was the only horse in this game for years and years, but in the '80s and '90s, places like Clear Creek Distillery and Germain-Robin joined the fray. Now, cocktails with applejack or apple brandy are showing up increasingly on cocktail menus. Greg Bryson, the director of beverages at LA's Estate, decided to open the place with an apple brandy mixer on the first drinks menu. "I think that apple brandy is a traditional American spirit so I like to use it whenever I can," he says. "Although it definitely fits in with the season, I don't think it has to be used that way."
But perhaps the most interesting apple booze success story comes from the emerging craft moonshine movement.
It was once just that lethal liquor your weird backhills cousin passed around at family reunions, but moonshine has been going legit in recent years. The mason jars helped, but so did apples. "It's our number one selling moonshine for Midnight Moon," says Joe Michalek, the founder of Piedmont Distillers. He's talking specifically about his apple pie flavor, which is one you'll find across most moonshine brands. "It's bigger than my largest competitor's entire line," he continues. "Our line of what I would call craft moonshines was based off traditional moonshine flavors, and apple pie has been a flavor that's been around for, well you want to say decades, but it's more than decades."
John Cochran, CEO of Ole Smoky Moonshine, is also seeing incredible success with his company's two apple pie varieties. "At our distilleries, apple pie is usually number one and number two every day," he says. "And now we distribute in all 50 states, and apple pie is our number one in the country."
Although both men stressed that apple pie is a traditional moonshine flavor, they do think it's helped ease skeptical consumers into the moonshine category. "Moonshine is more approachable than people think it's going to be and that's because most people made it out in the hills, and they were making stuff that wasn't so tasty," says Cochran. "The lower-proof or even high-proof moonshines that are flavored and named with something familiar, yeah, sure, it's a nice entryway to the category. Apple pie is cliche for a reason. People love apple pie."
With all the apple moonshines, brandies, ciders, whiskies, and even beers out there, it seems we've got a full-blown epidemic on our hands. And the people shoving this stuff down our throats would agree. "We just had that conversation last week at our board meeting," Cochran says. "The good news is apple everything is hot, the bad news is it's everywhere."
Still, don't expect this bubble to burst any time soon. As all our sources pointed out, apples are cheap, easy to produce, and an essential part of 'Murican life. "I don't think it's a passing fancy," Michalek says. "It's always going to have a place. Apples are a part of Americana."
So don't despair that all your favorite fall things are going into hibernation. PSLs might be season-long, but apple booze is for the foreseeable future.
Sign up here for our daily Thrillist email, and get your fix of the best in food/drink/fun.
Kristin Hunt is a staff writer for Thrillist, and very much supports the apple brandy cocktail movement. Follow her at @kristin_hunt.