Epcot Bar Crawl: Your Game Plan for Drinking in 11 Fake Countries
When your parents take you to Disney World as a 20-something, you have to justify things. For instance, why would I spend a day in relatively close proximity to the Mad Tea Party spinning cups? Because I'm a grown-ass, responsible adult, the answer was simple: a drinking game.
Drinking around the world in Epcot is simple: have a drink (or two, or three) at each of the 11 countries that make up Epcot's World Showcase, and try to make it all the way around "the world." Sounds simple enough, but I've seen the challenge reduce a normally hearty college bro to an incoherent heap of shots, beer, and crusty tartar sauce from half-eaten fish and chips.
The most important lesson: if you make it out alive, never go back to the tea cups.
Mexico
The journey begins here because a frozen margarita is the obvious choice to combat the oppressive Central Florida sun. And why choose between mango, strawberry, or lime when one can drink a rainbow of all three? It's fruity and refreshing, matches the souvenir sombreros in the gift shop, and seems to make my brother question his masculinity. I contemplate digging into nachos, but instead promise myself their plastic-cheesy goodness as a reward if I make it all the way around the world.

Also don't miss: La Cava del Tequila, located inside the giant pyramid, is the place to go if you want to sip something more highbrow than frozen margs and cervezas. They have more than 100 types of tequilas and mezcals, and you can extend the margarita rainbow with fancy flavors like avocado, jalapeño, and blood orange (topped with wild berry foam, naturally).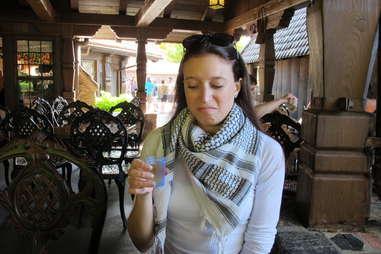 Norway
The decision to start in Mexico and thus hit Norway early was a conscious one. Previous experience taught me that the country's signature aquavit shots taste something like Satan's tears, and the last of Mexico's now-molten margarita is the only appropriate chaser for that kind of pain. Consider yourself warned.

Also don't miss: There's nothing that exciting here in terms of food and drink, unless you are really into checking out some Disney princesses. You can dine with them at the Akershus Royal Banquet Hall while downing an unlimited supply of cured meats and fish, which is actually not the worst way to burn an hour. Bonus: a professional photo with a princess is included! So actually, it's the best way to burn an hour.
China
Our first stop in the Far East finds us in the home of such alcoholic specialties as mango-ginger margaritas and green tea-plum wine slushies. Being a traditionalist, I opt for the basic chilled plum wine, but quickly regret not going for the adult slushie version. I resolve never to make this mistake again.

Also don't miss: China's drunchies selection is on point. Not only can you head to the back of the pavilion for your typical greasy Chinese takeout (think: shrimp fried rice, sweet-and-sour chicken, potstickers, and egg rolls), but you can wash down that Chinese margarita with one of dim sum's greatest contributions to man: the BBQ pork bun.
Germany
Germany welcomes us with not one, not two, not three, but five (!) unique places to procure alcohol. Being a true American consumer, I pay extra to take my pilsner in a plastic souvenir beer mug -- obviously it tastes better that way. Had I been a little more adventurous, or not so far out of college, I might have opted for a Jagermeister shot, but it seemed unnecessary to torture myself any more today than necessary. (See: Satan's tears in Norway.)

Also don't miss: Germany obviously has soft pretzels with loads of mustard and frankfurters & brats doused in kraut. But I recommend the nudel gratin (creamy mac & cheese topped with a thick layer of molten cheese) or currywurst (the only way it's acceptable to put ketchup on a hot dog). Then, just because Germany wants to make your brain explode, there's the Werther's candy store where you can get basically any snack you want drenched in caramel.
Italy
We stumble into Italy just as the booze in my stomach starts to sing a hunger song. Instead of popping into the wine cellar for a quick snack and glass of adult grape juice, we opt to sit down for a real-deal meal -- only a mountain of pasta will do to soak up the morning's alcohol and make room for more. I take a glass of sparkling rosé with my spaghetti, but limoncello would have also been a tasty choice.

Also don't miss: Barring the gelato cart, Italy is one of only two countries in the World Showcase that doesn't have a "quick service" (read: fast-food) option. But if you're willing to dedicate a little time here, Via Napoli puts out a fairly legit Neapolitan-style pie.
America
Fortified with bread and meat, we press on into the "American Adventure," where we find nothing but fast food, plus some funnel cakes and a movie about America. I can't tell if this is either the best or worst representation of our great nation.

Since this wouldn't be the US of A unless we made our alcohol unnecessarily fruity (and remembering the pledge I made to myself in China), I decide the frozen Red Stag lemonade, made with Jim Beam, is a no-brainer.
Also don't miss: You are not a patriot if you pass up The American Dream, which isn't something millions of people move to this country to achieve. No, it's really a frozen ode to the American flag, comprised of red slush with vanilla ice cream layered on top, followed by a final layer of blue slush. After all, what would this country be had the generations before us not built America with their sweat and tears to give us the freedom to eat our ice cream WITH our slushies?
Japan
Heading into Japan, I find myself just buzzed enough to consider buying Hello Kitty pencil cases and Pokemon card packs a good idea. But, resisting the tractor beam-like pull of wide-eyed anime characters, I get my hands on some sake -- even though a Ramune soda would have been way more fun.

Also don't miss: Sure, you could drink Kirin and eat sushi and udon. But, then you'd be doing it wrong. The best part of Japan is shopping at the Mitsukoshi Department Store, which is the stuff of every 12-year-old kid's dreams: there are Hello Kitty, Pokemon, Yu-Gi-Oh!, and various other anime characters everywhere. Plus, where else can you don a kimono, buy twee rice bowls and fancy chopsticks for cheap, and pluck pearls straight from live oysters? If this isn't heaven, I don't know what is.
Morocco
I wasn't sure what to expect from Morocco, a country not exactly known for its alcoholic offerings. But, it really shows up to the party with a full-service bar and cocktail list, plus a number of beers of Mediterranean origin. I go with the Andalucian Nights, a concoction of brandy, rum, OJ, and piña colada mix that sounds and tastes like something out of a Sandals beach resort.

Also don't miss: If you've never before been tempted to get a tattoo after too many fruity drinks, let Disney's fine henna artists be your first.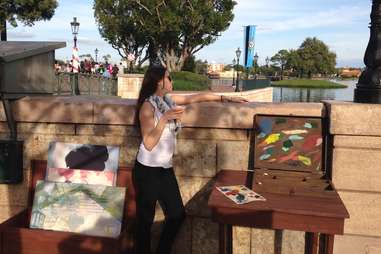 France
I'm drawn again to the adult frozen beverages, and, having already gone the lemon route back in America, I choose orange. It's a true alcoholic revelation that tastes like a molten Creamsicle spiked with Grand Marnier and rum. I could easily drink three or four more and find myself pleasantly incapacitated. The heck with America.

Also don't miss: Yes, there's wine, Champagne, and beer, and even bougie Kir Royales. But why would you bother with any of these when you can have the greatest Creamsicle of all time? Seriously. If you want something actually French, order a crepe or croque-monsieur, and enjoy that Creamsicle haze in the shadow of the faux Eiffel Tower.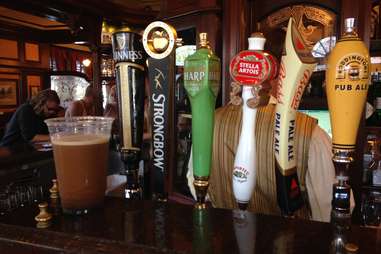 UK
Now it's time for beer again. A proper pint of English or Irish brew is what's on tap as we stop into the full-service pub. Bless the bartenders for knowing how to properly pour (and rest) a pint of Guinness. The woman next to me orders a Guinness shandy (aka Guinness and Sprite) from a skeptical bartender, and I realize it's time to take ours to go. Looking out over the lagoon and pondering how far we've come, I look over to see that my brother has decided it's a great idea to try to befriend the birds. One more country left.

Also don't miss: Remember those fish and chips? This is where you get them. If beer's not your thing, sip on a Pimm's Cup and pretend that you're among the well-dressed crowd at Wimbledon, not the fanny-packed throngs at Disney World.
Canada
At last: the end of the road. For those who are struggling to finish the challenge, there's non-alcoholic beer. (Perhaps that was a conscious decision on Disney's part?) For the rest of us, it's a tough decision between the likes of Molson and La Fin du Monde.

Also don't miss: The feeling of pride that comes with completing the trip around the world! Ok, really, there's not much else here besides a steakhouse and a movie about Canada hosted by Martin Short.