The 16 Best Places to Day Drink, Ranked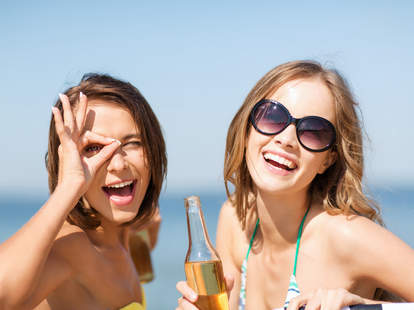 If you think about it, drinking during the day really makes a lot more sense than drinking at night. It's why we wrote this definitive guide on it. Assuming you don't work evenings or the overnight shift, getting your party on while the sun is out means you're probably in bed by a reasonable hour, before any truly bad decisions get made. Because nobody ever keeps the party going once the sun goes down, right?

But just saying day drinking is the best, and knowing how to do it, isn't enough. No, you've gotta pick the right venue too. And to help you do that, we've identified (and ranked!) the 16 best spots to sip suds under the sun.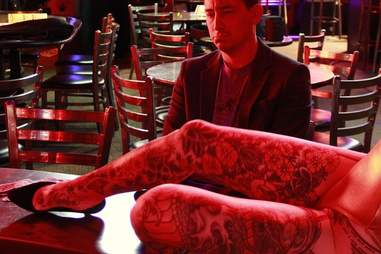 THRILLIST/ANDY KRYZA
16. Strip clubs
Day drinking is all about having a few drinks while appreciating the beauty around you. But nobody ever declared said beauty had to be appreciated while subjecting yourself to deadly UV rays... gasp... OUTSIDE! Nope, far better to appreciate a different kind of beauty, the subtle grace and elegance of the daytime stripper.

15. Dive bars
In a similar vein, if you've ever thought to yourself: "This day drinking stuff is pretty cool, but it'd be a whole lot cooler without all that unpleasantness like 'sunshine' and 'people,'" then a dive bar should be your go-to for afternoon alcohol. Sure, some might judge you for preferring to spend a beautiful day surrounded by cigarette smoke and TVs with bad reception, but if you really cared what people thought, you probably wouldn't be drinking at 10am anyway.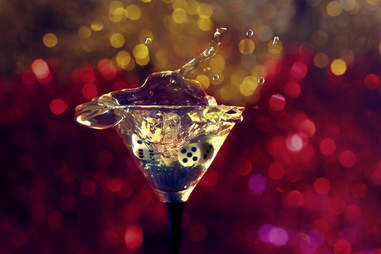 Shutterstock
14. Casinos
Sure, that old lady who's been chain-smoking next to the nickel slots since the (first) Bush administration might not look like the type of person you'd choose to spend your daylight hours around. But it's a casino, so "daylight" is a pretty relative concept. Plus here, you can get a drink 24/7, maybe win some extra money, and you're always surrounded by cool folks who are down for 2pm keno.

13. Restaurant/bar patios
This is a great option if you live in a place where dining outside doesn't require dressing up like the kids from South Park. So, in a place with consistently warm weather. Otherwise, on those days when the warm sunshine streams down, EVERYONE in your city is going to have the same idea -- and it's gonna be practically impossible to get a table.

12. The race track
You've no doubt seen the crazy infield parties that go on at the Kentucky Derby and the Preakness Stakes. But there's no reason a little day drinking with a racing form should be limited to happening only twice a year. If you live in Southern California, weekend afternoons at Del Mar are a better scene than any beach. And if you don't live in SoCal, well, standing on the rail with a beer and discussing your exacta picks with a guy who you're pretty sure also works as an "enforcer" ain't bad either.
Shutterstock
11. Your backyard
A great choice if you A) think those bars have got some SERIOUS nerve charging you $3 for a beer that costs 50 cents at Safeway, and B) spent all that money you saved on beer on landscaping. Added bonuses: nobody's going to cut you off, you don't have to drive anywhere, and, most importantly, you never have to worry about anyone playing "Party in the USA" on the jukebox.

10. Your friend's backyard
All the advantages mentioned above, except somebody else has to clean up.

9. The golf course
The best part of drinking on a golf course is that you don't even have to know the difference between a sand wedge and a sandwich to have a good time. As a matter of fact, you'll probably have more fun sitting in the shade of a nice rented golf cart, enjoying a cold one, and wondering why all the guys with clubs just dropped $250 to frustrate themselves. Then you remembered that you enjoy drinking at No. 16 above.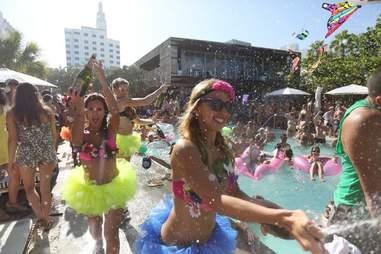 DYLAN RIVES
Possibly the only place other than the Miss USA Pageant where it's perfectly acceptable for women to strut around in high heels and bikinis, pool parties are like high-end nightclubs but with less clothing and more water. At least if you're in Vegas or Miami. If you're in a college town, they're more or less keg parties with swimming pools that make the lazy river at Water World look pristine.

7. Brunch
You like mimosas. Admit it. But if you walk into a crowded bar at 10pm on a Friday and you're all, "No, no, hold onto that whiskey, I'll just have a mimosa," well, there's a decent chance you'll be kicked out of the bar. And not even by your buddies, by the bartender! So the only place and time it's acceptable to drink OJ and Champagne is at brunch, and in many cities, you can actually drink unlimited quantities of the cocktail while stuffing your face with bacon and eggs. The only problem: the rest of your Sunday is then spent napping until Family Guy comes on.

6. Beer gardens
Thanks to the craft beer revolution of the past few years, beer gardens have become a way cooler option for drinking afternoon suds. Gone are the days of paying double for watered-down domestic drafts just so you can "sit outside." Pro tip, though: IPAs and stouts on a 90-degree summer day can make your day drinking extremely abbreviated.
5. River tubing
Beaches and pool parties are great and all, but sometimes you get tired of looking at the same water for hours on end. Which is likely why somebody came up with the brilliant idea to take giant inflatable pieces of plastic, throw them in a river, add coolers of beer, and then spend the whole afternoon floating down a river. And where exactly does such a great cultural activity exist in America, you ask? Right here, on these 16 rivers. You're welcome!

4. Barbecues and cookouts
There is nothing in the world that goes better with an ice-cold outdoor adult beverage than some fresh, grilled meat. Or, if you're vegetarian, some nice grilled soy imitation meat! Yum! Either way, the smell of smoke and microscopic grease particles add a little extra flavor to whatever you're sipping.
SARA SHAKE/THRILLIST
3. The beach
There's that Proustian moment when you crack open a cold light beer and it's sprinkled with a few grains of sand that just brings you back to some of the best day-drinking experiences of your life. Because a day spent playing drinking games on the beach has never ended badly in the history of summer afternoons. Ever.

2. On a boat
If you can somehow resist the temptation to post copious pictures of yourself on Instagram and caption them with "I'm on a Boat," like EVERY OTHER PERSON EVER, this is the coolest way to get your daytime drink on. You're not just near the water, you're freaking ON the water, plus there are usually tons of other people partying on their boats nearby.
1. Tailgates
Nothing personifies America like drinking large quantities of cheap booze, grilling meat, and showing unfathomable amounts of pride in a football team. Which is why there is absolutely no better way to day drink than at a tailgate. (Honestly, if you go to a school that ESPN hasn't pre-determined to be the best in football, it's pretty much why you go to the games anyway, right?) The best part of the tailgate, though, is that you don't even need a football game to do it; no, in some parts of the country, it is perfectly acceptable to tailgate at a little league game, bar mitzvah, legal proceeding, and, at least in Florida, a funeral!