The funnest way in history to open beers, and the gif to prove it
Opening beer bottles using your belt loop, a door jamb, your wedding ring, or a good old-fashioned bottle-opener is fine and good, but then you always have to eat the bottlecap afterward so it doesn't end up on the floor. Or throw it out or whatever. Until now.Two brilliant young Chicago minds have put their very expensive educations towards crafting a next-level bottle opener that solves the age-old problem of, "What do I do with this cap now?" The answer: a magnet that snaps up the caps right after they're popped, proving that those things're good for more than just dragging around metal shavings to make mustaches on Wooly Willy. They're calling this genius invention the DropCatch. Witness it in action: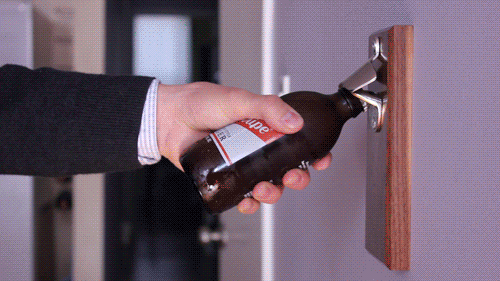 These sleek gifts-from-the-beer-gods are all-American and handcrafted from walnut wood and super-powerful magnets. The "Junior" model is happy to accumulate an impressive 15 caps, but we'd recommend shelling out for the "Senior" model, which hangs onto
52 caps
before you'll have to actually find a trash can.The guys behind DropCatch are already blowing up on Kickstarter -- they raised over $8000 in just a day -- and you, too, can
support their booze-fueled brilliance here
.