Here is everything they drink on Drunk History
Comedy Central took an already-awesome web series to TV last year when they debuted Drunk History. The concept is simple: comedians overindulge, tell an interesting story from history, and then famous actors recreate it... exactly as told. Season two premieres tonight at 10pm, and promises new, slightly slurred tributes to legends like Joe Lewis and Percy Julian. To bring you up to speed, we went back and chronicled everything the narrators drink in the web series and TV show. We did have to throw in a few educated guesses, but it wouldn't be a Drunk History recap if the accounts weren't a little off.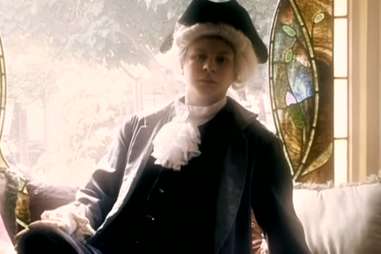 Episode: "Drunk History, Vol. 1"
Drink: A bottle of Scotch
The first ever episode of the web series saw Alexander Hamilton (Michael Cera) and Aaron Burr (Jake Johnson) face off in their infamous duel, as Hamilton's wife (Chrissy Seaver from Growing Pains!!) looked on and the narrator struggled to remember who shot whom.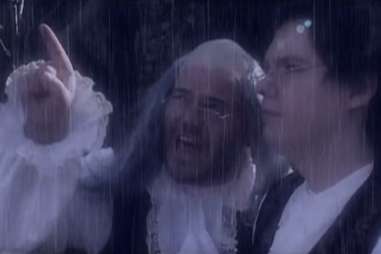 Episode: "Drunk History, Vol. 2"
Drink: Eight vodka cranberries
In order to properly tell the story of how Benny flew a kite in a thunderstorm, you obviously need a healthy dose of your Mom's favorite beverage.
Episode: "Drunk History, Vol. 3"
Drink: A bottle and a half of wine
The first lady's story of the series focuses on Oney Judge, George Washington's escaped slave. It's told by a fired-up Jen Kirkman, who attempts to rewrite history with the immortal line, "Oh, you can tell a lie, and you f**king did. You dumb f**k."
Episode: "Drunk History, Vol. 4"
Drink: Vodka and beer
It's pretty hard not to laugh when recounting the story of how William Henry Harrison died 30 days into office from basically forgetting to wear a coat. So it helps to be in a state where even your shoelaces are hilarious.
Episode: "Drunk History, Vol. 5"
Drink: Two bottles of wine
He shows up many more times, and always played by a different actor, but props to Will Ferrell for portraying the series' first Abraham Lincoln (opposite Don Cheadle's Frederick Douglass). This dude seems like a much better time than Daniel Day-Lewis' Lincoln.
Episode: "Drunk History, Vol. 6"
Drink: Six-pack of beer and half a bottle of absinthe
This tale of Thomas Edison and Nikola Tesla's rivalry features all the expected slurred speech, plus the series' highest-quality special effects budget to date. Or maybe that was just the absinthe doing its thing.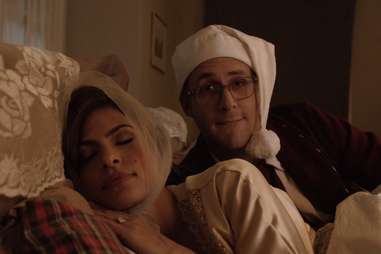 Episode: "Drunk History Christmas"
Drink: Half a bottle of whiskey
Technically, this isn't a true drunk history, since it's just a reading of "A Visit From St. Nicholas" (the poem you think is called "'Twas the Night Before Christmas"). But at least they have some impressive old timey hats. And some Baby Goose, for the ladies.
Episode: "Washington, D.C."
Drink: Whiskey
The first stop for the Comedy Central series was the Capitol, where they kicked things off with the seedy story of Watergate. Is Fred Willard the best Deep Throat since Kirsten Dunst and Michelle Williams, or best one ever? You decide.
Episode: "Washington, D.C."
Drink: Beer and shots
This saga concerns the Brothers Booth -- that'd be John Wilkes and Edwin, who was a successful actor in his own right that time has forgotten thanks to his brother's whole "assassination of a beloved president" thing. Stephen Merchant pulls Lincoln duties, fulfilling his tall and lanky destiny.
Episode: "Washington, D.C."
Drink: Absinthe shots and beer
If you're going to do Elvis, you gotta do fat, jumpsuit-wearing Elvis. Thankfully, Drunk History enlisted Jack Black for The King's encounter with Nixon. So, well played.
Episode: "Chicago"
Drink: Chamucos tequila
Al Capone gets a lot of credit for being a criminal mastermind, but this sketch is more concerned with showing his "syphilitic moron" side.
Episode: "Chicago"
Drink: We honestly don't know, but given the slurs and distance stare, we're guessing it was strong.
Lincoln returns a third time, albeit this time as a greenhorn lawyer with ape arms played by international superstar Eric Filipkowski, whose credits include... um, Drunk History?

Episode: "Chicago"
Drink: "All the f**king tequila"
We're talking the Haymarket Square Riot here. And by "we", we mean especially, um, excited narrator and Cheddar Bay Biscuit lover Kyle Kinane.
Episode: "Boston"
Drink: Two bottles of wine
The series obviously had to stop at The City on a Hill, but they didn't go for the obvious segment with the Boston Tea Party. Instead they went back to Mary Dyer's stand against the stuffy, old Puritans, which (spoiler alert) did not end well for her.
Episode: "Boston"
Drink: Long Island Iced Teas?
It's a little hard to tell what our two narrators are drinking, as all we see are some red Solo cups with straws, but we're gonna bet they were Long Islands, considering their spirited retelling of the messy Isabella Stewart Gardner Museum art heist.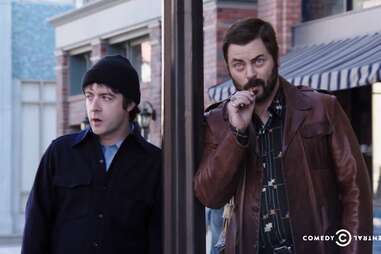 Episode: "Boston"
Drink: Jack & Cokes
Of course Ron Swanson played a dude named Johnny Cool, who just happened to be Massachusetts's best arsonist.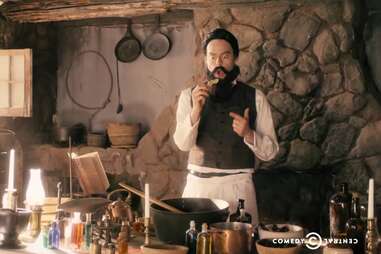 Episode: "Atlanta"
Drink: Seemingly water... plus a whole bunch of Coke
By the time we meet up with our host Jenny Slate, she appears to be chugging water after a night out. But rest assured she adds plenty of tipsy touches to the story of Coca-Cola inventor John Pemberton.
Episode: "Atlanta"
Drink: Ketel One vodka
J. Edgar Hoover was a complicated dude with a lot of weird hang-ups, and one of them was Martin Luther King, Jr. In this segment, he tries to take the Civil Rights leader down with -- what else? -- wire taps.
Episode: "Atlanta"
Drink: Whiskey
Though he's not one of the Kennedys that normally show up in history books, Stetson Kennedy was the center of a pretty amazing story that concerns Ku Klux Klan infiltration, secret handshakes, and Superman radio serials. And whiskey. Lots of whiskey.
Episode: "San Francisco"
Drink: Soda and something... strong
If you thought that Chrissy Seaver's appearance earlier was exciting, you're in for an even better treat when Denise Huxtable shows up as abolitionist Mary Ellen Pleasant.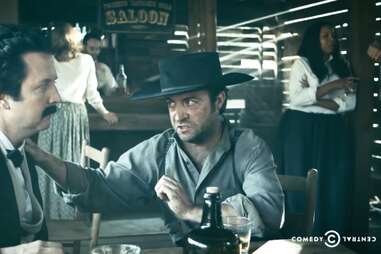 Episode: "San Francisco"
Drink: Screwdrivers
Appropriately, this Mark Twain-centric tale concerns how he got the idea for his story "The Celebrated Jumping Frog of Calaveras County" from a schwasty storyteller not unlike this DH narrator.
Episode: "San Francisco"
Drink: Tequila shots, bottle of Champagne
Heiress, kidnapping victim, and namesake for a syndrome, Patty Hearst was ripe for the Drunk History treatment, and it helped that they got SNL stalwart Kristen Wiig to play her. But bonus points to Terry Crews for playing the afro'd kidnapping ringleader who brainwashed her.
Episode: "Detroit"
Drink: Scotch
Much like the inventor of the graham cracker, the Kellogg brothers were buzzkills who were concerned with keeping their followers sober... and with low sex drives to boot. They thought their bland cereal would help with that, though the invention quickly escalated into an all-out family feud.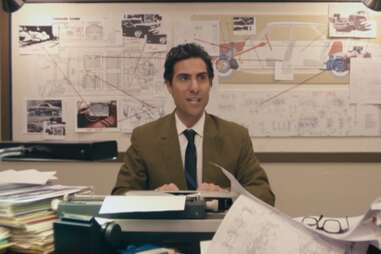 Episode: "Detroit"
Drink: Chamucos tequila
Nowadays, Ralph Nader is mostly known as that guy who won't stop running for president. But back in the day, he was the guy who pushed for the safety belt... and got targeted by GM-hired grocery store hookers in the process.
Episode: "Detroit"
Drink: Not a clue, but it looks like it was fun
Two men of mystery, Harry Houdini and Sir Arthur Conan Doyle, became friends in the early 1900s, only to later part ways for the usual reason: seances.
Episode: "Nashville"
Drink: Basil Hayden's bourbon whiskey
It wouldn't be a Nashville episode without a good "behind the music" chapter, so the show tackled Dolly Parton's early career, when her hair was a solid 2ft shorter but everything else was just right.
Episode: "Nashville"
Drink: Whiskey sours?
Combining science and courtroom drama into one action-packed sketch, Drunk History took on the Scopes Monkey Trial. As anyone up on their history knows, it featured a lot of beakers and stuffed chimps, and it was pretty incredible.
Episode: "Nashville"
Drink: Either mixed drinks or straight-up water in mason jars
There's a lot going on in this version of the Lewis and Clark adventures, but definitely look out for Lewis's unbridled enthusiasm when talking about VD.
Episode: "The Wild West"
Drink: Vodka and soda? Gin and tonic? Well, something boozy and clear.
Frankly, we're surprised the show took this long to get to #1 American Teddy Roosevelt, but at least they picked a story where he comes out heroic as hell. Needless to say, this recap of the Rough Riders turns out a lot better for Team USA than the Alamo segment (getting to that in a minute) does.
Episode: "The Wild West"
Drink: Just water at this point
It wouldn't be the Wild West without an outlaw's epic, so of course they went with Billy the Kid. Topics covered? His jailbreaks, his final shoot-out with Pat Garrett, and all his Mexican girlfriends.
Episode: "The Wild West"
Drink: Scotch
Yeaaaah, maybe taking on an army of nearly 2,000 when you're less than 200 strong wasn't the best idea, but these old-timey Texans were nothing if not courageous. Pour one out for these brave cowboys, and then refill your glass for season two tonight.
Kristin Hunt is a food/drink staff writer for Thrillist. Adam Scott's John Wilkes Booth and Jen Kirkman's narrations are a few of her favorite things. Follow her at @kristin_hunt.