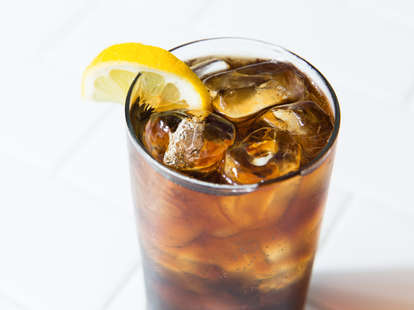 Most people think drinking Cognac is reserved for the likes of rappers and billionaires exclusively. But it turns out that there is plenty of affordable and delicious Cognac on the market. Known as a premium spirit, Cognac is surrounded by an air of exclusion. But with the wide range of approachable bottles on shelves these days, there's no reason not to include it into your cocktail repertoire. You too can ball just as hard as Biggie, Kanye, and Lil' Wayne… actually, maybe don't ball that hard.
For the curious, Cognac is a grape-based brandy, (which means spirit distilled from wine) from within the region of Cognac, France. Each bottle has letters that denote how long a particular Cognac was aged before being bottled. VS stands for "very special," a designation that requires a minimum of two years oak-aging before being bottled; VSOP stands for "very special old pale," and requires four years oak-aging; and XO -- "extra old" -- must be aged for a minimum of six years. Most Cognacs from all of the categories are aged way passed their minimums, allowing them to take on complex flavors and aromas.
When it comes to cocktails, even the less expensive brands -- Paul Beau, Pierre Ferrand, Pierre Croizet, and Bache-Gabrielsen among them -- offer a chance to ball without the bling. And all it takes is three ingredients. Here are the best ultra-simple Cognac cocktails.
Sidecar
This is the only classic drink devoted entirely to cognac. Skip the sugar rim if you don't like your drinks too sweet.
2 ounces Cognac
1 ounce lemon juice
½ ounce simple syrup
Rim a coupe glass with sugar (or don't… this is America, and we're not gonna tell you what to do). Shake all ingredients with ice until chilled, strain, and serve straight up.

Spiked coffee
While whiskey is usually the go-to in spiked coffee drinks, Cognac's natural flavors of honey, brown sugar, caramel, and creamy coffee make an even smoother drink. Serve this at your next brunch party to add authentic swag.
4 ounces coffee
1 ounce Kahlua
1-2 ounces Cognac
Pour the Kahlua and Cognac into your coffee, stir, and wake up.
Cognac Manhattan
Manhattans play nice with other spirits, taking on virtually any base liquor and making it delicious with bitters and sweet vermouth. If you really want to step up a Cognac Manhattan, check out the Tennessee oak barrel-aged new release from Bache Gabrielsen for a unique hybrid Cognac that was seemingly crafted with this drink in mind.
2 ounces Cognac
¾ ounce red vermouth
2 dashes bitters
Stir all ingredients together with ice until chilled, strain into a glass, and serve straight up.
Spiked cider
Make your own hard apple cider without having to wait for fermentation or the requisite friend to tell you about the time he spent in England. This sweet and light beverage is good cold or hot, depending on the season. To enjoy it hot, start with warm apple cider and omit the ice.
4 ounces apple cider
2 ounces Cognac
Orange peel
Combine the cider and Cognac over ice, twist the orange peel to release the oils over the top of the drinks, then sink it in.
Ode To Tiki
Cognac does very well in Tiki-inspired cocktails, offering a lot of the same flavors as rum. Try swapping out the rum for Cognac in any classic Tiki drink, like this riff on a Mai Tai.
2 ounces Cognac
1 ounce orgeat
1 ounce lemon juice
Shake all ingredients over ice and pour, unstrained, into a glass. Maybe put on some Buffett.
VS & ginger
This no-fuss drink is available almost everywhere alcohol is served, including airplanes. No need to use anything fancy: a simple VS Cognac is younger and often less expensive than its VSOP and XO counterparts. Keep some ginger ale on hand so you can break out this quick drink as your house staple for unexpected company.
2 ounces Cognac
4 ounces ginger ale
2 dashes bitters
Fill a glass with ice, add Cognac, top with ginger ale and bitters, drop the mic.
Toddy
With softer flavors and a smoother texture than many whiskeys, Cognac makes incredibly soothing toddies. Recover from colds and sore throats quickly and painlessly by warming up your soul with a Cognac toddy.
4 ounces hot water
2 ounces Cognac
1 ounce honey
Add honey and Cognac to hot water, then stir and feign illness because it's, like, 10am.
Cognac Martinez
This old classic uses sweet vermouth and maraschino liqueur (a sweet and tangy mixer made from Marasca cherries in Italy) to make an aromatic and slightly fruity drink. Typically made with Old Tom Gin, a particularly strong and pungent spirit, swapping it out for Cognac creates a silkier and more subtle final drink. All the ingredients are alcoholic, so even though it goes down like candy, it packs a powerful punch.
2 ounces Cognac
1 ounce sweet vermouth
½ ounce maraschino liqueur
Stir all ingredients over ice and strain into a stemmed cocktail glass for an Instagram-worthy cocktail.
Cognac Cuba Libre
If you loved the vanilla-flavored Coca-Cola, this drink is for you. Any type of Cognac will work here, though there's no need to go for anything fancy. This quick drink is easy to make for a crowd, too.
4 ounces cola
2 ounces Cognac
Lemon wedge
Pour the cola over ice, add Cognac, squeeze in lemon wedge, stir, and strut.
Sign up here for our daily Thrillist email, and get your fix of the best in food/drink/fun.
Tess Rose Lampert is a Manhattan-based philosopher-turned-drink expert who spends her nights grappling with tough decisions like what to pair with Thai takeout and Netflix binges. It's often mezcal. Follow her to south-of-the-border pilgrimages: @TessRose211.