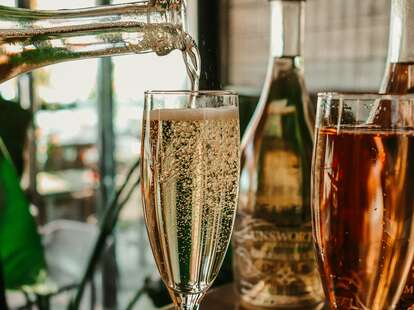 Cranberry Orange Mimosa

| Photo by Aleisha Kalina on Unsplash
Cranberry Orange Mimosa

| Photo by Aleisha Kalina on Unsplash
There's something about a glass of bubbly that just makes you want to go pinkies up—it looks fancy, tastes like a treat, and always feels celebratory. So if you're aiming to elevate your cocktail repertoire, sparkling wine makes a great base for mixing things up because honestly, you don't have to do much and the resulting drink will still be impressive.
In fact, all it takes is three ingredients and $10-$15 because you should not be crafting cocktails with top-notch Champagne—a budget-friendly bottle of bubbly like prosecco, cava, or American sparkling is better-suited for mixing and sipping away the Sunday scaries.
So, let's raise a glass to this roundup of fizzy drink recipes that are so easy to make, you won't even need a cocktail shaker. Don't ever shake a carbonated cocktail unless you're looking to wear it...and watch your date immediately call a Lyft home.
Classic Bellini
The Bellini was first created in 1948 by Giuseppe Cipriani, owner of the famous Harry's Bar in Venice, Italy (also the birthplace of carpaccio). With well-known clientele like Ernest Hemingway, Truman Capote, and Orson Welles flocking to sip this sparkling peach delight, the cocktail soon made its way over to NYC and has since blossomed into a year-round brunch staple.
The Bellini, named for its signature pink hue that first appeared in a 15th-century painting by Giovanni Bellini, is traditionally made with Prosecco (Italy's indigenous bubbly) and fresh peach puree—but you can have yourself a ball with raspberry or strawberry puree, too.
Prosecco
2 parts fresh white peach puree
1 part simple syrup
Whip up peach puree by peeling and blending about 4 white peaches then straining; once chilled, mix two parts puree with one part simple syrup. Add a tablespoon of peach puree mix to a champagne flute and pour Prosecco on top; gently stir to blend.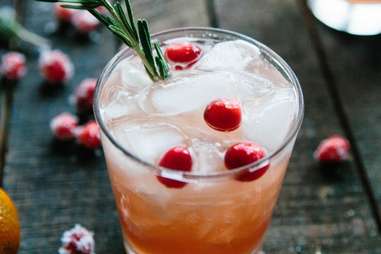 Clementine Spritzer
Feeling festive? So are we, and so is this bubbly cocktail featuring wintery citrus and herbs that are in peak season. Naturally juicy and sweet clementine nectar pairs perfectly with Prosecco's fruiter profile, while a hint of aromatic rosemary makes you feel like you're drinking a Christmas tree—in a good way, of course, but don't be heavy-handed with the garnish.
To make your own fresh clementine juice (all that Vitamin C will do you good this time of year!), simply peel the fruit and put your Magic Bullet to work.
2 parts Prosecco
1 part fresh clementine juice
rosemary sprig
Pour Prosecco and fresh clementine juice in a coupe glass then garnish with sprig of rosemary and a clementine twist.
Cranberry Orange Mimosa
You didn't get home from the party until 1am and you (accidentally) agreed to host brunch for your in-laws in the morning. It's not that you don't want to… you're just tired, okay!? Mimosas are the easiest go-to brunch drink to take the edge off, but this slight pivot from the expected is more unique with zero extra work.
Instead of adding just OJ to the sparkling wine, include a few tangy splashes of cranberry juice, as well. If you have the ingredients on-hand, decorate the cocktails with a few cranberries and/or an orange slice for an even more impressive presentation.
Sparkling wine (to fill the glass)
2 ounce cranberry juice
1 ounce orange juice
Add juices to a champagne flute, then top off the glass with sparkling wine. Garnish with a cranberry and orange slice.
Pomegranate Royale
Invite your guests to slip into this sexy red sparkler—it's just as easy to make as it is to drink. Start with a brut sparkling wine and jazz it up with the tart-yet-sweet flavors of pomegranate liqueur (try: Pama pomegranate liqueur); finally, top everything off with a sprinkle of fresh pomegranate seeds and watch them hypnotically dance.
The Pomegranate Royale makes for a merry Christmas time elixir, a July aperitif, or better yet, throw a Christmas in July party and serve it as the signature cocktail.
4 ounce dry sparkling wine
1 ounce pomegranate liqueur
pomegranate seeds
Add pomegranate liqueur to a champagne flute then top off with sparkling wine. Sprinkle a few pomegranate seeds on top to finish.
Lemon 75
Dating back to World War I, the French 75 was first poured at the renowned New York Bar in Paris—the cocktail was said to have a strong kick reminiscent of being whacked by a French 75mm field gun, hence its name.
For this modern and simpler take on the classic tipple, swap out the gin for lemon vodka.
Sparkling wine
1 ounce lemon-infused vodka
¼ ounce simple syrup
Combine all ingredients (hold the sparkling wine) in a cocktail shaker and shake on ice. Strain into a champagne flute or highball glass without ice and top off with bubbly. Garnish with a lemon peel.
Sparkling Punch
We're confident that #roséallday will forever be the world's summertime mantra, but you can step up your poolside 'gram game with a sparkling pink punch. All you'll need is bubbly rosé (err on the dryer side), fresh berries, and limoncello, a zesty Italian lemon liqueur.
Make a full pitcher instead of single drinks—trust us, it will go fast—then garnish with lemon wheels and a swan float.
1 bottle sparkling rosé
¾ cup limoncello
1 cup fresh fruit (sliced strawberries, raspberries, lemon wheels)
In a large pitcher, combine limoncello and fresh berries. Pour in chilled sparkling rosé and stir in half of the lemon wheels. Serve in old-fashioned glasses with ice (make sure there are berries in each glass) and top off with a lemon wheel.