Easy-To-Make Cocktails That Take the "Labor" Out of Labor Day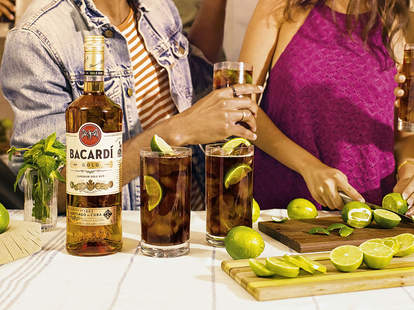 Labor Day weekend is coming, and your mandate is to stay away from any work -- and that includes complicated cocktails, which can be delicious, but also require the kind of toil this day wasn't made for. Take it easy on yourself: enjoy a BACARDÍ® rum drink, but don't exert yourself in the act of making it.
To that end, here are three incredibly simple cocktails perfect for each day of the weekend. Each recipe has recommended proportions, but go ahead and eyeball 'em! Precise measurement is for suckers who have to work on Monday.
Courtesy of BACARDÍ
Saturday: BACARDÍ End of Summer Rum Punch
No denying it: you had a great three months, but now it's time to celebrate the end of summer. As cilantro is replaced by pumpkin spice and the beach becomes the apple orchard, so too do the rums of summer become the rums of fall. Bid a fond, final farewell to the season with the most summery of flavors: pineapple and coconut in this slammin' End of Summer Rum Punch guaranteed to get the party going!
INGREDIENTS:
1 part BACARDÍ Coconut
1 part BACARDÍ Pineapple
½ part Sweet & Sour mix
½ part orange juice
2 parts ginger beer
Orange wedge and lemon wedge for garnish
DIRECTIONS:
Pour all ingredients into a large pitcher filled with ice.
Gently stir with a bar spoon to combine.
Garnish with orange and lemon wedges.
Serve in a highball glass over ice and garnish (again!) with orange and lemon wedges.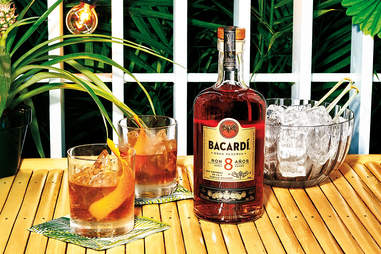 Courtesy of BACARDÍ
Sunday: BACARDÍ 8 Años Old Fashioned
The day of rest. But also a day to put on your Sunday best and enjoy each other's company in an upscale manner. Get classy AND easy with the BACARDÍ 8 Años Old Fashioned. A cocktail party staple, the Old Fashioned's deceptively complex flavors stem from just a few ingredients. The BACARDÍ 8 Años Old Fashioned puts a new twist on that while keeping all the parts people love:
INGREDIENTS:
2 parts BACARDÍ 8 Años rum
2 dashes Angostura Bitters
½ part (splash) water
1 tsp sugar
1 orange peel
DIRECTIONS:
In an Old Fashioned glass, combine the sugar, water, and Angostura Bitters with a bar spoon.
Next, add half the BACARDÍ 8 Años along with 2-3 large ice cubes, stirring repeatedly.
Pour in the second half of the rum and 2-3 more ice cubes, continuing to stir.
Cut a piece of orange peel approximately 5 cm long and squeeze it over the cocktail to release the citrus oils.
Drop the peel into the cocktail to finish.
Courtesy of BACARDÍ
Monday: BACARDÍ and Cola
The day has arrived! It's Labor Day, so do as little as possible to toast the soft end of summer with the easiest of cocktails imaginable: Rum and Cola. No soft drink is easier to find than cola. Except water, which arrives in pipes, but rum and water is just grog. Do you want grog? Nah, you want a rum and cola. Which, again, is everywhere. You're probably sitting within 22 yards of cola right now.
There are three ingredients and just four directions in this recipe. Unless you count drinking it as a step. But why would you do that? Counting is work, not fun! Drinking rum, that's fun: fun that you can enjoy long after summer ends, and well into its return.
INGREDIENTS:
1 part BACARDÍ Superior or BACARDÍ Gold rum
2 parts cola
Lime
DIRECTIONS:
Fill a highball glass with ice.
Pour in BACARDÍ Superior or BACARDÍ Gold rum.
Pour in chilled cola.
Stir gently and garnish with lime.
LIVE PASSIONATELY. DRINK RESPONSIBLY.
©2016. BACARDI, ITS TRADE DRESSES AND THE BAT DEVICE ARE TRADEMARKS.
BACARDI U.S.A., INC., CORAL GABLES, FL. RUMS - EACH 40% ALC. BY VOL. RUM SPECIALTIES – EACH 35% ALC. BY VOL.