Like that delightful Justin Timberlake, vodka's good at a lot of things. It's truly a spirit of versatility, one whose mostly neutral flavor and soft texture are perfect for high-end cocktails and ridiculous college party garbage-can punches. And unlike JT, it would never ask you to sit through a Trolls movie.
For a while, American drinkers gave vodka the bottom-shelf treatment. But we wised up to what all those Polish people have been saying for centuries, and now vodka enjoys the same status as others, with seemingly endless options on the shelf. For an inexpensive bottle of booze that goes down easy, Smirnoff, Svedka, and Reyka offer good products that are all relatively crisp, clean, and silky. For a little more complexity, check out VDKA 6100, which is light and unctuous at the same time and impossibly smooth; Crop Organic, which has a richer body and almost sweet flavor; or Karlsson's, which is full and velvety -- almost buttery -- with a sweet earthiness.
Regardless of your preference or price point, vodka's the base for incredible, simple cocktails that taste just as good in sweatpants as they do in a suit & tie. Ugh. Sorry. That JT is infectious!
Recommended Video
This Maple Syrup Old Fashioned Will Appeal to Both Whiskey and Pancake Lovers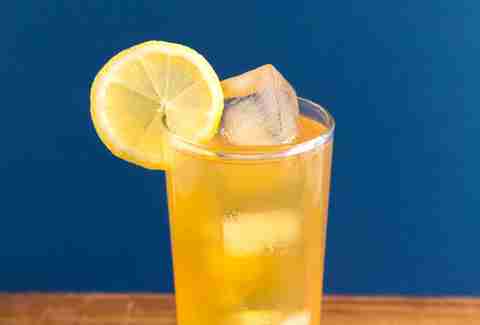 Arnold Palmer
Named after the famous golfer (RIP), this drink's so famous that ESPN even produced a short movie about it. This version steps it up a notch with an infused vodka. To make it, simply add 1 tablespoon of black tea leaves -- or 2 tea bags -- to a fifth of vodka, shake to combine, and let steep for at least 3 hours before straining off. Or just mix vodka, lemonade, and iced tea, if you're feeling less fancy.
2 ounces tea-infused vodka
1 ounce fresh lemon juice
1 ounce honey
Add ingredients to a shaker over ice, shake to combine and chill, strain over fresh ice, and enjoy while dressed in appropriately checkered shorts.  
Vodka sour
Whiskey gets most of the love, but almost any liquor does well in a classic sour recipe, using 2 parts spirit, 1 part sour, and 1 part sweet. You can swap out lime for lemon to make a margarita-esque drink for your friends who can't drink tequila because of that one night they overdid it and now the smell of it makes them sick.
2 ounces vodka
1 ounce fresh lemon juice
1 ounce simple syrup
Combine all ingredients over ice in a shaker, shake it like a Polaroid picture, strain over fresh ice, and savor.
Creamsicle
There's no shame in wanting your adult beverage to taste like a childhood favorite, and vodka makes it easy. This light and sweet drink could also be made into a dessert float with the addition of vanilla ice cream and/or orange sherbet if you wanted to venture above and beyond three ingredients.
4 ounces cream soda
2 ounces vodka
10 dashes orange bitters, such as Angostura Orange
Pour soda and vodka over ice in a tall glass, dash in bitters, and stir to combine, preferably while whistling the song ice cream trucks play.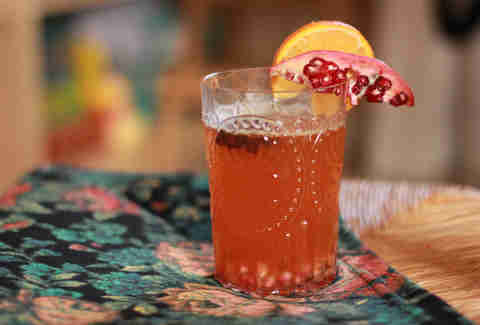 Spiced cider
Most people think of vodka in icy drinks, but it can be the star of cold-weather cocktails too when paired alongside baking spices and seasonal mixers. Spiked cider is best served warm and pairs well with everything from pumpkin pancakes to the existential anxiety that comes from watching Westworld.
3 ounces hot apple cider
2 ounces cinnamon tea
2 ounces vodka
Combine ingredients in a mug, stir to combine, and garnish with a sprinkle of cinnamon powder if you want to be fancy.
Sweet & Spicy
This minimalist drink works best with a premium vodka that has a smooth and velvety texture (while you're at it, spring for high-quality honey, too). The interplay of vodka, pepper, and honey makes for a full-bodied drink that unveils different layers of flavor as you sip, starting out spicy and finishing sweet.  
2 ounces vodka
Black peppercorns (about 2 turns of a mill set to coarse)
1 teaspoon honey
Add honey to the bottom of a rocks glass and top with one large ice cube or sphere. Pour the vodka over the ice and use a grinder to coarsely crack a few peppercorns into the glass. No need to stir, just sip.
Moscow mule
A refreshing and piquant classic that's been riding a wave of popularity for a while now, the Moscow mule was invented by Smirnoff in 1941. At the time it was one of the only popular vodka cocktails. Just like Neil Diamond, it's still a staple of bars at age 75.  
4 ounces ginger beer
2 ounces vodka
½ ounce fresh lime juice
Squeeze lime juice into a glass, or copper mug if you have it, adding the lime shell. Fill the glass with ice, pour in vodka and ginger beer, and stir briefly to combine.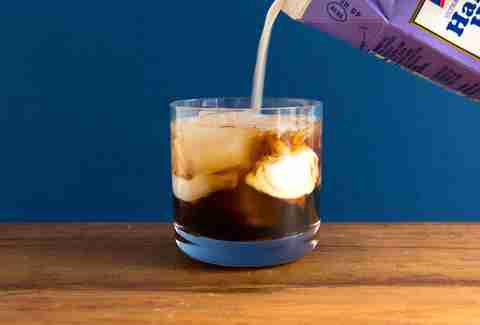 White Russian
Jeffrey Lebowski enlightened us to many things, among them the collected works of Arthur Digby Sellers and the music of Autobahn. But perhaps the greatest gift The Big Lebowski gave us was a renewed interest in the virtues of cream, Kahlua, and vodka. Sometimes, there's a man...
2 ounces vodka
1 ounce Kahlua
1 ounce cream
Pour ingredients into a glass over ice and abide.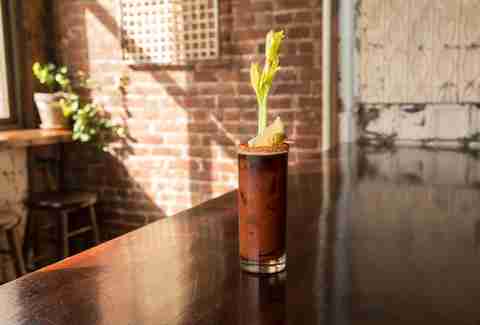 Bloody Caesar
The fishy Canadian cousin of the Bloody Mary, this cocktail uses Clamato, a blend of tomato juice, clam broth, and spices, for an extra-savory kick. To the uninitiated, the thought of a clam-flavored Bloody might sound a little off, but trust us here: The combination of spice, traditional Bloody ingredients, and a little clam blends wonderfully, and greatly reduces the choking hazard associated with drinking a ridiculous Bloody loaded with actual seafood.
4 ounces Clamato
2 ounces vodka
Prepared horseradish to taste
Combine all ingredients in a shaker filled with ice, stir to chill, and strain into a tall glass to quench your thirst.
Spicy grapefruit punch
The smooth, neutral character of vodka makes it easy to mix with spicy chilies without running the risk of clashing flavors. This amped-up party drink can be made as a single serving or in a large batch for a crowd by multiplying the recipe. Be careful when handling habaneros: Their burning capsaicin will stick to your hands, so be sure to wash thoroughly before rubbing your eyes or using the restroom, unless you want things to, um, go south pretty quickly.
4 ounces grapefruit soda
2 ounces vodka
Sliced habanero to taste (1 small slice per serving recommended)
Muddle the habanero in the bottom of a glass, top with ice, vodka, and soda, and stir gently to combine. Then, seriously, wash your hands.  
Sign up here for our daily Thrillist email, and get your fix of the best in food/drink/fun.