For Houseguests Who Reached for Eggnog When Wine Was Not Enough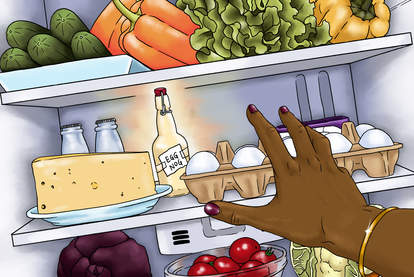 I love hosting Christmas house parties. Wild shenanigans and tall tales are born every December.
 
My countertops are jumbled with green striped candy-canes, peppermint rice crispy treats, chocolate bark, whole oranges, and big-ole nuts for snacking. Our chosen family members gather late into the night drinking – mostly. Spiked eggnog is my covenant libation, and it's an understood rule to never ask for a second cup. Only one serving per person. 
 
You either love the milk-based treat or loathe the thought of heavy dairy, raw eggs, and warming spices fluffed together. For me, eggnog is the ultimate gesture of kindness. Eggnog reminds one of the long-lost gift your mother never bought from your list, or the band-aid over the broken relationship forever in repair mode.
As an adult, I used to spend hours making batches of the homemade version, tweaking the southern-born writer Eudora Welty's recipe. The tradition would evoke for me an old-school spirit that needs calling up right before the winter solstice: positivity.
But last year I decided that purchasing eggnog (brands like Ronnybrook and Silk) instead of making it myself would give me more time to play Mariah, Cee-lo, and Motown Christmas albums, and more couch time for my trash TV musings.
So out I got, at the last minute, after my other holiday party preparations are complete. I scurry around farmer's markets and corner grocery stores hoping to scoop up half a dozen or more bottles of light yellow colored nog with flecks of nutmeg. Sadly, I can only find one bottle, the golden token.
 
Pushed behind the fruity seltzer bottles and a smothering hunk of cheese, none of my houseguest kitchen helpers notice that lone bottle – none except my friend's date. He is low-key obsessing over my dark rums stash, and senses an irresistible holiday vibe coming from the fridge. 
Finally, it's time to pour each guest the potion. Half a juice glass each with one small cube of ice and topped with brown spirits, it's our benediction before everyone heads back out into the cold. The evening ends and all our guests start whispering goodbyes.
All but one. The dude goes back into my fridge and pours himself another generous serving of the creamy drink. He slurps down the boozy exlir, exclaiming his fondness for the once-a-year treat.
Wait, I think as I watch it all go down, are you reaching for my mystical eggnog without asking? Why not drink the Austrian orange natural wine right in front of you?
Then it hits me: people want what they want, by any means necessary. All the manners, etiquette or decorum evaporates from your being when those spirits hit. Rules are broken, the heaviness lifts, and the transfer of soul cheer happens. Blame it on the eggnog.
Sign up here for our daily Thrillist email, get Eatmail for more food coverage, and subscribe here for our YouTube channel to get your fix of the best in food/drink/fun.