We live in a time when classic and craft cocktails are a social norm. Skilled, creative bartenders and establishments exist in almost every city, ready to make liquid masterpieces, from an old-school Manhattan with just the right vermouth to signature drinks with ingredient lists that sound forged in Hogwarts.
So why the hell are you ordering a murky, dishwater-colored booze bomb that had its heyday in 1986? We don't have the answer to that, but we do know just how America's best bartenders feel when you order a cocktail containing the following words: nipple, beach, island, sunrise, slam... you get the idea. These are the drinks bartenders will surely make you, but with a side order of embarrassment.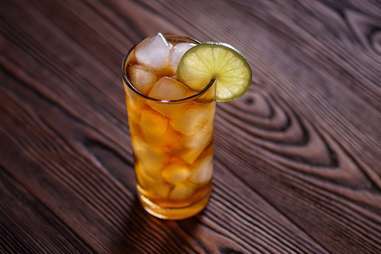 Long Island iced tea
Antonio Matta, bartender, Firehouse Lounge (address and info)
Austin, TX
"Long Islands -- I'm not embarrassed for myself as much as I am for the person ordering it. Seriously, I get it: you want to throw up on your shoes. Please, leave me out of it."
Kaleb Cribb, lead bartender, Holeman and Finch Public House (address and info)
Atlanta, GA
"Although there have been some recent renovations to the drink, I have to say I slightly shudder at an order for a Long Island iced tea. To me, I think you've been drinking this same drink since you first snuck into a bar, or you want what has the most booze per drink. And personally, I just don't think that's the way we should approach drinking nowadays."
Bahama Mama
Justin Elliott, director of hospitality, The Townsend (address and info)
Austin, TX
"There was a weird, dark, two-month period where I kept the lights on by slinging Bahama Mamas at the world's largest Applebee's on 50th and Broadway in Manhattan... and, consequently, my Long Island iced tea game is on fleek."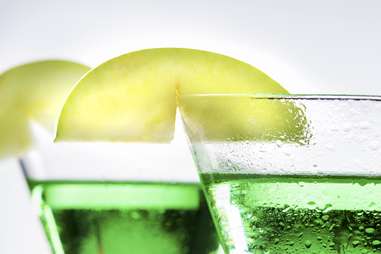 Appletini
Kent Westmoreland, head mixologist, Cocktail Bar (address and info)
New Orleans, LA
"Appletini. I'm not embarrassed to make them. I'm embarrassed for the people who order them."
Espresso martini
Silas Axtell, bar manager, Townsman (address and info)
Boston, MA
"I'm probably most embarrassed by how well I make that drink, and how much I secretly enjoy the little straw taste-test I get to take."
Extra-dirty vodka martini
Nick Bennett, head bartender, Porchlight (address and info)
New York, NY
"I think if you want a vodka martini you should embrace it and enjoy the nuances of the vodka and enhance it with a lemon twist; all of that brine just hides the cocktail."
Sex on the Beach
Shaun Gordon, bartender, Prohibition (address and info)
Charleston, SC
"I might be embarrassed for YOU if you order a Sex on the Beach or a Between the Sheets while on a date."
Well liquor & grenadine
Ryan Baird, beverage director, Jack & Ginger's (address and info)
Austin, TX
"Well liquor and grenadine really makes me cringe -- cherry vodka sour... tequila sunrise. Ugh. Live a little!"
Sex on the... anything
Nandini Khaund, spirit guide, Cindy's (address and info)
Chicago, IL
"I am embarrassed to makes drinks that exist to exploit the perception of a bartender's ignorance. If you don't know what's in the 'Sex on the Side of the Wonky Hill,' don't expect us to."
Pappy Van Winkle with Coke
Michael Neff, beverage director, Holiday Cocktail Lounge (address and info)
New York, NY
"I cringe when people order very expensive spirits with Coke in them. It's a sure sign that someone is ordering for status, not because they have an appreciation for a well-made spirit."
Stirred cocktails shaken, not stirred
Trevor Frye, beverage director, Jack Rose Dining Saloon (address and info) & co-founder, Dram & Grain (address and info)
Washington, DC
"When people ask for stirred drinks to be shaken I feel like an asshole. I'll kindly try to educate them on why certain drinks are prepared certain ways, but at the end of the day some folks want what they want, and a part of me dies when I'm shaking the shit out of a Manhattan."
Signature cocktails, but with substitutions
Brad Moore, owner, Grand Prize Bar (address and info)
Houston, TX
"Drinks where people ask to modify drinks they've never had. It's like... I worked for 12 hours on that drink, obsessed over the right gin, spent three weeks making the perfect bitters for it, and all of a sudden they think it will be better with vodka (because they 'don't like gin') or with a salt rim (because you know... tequila)."
Sign up here for our daily Thrillist email, and get your fix of the best in food/drink/fun.
Anastacia Uriegas is a writer at Thrillist and former tacky-drink offender who will always have a special place in her heart for vodka Red Bulls. Follow her consumption of modern-day speedballs: @anaurie.