Drag Queen Essa Noche Is Having a Moment
This Brooklyn babe will teach you a thing or two about painting and pouring.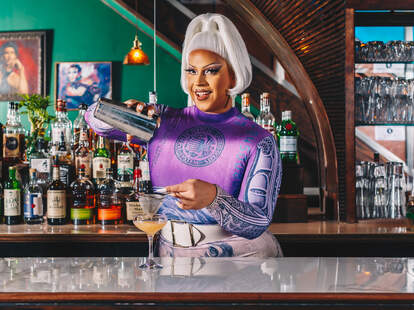 Photo by Cole Saladino for Thrillist
I first met Essa Noche in the Summer of 2019, late on a Thursday night at WALLBREAKER, a monthly fundraising show at Macri Park in Williamsburg that raises money for causes like Queer Detainee Empowerment Project, Black Trans Travel Fund, and New Sanctuary Coalition. When she got on stage and began to lip sync to Japanese pop ballads, I got my entire life. Whatever she was selling, I was buying. Essa Noche is a Brooklyn drag performer and bartender known for her buxom body and high-beauty makeup looks.
We've stayed in touch ever since. When she's not in drag, she's behind the bar slinging cocktails and acting flirty on Instagram. I caught up with her on a cold December evening to talk about makeup techniques, hospitality, and the time she saw Björk at a drag show in Bushwick.
Did working in the service industry or doing drag come first?
Work, ok. My background is that I moved to the city seven years ago and I've only been doing drag for like three years. I came from working with Major Food Group, from back waiter all the way to captain, and I was serving at Union Square Cafe when I started doing drag. So I started out in the service industry but then Miss Thing discovered drag in Bushwick. There used to be this party called Bath Salts. Have you heard of it? It was run by Macy Rodman and Severely Mame and it was really cooky and super DIY. Björk came once.
Wow really??
Yeah everyone freaked out and then someone played one of her songs and then she left. Okay so I'm trying to figure out how drag happened. All my friends were doing drag. And then one time for Bushwig, one of my friends put me in drag and it started from there.
For the past two years it was weird juggling drag in Brooklyn and then working in the city as a gay sassy waiter. Do you know what I mean? The two worlds really don't understand each other. If I were to talk drag to my server buddies, it'd be like, okay. And if it was me talking to the queens, the girls, the dolls, it's a blank face. Let's do a shot. It was like when mom and dad are getting a divorce and they never talk to each other.
I started bartending at Happy Fun Hideaway, a Bushwick staple. I would bartend there once or twice a week, usually during happy hour, but sometimes I would bartend in face [laughs]. I'm not saying that people were hitting on me all the time; people were just very nice to me. But in drag, people would just stare at me and my tips were always like 35%. And this isn't even when my makeup was really good, which it is now, thank goodness. Because practice.
I'm at this new gay bar called Good Judy in the old Excelsior space. It's a little bit more on the cocktail side which is so fabulous because I would always look at the bartenders at Union Square Cafe. It was so cool: there's like 16 different ingredients, there is an infusion, they're paying 20 dollars for these things—so bougie. So Good Judy is more like that. I'm going to host Drag Race events and have a monthly cocktail party called Let's Have a Moment. Every time someone wants a shot, it's like "Let's have a moment."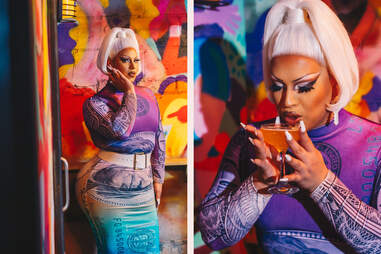 Photo by Cole Saladino for Thrillist
When you say you were bartending in "face," was it full drag?
Oh my god…no. Now I can't—my pads are too big. I'm like a full woman and literally if I turn, my ass will knock down everything in the rail. So maybe, we'll see. My kind of paint is very hyper-feminine. I paint so that everything is smooth in case you look at me really closely. It's not very clowney. Not to zhuzh on them! I love all drag, but my face is more "that's a woman!" and you buy her drinks.

So right now you're either in drag, performing, or you're bartending.
Yeah. They kiss, they touch, but they haven't been fully integrated. What's going on with bartenders is that we're literally octopuses right now. We're running our own drinks, we're taking orders, we're running our own food because everything has to have a Cuomo snack.

When all the shutdown happened in March, what did that pivot situation like for you?
I wasn't a fan of virtual shows because to me, the favorite part of drag is getting ready and showing up. That's my fantasy and that's how I lived it. And to me to just put on a sickening mug in front of my mirror and then literally run on a phone and do a number, and then click back up and then just kind of…sigh. It was a little defeating. I did a couple of shows.

Honestly, I would just have makeup days. Once a week I would really put a lot of effort and time into my face. Looking at all the angles and really figuring it out for myself, and elevating it. It just made me feel good. I'm at home ordering Seamless and I got nothing to do but practice high kicks and learn new kinds of cut creases.

What's a cut crease?
It's when you cut [eye] shadow with cream and you're making a new eyelid. You can do a giant lid to make it a little more exclamation-point dramatic, or you can do something softer and close to your natural eye that makes it a little more feminine. It's to open your eyes.
Photo by Cole Saladino for Thrillist
In 2019 you performed at Restaurant Workers' Community Foundation's first anniversary fundraiser. That night you came directly from work bartending, right?
I wanted to get into bartending because to me, making the product in front of someone and seeing their instant gratification, that's why people hired me, for my personality. I know how to sway anybody and I have really good charisma with customers.

I say the exact same thing about bartending. It happens right there in front of you. It's about the moment.
Honestly my favorite part about working in hospitality is the hospitality part. There's good bartenders and there's bad bartenders, and the difference is the social aspect of it. If someone's not fun to be around, it's like, I'm not going that night.

You can make terrible drinks, but if you're nice, people will come back. But if you make great drinks and you're unpleasant…
I consider myself both. I make good drinks, and I'm nice. Next summer I'm just ready for that bartending money. The amount of people I'm going to be kicking out of the bathrooms! Or joining. It depends if I have the time. The Brooklyn drag scene has become so sickening and dope. I love all the drag that NYC has to offer and I'm so proud and happy to be part of that wave of Brooklyn performers. There's no real formula to it. It's so organic.
Tell me about a drink you came up with recently.
I came up with a holiday drink with a certain diva in mind: Mariah Carey. I waited on her once. That's all I'll say. The drink is name is:
Sign up here for our daily Thrillist email and subscribe here for our YouTube channel to get your fix of the best in food/drink/fun.
John deBary is a cocktail and bar expert with over a decade of experience working in award-winning New York City bars and restaurants. He is also the co-founder and president of the Restaurant Workers' Community Foundation, which is dedicated to improving the lives of hospitality industry professionals through advocacy, grantmaking, and impact investing. John is also the creator of Proteau, a line of non-alcoholic drinks.