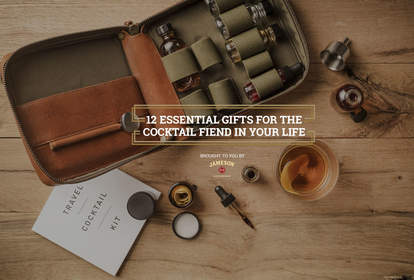 Sherman Thomas/Courtesy of Stephen Kenn LLC
12 Essential Gifts for the Cocktail Fiend in Your Life
The holidays are here -- and between office parties, family dinners, and last-minute gift shopping, the only way to survive is with a good cocktail. But it's also the season of giving -- especially when it comes to your booze-loving friends (who like to share). But what should you get for the most serious spirit aficionado on your list? The guy who already has his complete bar set, polished and ready to serve. Here are some next-level ideas for the true cocktail fiend in your life.
Paul Sun/Courtesy of Stephen Kenn LLC
$295
Splurge on Kenn's ultra-cool cocktail kit, which comes with a helpful instructional book on how to pack the case for different types of trips. The leather-canvas case has nine empty glass bottles -- for liquor, mixers and other accouterments -- and is perfect for making cocktails on the go (or underneath your desk at lunchtime).
Courtesy of Gläce Luxury Ice
$995
Look, we sad "fanatics," right? The kind of people who would happily pay $1,000 for ice. This membership offers 10 pouches containing perfect pieces of obsessively purified and shaped frozen water, delivered quarterly. Glace's resealable delivery pouches even promise to eliminate contamination from the rest of your much less luxurious freezer items.
Courtesy of SipDark
$50
Sure, frozen "rocks" and similar products miss a salient point -- melted ice water is a key ingredient in nearly every cocktail and rocks drink. But there are times when the booze obsessive will want the full punch of an undiluted, yet cold beverage. Keep these "bullets" in your freezer and load them in the next drink, and you're bound to get that chilled result in the manliest way possible.
Courtesy of LuxDeco.com
$36,441
Bottle coolers are essential for enjoying champagne: they help keep the carbon dioxide soluble -- hence: bubbles! -- which is really the whole point, isn't it? Inspired by Aston Martin's classic wing motif automobile design, this gold-plated cooler keeps any bottle chilled. If you're going to pop that vintage bottle of champagne, might as well cash out your 401K to enjoy every last ice-cold drop.
Courtesy of Cocktail Kingdom
$2,750
Every bar should be stocked with a stirrer: they're essential to keeping a drink's silky texture (versus a shaken drink). Add some Swarovski bling to someone's life with this stirrer that's crafted with painfully pricey gems. Diamonds are forever -- and so is this ridiculously opulent spoon.
Courtesy of Cocktail Kingdom
$69.95
Made of tough aluminum and modeled after a classic turn-of-the-century design, this juicer is the only tool you need to add just the right amount of tartness to any drink. Now you can prep libations like you're living in Prohibition-era New York City.
Courtesy of Scrappy's Bitters
$20
Punch up an after dinner Manhattan by adding a twist on the drink's secret aromatic ingredient. This pack of four flavors -- lavender, chocolate, cardamom, and grapefruit -- is made with organic botanicals and comes with packaging that looks like it was excavated from an abandoned California Gold Rush ghost town.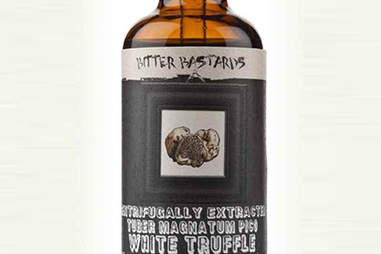 Courtesy of Bitter Bastards
$44.95
Where impostors might use truffle oil in their product, this is the real deal, produced using a centrifuge that prevents loss of flavor and pungency. And nothing says earthy quite like a drink that smells like literal earth.
Courtesy of WWRD
$2,300
One of the finest crystal makers -- they've been blowing the best glass in the world since 1783 -- has made one of the most luxurious drink sets: this six-piece decanter and rocks-glass set is crafted by top Waterford designer Matt Kehoe. Now you can clink cocktails in true James Bond style.
Courtesy of Aspinal of London
$1,400
You won't find one more stylish booze-carrier than this job, crafted from Italian calf leather with a suede lining. But what really sets this leather liquor holder apart from the rest it that it comes with
two separate containers
inside: a perfect carryall for him and her -- or just you and you.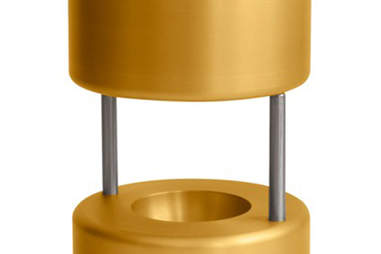 Courtesy of Cocktail Kingdom
$299.95 
Everyday ice from the fridge will melt too quickly in a drink, resulting in a diluted flavor. This maker produces one solid, cup-filling cube. Made of anodized (corrosion-resistant) aluminum, this maker puts out single cubes that can dominate a double rocks glass.
Courtesy of Cocktail Kingdom
$165
A modern cocktail master is like a master craftsmen, tooled up to the hilt. Anyone who owns just one item on this list is no savage who will throw their precious drink-making cargo into just any dirty gym bag -- they need something special.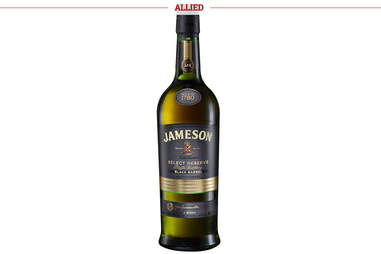 Courtesy of Jameson 
$39.99
You'll need something to put in all of these fancy gadgets and accessories. Make it Jameson Black Barrel, distilled and designed to pair well with any cocktail. Gift a bottle and you might just turn that fiend into a friend (awww).