Food & Drink
Sponsored by
5 Evan Williams Cocktails Easy Enough to Mix at Home
Sponsored by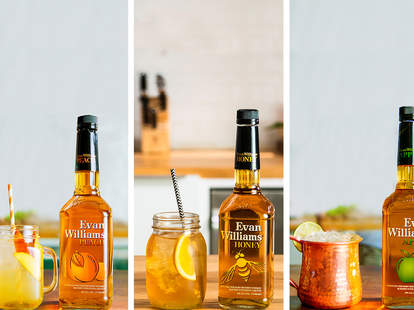 There are nights when elaborate cocktails with smoked sage and fancy garnishes are in order... but most evenings, simple is the way to go -- especially if you're mixing drinks at home. The easiest way to pack complex tastes into a straightforward drink is to reach for a spirit that pulls double duty, such as Evan Williams Flavors. Their varieties like sweet Peach, crisp Apple, and smooth Honey add a little extra punch to classic mixed drinks, so we created five cocktails to highlight each flavor. They all have fewer than three ingredients, can be made in practically no time, and don't require any mixology lessons -- so you can just pour, kick back, and enjoy.
Honey Iced Tea
We're channeling front porch swings and lazy evenings with this recipe, which stars Evan Williams Honey alongside iced tea. Mix it with sweet or unsweetened tea depending on your preference, garnish with a lemon, and relax.
INGREDIENTS:
2 ounces Evan Williams Honey
Sweet or unsweetened iced tea
DIRECTIONS:
Pour Evan Williams Honey over ice in a Mason jar.
Fill with tea.
Garnish with lemon wedge, if desired.
Apple Mule 
Mules aren't just for craft cocktail bars anymore -- especially not with this straightforward recipe. Here, you just add Evan Williams Apple to ginger beer and fresh lime juice… and the most difficult part will be tracking down a copper mug.
INGREDIENTS:
2 ounces Evan Williams Apple
Ginger beer
1 lime
DIRECTIONS:
Fill copper mule mug with ice.
Add Evan Williams Apple.
Add juice from 1 lime.
Top with ginger beer.
Peach Lemonade 
Whether you're parked poolside, beachside, or just backyard-sprinkler-side, this fruit-forward cocktail has "vacation" written all over it. Toss in a few fresh peach slices if you have them, and enjoy those PTO vibes -- even if it's actually just Sunday.
INGREDIENTS:
2 ounces Evan Williams Peach
Lemonade
DIRECTIONS:
Pour Evan Williams Peach over ice in a Mason jar.
Fill with lemonade.
Garnish with peach slices, if desired, and add a (non-plastic) straw.
Fire Pop
Mixing up a cocktail with cola is definitely home mixology 101 material, but Evan Williams Fire brings a little something extra to the party (ie: spicy cinnamon) in this drink. Sip it out of a rocks glass in your favorite armchair and you'll feel like you just leveled up.
INGREDIENTS:
2 ounces Evan Williams Fire
Cola of your choice
DIRECTIONS:
Pour Evan Williams Fire over ice in a rocks glass.
Top with cola.
Cherry Breeze
Tart and tasty, this crowd-pleasing cocktail is a good party trick to keep up your sleeve. Combine Evan Williams Cherry with cranberry juice and lemonade and you'll spend less time playing bartender and more time sipping cocktails with your friends.
INGREDIENTS:
2 ounces Evan Williams Cherry
1 ounce cranberry juice
3 ½ ounces lemonade
DIRECTIONS:
Add Evan Williams Cherry, cranberry juice, and lemonade to a shaker with ice.
Shake to combine and chill.
Strain over fresh ice in a highball glass.