Every Coffee Shop Chain's Pumpkin Latte, Ranked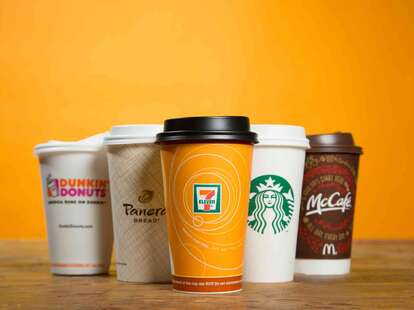 Rachel Kuzma/Thrillist
Rachel Kuzma/Thrillist
Like commercials for Geico on YouTube, you cannot avoid pumpkin lattes. They are on every major coffee shop chain's menu, where they will remain at least through Thanksgiving. To help you cut through the Day-Glo orange and spice, I taste-tested the version at every shop. Here they are, ranked, with consideration to the balance between coffee and pumpkin notes and points docked for any overpowering sweetness. Now you won't have to waste time sipping less-than-average PSLs while you're being totally basic this fall.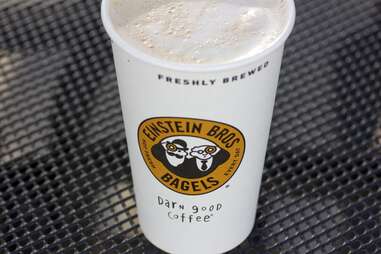 9. Einstein Bros Bagels pumpkin latte
What's in it: Espresso, steamed milk, pumpkin syrup
I drank one of these to start my day, and it was like someone woke me up from a deep sleep and held open my mouth while pumping pumpkin syrup into my gullet. While I genuinely like their bagels, their pumpkin latte falls flat. There's way too much fake pumpkin sweetness drowning out any flavor from their espresso. You might say they're not real Einsteins when it comes to making a balanced pumpkin latte.

8. 7-Eleven pumpkin spice latte
What's in it: Pumpkin-smelling coffee milk spewed forth from a machine
Since 7-Elevens don't have baristas, you instead push a button on a magic machine that makes lattes. The future is here! Anyways, I pushed one of the buttons, and a pumpkin-y coffee poured forth, a perfectly foamy concoction. Each sip tasted vaguely aspartame-y, which was confusing, because pumpkin lattes tend to be loaded with sugar, and lots of it. As I sipped it, I alternated between thinking it was either an awful pumpkin latte or a decent one. I'm still not sure, but overall it fares below the other chains where the coffee drinks are made by people. Sorry, robots.

7. McDonald's McCafé pumpkin spice latte
What's in it: Espresso, steamed milk, pumpkin syrup
You know how you can go to any McDonald's in America and get a Big Mac? Don't expect the same treatment when you want a pumpkin spice latte. There have been reports that only 38% of McDonald's locations will carry this drink. If you can find one, you'll get those familiar artificial pumpkin notes mixed in with Mickey D's middle-of-the-road java. Happy hunting!
6. Caribou Coffee pumpkin latte
What's in it: Espresso, steamed milk, pumpkin syrup
Having tasted their pumpkin white chocolate mocha previously and being turned off by the fact that it tasted like they stirred a gallon of sugar, mocha syrup, and artificial pumpkin into some espresso, I was wary this would be an overwhelming explosion of sweetness, but Caribou manages something much more balanced with their standard pumpkin spice latte. Like a comedian on @Midnight, Caribou win imaginary points for not making this taste overly pumpkin-y and that alone makes the drink solid middle-of-the-pack material.

5. Dunkin' Donuts pumpkin latte
What's in it: Espresso, steamed milk, pumpkin syrup
Dunkin' Donuts' entire color scheme looks like the inside of a pumpkin, so you know they had to bring something to the table. On the first sip, you get a mouthful of that bold Dunkin' coffee with subtle pumpkin notes coming in strong towards the finish. They let the coffee do much of the lifting here, and the pumpkin flavors are along for the ride. And that's what a pumpkin latte should be: coffee and pumpkin playing off each other in a harmonious duet, like the latte version of Paul McCartney and Michael Jackson in that one song they did together.

4. The Coffee Bean & Tea Leaf pumpkin latte
What's in it: Espresso, steamed milk, pumpkin syrup
You can barely tell this drink is a pumpkin spice latte when you pop open the lid -- the hue's hardly Day-Glo orange -- or even after you take a few sips: the drink almost has too little pumpkin, which is a surprising issue to have in this field. But you'll still taste the spices essential to any pumpkin coffee, just scaled down from what you're accustomed to, and the Coffee Bean & Tea Leaf take gets points because it's less syrupy sweet than much of the competition.
3. Panera Bread pumpkin spice latte
What's in it: Espresso, milk, pumpkin syrup, whipped cream, salted caramel drizzle
Yes, this is an unabashed sugar bomb, but the salted caramel drizzle is a nice change-up to the regular old pumpkin flavors you find everywhere else and gives the drink just a bit more depth to make it stand out in the pumpkin spice game. And yet it loses a few points for lack of balance -- the sugar overpowers the coffee a bit too much.

2. Peet's Coffee & Tea pumpkin latte
What's in it: Espresso, steamed milk, pumpkin syrup
The layer of foam on the top of this sucker was thick and left a foam mustache on my face that lingered for the next 6-7 hours. I wasn't upset. The pumpkin flavors hide in the background like it's photobombing the espresso, and they're so good you almost forget they're artificial.

1. Starbucks pumpkin spice latte
What's in it: Espresso, steamed milk, pumpkin syrup, whipped cream, pumpkin pie spices
Like a real housewife throwing a drink and calling someone a bitch, this is so predictable, right? I genuinely hoped to find a better pumpkin latte out there, but this is the grandaddy of them all for a reason. The complexity of flavors is what makes the Starbucks PSL the grand champion. The Green Lady goes the extra mile and it shows. It's not just the same combination of pumpkin syrup, espresso, and milk you find in almost every coffee chain -- it's the little bit of whipped cream topped with actual spices you might find in a pumpkin pie. Depending on the sip you take, you might get hints of cinnamon, ginger, nutmeg, or clove.
For 2015, the recipe changed for the first time in years, and they say the PSL is made with real pumpkin as part of their syrup. I can't tell the difference between this and what they served previously, but I can confirm it's still the cream of the pumpkin crop.
Sign up here for our daily Thrillist email, and get your fix of the best in food/drink/fun.
Lee Bresloueris a senior writer for Thrillist, and is all pumpkin'd out. Follow him to salted caramel lattes at: @LeeBreslouer.