It's a great time to be drinking beer in America. Not that it was ever, you know, a BAD time to be doing that necessarily, but with craft breweries multiplying like rabbits who've been drinking beer, you can literally find some serviceable (if not downright tasty) local brews in all 50 states. Which made the process of ranking the states all the more difficult, but we were up to the challenge, especially since it meant drinking and thinking about beer for weeks straight. 
Here they are, all 50 states in the union, ranked according to their beer. A couple notes about our criteria. Quantity and quality are both important, but quality's a bit MORE important. If you're a small state turning out a disproportionate amount of great beer, it did not go unrecognized. We also gave a boost to states who played a historical role in American beer as we know it today. We also argued a lot, and encourage you to do the same in the comments. 
50. Mississippi
Look, Mississippi only wised up and legalized homebrewing in 2013, so it's gonna take a little time for the pool of in-state brewing talent to catch up. Ironically, for now, Southern Prohibition is your current best bet for Mississippi brews.
49. West Virginia
You're still probably better off seeking out the misty taste of moonshine, but there's hope! Bridge Brew has been holding it down as Weathered Ground and Short Story make strides toward elevating the state's cred scene.
48. North Dakota
You'd think that two decades of enduring wood-chipper jokes would drive more North Dakotans to drink, but noh... noh, the brewery-starved state's standout Fargo Brewing makes a fantastic beer called Wood Chipper. So yeah, until this state steps it up, you betcha we have little recourse here.
47. Kansas
To borrow a cliche -- something we tend to fall back on in times of mourning -- Kansas standout Tallgrass is now dust in the wind, and its absence from Kansas' tame brewing scene is enough to set the entire state back. Luckily, Free State has grabbed the baton, and new kids like Defiance are part of the relay. But in this competitive race and endless string of track-and-field references, Kansas is very much still an underdog.
46. Nevada
Booze is a big business in the Silver State, but with respect to brewers like Great Basin, Revision, and Joseph James, most of that silver is in Bullet form... given out for free. At the nickel slots.
45. South Dakota
There are some great breweries in SoDak, but look: You try telling some road-scarred biker or leathery rancher that they should ditch their go-to $1 lager for that bottle of from Crow Peak or a $5 pint of Firehouse.
44. Alabama
Alabama has worked hard in the last decade to transform from a craft-beer wasteland, successfully lobbying to make it legal to produce beer above 6% and bottle in 22-ouncers. That's created a boom, with brewers like Back Forty, Trim Tab, Avondale, and Good People leading the charge. But the movement is still in its early stages. But hey, at least that gives us something nice to say about Alabama right now?
43. Rhode Island
While it still lags behind the rest of its New England cohorts, Rhode Island's beer scene is increasingly frisky, with Warwick's Proclamation Ale Company doing some particularly impressive work of late in the oh-so-hot hazy IPA space. It's a blessed development for those who've tired of 'Gansetts and Del's Frozen Lemonade. Kidding. That's impossible. Del's is the truth.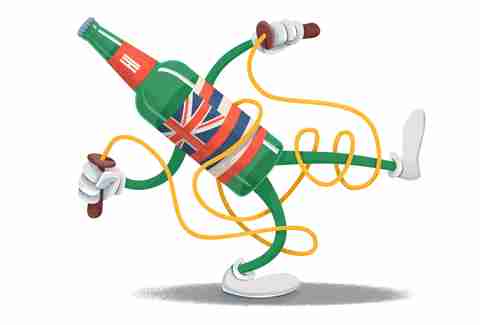 42. Hawaii
Kona and Maui and the like make some solid beer, but it gets a bit of a perception bump from the Hawaiian mystique. Come on, Hawaii. This is, like, the only time you've ever ranked this low. Deal with it. Probably by going to some small slice of paradise and drinking some pretty good beer.
41. Arkansas
We've touted Arkansas as a brewing state to keep an eye on in the past, and the fact that it has only climbed this high isn't so much a fault of Arkansas as it is a testament to the fact that, well, there's quite a bit of outstanding beer popping up all over. That said, Ozark's BDCS has cemented its status as a must-have for any stout fans making their way through the state.
40. Delaware
On the one hand, Delaware birthed Dogfish Head, which continues to be one of the best and most respected members of craft beer's old guard. On the other hand, the bench of breweries after Dogfish Head leaves a bit to be desired, although Fordham & Dominion (two names, one brewery) and Iron Hill both put out brews that might make you consider putting down your Dogfish Head 90 Minute for, oh, 90 minutes or so.
39. New Hampshire
If states had feelings, New Hampshire would probably be perpetually jealous of its brother Vermont (also, all the New England states are siblings, in this scenario). But they don't, and New Hampshire residents can numb whatever feelings they might be harboring with the likes of Stoneface and Portsmouth, so life isn't all bad.
38. Arizona
Arizona's beer scene has been steadily rising, and it makes sense, considering the heat's so hot that all the $1 iced tea in the world can't quench the average thirst. Tempe's Four Peaks still reigns supreme, but it's found great company in the likes of Huss, SanTan, Arizona Wilderness, and more than 70 others.
37. Nebraska
Omaha is making a solid play to elevate the overall status of the state's beer scene, with greatness like Infusion, Farnam, and Benson populating the city's recently minted beer district. Meanwhile, Zipline is dominating in Lincoln, and Nebraska Brewing Company is holding it down in Papillion. That makes Nebraska an unexpected little oasis if you're in the right spot. Trouble is, if you're NOT in the right spot, you're still in Nebraska.
36. Connecticut
To paraphrase that one guy from Wedding Crashers: beer and women's basketball, that's what Connecticut DOES. Fine, the beer scene probably doesn't quite have Huskies-level dominance, but New England makes up for what it lacks in imaginative nomenclature with some fantastic beers. Another outfit to keep an eye on is OEC (that's Ordinem Ecentrici Coctores for not-short), which is turning out some seriously impressive sours and saisons, and Kent Falls, a paragon of top-to-bottom farm brewing expertise.
35. South Carolina
South Carolina doesn't have quite the breadth of notable breweries enjoyed by its northern counterpart -- Westbrook is still pretty clearly the most dominant player, just like with Oklahoma City basketball. COAST is Paul George in this scenario. Carmelo Anthony is Freehouse and Steven Adams is Humboldt. For the non-NBA fans out there, just trust us.
34. Wyoming
It's not just rich people on ski vacations reaping the benefits, though Snake River and Melvin might be the best breweries in Wyoming. Yellowstone-adjacent Cody functions as a go-to growler-fill station for campers thanks to spots like Pat O'Hara and Geyser, while a solid local brew can be found in most far-flung saloons. Speaking of growlers, we can also thank Wyoming for popularizing those -- specifically, Otto Brothers (now known Grand Teton, since relocated to Victor, Idaho), which resurrected them back in 1989 as a vessel for carrying their beers into the wilderness. Or, as it's known in Wyoming, everywhere.
33. New Jersey
Carton and Kane have led a boom over the past decade that's steered Jersey into a state to watch for reasons that have nothing to do with a rousing rendition of "Santa Claus Is Coming to Town." It's not all Taylor ham, red sauce, and the Boss these days. Though we definitely recommend pairing a delicious Boat Beer with each of those things.
32. Kentucky
Kentucky's beer (yes, even its barrel-aged beer) still has a long way to go before it catches up with the bourbon, but breweries like Against the Grain, West Sixth, and Country Boy are going a long way toward making Kentucky residents appreciate the virtues of lower-ABV imbibing.
31. Louisiana
Louisiana is intrinsically linked to drinking thanks to a little annual, bead-covered get together known as Emily Weston's birthday. But the state's still catching up to the rest of the country in terms of actual production. It's getting there, thanks to efforts to legends like Abita, Great Raft, and Bayou Teche. But for a state whose biggest city probably has an underground lake full of spilled booze, the craft game is surprisingly dry.
30. Iowa
While the collective Iowa beer scene has come a long way in recent years, the discussion of Iowa beer still kind of begins and ends with Toppling Goliath, whose proven deftness with both obsessed-over, cellar-worthy stouts as well as game-changing IPAs has improbably made the humble town of Decorah a bucket list destination for beer geeks. That said, breweries like Exile and Backpocket are giving visitors a few more brews to consider stocking up on when they make their pilgrimage.
29. Tennessee
Yazoo reigned relatively unchallenged for a while as the state's preeminent craft outfit, and it still has some serious game, but breweries like Wiseacre, Blackberry Farm, Bearded Iris, and Mantra Artisan Ales have all emerged in the last few years to make things more interesting and give Tennesseans a wider range of beverage choices to precede an off-key rendition of "Rocky Top." It's not all hot chicken, great music, and BBQ in Tennessee anymore. And luckily, the state's beer output pairs beautifully with all those things.
28. Oklahoma
Truth be told, a few years ago Oklahoma wouldn't have placed nearly this high, but the meteoric rise of Prairie Artisan Ales as one of those "holy shit have you tried this" breweries that people cover some serious distance to visit has really raised its profile, as has Marshall.
27. Idaho
Boise's basically the Portland of Idaho, but with actual lumberjacks instead of lumbersexuals. That comes with the requisite wealth of breweries and beer bars. But, as some truck-nutted local once told us over beers at a rest stop (true story!), there's more to Idaho than potatoes and hipsters. And there's more to Idaho's beer game, too, thanks to unexpected treasures like the Belgian-focused Selkirk Abbey out in Post Falls, Garden City's innovative Crooked Fence, and Payette, which may be located in Boise but is expanding to the point that it's become a fixture at roadhouses and hipster bars alike. That makes Idaho an unexpectedly strong player, but considering it's part of the Pacific Northwest and the fact that beer and tater tots are perfect bedfellows, it's not as surprising as it initially seems.
26. Utah
"Utah! Get me two!" That's what you used to have to say when you ordered a beer in Utah, thanks to its previously-prohibitive ABV laws. Those days are long gone, but the stereotype remains to the unknowing. Luckily, great breweries SLC's Uinta, Epic, and Squatters are fighting hard against that perception, and turning the city into a destination in the process. Outside SLC, though, things are a little desolate. But that's not brewing's fault. It's literal: While the idea of Utah having no good beer is an antiquated myth, the fact that most of the state is a gorgeously unpopulated expanse is very real.
25. Virginia
Yes, there was the requisite rage and hand-wringing over Devil's Backbone's 2016 sale, but the roster of quality Virginia breweries is as deep as the Shenandoah Valley. Or something. Hardywood Park, AleWerks, The Veil (especially popular among Game of Thrones fans willing to overlook spelling) all have their merits. And then there's Lickinghole Creek, which has both a 200-acre farm on which it grows numerous ingredients that make their way into beer good enough to make you forget to giggle at the brewery's name, if only for a moment.
24. New Mexico
There are some things you can just count on in New Mexico, like idiots refusing to stop throwing pizzas on Walter White's roof, and La Cumbre continuing to do incredible work across the board, particularly on IPAs like Project Dank. Throw in their neighbors Marble and Chama River, and you have one of America's truly underrated beer scenes in Albuquerque, though don't sleep on Santa Fe Brewing Company either. Because you can't drink beer when you're sleeping.
23. Georgia
A discussion of Georgia beer used to pretty much come down to a debate about SweetWater vs. Terrapin, and to be sure, they're still very much in the conversation among the top suds to be scored in the Peach State (Terrapin's 2016 sale to the big boys notwithstanding). But the conversation is more crowded -- Creature Comforts, in particular, has earned legions of well-deserved fans in just a few short years thanks to brews like their incredibly juicy Tropicalia IPA, while Scofflaw and Southern Sky are a couple of even newer breweries creating buzz on several levels.
22. Maryland
The bad news? Natty Boh is no longer brewed there. The good news? SO much other outstanding beer is, starting with the consistently excellent and experimental work from Stillwater Artisan Ales, which continues to prove that people will take you more seriously as a brewery if your name says "artisan ales." But for real, they're as tasty as they are artisanal. Throw in Heavy Seas, DuClaw, and Union Craft and you can have yourself one hell of a good time in Baltimore, though you should still sneak in a Natty Boh at some point just for nostalgia's sake… and maybe head out to Berlin for a taste of Burley Oak.
21. Montana
Big Sky Brewing might be the ambassador for Montana brewing -- Moose Drool being an essential brown, and Ivan the Terrible being a badass of a Russian imperial -- but with rising stars like Flathead Lake, Lewis & Clark, Bayern, Bitter Root, and Bozeman Brewing pouring high-quality wares, Montana's continuing its slow climb to a destination for beer drinkers. We hear the scenery is also nice.
20. Alaska
Is Alaska perhaps the last frontier for great beer? No. But it might be the next, most unexpected one. Because up in Alaska, there's time to be patient and barrel age. And when that happens, places like Midnight Sun and the collaboration-happy Anchorage emerge as masters of that craft. But there are dozens and dozens of amazing breweries throwing down on Alaska, though not dozens and dozens and dozens and dozens, as that would mean more breweries than people. Still, one of the least-populous states is one of the best places for beer tourism. These days, the yellow snow could well be spilled beer. But, you know, still don't eat it.
19. Indiana
We've occasionally ruffled the feathers of some Hoosier residents (who we all assume are wearing bright red Bobby Knight sweaters and destroying chairs as they type their missives) for touting breweries like Three Floyds and 18th Street, which, while very much in Indiana, are also part of the Chicago metropolitan area. And, look, Three Floyds in particular is still unquestionably the state's finest brewery, but that's not to take anything away from the rest of the state. Upland's sours can hold their own with anyone's, and Sun King represents the old guard in Indianapolis, which is emerging as a destination beer town in its own right.
18. Minnesota
Twin Cities represent! Everywhere else, represent harder! We kid, we kid. St. Paul/Minneapolis is bringing some serious thunder these days. Where once most of the conversation revolved around Surly, now the conversation revolves around... actually, still Surly, which keeps getting bigger and better. But it's hardly the only notable game in town this days (we're big into Dangerous Man's stouts,) while breweries like St. Louis Park's Steel Toe and Duluth's Bent Paddle are bringing the goods outside the big city. And hey, there's always Schell. It's a good time to be a beer lover in Minnesota indeed. Also, there's a very good brewery called Indeed. Minnesota's great!
17. Texas
When Lone Star and Shiner are a state's two official beers, you're already at an advantage. But Texas continues to grow from within, always finding new and amazing things to pair with BBQ and honky-tonk. Austin is an obvious hot spot, what with its hipsters and artisan everything, and it's there that the barrel-aged majesty of Jester King reigns supreme over a wealth of greatness. But nowadays great beer is everywhere, with Lone Pint bringing the IPA thunder, Dallas representing with the likes of Community, and Real Ale Brewing transforming rural Blanco into a destination for sour lovers. And, when in doubt, there will always -- ALWAYS -- be a Shiner or Lone Star nearby, and probably a smoked hunk of meat.
16. Ohio
Over the past decade, Cleveland has made a serious play for inclusion among America's top beer cities, transforming a great town with a great brewery called Great Lakes into one of the most formidable beer towns in the country, becoming something of a Third Coast Portland thanks to joints like Market Garden, Masthead, and tons more. But it's not just Cleveland changing Ohio's beer scene: Akron's birthed barrel-aged greatness in Thirsty Dog and a world-class whale in Hoppin' Frog's B.O.R.I.S. The Crusher. Jackie O's might just be the best college town brewery in the US. Fat Head's is now a national treasure. The number of breweries in the state as a whole has grown beyond 250, meaning the Buckeye State's creeping up to the volume of the Beaver State (that's Oregon, for you folks not into state nicknames). Mark our words: If Ohio keeps it up with an eye on quality to match its growth, it'll soon be cracking the top 10.
15. Pennsylvania
Beer in Pennsylvania has come a long way since Yuengling got into the game in 1829, but having America's oldest continuously operating brewery in your state ought to count for something. That said, Pennsylvania's non-historical beers stand out just fine on their own, with older outfits like Victory, VooDoo, and Troegs still excelling and newer spots like Tired Hands and the superlative Brew Gentlemen continually elevating their profile. There's a lot you need to be drinking, basically. If only someone had a giant sandwich filled with French fries or steak or something to pair with them…
14. Florida
It's kind of odd that a snow-starved state like Florida excels so thoroughly at putting out dark, viscous beers that almost scream "drink me in front of a fireplace during a blizzard," but such is the case with places like Cigar City, Cycle, Angry Chair, and the recently acquired Funky Buddha. But hey, Hunaphu's is the kind of beer you're stoked to have in front of you regardless of the weather -- and it's not like the aforementioned breweries don't bring it when it comes to the thirst-quenching stuff, too. Speaking of thirst quenching, Miami Madness from J. Wakefield is a fantastic choice on the kind of sweltering Miami day that might drive a person to, well, madness.
13. Missouri
Budweiser completely transformed the American beer culture (and delivery), and it deserves recognition and respect for that. But it's not all fizzy and yellow in the Show-Me State. The craft world has genuine heroes in the form of Boulevard and Schlafly, while Perennial Artisan has honed its small-batch, Euro-inspired fare to such fanfare that it inspired the even smaller, crazier offshoot-turned-indie brewer Side Project. Meanwhile, Alpha has thrown down the sour gauntlet. Together, these brewers have taken a mass-produced legacy and built around it a genuinely great craft scene, making an already boozy state boozier… which might explain their affinity for Provel, actually.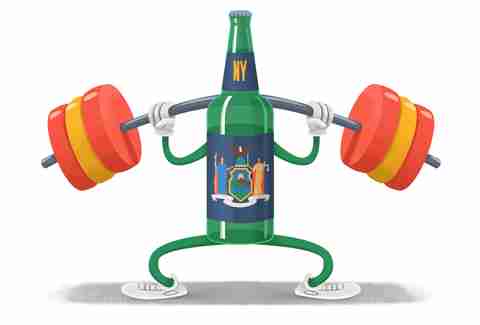 12. New York
Look, it's not all about NYC, OK? But since you mentioned it, Gotham's bringing serious beer thunder courtesy of classics like the world-dominating Brooklyn, the cultishly beloved Sixpoint, and Other Half, which consistently shows its head among the nation's best right along with batshit legend Evil Twin. But beyond that, New York's got enough heat to justify a trip throughout the state without pretending to just really love leaves, among them Peekskill and its award-winning IPA, Oceanside's beloved Barrier, and, of course, Americanized Belgian trailblazer Ommegang, which shares a hometown with the Baseball Hall of Fame. There's also, of course, Genesee Cream Ale, the pride of Rochester that pairs excellently with a garbage plate, and has been keeping grandpas happy and hydrated since 1957.
11. Wisconsin
Anyone who has ever bothered to watch the opening credits to Laverne and Shirley knows that brewing is in Wisconsin's DNA, and while the Badger State's undeniable contribution to the canon of American lawnmower beers deserves respect, there's so much more to be excited about. New Glarus unquestionably retains some of its cachet due to its steadfast, occasionally maddening refusal to distribute beyond Wisconsin's borders, but the bulk of it comes from their ability to do everything so consistently well, especially their fruit-forward beers. Outside of the adorably Swiss confines of New Glarus, breweries like Central Waters, Tyranena, and Ale Asylum are also worth a beer-centric detour.
10. North Carolina
You can kind of take the comments about Virginia, replace "Devil's Backbone" with "Wicked Weed," and basically go from there, except the key difference is that North Carolina's game is just consistently crushing it. Heist, Green Man, Olde Hickory, Ponysaurus, Burial -- Asheville might still be the state's beer capital -- and some would officially agree with its Beer City USA title -- but there's fine hop artistry being performed statewide. It's also worth mentioning that a bottle of barrel-aged Sexual Chocolate from Foothills pairs really well with repeated viewings of Coming to America.
9. Maine
If all Maine had going for it was Maine Beer Co., it'd still be in a damn fine place, as anyone who's ever had a sip of their Lunch or Dinner knows they aren't just fun names -- it's legitimately tempting to fully replace meals with them and bask on the overflow of juicy hops. But there's so much more! Allagash has been so good for so long that it sometimes gets a bit taken for granted. Oxbow is dynamite with saisons. Bissell Brothers Swish is right there with MBC's best efforts. Foundation has only been at it a couple of years and is already turning heads. We're going to stop there and lose ourselves in a daydream about moving to Portland and subsisting entirely on a diet of lobster rolls and hazy IPAs. You should, too. 
8. Illinois
Goose Island's sale was one of the first to make big waves in craft beer, and while it undoubtedly altered the Chicago beer landscape, it doesn't change the fact that Bourbon County Stout is STILL one of the most hotly anticipated releases on the annual beer geek calendar. But focusing on Goose Island does a bit of a disservice to what's happened around the rest of the state, with Revolution, Half Acre, and Pipeworks all expanding rapidly and attracting the attention of beer lovers nationwide. Ex-Goose Island brewers have gone on to start boundary-pushing breweries like Off Color and Moody Tongue. Mikerphone and more are turning the suburbs into a serious force, and Destihl's standout sours are making sure no one ignores what's happening downstate.
7. Washington
First and foremost, let us all hail the fertile grounds of Washington for providing an overwhelming majority of North American hops. Washington's always been at the forefront of the craft beer scene, a state that's birthed now-national juggernauts like Elysian and Red Hook alongside organic trailblazer Fish Tale, certified craft masters Fremont and Reuben's, and new-school alchemists like Three Magnets. Even rural areas manage to up their game, with standouts like Oregon-adjacent Carson's Backwoods and "Basically Canada" town Blaine's Atwood getting credit for spreading the love. It's a glorious place to love beer, and as it did with coffee, Washington has changed the entire game and made the world a better place to drink. But fact is, that old adage about the pupil surpassing the master is the tale of Washington beer. This should be the highest compliment, and will surely mean Washington's continued place at the forefront of craft beer, even if it's no longer driving.
6. Massachusetts
In just a few short years Tree House managed to turn a sleepy sliver of Western Mass into the epicenter of the New England IPA craze, and yet their impossibly rich imperial stout Good Morning might be their best beer, which is crazy considering they put out roughly 75 different IPAs for which people would willingly trade their children. Meanwhile, in Boston, Trillium is executing at a similarly high level. There are also so many fantastic breweries that don't start with "T"! There's Clown Shoes. There's Jack's Abby. Building 8 and Exhibit A are a couple of thoroughly exciting newcomers. All the shiny new beer notwithstanding, it's worth remembering that Massachusetts has held a critical place in the craft beer ecosystem going all the way back to Sam Adams emergence in the '80s. They've been good at this for a while.
5. Vermont
The Alchemist's Heady Topper is probably one of the most celebrated and analyzed beers of the craft beer boom, and remarkably they're not even Vermont's best brewery thanks to the breadth of stunningly fantastic beer that Hill Farmstead puts out. Lawson's Finest Liquids would be the best brewery in many, many other states. Switchback, Foley Brothers, Otter Creek, Foam, Frost Beer Works and so many others round out the lineup in the state that's been raising its game ever since '90s college students were drinking Magic Hat to appear sophisticated. If the metric for this was amazing beer produced per capita, it's hard to imagine anyone competing with Vermont. 
4. Michigan
Michigan has at least two great beer towns in Grand Rapids and Kalamazoo -- both of which are rooted in legends (Founders and Bell's, respectively) that laid the groundwork for others to thrive -- but the beauty of Michigan is the fact that basically any section of the enormous state is housing some of the best beer in the nation. Ann Arbor-adjacent Dexter is home to the coveted bottle-conditioned madness of Jolly Pumpkin. Tiny Traverse City manages to out-beer cities five times its size. Shorts offers as good a reason to visit Bellaire as its famous lakes. Williamston's Old Nation has achieved national acclaim for its M-43 haze-bomb. Arcadia's finally given Battle Creek a claim to fame that isn't cereal and yogurt enemas. Escanaba, Marquette, and Ishpeming bring serious beer cred to the isolated Upper Peninsula with Upper Hand, Blackrocks, and Cognition. Hell, even perpetually beleaguered Flint managed to open a solid brewery in Tenacity despite the fact that the city's in the midst of a water crisis. You can't throw a rock in Michigan without hitting a great brewery these days. And considering throwing Petoskey stones into a big-ass lake is one of Michigan's favorite pastimes, that's really saying something.
3. Colorado
There's a reason that the best brewers in the world annually descend on Denver, and it (probably) has nothing to do with the Illuminati. The map of Colorado is dotted with amber-hued greatness. You want internationally recognized beers? You've got them in both the macro sector -- Coors, Blue Moon -- and the craft universe, an arena long dominated by the impossibly-still-indie New Belgium, which has remained one of the nation's best since the day it opened, ubiquity be damned. Other innovators like Oskar Blues, Ska, and Crooked Stave are making a national push, while Avery is slowly creeping into larger markets and offering up perhaps the most playfully compelling barrel-aged concoctions in the US, most of which disappear quicker than a Banquet Beer at a UC Boulder tailgate. The one thing that unites these vastly different breweries -- spanning from metropolitan mainstays to rural joints catering to ski bums and vagabonds all the way to the lawnmower beers your dad still drinks despite hiring a gardener -- is love, loyalty, and a true affinity for the joys that the Rocky Mountain state offers. And when you're on the ground, that love is in every single sip. Sometimes, there's also bull testicle in that sip, too, but hey, love is love!
2. Oregon
"Oregon beer's in trouble," glassy-eyed soothsayers tend to say every time a pall is cast over Oregon's beer culture, from the closure of beloved best-in-show brewery The Commons and beloved Amnesia to rampant talk of acquisition. But Oregon's nothing if not resilient, and you don't become so legendary without some survival instinct. Each time a brewery among the nearly 300 that call the Beaver State home closes, two more seem to pop pop up. This is a place where beer is a way of life, where two cities -- that'd be Portland and Bend -- can accurately claim status among the best in the country for drinkers, and where small towns like Hood River manage to out-beer entire states (Seriously, with Pfriem, Double Mountain, and Full Sail alone, this little Gorge town could have trounced at least 10 full states on this thing). Scenic coastal towns like Astoria and Cannon Beach are not essential stops for beer lovers as much as Goonies fans. Rural-ass Baker City is home to Barley Brown, which consistently rolls with big dogs like Deschutes, Breakside, Hair of the Dog, Crux, Great Notion, and Boneyard. This is a state where breweries like Widmer, Bridgeport, Rogue, Ninkasi, and 10 Barrel have been deemed old hat, despite the fact that 95% of communities would kill for their presence. Oregon's beer culture is nearly unmatched… beer is just a way of life. This is, after all, a place where even optometrists hand out beers in the waiting room. Don't believe us? Run a spell check on this article: We just got new reading glasses, and we're oddly suspicious about the exam.
1. California
If this was a numbers game, California would have walked away with the crown easily, what with 900 breweries operating in the enormous Bear Republic. But what finally got California to edge out Oregon -- likely to the chagrin of Portlanders who have adopted "go back to California" as a rallying cry -- is the sheer quality of what's coming out of the state, which just keeps getting better.
California is home to one of the world's greatest beer cities in San Diego and one of the best in the country in San Francisco. And the valleys surrounding SF contain a murderer's row of great breweries -- among them Russian River, Bear Republic, and the original Lagunitas -- so strong they threaten to unseat wine and Snoopy as Sonoma County's claim to fame. Los Angeles is stepping up its game in a very, very real way, bucking its reputation as a craft-beer desert thanks to the likes of Highland Park, Yorkshire Square, and Brouwerij West. Rural areas sport destination breweries the rest of the country would kill for. That's to say nothing of singular breweries such as The Bruery, Sierra Nevada, Firestone, Anderson Valley, and others doing their thing divorced from big cities and hullabaloo. California has more breweries than any other state, and some of the best the country has to offer call the massive state home. Again, it's not a numbers game. Unless you count the sheer number of great, game-changing, paradigm-shifting breweries operating in the state. In which case this is very much a numbers game.
Sign up here for our daily Thrillist email and subscribe here for our YouTube channel to get your fix of the best in food/drink/fun.