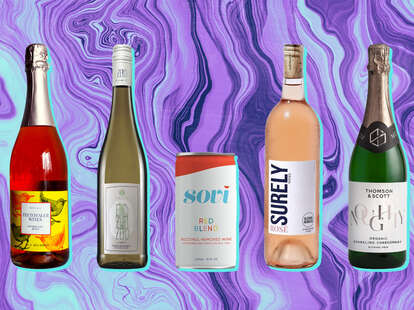 Image by Maggie Rossetti for Thrillist
Image by Maggie Rossetti for Thrillist
While zero-proof spirits and aperitifs soared from the get-go, alcohol-free wine has taken a bit longer to catch up. That's because many of the wines in this category lack the body and aroma of traditional wine, resulting in a drink that tastes much like grape juice. But there are plenty of stand-out options, and thanks to a few highly curated shops like NYC's Boisson, you can save yourself the guesswork.
"Alcohol-removed wine has definitely taken a pretty big leap forward in the last couple of years," says Nick Bodkins, co-founder of Boisson. "We have customers that have done blind taste tests, saying 'I didn't even tell people it was non-alc and they were complimenting me on how delicious it was.'"
It's important to distinguish between non-alcoholic wines and de-alcoholized, or alcohol-removed, wines, which taste closer to the real deal. The former is a more general term, usually used to refer to wines that are made without fermenting grapes, resulting in a sweeter product. The latter is made using the exact same process as alcoholic wine, but once the fermentation process is complete, the alcohol is removed.
"The big difference is that these products started out as wine—they go through the maturation process, they have alcohol. Most of the brands that we carry go through vacuum dealcoholization," Bodkins says. "They put the wine into a pressurized container, lower the air pressure until alcohol boils at room temperature, and then what's left is everything else. So what you end up with, then, is in effect still wine without that one component, which is the alcohol."
Many alcohol-removed wines will still have a tiny amount of alcohol left over, but usually no higher than 0.5 percent ABV. So if you're pregnant, it's best to consult your physician. Fortunately, removing the alcohol from wine does not affect polyphenols, the antioxidants associated with wine's health benefit. Studies have even shown that dealcoholized red wine may be even more effective at protecting the heart.
When choosing an alcohol-removed wine, Bodkins recommends looking out for bottles that are FDA regulated, with nutrition and ingredient labels. "When you look at bottles from very large wine producers, especially ones that don't own their vineyards, these are not single vineyard wines. They're blends," Bodkins explains. "They've got all sorts of stuff that they do to them to get to what their customers think a pinot noir or red blend should taste like."
He continues, "When you look at our products, what you're going to find is basically just dealcoholized wine, some grape must which helps with the mouth feel, and then sulfites as preservatives, which are the same thing you would generally find in still and sparkling table wine." And because the most significant source of calories in wine is the alcohol, dealcoholized wine is much lighter, with a lower sugar content as well.
What Bodkins finds particularly exciting about the non-alcoholic wine space is the emergence of wine-adjacent products like proxies and cordials. Acid League, for example, sells what they refer to as "Wine, but not." Bodkins says, "The brand is made up of a bunch of folks from the food and beverage world who said, 'What would happen if we put ingredients into a bottle that mimic the way that we, as sommeliers, describe wine. So what is the top note? What is the middle note? What is the base note?'"
Another brand, Proteau, founded by Thrillist contributor John deBary, creates botanical drinks that are part wine, part aperitif. The Ludlow Red combines notes of blackberry, chrysanthemum, black pepper, and dandelion.
Founded by UK-based sommelier, Matthew Jukes, Jukes Cordialities produces small, environmentally friendly bottles of concentrated beverages, meant to be mixed with water. "Each bottle is roughly a glass and half to two glasses. You can either mix it with still or with sparkling water," Bodkins explains. "The white mixed with sparkling gives you that effervescent, citrusy mouth feel. And then if you mix it with still, it almost drinks like a Sancerre."
For all the tame evenings that Dry January brings, here is a list of Bodkins' other favorite alcohol-removed wine brands.
"Leitz is one of the largest riesling producers in Germany," Bodkins says. "They're an amazing brand with a storied history, saying, 'We're going to stand up a dealcoholized wine, and it's going to be good.'" A best-seller at Boisson, the brand specializes in German riesling and pinot noir grapes. The brand also just released a blanc de blancs, which Bodkins says is fantastic. "They make it in both still and sparkling," he says.
Canadian brand Teetotaler produces alcohol-removed Spanish wines. The white wine is made from the Airén grape, which is native to Spain, and delivers crisp notes of apples and roses. The red, which is made in Spain from 100% tempranillo grapes, contains notes of oak, cherry, and plum.
Thompson & Scott's "Noughty" line of sparkling dealcoholized wines features a 100% chardonnay and tempranillo rosé. Each bottle contains almost half the sugar content of other non-alcoholic sparkling lines and only 14 calories per glass. "We sell more of that brand than almost anything else," Bodkins says.
This California-based, canned wine brand first went to the market with an alcohol-free canned rosé. But for Bodkins, their new, slightly effervescent red blend drinks like a great lambrusco. "One of my favorite restaurants in New York City, Rezdôra, is known for bringing lambrusco at the beginning of your meal," Bodkins explains. "And the red blend felt to me like I was having that first-class tease of lambrusco. They've really done red right."
Surely works with Sonoma winemakers to offer alcohol-removed rosé, pinot noir, and sauvignon blanc, as well as sparkling varieties. The brand also carries a canned brut wine, which has hints of lemon, peach, and custard, as well as a few canned spritzes. The Lemon Ginger Spritz makes use of its non-alcoholic brut, while the Coconut Passion Fruit Spritz combines its non-alcoholic rosé with fresh juice.