Everything You Need To Know About Jameson's Three Distinct Whiskeys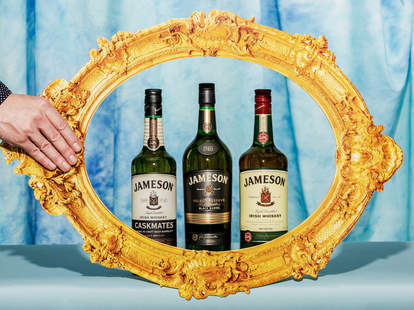 Here's a chance to connect with a family who won't drive you crazy this holiday season. Meet the storied Jameson® Irish Whiskey family including: Original, Black Barrel, and Caskmates. We did the hard work and talked to Jameson's head of whiskey science (a real, awesome job) and other experts to find out what makes them so special -- and get some tips on how they're all enjoyed best. Read on and get a little taste of Jameson history (then maybe get a taste of the actual stuff yourself).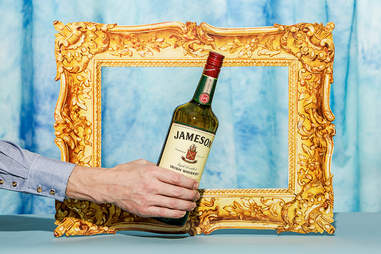 Nathan Perkel/Thrillist
Jameson® Original
Tips for tippling: Jameson Original can go so many ways, and sometimes neat or on the rocks is the classic choice to go with, though we spoke with Greg Slattery one of Jameson's Brand Ambassadors and all-round whiskey expert, and he also recommended a simple Jameson ginger ale with a slice of lime. It's refreshing and origin-ale (sorry).

Behind the barrel: The Original is the pater familias of Jameson and at 80 proof, it's proof that good things come in threes -- three rounds of distillation, and three basic ingredients (grain, water, yeast). And it's that triple distillation that gives the whiskey its smoothness. They age it in bourbon barrels from America and sherry barrels from Spain to finish the whiskey with soft vanilla notes, along with a little fruitiness and nuttiness. This bastion of Irish whiskey is even more international than its barrels however -- although Jameson began being brewed in Dublin in 1780, John Jameson himself wasn't Irish. He's from Alloa, in Scotland.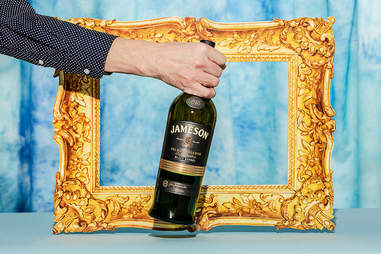 Nathan Perkel/Thrillist
Black Barrel
Tips for tippling:
Black Barrel is what you want for cocktails, especially when it comes to mixing an Old Fashioned. Black Barrel has similar vanilla notes to Jameson Original, but they come out much
bolder thanks to the flame charring process its bourbon barrels go through.
Behind the barrel: Making Black Barrel at Jameson is kind of an event, like the kind that only happens once a year because the process is way more involved than the distillation process for the Original. Besides that whole "lighting the bourbon barrels on fire a second time" thing, Black Barrel is made with a mash of malted and unmalted barley, which requires an entirely different distillation process through multiple devices. Slattery claims that while everyone marks their calendars for the event, there's no traditional set date for the big day. But, when it comes, everyone clears the way and everything is dedicated to Black Barrel.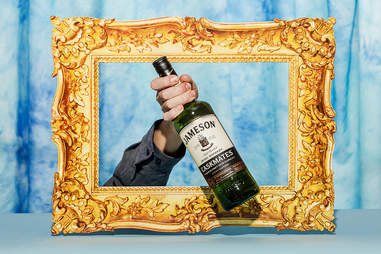 Nathan Perkel/Thrillist
Caskmates
Tips for tippling:
Caskmates is a whiskey that was finished in a stout beer barrel, and that stout beer barrel was previously used to finish Jameson Original Whiskey, and that Jameson Original Whiskey barrel which was first used to make American bourbon. It's like the old lady who swallowed a fly, but with way more alcohol. To drink a whiskey of this pedigree, honor the barrel process by enjoying Caskmates neat or on the rocks, or accompanied with a craft stout beer.
Behind the barrel: Caskmates is like that cousin who really got into craft beer during college. Jameson's head of whiskey science Dave Quinn is friends with the head of the brewery Franciscan Well in Cork. They got to talking and Jameson went ahead and had some barrels, which had aged Jameson Original, sent over to Franciscan to see what might happen to the beer. Six months later, they got their answer in the Franciscan Well Jameson Stout. Then Jameson went and took those barrels back, which were now seasoned with stout, and re-filled them with Jameson Original. The resulting whiskey had a stout finish and chocolate-y notes. So we'd like to go ahead and raise a glass to more beers and whiskies that were finished in matching barrels. So much better than matching Christmas sweaters, and the perfect gift for a beer lover who's been given way too many home brewing kits over the years.
Buy and try them on their website here and remember to taste responsibly!