The Meteoric Rise of Hard Root Beer
Cole Saladino/Thrillist
Cole Saladino/Thrillist
A movement's been brewing (get it?) across America this past year, bringing high-quality alcoholic root beers, ginger ales, and other sodas into the collective consciousness of drink swillers looking for something new. These hard sodas -- root beers in particular -- are being brewed by some major players in the beer game... and their unique flavor profiles have taken the drinking world by storm.
It's estimated that consumers have spent about $111 million (a number that's expected to double in 2016) on alcoholic soda last year, and some individual brands are even outselling major brews like Samuel Adams Boston Lager and Lagunitas IPAs, proving that alcoholic soda has come a long way since the days of Zima and chugging clandestine flavored malt beverages on one knee.
How did this become so popular? Where is the world of alcoholic soda going from here? Can I have an alcoholic root beer float, like, right now?? Everything you need to know about this trend is right here... but that last question is up to you.
Alcoholic root beer is now big-time business
There are myriad players making high quality alcoholic root beer right now. Coney Island has a hard root beer, as does Mission. Even Anheuser-Busch has tipped their toes into the root beer game, launching Best Damn Root Beer in the summer of 2015. Kathy Sattler, Marketing Director for Best Damn Brewing Co., told me Bud's move into the alcoholic soda game was a long time coming.
"The hard root beer category in the U.S. is growing, and we saw this as an opportunity to add a new brew with a unique name and bold personality to this growing market... We've been looking at the sweeter beer space for a while and saw a huge opportunity, so we're thrilled to be entering the market with a whole new brand platform, starting with Best Damn Root Beer," she told me.

How did it get so popular, so quickly?
Sattler acknowledged that they have seen a preference in beer drinkers for a sweeter taste profiles in their brews, and anyone who has stopped by a beer store within the past two years knows that the emergence of craft beers has made interesting, eclectic flavors more accessible to mainstream tastebuds.
"We're seeing a beer renaissance in the US today with its own culture and community and people just love trying the different styles, Tim Kovacs told me, "We aim to appeal to beer lovers or people who've never even liked beer, but are curious to try new flavor profiles... Our customers tell us they want variety in their beers just like they do with foods."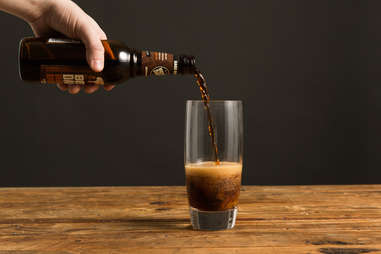 Where does alcoholic root beer originate?
Tim Kovacs, owner, originator, and brewer of Small Town Brewery in Wauconda, Illinois and the creator of Not Your Father's root beer is generally credited with kick-starting the modern alcoholic root beer renaissance. Kovacs bailed on his job as a graphic designer to pursue his passion for brewing beer, and then in 2011 his son, Jake, raised the question "Why isn't there a root beer, beer?" He took matters into his own fermenters, and Not Your Father's Root Beer was born.
According to Tim, however, the drink has roots in colonial times. "...In colonial times, root beer and ginger ale were actually both made with a small amount of alcohol," he told me. Wigs, horses, alcoholic root beer? Those guys had all the fun.

Just don't call it "boozy soda"... it's actually brewed like beer
Boozy soda rolls off the tongue much better than alcoholic root beer -- but it's doing the genre a disservice. This isn't root beer spiked with liquor, it's a real brewed beer infused with traditional components of soft drinks, with alcohol content averaging from 5.0% - 5.9%.
Kovacs lays it out as such, "It's a brewed beer. Our beer is brewed with hops, but the flavor profile really comes from the botanicals, herbs, spices and berries that we use throughout the brewing process, including sarsaparilla, oak, wintergreen, and Madagascar vanilla."
So what's this stuff taste like?
This hard root beer tastes sweet, and delivers a solid buzz. What's not to like? And the flavor profiles are complex enough to satisfy most beer snobs' impeccable palates. How many of us, as kids, took a bottle of A&W and swilled it like we were guzzling the real thing? Drinking this "adult soda" (sounds dirty, I know) brings a level of kitsch and novelty that no craft beer can deliver. Adding ice cream and making alcoholic root beer floats brings things to levels you couldn't imagine while draining floats at Chuck E. Cheeses two decades ago. And since the root beer isn't just spiked with whisky or rum, you get a true, complex flavor that has a hint of fermentation (in a good way!).
Here's some feedback from the twenty-somethings of America: "I love it." "I really like root beer, and this stuff makes you feel good when you drink it, too." "It's like the best part of being a kid, and the best part of being an adult, combined."
And as Kovacs told me, "We've been told that Not Your Father's Root Beer was the first to capture the taste of "nostalgia" that people craved." Can we get on the mass produced alcoholic Capri Suns?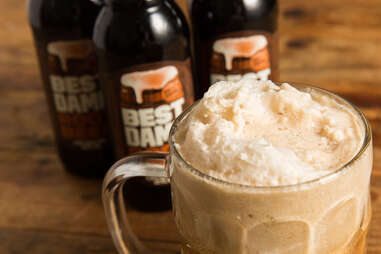 What's the future of alcoholic soda?
What's next for the brewmaster behind the best adult root beers in the world? Small Town has already dipped its toes into hard ginger ale. "We have a number of other unique brews in the works but nothing that we're ready to announce yet," Kovacs said. And Best Damn hinted at some upcoming developments, but kept mum on the specifics, too.
Henry's Hard Soda also offers a ginger ale, as does Coney Island. And they both have a hard orange soda (!). It's enough to make Kel Mitchell's (now adult) head explode.

And finally, here's how to make the perfect hard root beer float
Buy six-pack of your favorite hard root beer
Open one to drink while you make it
Open another one to use with the float
Place vanilla ice cream in a mug BEFORE you add the root beer
Add the root beer
Rejoice in what may be the best alcoholic drink you've ever experienced

Sign up here for our daily Thrillist email, and get your fix of the best in food/drink/fun.
Wil Fulton is a staff writer for Thrillist. You should probably check your blood sugar after reading this. Follow him @wilfulton.