Everything You Need To Throw A Killer Wine Party
Throwing any old party isn't really that hard -- just get some food and drinks (and people, we suppose) and let the magic happen on its own. But because we love exceptional parties, for the past few months we've been teaming up with Carnivor Cabernet to throw epic happy hours ("Devour Hours," get it? Carnivor? Devour?) all over the country -- pairing substantial food- and wine-fueled fun with their rich, bold Cabernet Sauvignon.
And guess what? We're giving you the tools to organize your own Devour Hour at home, complete with similarly game-changing eats, top-notch desserts, all sorts of party-time hacks, and of course that bold Cabernet. And you'll find it all below: the hard facts (and hard cheeses) for the ultimate Devour Hour.
The Food
Guests will be swarming to the table after hearing word of how ridiculously perfect the appetizers pair with the Cabernet, torn between being a polite human and being a cheese-crazed wildabeest hell-bent on eating half a wheel. Alas, those are the transformative powers of aged Gouda when met with Cab Sav. 

Meats
The big winner with red wine is obviously red meat (hence, Carnivor). But for a bold wine like Cabernet -- with firm tannins that can be a bit drying -- richer cuts of meat complement it the best. Depending on how fancy your party is, filet mignon is a solid option, but you can also rock lamb kabobs, beef sliders with bacon and Gruyère, or braised short rib mini toasts. Those aforementioned tannins will work as a palate cleanser after all that richness.
Cheeses
Fattiness (read: richness) in cheese works the same way. With a Cab, stay away from fresh, soft cheeses and focus on harder ones whose nutty and salty flavors will be brought out by the dark fruit flavors found in the Carnivor Cabernet. Focus on aged cheddar, Parmesan, aged Gruyère, Gouda, Manchego, and the like, and throw some walnuts and dried figs on the board too. Unless there are fresh figs on hand, in which case you might be a King. (Are you a King?)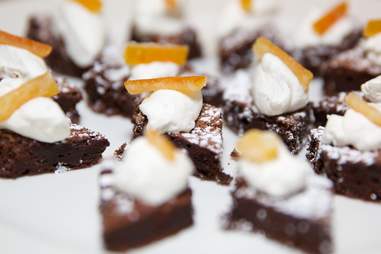 Dessert
Chocolate. Do we have your attention? Yes, even this venerable sweet tooth heavy hitter benefits from a little Cab. Because this stuff is a bold red wine with nuances of fruit, it pairs best with dark chocolate, semi-sweet chocolate, and chocolate that's been infused with nuts like almond and hazelnut. Hit up your local chocolatier (and if you don't have one, then, well what are you doing?) for a good choco spread. Or, you could bake dark chocolate brownies with walnuts. Actually, just do both, because this is chocolate we're talking about.
Cocktails
Yes, wine cocktails. And this isn't Dad's "famous fruit-blast sangria" that pretty much just tastes like grape juice, either. We've got a Cabernet Swizzle enriched with the sharp bite of ginger syrup and all those tropical undertones thanks to white rum. There's also a remix of the classic Blood & Sand cocktail, aptly named the Blood & Tannin after replacing the vermouth with cabernet. Check ingredients right here and click through for the how-to.
1.5 Cabernet Sauvignon
1 White rum
.5 Orgeat
.25 ginger syrup
Heavy dashes of bitters
1.5 Cabernet Sauvignon
.5 Blended scotch
.5 Orange juice
.5 All-spice dram
2 Dash pimento bitters
Decorative orange twist
Cinnamon stick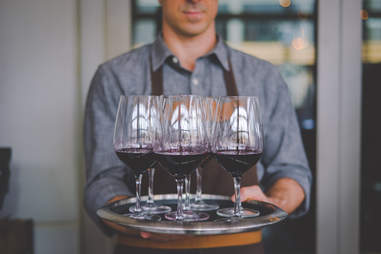 Party Tips
Serving The Wine
Cabernet Sauvignon should be served at 65˚ F -- and kept that way. Stick it in the fridge for a few moments before serving or consider investing in a wine fridge. And remember, it's better to have large wine glasses with wide rims for breath-ability  Make sure to aerate the wine by popping it open and letting it sit for an hour or so before pouring into a wide decanter for serving. 
Spills
It happens. For a wet stain, pour some club soda around the area and wait for it to bubble up. Keep pouring until the color is gone and wait for the stain to dry. For a dry stain, pour some vodka on it and throw it into the wash -- it should be gone.
Uncorking Without a Wine Opener
With a knife (preferably serrated) work the point into the cork with very little downward pressure. Once the blade is securely in the cork, twist it back and forth, pulling it out gradually. Be careful of broken pieces of cork falling into the wine. Also be careful, because: serrated knife.