Craft Beer Nerd Gets Owned by Legendary Brewer, Entire Internet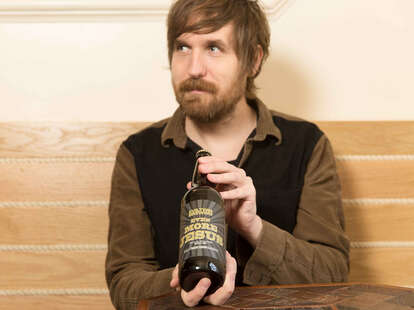 Jeppe Jarnit-Bjergsø of Evil Twin Brewing

| Drew Swantak/Thrillist
Jeppe Jarnit-Bjergsø of Evil Twin Brewing

| Drew Swantak/Thrillist
There are few guarantees in this crazy world outside of gravity, relativity, and people complaining on social media about craft beer. The latter happened recently when a guy went on the beer-rating site Untappd and typed out a few poorly written sentences expressing his dislike of a beer from Brooklyn-based and critically adored brewery Evil Twin. Nothing strange there. But then the brewer responded, and all (hilarious) hell broke loose.
The original post -- which the folks at Grub Street first spotted -- below, where the reviewer spelled the word "diacytle" incorrectly. That smell -- which resembles butterscotch -- means your beer is spoiled. But it's spelled "diacetyl." "I checked Untappd in the taxi on my way back from a night out," brewer Jeppe Jarnit-Bjergsø told us. "I wanted to see how Copy Paste IPA was doing, as it's a new style of IPAs I'm working on."
After seeing the post, he decided to reply.
His friends and colleagues then decided to make some hilarious memes, with the "Wheel of Fortune" one below emerging as his favorite.
While he said he doesn't fool himself into thinking everyone is going to love every beer he produces, Jarnit-Bjergsø says he just thought the review was funny, and that it was pleasurable to "bring attention to the foolishness of reviews in general." Especially when people try to use "weird shit in reviews to sound more knowledgeable." He notes that out of 1,500+ other reviews of the beer, no one mentioned diacetyl.
Or diacytle.
Sign up here for our daily Thrillist email, and get your fix of the best in food/drink/fun.