Things You Didn't Know About Chivas Regal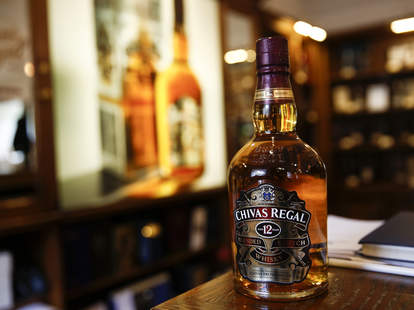 Simon Dawson/Bloomberg/Getty Images
Even if you love Scotch, it can be a mysterious thing, full of multisyllabic names from the highlands and origin stories more complicated than any superhero (except the one who was bitten by a radioactive Scotch bottle). But even if you don't know your Johnnie Walkers from your Lagavulins, you know Chivas Regal. It's one of the world's most popular Scotches, its gilded labels as easily recognizable as the name. But did you know it has roots that date back to Queen Victoria, or that those roots found their way into the Rat Pack? Peep the things you didn't know about Chivas Regal... until now.

It's blended malt, but that doesn't mean it's cheap
A lot of fans of Scotch/crotchety grandpas claim that the only quality stuff is single malt, and tend to look down on blended Scotch. But the obsession with single malts is relatively recent, and the mass majority of Scotch sold worldwide is blended. Chivas Regal is one of those blended Scotches, and just because it is doesn't mean it's low quality -- or cheap. Even the 12-year-old, the youngest bottle, will set you back around $50.

The Chivas brothers started out as grocers
Before they started blending and selling Scotch, the Chivas brothers had a grocery in Aberdeen, Scotland. The shop opened in 1801, and they wouldn't start producing whisky for almost 50 years. They sold rum, brandy, whisky, and foodstuffs to the masses, and even more importantly...

They earned a royal warrant to serve Queen Victoria
Chivas products, including French brandies and Caribbean rum, were so well regarded that they were responsible for providing goods to Queen Victoria upon her first visit to Scotland in 1842. Apparently Her Majesty was impressed, because a year later the grocers were granted a Royal Warrant, so they might continue to provide their goods to the Crown. It's no wonder they called themselves Chivas Regal later.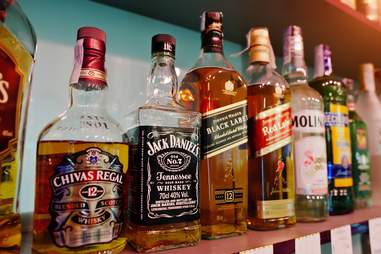 <a href="http://www.shutterstock.com/gallery-3260753p1.html?cr=00&amp;pl=edit-00">AS photo</a> / <a href="http://www.shutterstock.com/editorial?cr=00&amp;pl=edit-00">Shutterstock.com</a>
They helped shape the craft of blending
In the first half of the 19th century, while they were providing their brandies and rums to Queen and country, the patent still was invented, and distillers started producing wheat whiskies. James and John Chivas, the Chivas brothers in charge at the time, started barrel aging both malt and wheat whiskies. Eventually, along with other grocers-turned-distillers Johnnie Walker and Dewar's, the Chivas brothers started to blend malt and wheat whiskies to create a proprietary, high-end blended whiskey.

It was the first "luxury" Scotch in the US
In the early 1900s, long after Chivas Brothers had started blending and selling its scotch, the company began selling to the US, whose booming economy from the Industrial Revolution demanded luxury items like chocolate and showers (the chocolate shower was invented shortly thereafter). The company rebranded as Chivas Regal, and its Chivas Regal 25 Year Old, released to the states in 1909, is considered the original luxury Scotch.

There's a "Chivas Regal effect" beyond just feeling good
In the '40s following the war, Chivas Regal was a struggling brand. The tale goes that the company simply doubled the price of the product, and it jumped in popularity. The "Chivas Regal effect," as it's known, refers to something being considered superior simply because of its higher price tag, regardless of its actual quality. It's generally reserved for higher education, oddly enough. And while more expensive colleges are often better regarded, the origin of the phrase is probably unfair. In 1949, Seagram's, one of the largest liquor companies in the world, bought Chivas Regal and launched a massive advertising campaign. That probably helped more than the increased price.
It's made in the oldest continuously operating distillery in Scotland
With the added revenue and distribution of being owned by Seagram's, Chivas Regal managed to purchase the Strathisla, the oldest operating distillery in Scotland. The single malt used in Chivas Regal's blend is still made there.

Frank Sinatra loved it...
Though not as much as he loved Jack Daniel's. It seems Seagram's marketing worked well, as Chivas caught on with the '50s hip crowds. While Sinatra may have not been as big a fan of Chivas as he was Jack Daniel's (after all, he was buried with a bottle of the Tennessee whiskey), he, and the rest of the Rat Pack, regularly drank it. Chivas Regal was the Scotch requested backstage when Sinatra was performing in the '50s. Much later in his career, Chivas Regal even sponsored his 1990 Diamond Jubilee tour.
<a href="http://www.shutterstock.com/gallery-506158p1.html?cr=00&amp;pl=edit-00">Darios</a> / <a href="http://www.shutterstock.com/editorial?cr=00&amp;pl=edit-00">Shutterstock.com</a>
Hunter S. Thompson was an even bigger fan
While Sinatra always enjoyed a bottle of it backstage, famous gonzo journalist and brilliant maniac Hunter S. Thompson apparently needed a bottle of it just to start his morning's work (morning being relative, as he rose at 3pm each day). That, some marijuana, coffee, Dunhill cigarettes, and, of course, a veritable mountain of cocaine. It's odd that Chivas Regal never sponsored him or worked his routine into its marketing. He also enjoyed it poured over shaved ice, like a Scotch snow cone.

It's now owned by Pernod Ricard
Seagram's went defunct in 2000, and its products were picked up by a variety of companies. Pernod Ricard managed to acquire Chivas Regal, because it just makes sense that a French liquor company known primarily for its absinthe should own a Scotch whisky company. But hey, whatever gets the Scotch into our snow cones.

Sign up here for our daily Thrillist email, and get your fix of the best in food/drink/fun.

Alex Frane likes whiskey, and writing about it provides a great excuse to try some. See what he's trying now at @franiacdrinks.