<a href="http://www.shutterstock.com/gallery-1342093p1.html?cr=00&pl=edit-00">Jozef Sowa</a> / <a href="http://www.shutterstock.com/editorial?cr=00&pl=edit-00">Shutterstock.com</a>
It's a staple of bars both high-end and lowbrow. It's the preferred drink of mortals and rock gods alike. It can find its way just as easily into a glass of rocks as into a cocktail. We all know Jack Daniel's, a whiskey so prevalent it's a household name even in houses located in dry counties. But do you really know Jack? Well, after reading these 15 nuggets of truth, you just might. Though the meaning of the number seven will still elude you.
1. Jack Daniel's is the oldest registered distillery in the US
Is Jack Daniel's the oldest distillery in the US? Yes and no. Maker's Mark claims it's the oldest, and Laird's Applejack has been around since the Revolutionary War. Plenty of older distilleries were pumping out rum before whiskey became popular. But Jack lays claim to being the oldest registered distillery, having registered in 1866 (probably) by a teenage Jack Daniel... he was real, and more on him later.

2. It's Tennessee whiskey... and that's very specific
Jack Daniel's is distilled in a process that gives it the title of a Tennessee whiskey, a term recognized by the federal government in 1941, almost 80 years after Daniel started distilling the stuff. The process is different from other American whiskeys in that the spirit is filtered through layers of sugar-maple charcoal. At the distillery, visitors might see huge piles of maple wood being burned on "ricks." The wood falls into itself as it is burned, making charcoal. The whiskey is then filtered through it over a period of four days, then through white wool to remove any of the charcoal.

3. It's the best-selling American spirit
In 2014, Jack Daniel's sold almost $3 billion worth of whiskey. Seeing as the average bottle is around $20, that's 150 million bottles of Jack Daniel's, give or take. That number might be reduced by a million or so following the passing of Lemmy, but it should keep JD well ahead of the competition nonetheless.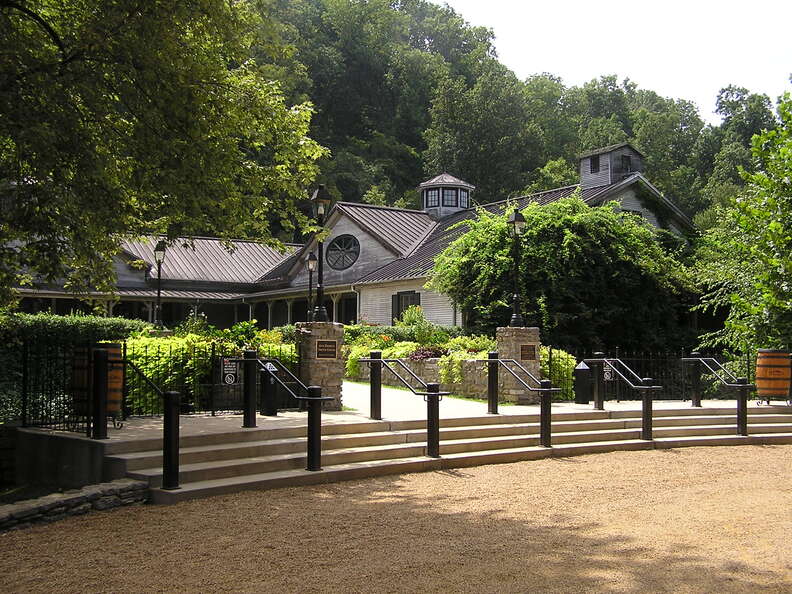 4. It's made in a dry county
That's right: the best-selling American whiskey is made in an area where it cannot be sold. Lynchburg in Moore County has been a dry city since Prohibition, even after repeal. While you can tour the facility and taste the whiskeys (only on the "enhanced tour"), you can't buy Jack Daniel's where it's made. Except...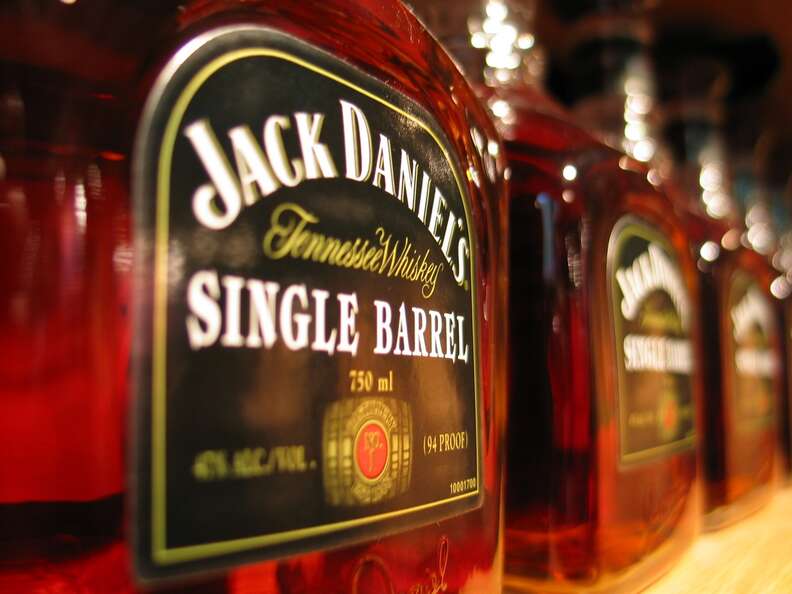 5. You can totally buy Jack Daniel's at the distillery
While the county is dry and you cannot purchase whiskey, there is nothing prohibiting the sale of bottles. A commemorative bottle sets you back around the same price as a bottle of Gentleman Jack, and just happens to come filled with the same product. Remember though: you're buying the bottle, not the whiskey inside of it. There is another way to buy it, too...

6. You can buy your own barrel
It's not cheap, but if you want your very own single barrel, you can make your way to the distillery and taste straight from them. You can then pick your favorite and buy the entire barrel. If you can't make it to Tennessee, you can still call or email, let them know your taste preferences, and have them pick one out for you. It's the perfect Father's Day gift for a dad who has it all, including an incredibly wealthy child and a place to store a big-ass barrel of brown liquor.
7. There are many types of Jack Daniel's
While the flagship Old No. 7 is the most popular and well-known type of Jack, there are other varieties as well. The Gentleman Jack is double filtered, compared to the single-filtered No. 7; the single barrel is, well, from a single barrel, but is also stronger at 94 proof (compared to the usual 80 proof); and the honey and cinnamon whiskeys are blended with honey liqueur and cinnamon liqueur, respectively. The flavored Jacks are at a lower proof, due to blending. There are also many specials and limited-edition bottles, including the Sinatra Century, honoring the late singer on his 100th birthday because...

8. It was Frank Sinatra's favorite whiskey
Dean Martin once sang, "I love Vegas like Sinatra loves Jack Daniel's." It's no urban myth: Frank Sinatra loved the Tennessee whiskey so much he was buried with a bottle of it, along with a Zippo lighter, a pack of Camel cigarettes, and 10 dimes. Jack Daniel's released the Sinatra Special as well as the Century. In January, it did the same for Motörhead singer Lemmy Kilmister, who reportedly drank a bottle a day for 30 years. Speaking of...

9. You can now call a Jack & Coke a "Lemmy"
Most bartenders (the ones worth knowing, anyway) will know exactly what you're talking about if you roll in and order up a Lemmy in honor of the recently deceased ace of spades. We told you the dude knew what he liked.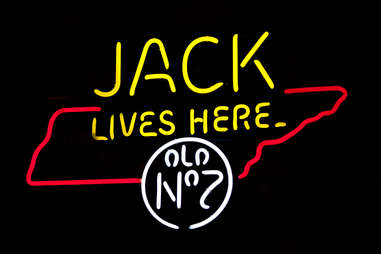 10. No one seems to know what the number seven stands for
When you order Jack at most bars, chances are you're getting a shot of Jack Daniel's Old No. 7. For about as long as it has been bottled, Jack Daniel's whiskey has borne the number seven, and to this day there is still argument about it. The most popular theory is that his distillery was registered as number seven by the government, though this contradicts our first fact. Others have suggested that it represents his seven lovers (Daniel was never married). Whatever the case, many claim to know for sure, but it's still a mystery.

11. Jack Daniel wasn't the founder's real name
Jack Daniel was a real guy, but that wasn't his real name. Jasper Newton Daniel was named for two Revolutionary War heroes, but friends and family called him Jack. Our advice: don't order a "Jasper Newton Daniel on the rocks" unless you want some serious eye-rolls from your bartender, and probably a lousy pour for it.

12. He was a teenager when he was distilling... probably
Again, there is ambiguity to Jack Daniel's life. While some reports claim he was born in 1850, making him 13 when he bought the distillery from Call and 16 when he registered it, other reports claim his mother died in 1847. That would make it very hard for her to have had Daniel. Other dates given are September 5th, 1856, and January of 1849. Whatever the case, he was a young man when he bought and registered the Jack Daniel's distillery.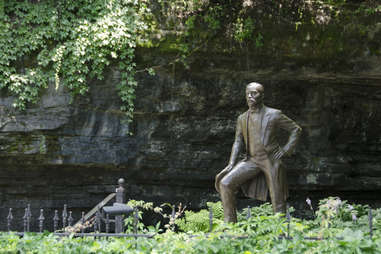 13. It's a large legacy for a small man
Jack only stood at 5'4", and his statue stands as high. While people were certainly smaller in the 1800s, he was still short by the century's standards.

14. The town it's named for is small, too
Not, like, 361 small. That was the population when the label was trademarked, and so now every bottle of Jack sports that little bit of census history. Still, at under 7,000 in Lynchburg, it's not exactly a booming metropolis. Hell, they don't even have a proper bar!

15. Jack might have died kicking a safe
The legend of Daniel's passing has been challenged by recent biographers, but as it goes, it was his temper that did him in. The company's books were locked in a safe, and his nephew, Lem Motlow, was the one who usually opened it. One morning, Daniel arrived to work early, before his nephew. He tried to open the safe, but, as usual, could not remember the combination. Frustrated, he kicked the safe, breaking his big toe. This led to a blood infection that, years later in 1911, he eventually succumbed to. Before he died, he passed the distillery on to Motlow and another nephew, though Motlow ended up buying the other out. Motlow died in 1947, and thankfully never changed the name to his own. Because a Lem Motlow doesn't quite sound like a thirst-quencher.
Sign up here for our daily Thrillist email, and get your fix of the best in food/drink/fun.
Alex Frane is a Portland native who specializes in in food, drink, and bar culture. Follow him: @franiacdrinks.